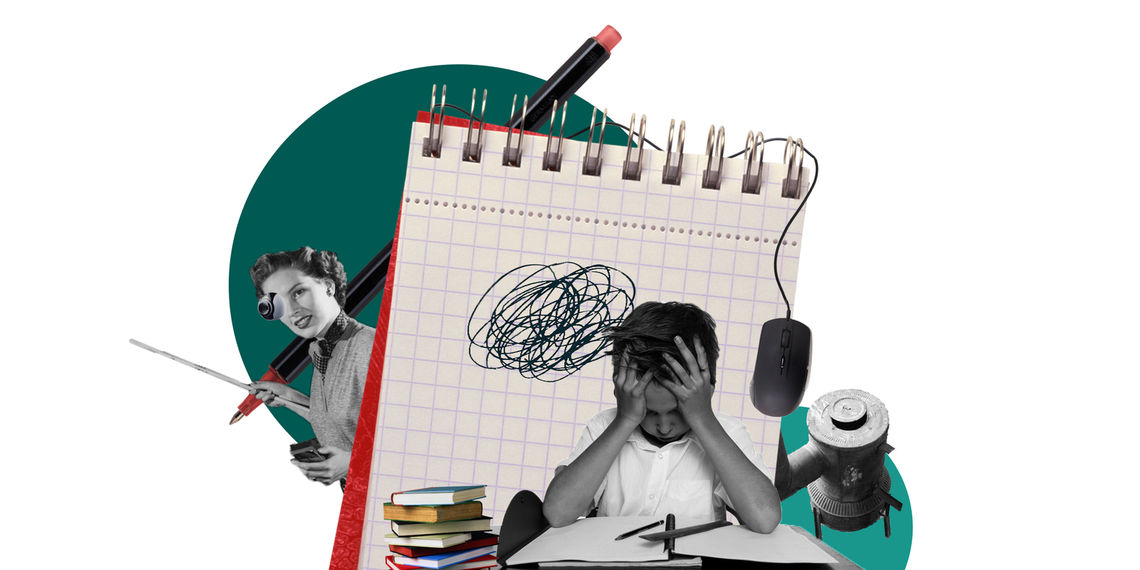 For the last few weeks, classes have begun with the Armenian telephone greeting "Allo." Usually, this is followed by "Children, can you hear me?" If all goes well, the students in the virtual classroom will then welcome each other one-by-one.
Two of the fourth graders at the Armenian State Pedagogical University's Khachatur Abovyan Elementary School had birthdays in March. Despite their virtual setting, the class decided to maintain their tradition of wishing them a "Happy Birthday" before their class began. They even had a cake! The mother of one of the children baked it and lit the candles as the chorus of "Happy Birthdays" rang from the other side of the screen. As homeroom teacher Tatev Abrahamyan passed on her birthday wishes, she could hardly contain her excitement about the eclectic situation: "Dear students, always stay united and love each other, no matter what emergency situation is going on." Then they proceed with their class, working off the Zoom platform for their Armenian language class. They go through the lesson, review previous ones and get ready for an online spelling test.
COVID-19 arrived with the new decade and ushered in rapid changes to daily life. It forced everyone to live by its rules, locking down most of the world in their homes and requiring people to migrate to an online lifestyle.
In the education system, that transition brought new challenges and revealed existing gaps, including socioeconomic inequality.
Despite the millions of dollars invested in introducing new technologies in education and capacity building among teachers, those efforts did not adequately prepare schools for today's predicament.
"Generally speaking, we were not ready for this situation. They say a few private schools have had training in some online teaching software. Maybe they really did but it was not available for the majority of schools," Tatev Abrahamyan says. "Not only were schools not ready, neither were families or even Internet Service Providers operating in the country. Financial hardships make it difficult for families to afford having several devices at home. For families with several children that have to take online classes, often, one is forced to cut the class short so that others can take their turn using the device. Some of our children who went to their villages are having issues with their connection, or the devices they have are of poor quality and create problems every now and then."
Social inequality and injustice became more pronounced by the crisis. A few days after the transition to online teaching, the Ministry of Education, Science, Culture and Sport, announced the launch of a donation drive for computers and other devices. It became clear that around 10% of all schoolchildren and teachers did not have the needed devices. In the regions outside Yerevan, there was a need for 21,000 such devices.
A House Built on Sand
Ashkhen Tandaryan is a teaching assistant at the secondary school in Jrvezh, outside Yerevan in the Kotayk region. She works with around 60 students that have various health issues, helping them to get fully engaged in class. Given the situation, she is determined to continue her work with the children online so they will not fall behind.
Although she is resourceful and has participated in a number of professional development seminars, she regretfully admits that she has no prior experience observing online classes.
"Considering the specifics of this profession, I have to work with each student individually during this period. And since we work on an individual basis, we have decided to use Viber. However, Viber offers very limited features, and other applications are not always available to both teachers and students. Sometimes we use Zoom," Tandaryan says. "However, we are not familiar enough with its tools. If only a small amount of homework was handled online in the past, it would have been a lot easier."
Tandaryan mentions that the situation inflicted many difficulties – without any foundations, a house was built on sand thanks to the efforts of teachers.
The fact that the majority of teachers treat online teaching with great care and do not spare any effort to arm students with new knowledge, is possible due to a sense of responsibility teachers feel and not by anyone's instructions or decree. "Some solutions were thought of and worked out so that months of work were not lost in vain," she says. "This is a pilot program and we are doing our best. Instead of a five to six hour school day, now we need to put in longer hours – we have to work all day."
Although homeroom teacher Tatev Abrahamyan thinks that online education can never truly supplement full-time education, she still thinks it is very important that children's education is able to continue.
"If the children were disrupted because of this, the education system, which is already not at a great level, would be greatly damaged. In this case, at least the children's sense of responsibility is preserved. Of course, we should not 'chase' after the curriculum and old academic plans, but at the same time, we cannot completely fall behind," says the homeroom teacher, joking that perhaps the only advantage of COVID-19 is that it brought online education to the implementation phase.
The virus also brought online teaching to higher education. Years ago, Yerevan State University tested the Moodle online teaching system, although there was not a high demand for it.
Ani Ghulinyan, a freshman studying International Affairs at Yerevan State University notes that they are now conducting their classes with Zoom. However, almost none of the instructors were familiar with it, and both students and faculty faced difficulties.
"We have an instructor who was not able to adjust during this month and so we have to miss his class," Ani says. "Only one of the instructors was able to adjust quite quickly and is conducting very interesting classes." She also mentions that, in addition to the issues of mastering the system, they also face other technical problems.
After a state of emergency was declared, Ani, who is originally from the community of Dsegh in the Lori region, returned to her native village and is participating in her classes from there. Although she is lucky to have her own device at home, where her sister also uses a computer for school, their connection does not always allow them to work at the same time.
"If both of us use the Internet simultaneously, the connection slows down and it affects both of us. There were times when the connection was interrupted and I had to miss class," Ani explains. "When we encounter such problems, we inform our instructors and the best scenario is we don't get marked absent. However, we miss the opportunity to listen to the class and take part in discussions. Only two of our instructors record the lecture, so we are able to access and listen to it later but still, we miss the discussion part. Meanwhile, the exam period is approaching, and we do not have sufficient material."
According to Ani, everything is left up to your own sense of responsibility and self-organization.
"Parental" Oversight
Tatev Abrahamyan works with two classes – second and fourth graders. To make sure that the little ones do not spend too much time in front of computers, she has split the classes into several days. She keeps an official "break period" even during online classes.
"We conduct an hour of class and then I ask our music teacher to teach a song or we engage in physical education. We try to maintain the rules of full-time classes," Abrahamyan says. "The main difference is that now parents are always present in the classroom and are auditing the classes. During these days, the teachers are going through parental class auditing, which can be extra stressful."
Abrahamyan says that the presence of parents also creates difficulties during the grading process because they keep helping their children: "Very often, parents forget that we spend a lot of time with their children and have a good sense of their abilities. I have been successful with the fourth graders by having them sit alone. In order to grade them, I ask them to read an unfamiliar text, which is followed by a question-and-answer session. However, things are different with the second graders – they are too small to use the devices all by themselves, so their parents have to sit with them."
Ashkhen Tandaryan jokingly says that she makes new discoveries every day about her students' parents' capabilities on different subjects.
"Very often, parents cannot grasp the seriousness of the classes. Quite frequently, they feel the need to give hints," she says. "I remind them daily that there is no need to give hints, and that I am well aware of their children's capabilities, however, it is in vain."
Nevertheless, Tandaryan thinks that this way parents can see how much effort teachers put into explaining everything to their children, how undisciplined they can be, where they fail, and how much time it takes for them to grasp the material.
Other issues also rise to the surface. "Everybody gets to see personal information about the children during online teaching, which is an obvious violation of the law," Tandaryan explains. "Everybody can see the children's capabilities and their socioeconomic conditions. This information gets broadcast to a larger audience, which makes the children from poor families even more vulnerable."
Discoveries and Childhood Mischief
Mary Gadalyan is a high school student in Aygedzor in the Tavush region, near the border with Azerbaijan. They have four schoolchildren at home but only two smartphones so the children need to take turns participating in their classes. Moreover, they have a heating stove in one room of their house, where their entire family gathers. It can be very distracting to focus during online classes.
According to the class schedule, starting at 10:00 a.m., the teachers begin calling their Viber group, and 15 students get together in Mary's virtual classroom. Each class lasts 40 minutes on average, just like at school. Those who do not join the class are marked absent.
"At the beginning of the class, we discuss homework with our teacher, which we photograph and send to her in advance. After that, the teacher explains the new lesson, gives new assignments, and checks the lesson," says Mary and then jokes about the advantages of online education: "The only advantage is that we do not wake up early in the morning. There were days when we joined the class with our nightgowns on. Nobody can see us anyway; we don't turn the cameras on so that the connection does not get interrupted. We can even have some tea or eat during the class."
However, as the student puts it, online education has quite a few disadvantages: "In the past, we used to be able to give hints to each other during class, but now we do not have that opportunity. Honestly, we do more lessons now. Besides, very often parents also participate in classes, which makes us feel uncomfortable. During these days, I have discovered that I love my school very much. I had never thought about it before. It felt so good at school. I am tired of sitting at home, and I miss my friends."
Teachers are also finding that some children who were struggling in school before, are now quite enthusiastic with online education applying new technological applications.
"It is quite interesting that even the most undisciplined and failing students are active and prepared, whereas they were having a lot of difficulties in the classroom," Tatev Abrahamyan says. "Some children would feel shy in class, but now they have a great opportunity to express themselves. So this is how some of them are getting over their complexes."
Mischief and tricks by the students are not in short supply during online classes. For example, when they are not prepared for the class, they "decide" that the connection is not good and turn off the device. When they do not have an answer for the teacher's question, they say that they can't hear well. Sometimes they turn off the video so they can find the needed passage from the lesson and then read it instead of memorizing it. There are also times when children find excuses saying that they are at their relative's house and thus do not have any books with them to prepare for class. However, in those cases, teachers send them the electronic versions of the books. The smartest students have separate groups where they quickly answer the teachers' questions, thus giving hints to their classmates. Sometimes students log in to the system with different names. For example, one of the most popular nicknames is coronavirus – the one to blame for this situation – or they will use the name of some writers, singers or actors.
All the classes start and end in the same way – everybody wishes each other good health.

Different forms of distance learning have been introduced in Armenia for three weeks now. What do we know about the use of information and communication technologies in the general education system of Armenia?
Read more

Educational institutions around the world are moving to online learning as the COVID-19 pandemic wreaks havoc. Narek Manukyan examines the Armenian education system's preparedness for distance learning following the government's announcement of a one-month state of emergency in the country.
Read more