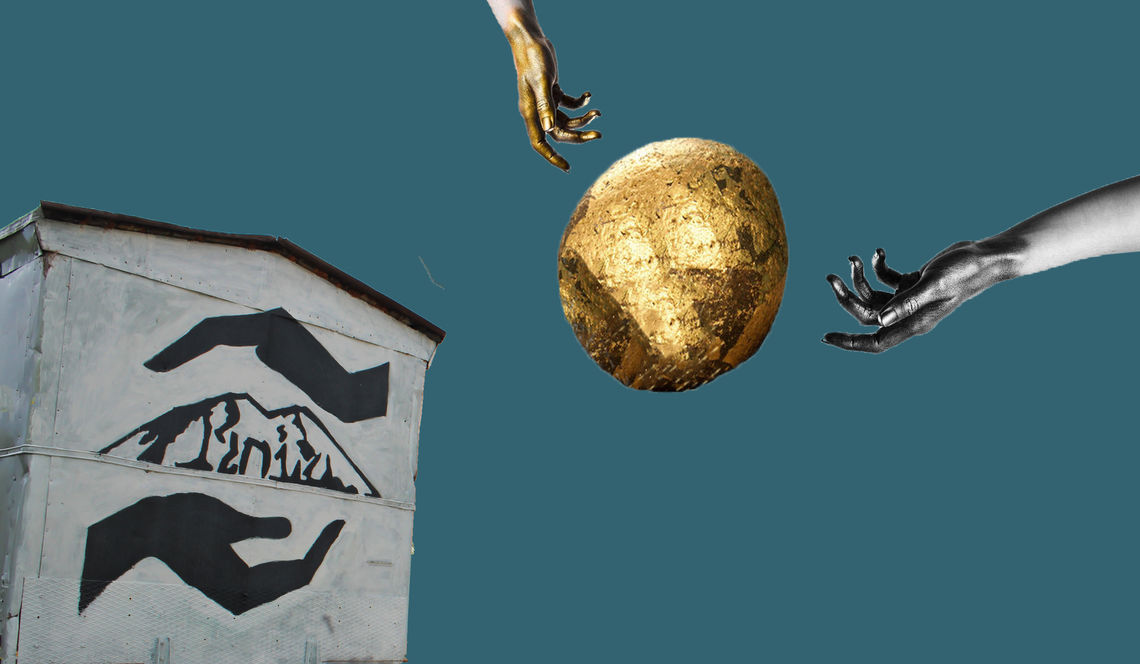 Located in the heart of Armenia, the region of Vayots Dzor lies among rigid cliffs and soaring mountains. Here, recent attempts at mining, one of the key driving forces of the country's economy, have all failed. Seeing the devastating heritage of mining in neighboring Syunik and Gegharkunik, the residents of Vayots Dzor are resolute – they will starve, but they will not allow their health and the health of their descendants to be compromised at the expense of the Amulsar gold mine
The situation periodically becomes tense. There are sporadic clashes between the police and the mine operators on one side and protesters on the other. The latest confrontation took place on July 13, when a group tried to break through the line of protesters, leaving several injured. A number of people were detained and later released. It turned out that the group who wanted to enter the mine were investigators from Armenia's Investigative Committee who were there regarding a criminal case launched last year. However, protesters were unyielding, their message consistent: "Amulsar will not become a mine."
The Region and Mining
Vayots Dzor covers an area of 2308 square kilometers, making up 7.8 percent of Armenia's land area with a population of 50,000. The regional capital is Yeghegnadzor and the next two largest towns are Vayk and Jermuk.
Here, conditions for agriculture are favorable and the region is well known for its grape varieties and wine. The city of Jermuk, famous for its rich mineral springs, hosts people from all over the world who come here for its restorative properties.
Agriculture makes up the dominant share of the overall economy of the region. Farmers are primarily engaged in livestock breeding, poultry farming, viticulture, horticulture and vegetable farming. In terms of industry, the region boasts bottling of Jermuk's mineral springs and grape and wine production. The highway connecting Armenia with Iran passes through the region, which plays an essential role in the prospective development of the region's economy.
The economically active portion of the population of Armenia in 2015 comprises 1,316,000 people, 2.01 percent of which or 26,500 people live in the region of Vayots Dzor. The level of economic activity is 75.7 percent, which is the highest in the country (the national average is 62.5 percent).
In the 2017-2025 development strategy of Vayots Dzor, it is noted that employment levels are healthy compared to other regions of the country. From 2011 to 2015, employment levels grew by 2.7 percent and unemployment fell by 0.5 percent. In fact, unemployment levels in Vayots Dzor are 8.4 percent lower than the national average.
According to the most recent report issued by the Vayots Dzor regional authority, "Results of Activities for 2017 and Programs for 2018," the Amulsar Gold Mine will invest 370 million USD for 2017-2018 and that it plays an important role in resolving issues of unemployment in the region. The report also states that in 2017, there was 94.1 billion AMD ($198 million US) investment and that 1453 people were employed at the mine, 777 of whom were from the region.
Mining plays an important role in securing revenue for Armenia's state budget. In 2017 alone, remittances totalling 55.6 billion AMD (approximately $117 million US) were transferred to the state budget by 17 of the largest mining companies in the form of taxes, customs duties and other state fees. The total number of employed in the mining industry is around 10,000.
Armenia is rich with metallic minerals such as iron, copper, molybdenum, lead, zinc, gold, silver, and aluminum.
According to the data of the Ministry of Energy and Natural Resources, there are approximately 871 state reserves of mineral resources (43 metal mines, 760 non-metal mines, 44 underground freshwater and 24 mineral water reserves) registered in the state inventory of mineral resources. There are also 580 mineral reserves (131 metal and 449 non-metal) constituting 130 different minerals, of which 25 are metal.
As of April 1, 2019, there are 396 companies that have received licenses from the Ministry of Energy and Natural Resources to extract minerals.
Of this list, 17 companies operate in the region of Vayots Dzor. Three of them include Lydian Armenia (Amulsar Gold Mine – 26.09.12 – 01.01.2034); Vardani Zartonk (Sophi-Bina Gold Mine – 27.09.12 – 03.12.2026); and Vayk Gold (Azatek Gold Mine – 23.11.12 – 23.11.2037).
Of these three, it is Lydian that is at the center of attention at the moment. And although these mines have operating licenses for the coming decades, the residents of Vayots Dzor, after a long silence have decided to stand up for what they say are their rights enshrined in the Constitution.
Article 12 of the RA Constitution, Preservation of the Environment and Sustainable Development states:

1. The State shall promote the preservation, improvement and restoration of the environment, the reasonable utilization of natural resources, guided by the principle of sustainable development and taking into account the responsibility before future generations.

2. Everyone shall be obliged to take care of the preservation of the environment.

It is because of point 2 of the article that on June 22, 2018 the residents of Jermuk began and continue to block the road leading to the mountain and are refusing to allow any future operations at the gold mine to be realized. Each person standing there has his/her reason.
"If everything is safe and secure then why did the workers of Lydian not bring their families here, to live side by side with us or is it that their children are children and we've found our own kids off the streets? How should we understand this?" asks Edmond Aghabekyan, 24, from the village of Kuchut. "They tell us that as soon as operations begin, they will bring their families to live here." Aghabekyan says that they feel they have been fooled and the feeling of injustice doesn't give him peace. His reasons are plenty and that is why he, along with many others, are manning the entire length of Amulsar day and night.
The village of Gndevaz, located 35 km from Yeghegnadzor and 15 km from Jermuk, is separated from the current territory of Lydian Armenia by only one road
It is on three points of that road that the residents of Gndevaz and neighboring villages have come together and decided to stop the operations. However, everything has had its backstory; Lydian Armenia received the license to mine Amulsar in 2009. This license was renewed in 2012, however it was only after the next licensing cycle in 2016 that it started to move in heavy machinery and begin demolition works.
And it was at this exact moment that residents understood that not everything was as it should be.
"Heavy dust would settle on the windows of cars when they starting using dynamite to blow out the mountain. The pollution was so bad that tourists stopped coming," says 31 year old Tigran Manukyan, a physical education teacher from Jermuk.
Another reason for the disillusionment of locals is the fact that of the promised 1700 jobs that were to be created at the mine, there were only 200 and the rest were contracted out to third parties.
Manukyan says that even those 200 jobs were offered at salaries lower than promised and to top it off, as a result of the mine's operations, three resorts were shut down, leaving more than 200 people without a job. "The villagers also suffered," Manukyan says. "They could no longer sell their produce to those resorts."
The patience of residents finally ran out when in May 2018, pipes were damaged twice because of the negligence of the workers of Lydian.
"There were six traffic accidents because of their workers. In other words, they are not adhering to basic norms/laws, how can we expect them to operate a mine?" Manukyan asks and adds that if this damage is being incurred before the mine starts full out operations, what should they be prepared for after?
Aharon Arsenyan, 24, remembers how the Arpa River also fell victim to the mine in 2018. "Last year was the first time that Arpa was polluted. Experts found large deposits of clay in the river…Such a thing had never happened before, the river was crystal clear, the cleanest in Armenia," Arsenyan insists. "Then it was revealed that it was because of construction works; the topsoil was removed and the clay layer was simply thrown into the river."
On Lydian Armenia's website, in a section called "14 Questions & Answers Regarding Amulsar," the Vice President for sustainable development of the company, Armen Stepanyan responding to the question if whether there will be any impact on the quality of water, crops of surrounding communities or on people's health, notes that with the proper management of the mine, there will be no difference in the quality of water resources, soil, air or other factors. He considered it pointless to talk about human health in this context.
Meanwhile, 32 year old A.G. says that he was diagnosed with severe respiratory issues five months after working on drilling of the mine.
A member of Jermuk's city council Hasmik Sargsyan, who is also a doctor at one of the city's health resorts, notes that she's seen an uptick of sick patients in her practice and in the practice of other doctors.
"Any mine from where precious metals are extracted, other heavy metals and radioactive substances are brought out, and heavy metals can trigger oncological diseases," Sargsyan says. "Our geologists have written extensive articles about this, that nature cannot cleanse itself of heavy metals. Approximately 500 years are necessary for it to rid itself of heavy metals." Sargsyan also says that the region is known to be windy and when the mine begins full operations, that wind will bring with it dust and harmful products, having a chainlike effect on plants and on food.
The city councillor and her colleagues all agree – it is not possible to damage nature for hundreds of years to come for a short ten-year program, especially in a region rich with mineral springs.
Approximately 3000 residents of Jermuk have submitted a petition to the government, and to the city council to forbid metal mining in the region and help develop ecotourism. The city council agreed on December 18, 2018.
Currently, however, the government has commissioned another expert analysis, the results of which will be published soon. It is important to note, that all other environmental impact assessments to date have been contradictory – according to one, the Amulsar mine will be completely safe, according to another, dangerous.
Lydian Armenia has said that it has launched a legal case and will no longer bother issuing statements on the matter.
Meanwhile, the residents of Jermuk continue to man what they call their "posts." It is mostly the younger ones spend nights guarding the road. They say that they only allow the older people to stand guard during the day. To pass the time, they read books, listen to the news, play games – they eat what they have.
"One day it might be scrambled eggs, another day rice, or kebab. Today, my wife baked gata and sent it to us," says a resident of Gndevaz, 44-year-old Henry Harutyunyan. He's concerned that he has left all the work at home on his wife's shoulders. "I have been standing guard here from the first day and I will continue to stay until they take all they have and don't have away. We have seen all those areas, where there is mining, we see how disastrous the situation is, we have not seen a single benefit from any of them except devastation. When ten years ago they came, 99 percent of the village was against it. However, by 2016, we had 93 villagers who worked at the mine, 20 of whom were employed directly by Lydian, the rest from contracting companies…"
Harutyunyan, along with his other friends at the "posts" is convinced that these people can work in agriculture instead of the mine and find greater success. "We are villagers, we can breed livestock, cultivate the land, we can do something. Before they forcefully purchased our lands, we had apricot orchards that have now been razed to the ground, our lands gave us a good bounty, the apricots of Gndevaz were known the world over," Harutyunyan says. "They didn't just take our orchards, they took our apricots away from us and we could do nothing against the government of the day. Today's government is good only because at least they don't threaten us but tell us you are the rightful owners and you can struggle."
Aside from the loss of their apricot orchards, the villagers note that the grazing lands for their livestock also now lie in the territory of the mine, which has resulted in a sharp drop in the number of cattle. "If in the past, there were 1500 large cattle in Gndevaz, today that number has dropped to 500 and smaller livestock has fallen by 50-60 percent," said 70-year-old Samvel Poghosyan.
He too sold his property in 2015, two times higher than its market value. He says it was a program of both enticement and blackmail."The situation was such that either you sold it according to their fixed price, and they really were paying high prices, or they would have had it deemed eminent domain and would've taken it away for nothing. Certainly, we were forced to sell," Poghosyan explains.
The people are confident that they are on the right path. They have done their calculations and are confident that they will not suffer if the mine shuts down. "If the mine works, it's all the same, only several dozen people will work for several months and then leave," says 36-year-old Arkadia Barseghyan. "However, because of the mine, our health resorts will disappear, and with the explosions they will not even construct new buildings…Now, our people are working in the resorts, in mineral water bottling factories and there are more jobs there than at the mine."
The residents of Jermuk are not the only ones in Vayots Dzor. There are other examples of successful battles. The communities of Gladzor and Vardahovit were able to thwart attempts at mining. Vayk is next in line. Here, they are preparing for the Azatek mine. The older residents remember how decades ago, companies used to come for exploration, devastate the mountains, however leave never to return. What they did leave behind were the "wounds" on the mountains. Here they also have hope that in the future only "talk" will remain about the mine and nothing else will ever again threaten the lush and fertile landscape.