Karine Alaverdyan can easily recall the electric atmosphere which surrounded Stepanakert in the days before the opening night of a production at the city's grand dramatic theater (Vahram Papazian Drama Theater).
It was the place to be for anyone from across the region. Villagers would walk for miles to attend. New dresses would be made. Or perhaps old ones fixed. Shoes would be sparkling on the feet of those lucky enough to have snapped up a ticket.
An orchestra would greet guests inside the lobby where a buffet was laid out. Drinks and dancing would increase the anticipation before, eventually, more than 360 ticket-holders would find their way to one of the wooden, red-velvet seats which slope down towards the wide-stage. Above them, a 20-bulb chandelier lit up the room while another 85 guests sat in the balcony and its adjacent boxes.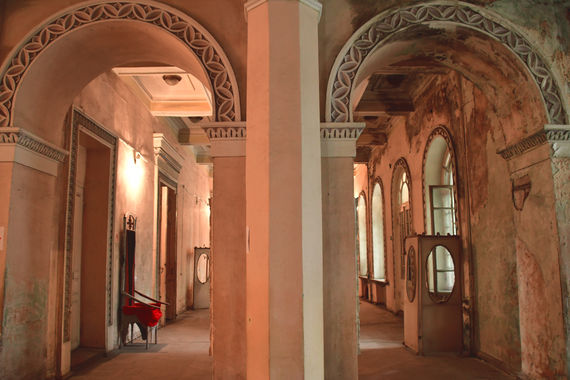 Inside Stepanakert's Vahram Papazian Drama Theater.  
An author of several books of the theater and drama group's history, Alaverdyan practically grew up running around on the old wooden floorboards. The daughter of the theater's literary and art director of 50 years, she took on the role herself for more than two decades until 1998.
It's not quite the building it used to be, however. The stage, formerly a revolving structure, has been ripped up to renovate theaters in other cities. The chandelier remains, surrounded by islands of peeling wallpaper and chipped pastel-green paint. The seats are damaged and dusty. Junk-filled former makeup rooms, a ballroom and even a bomb shelter are contained within the labyrinth behind, below, and above the stage.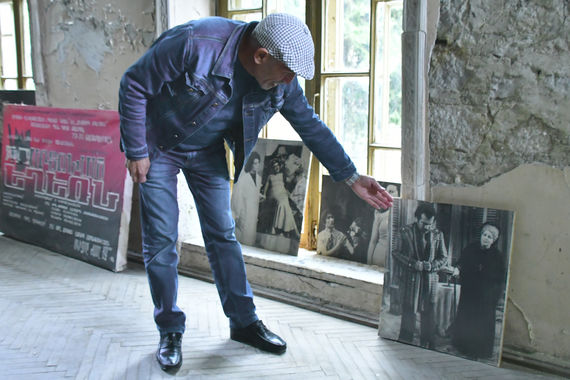 Samuel looking at a photo of himself from a performance in the 80s.  
Outside, the courtyard features a statue of the theater's eponymous Soviet actor, Vahram Papazyan, who gazes out towards the road. He has welcomed no one since the local theater troupe were temporarily moved to another building nearby for renovation work which has never arrived. Their new home has a small stage and terrible acoustics, according to Samuel Evryan, an actor on the stage here for more than four decades.
"I cry almost every time I walk past this building," he says. "The young actors working in the new building don't know the feeling of a real stage. We need to return here."
Art curator Anna Kamay had a similar reaction when she visited the theater for the first time in October 2017. She was instantly mesmerized by the structure despite its obvious ruin. The 36-year-old had already set her mind on bringing a sense of cultural community to Artsakh after temporarily moving there from Yerevan last autumn.
"I have to do something in this building," she promised herself then. Now, 12 months later, she stands over the stove frying eggs for her young daughter who is busying herself at the kitchen table. She has a quick ten-minute break at her house which is a minute or two stroll from the theater. The room is a hub of activity with artists, musicians, journalists and community volunteers constantly coming and going.
Working with the Yerevan-based Institute of Contemporary Arts, Kamay organized ARTsakhFest – Stepanakert's first-ever contemporary arts festival. With both international and local artists, including Grammy-award winning singer Arto Tunçboyacıyan, the three-day festival is restoring the structure's life and soul in the same spirit of how it was built in 1952, when a pan-national team of volunteers came together.
The main seating, unfortunately off-limits for safety reasons, contains a silent audience of single-light bulbs placed above each seat. The parallel lobby, full of creaking floorboards and traditional light fittings, is bustling with locals and visitors alike. American artist Laura Arena's Learning How To Fly installation invites people to pen a note to either their ancestors or those who used to walk these halls. The notes are turned into paper airplanes which are dramatically thrown through the lobby. Later Arena clips them to a piece of nylon thread in an upstairs room where they metaphorically soar through the open window.
Another installation, curated by Emma Harutyunyan, has mined the theater's costume archives. Outfits from the hundreds of productions hang from a temporary scaffold.
While in many ways this theater has been forgotten, this weekend it certainly hasn't.
A timewarp of posters, props, pamphlets and tangible memories create a deconstructed history of the region's former center of culture. A fake grandfather clock stands in one room, dozens of medieval weapons in another. A pair of mock Greek-Roman statues portraying two naked women have electric wires emerging from them. "I think the nipples may have lit up," guesses Marcus, an American photographer who has temporarily restocked the old wooden bar with regional wine, cognac and an enticing price list.
If his guess is correct it is quite likely the production was one of those shown during the Nagorno-Karabakh war when, despite the fighting, performances continued. They were comedies mostly, to maintain morale.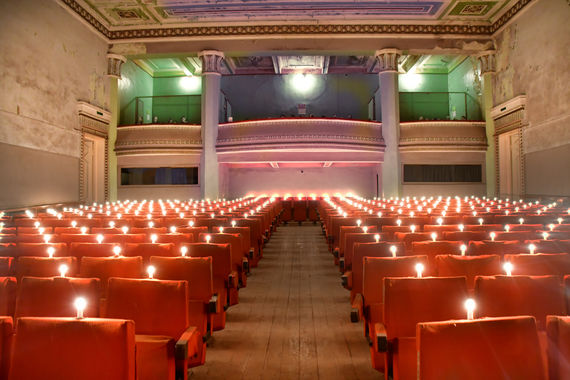 Vahram Galstyan's 383 Souls light installation in the main hall of the Vahram Papazian Drama Theater.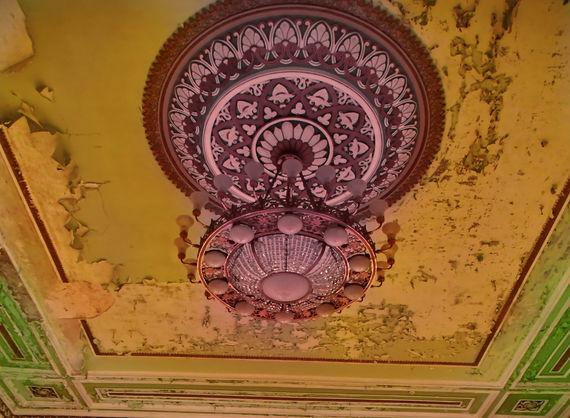 Inside Stepanakert's Vahram Papazian Drama Theater.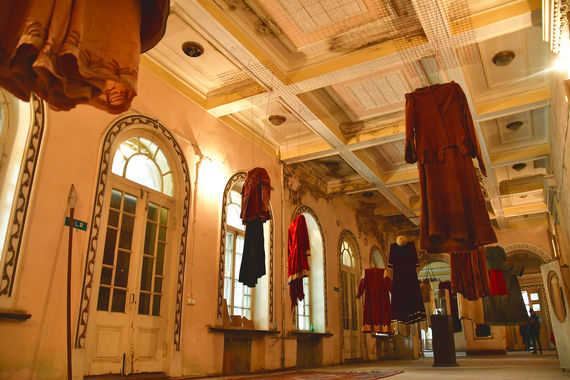 Emma Harutyunyan's instalation with theater costumes.  
Images by Tsovinar Hakobyan.  
It is this atmosphere the festival is trying to revive. While dozens of artists descending on a romantically abandoned theater has drawn attention, and thus funding, for renovations, the main space remains in an unusable state. Kamay wants this to become a place for those across this fragile region to engage with culturally. Perhaps where youngsters can learn to read lines. Or where pensioners can come to remember tales of yesteryear. And where tourists can visit and feel enriched. A place the residents of Stepanakert can embrace once again.
Alaverdyan continues to live in hope at the thought of her childhood playground returning to life. Upholding the theater's heritage is the only way forward, she says.
"It is only with the belief of all that it can be done," she adds. "If we don't preserve the cultural history it will turn to dust, it will fall beneath the soil."