Award-winning art director and visual artist Ruben Malayan, fused his passion for calligraphy and the momentous events taking place in Armenia to create iconic posters that were not meant (yet) to hang on the sterile walls of an art gallery, but in the hands of the people who were creating history.
A massive yet peaceful movement in Armenia to oust Prime Minister Serzh Sargsyan, spearheaded by opposition leader Nikol Pashinyan, led to a series of extraordinary events culminating not only in his resignation on April 23, but sweeping changes and demands to transform the country's monopolized political landscape.
While the country still teeters on the edge of political uncertainty, and an absence of a prime minister (parliament will have a second attempt to elect an interim prime minister on May 8), Malayan talks about his inspiration, the artistic process and hopes for the future.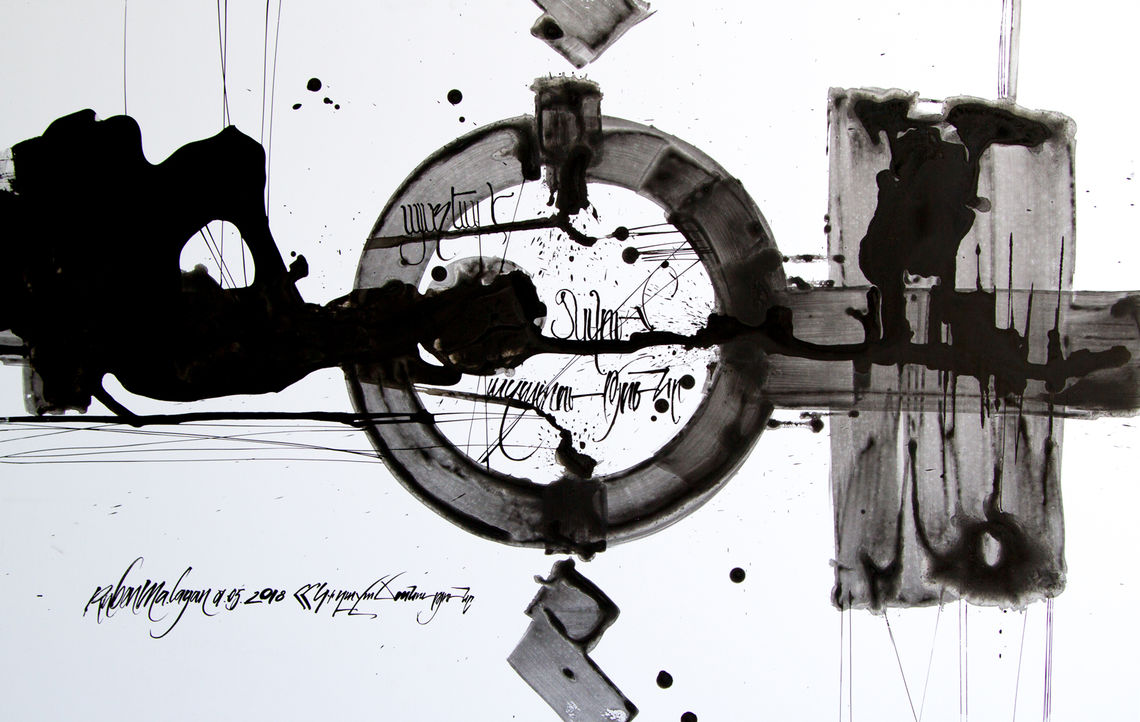 "This is where freedom in born."  
Why?
Poster art, especially in the time of crisis can have a great impact on people's minds. It delivers concise and articulated messages, which reflect the general mood, sympathies or dislikes of the people on the street. I think art cannot stay away from the reality and poster art is the medium through which an artist has a chance to directly engage a wide audience. We have been looking forward to this change for a few decades and now that it is happening, I felt it was my moral imperative to speak the truth, however uncomfortable it may be for some people.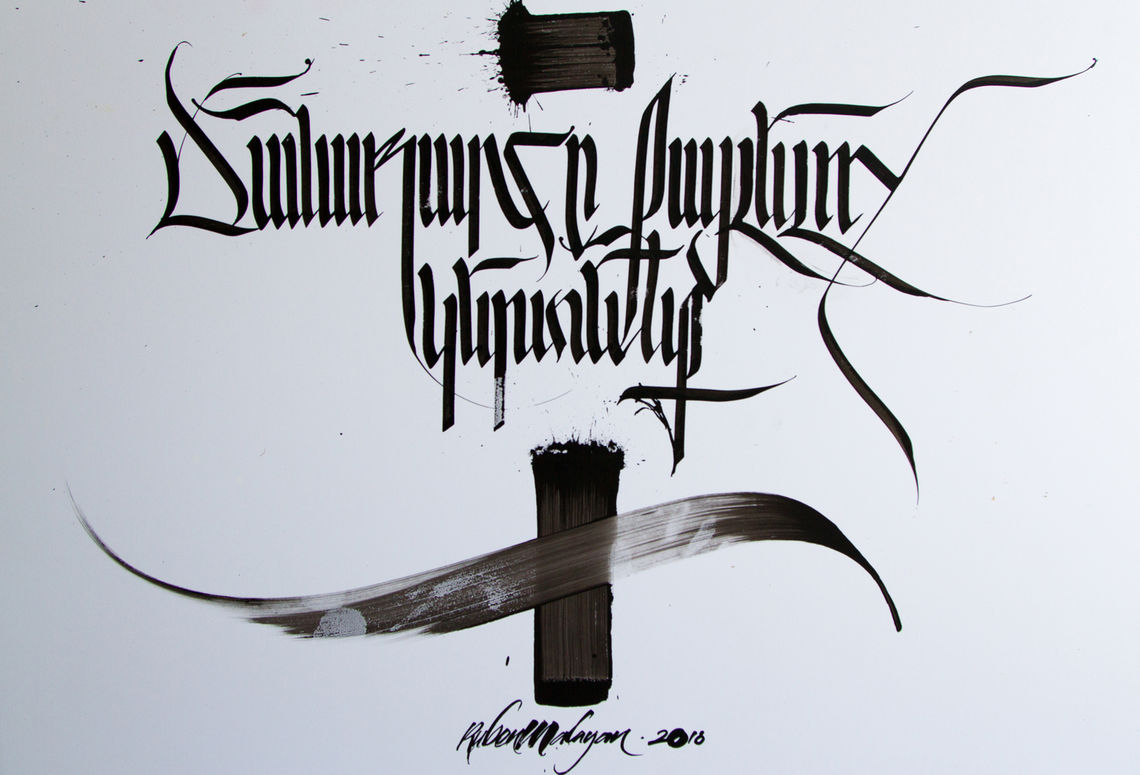 "We'll pave the road by walking."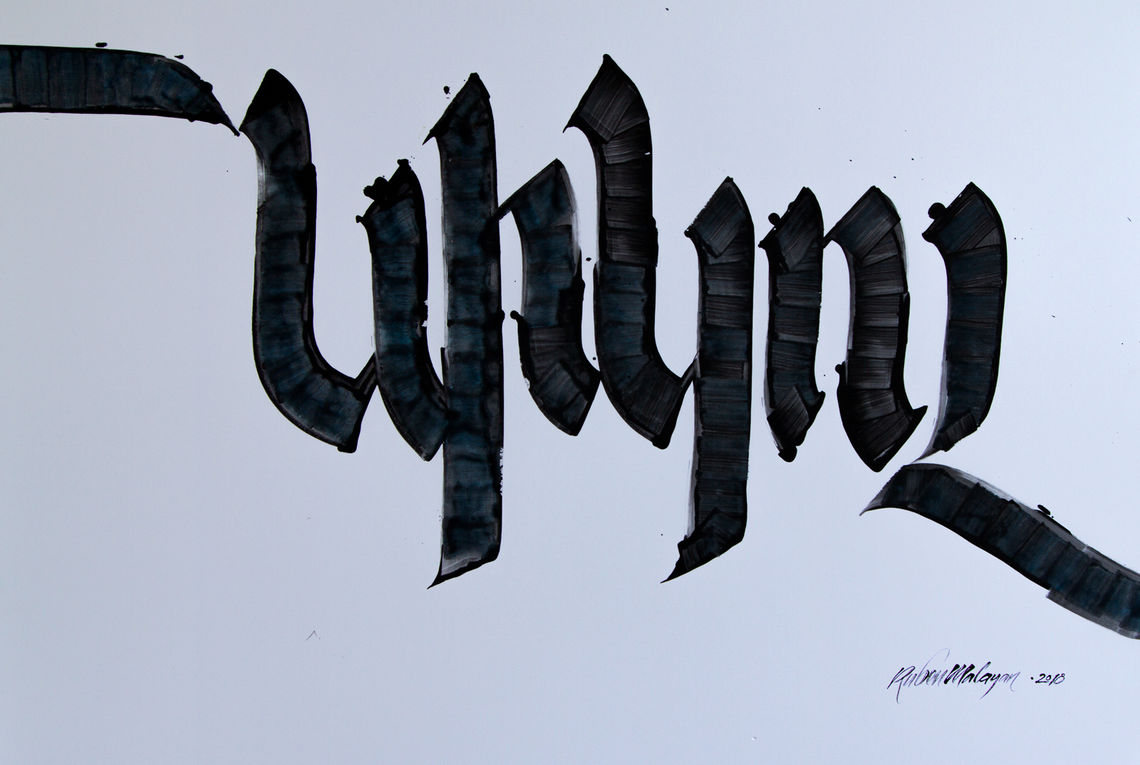 The Artistic Process
It's a process, therefore the fluidity of the current developments kind of forces you to respond within a brief time-frame, for instance the poster I drew which is called "Գցելու են՞/Will they cheat?"  reflects the general anxiety we all have at the moment regarding the upcoming May 8 vote in Parliament. Its message is a sort of a question and wondering, ambivalent in nature. Or when you simply write "հաղթանակը մերն է" (Victory is ours), you feel victorious, reinforcing the belief that we managed to achieve something which was inconceivable just a month ago. Serzh Sargsyan's resignation was one of those moments, when I realized that we managed to move the stone from the dead point, which is always the hardest. I knew that from that moment everything else will come easier, yet it was still quite unbelievable to realize we managed to do it without spilling blood. Thousands of people, from all layers of society, united for one single purpose – chanting the same slogans, singing the same songs – all of this gives an artist an incredible energetic charge; all that needs to be done from that point is to spill it onto paper.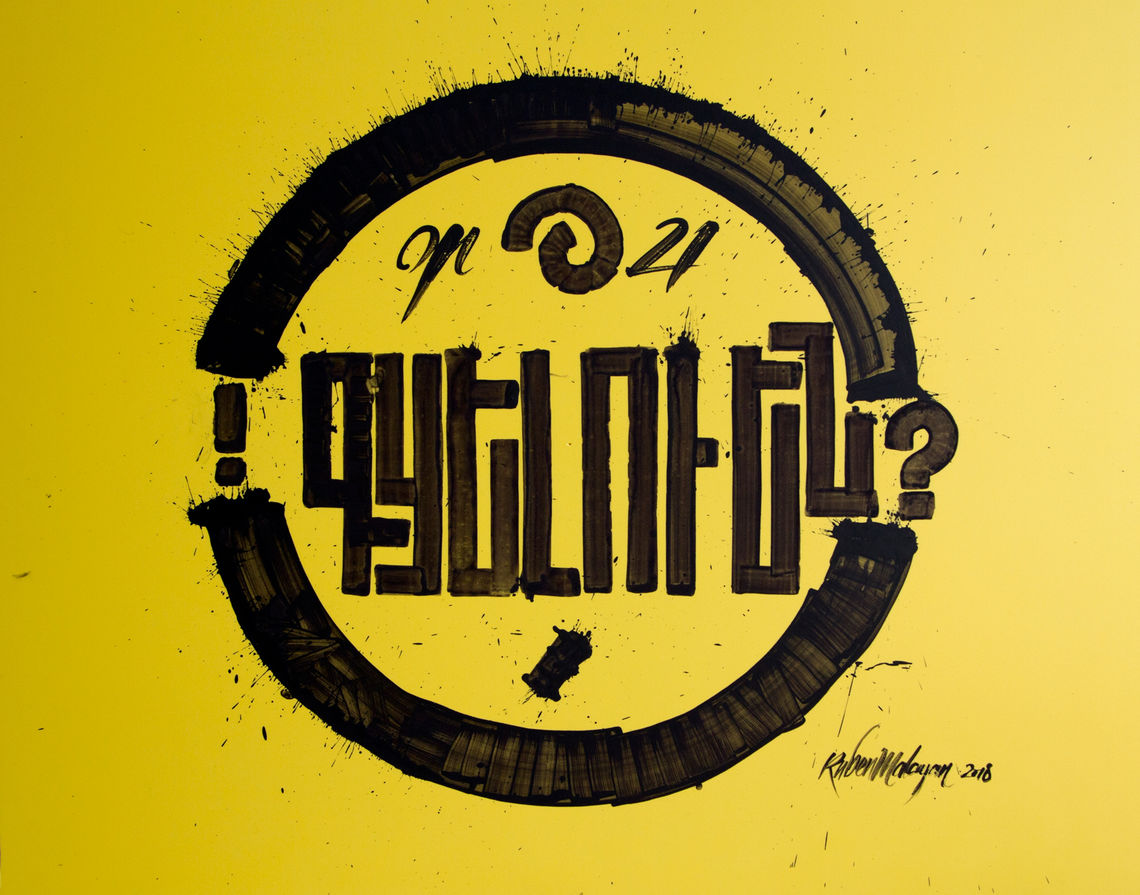 Calligraphy and the Message
Calligraphy sometimes borders on the edge of abstraction. Shapes fuse, creating a new reality, creating associative perceptions. But in the case of poster art the legibility is a primary concern, because the messages need to be instantly understood. However, I did not refrain from trying to educate the public eye to more complex letter forms, since we are so not used to seeing them often. Our typographic reality is quite sombre.
Calligraphy pushes the letter form to its limits and through that push, releases certain energy, which can be transmitted to the viewer. Expressive forms educate the eye, engage on an instinctive level and need to be combined with more simplified, direct typography.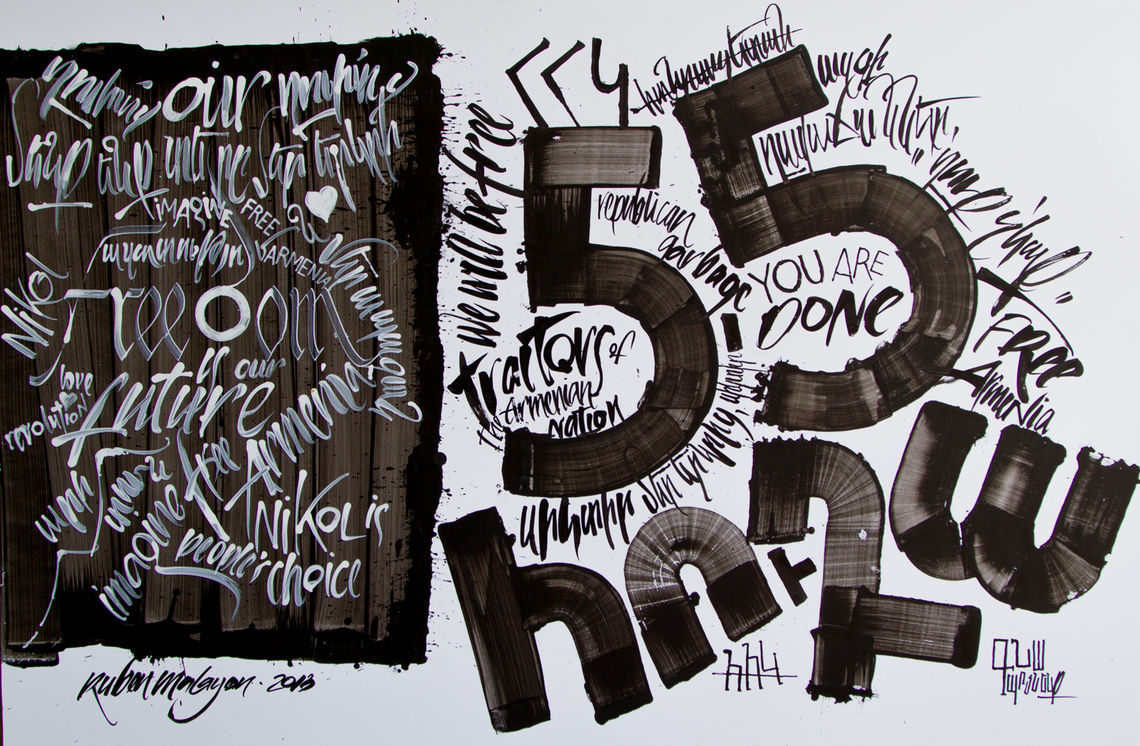 "We are the owners of our country," "Freedom," "With spirit," "Republicans- traitors of the nation," "55 Judas," "Go, let us be done with you."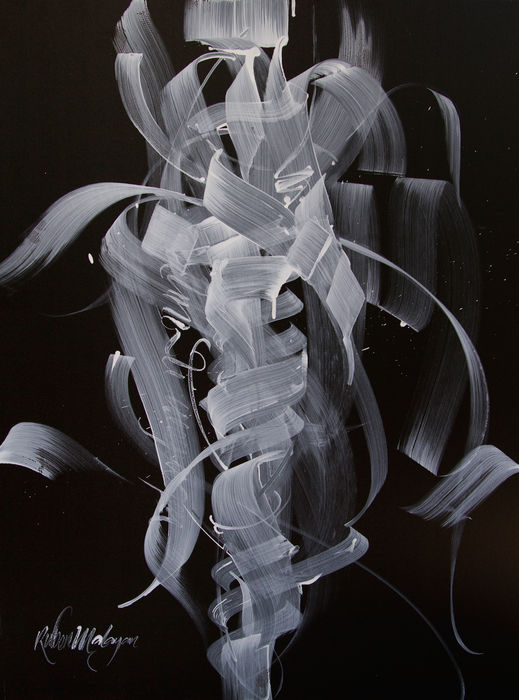 The People and the Popular Movement
The first posters I designed were only seen once, that very night when I gave them away to the people. In fact, none of them resurfaced even the next day. I guess I should be flattered that people realized their artistic value and just took them home. They also bond with them and posters become part of  "history in the making." I wish they'd serve their purpose more than once, because they were drawn to affect more than one person or a few people, but many many more. They are a powerful propaganda tool, when used correctly. Hopefully this revolution taught us an important lesson – to understand the importance of visual communications and in particular – poster art. I am also certain that very soon some of them will hang in galleries.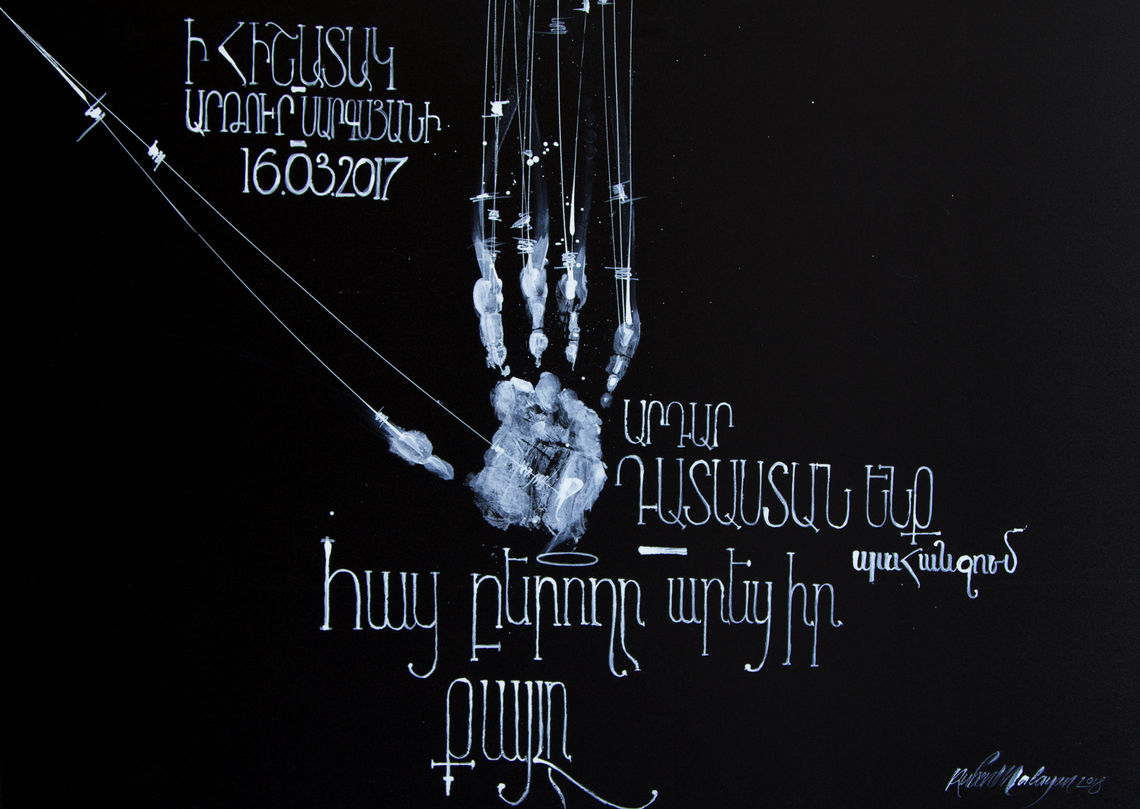 "In memory of Arthur Sargsyan (16.03.2017)," "We demand justice," "The bearer of bread took his step."
Parallels with the Karabakh Movement
During the Karabakh Movement, I was about the age of the students who are the backbone of this 2018 revolution. Now 30 years have gone by, of course I remember vividly the feeling of being a part of something so big. Protests, sleepless nights in the parks, Russian tanks on the streets of our city, it was very romantic for a teenager. I imagine this "fearless generation" as I like to call them, feels something very similar – revolution or any change of this magnitude feels like a dream in which everything is possible, a dream you don't want to wake up from. The changes which are coming are immense and I think everyone realizes that. We had the same feeling 30 years ago, with one big difference – the changes that my generation had experienced were far from positive, as years of darkness followed that "dream of independence." Now the situation is the opposite. The changes are positive, inspiring and irrefutable. We are on the cusp of a life-changing events and I am very hopeful for what is to come.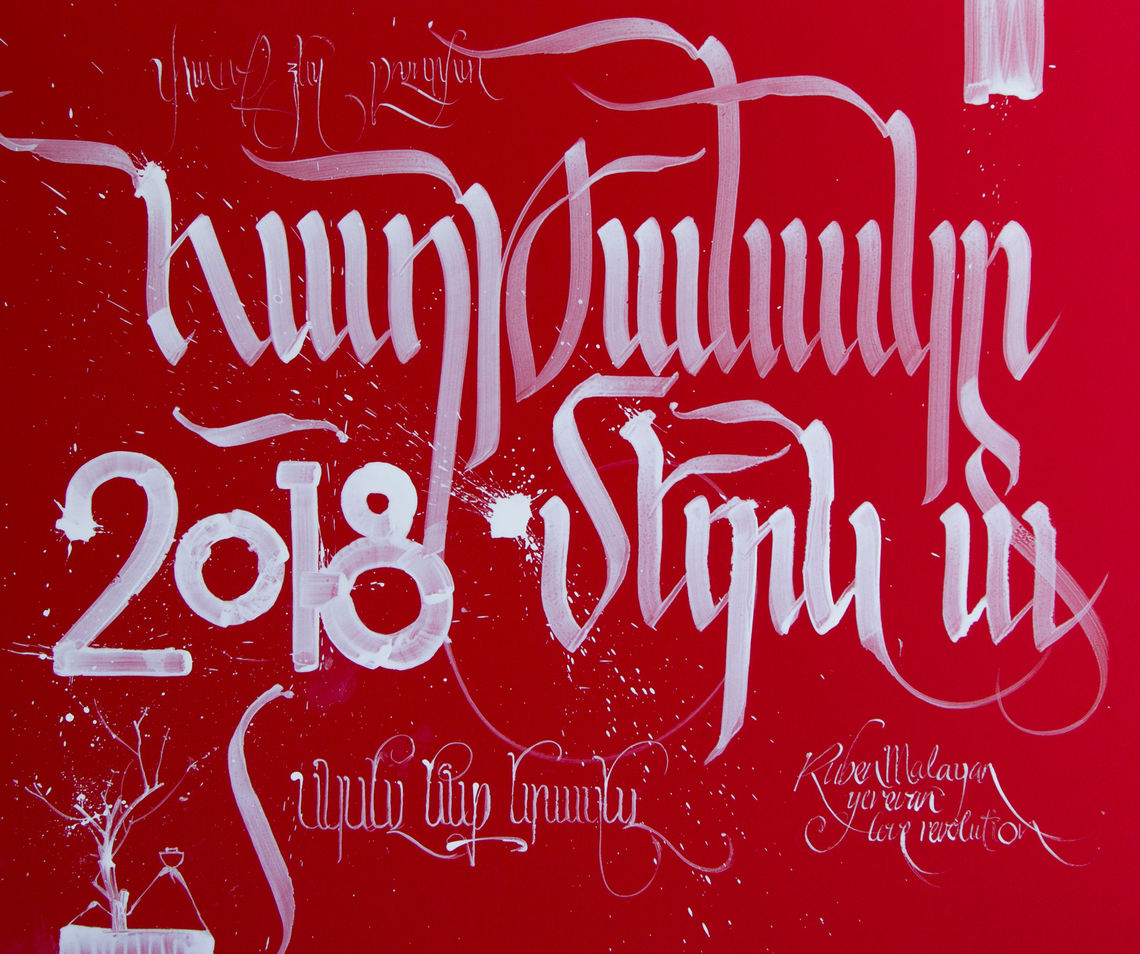 "Armenia is ours- 2018," "We've begun to dream."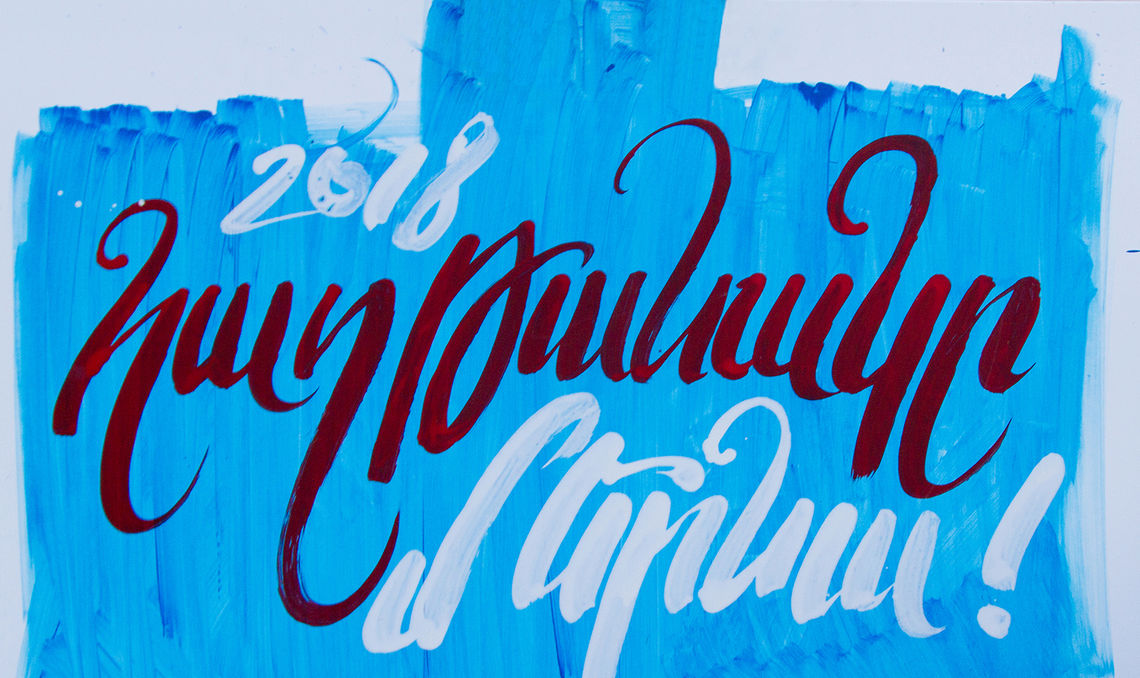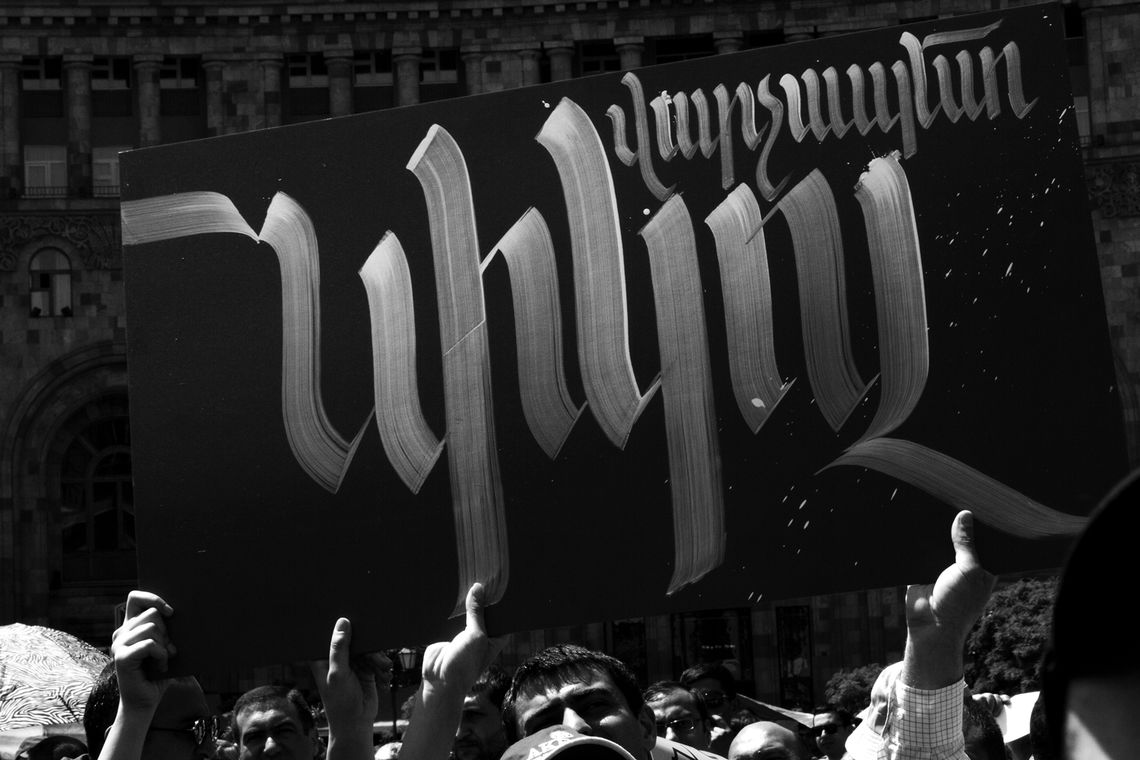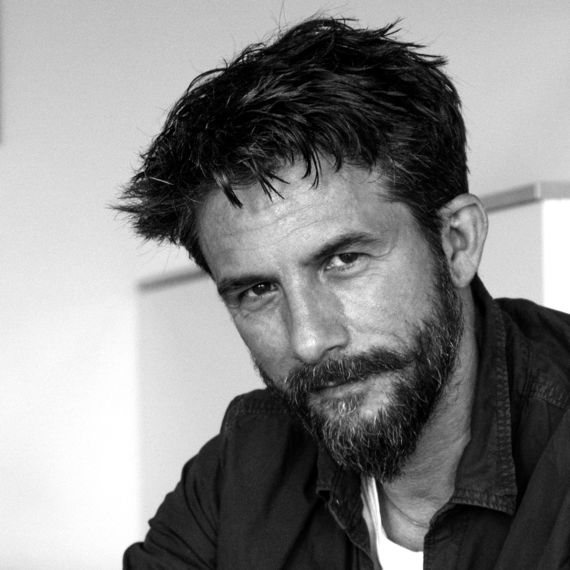 Ruben Malayan is an award-winning art director and visual artist. He has studied painting at the Terlemezian Art College, and graphics at the Institute of Fine Arts in Yerevan, Armenia. His career in graphic design spans over twenty years – crossing over into the fields of visual identity design, typography and calligraphy. For over a decade he has been working on research about the art of specialized scripts, and has developed a portfolio of unique Armenian calligraphy. He is the founder of the "Armenian Genocide in Contemporary Graphic & Art Posters" (2001, Amsterdam) project, which has received wide coverage and acclaim in the international press. His work is featured in "The World Encyclopedia of Calligraphy" (Sterling, NYC 2011) and number of other publications. Ruben has lectured and taught workshops in Armenia and abroad, and is currently teaching Visual Communication course at the American University of Armenia and drawing at the Terlemezyan Art College.