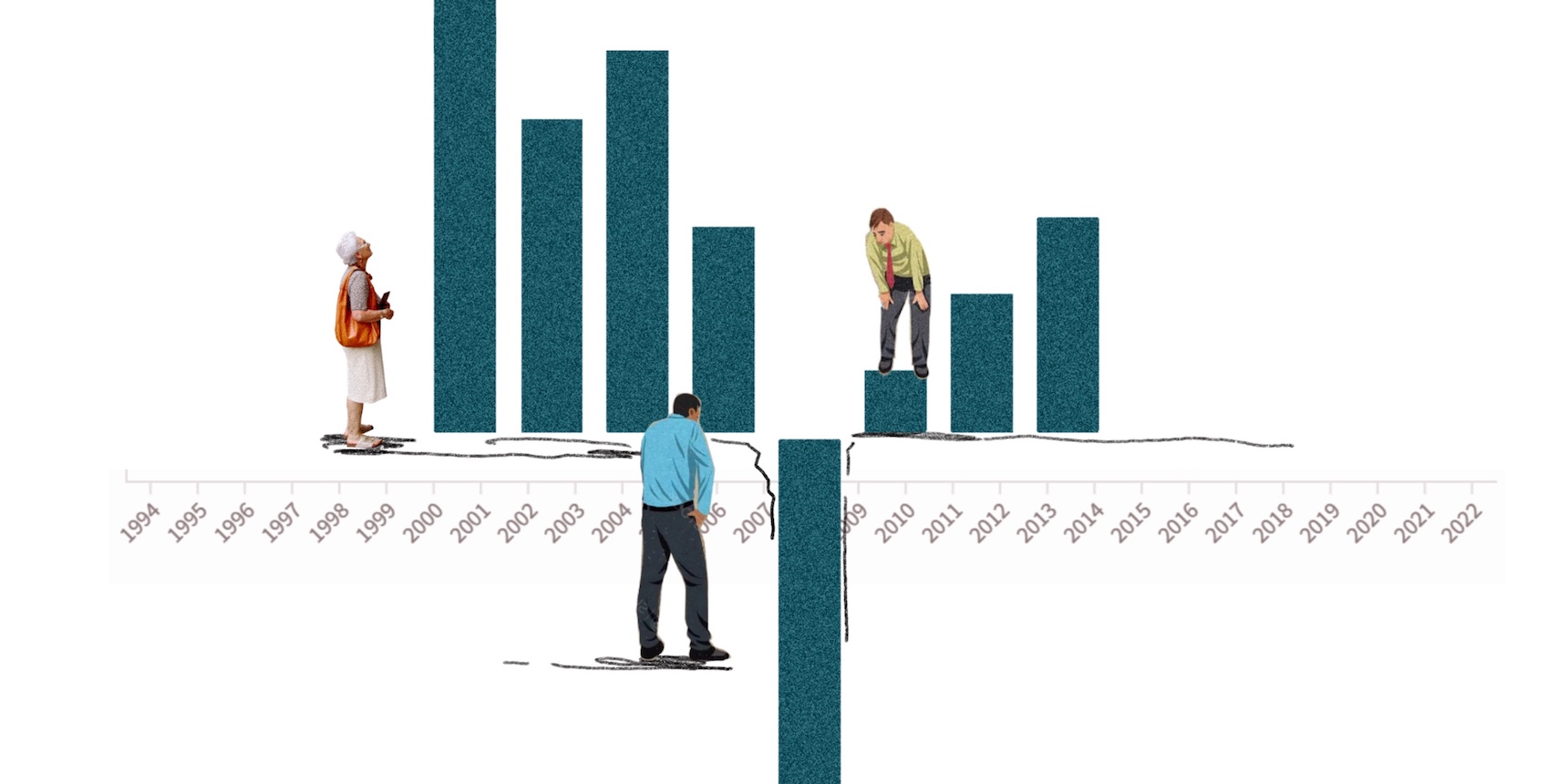 Armenia's Statistical Committee (ArmStat) recently published its detailed annual report on a variety of socio-economic metrics. Driven by the effects of the Russo-Ukrainian war, in 2022 Armenia saw large economic growth, dramatic upturn in international trade, IT, and banking. With the fading of Covid, Armenia also saw demographic recovery after two deadly years of the pandemic and the 2020 Artsakh War. Unemployment dropped to its lowest levels yet, but inflation remains high.
Economy
Last year, Armenia recorded its first double-digit growth since 2007. This is based on an analysis of the indicator of economic activity (which "characterizes the changes in the volumes of services and production") as opposed to GDP (which "describes the value of products and services produced for final consumption, accumulation and net export"). The final GDP figures have not been released yet, but the indicator of economic activity stands at 14.2%. This index is usually within a very close range of the final GDP figure. In December, the ministries of Finance and the Economy forecast 13.2% and 14%, respectively.
Services and (domestic) trade were the locomotives of last year's growth, expanding 28.2% and 17%, respectively. Construction grew 12.5%, while agriculture continued to stagnate. Boosted by the influx of Russians, several sectors grew dramatically. Armenia's IT sector expanded by 75.7% last year. Many of the Russian émigrés work in tech, others have either moved their businesses or founded new ones in Armenia. Banking services grew 67.7%. In fact, Modex reported that Armenia's banks tripled their net profits to 255.6 billion drams ($587 million) in 2022 compared to the previous year. This was also prompted by the influx of relatively well-off Russians and Russian capital to Armenia.
Transportation services grew by almost 40%, including air transport, which has largely recovered from Covid and more than tripled last year. 
The industrial sector overall grew 8%. Mining declined 3.2%, while manufacturing and processing industries grew 13.5%, driven by growth in the manufacturing of non-metallic mineral products (mostly diamonds), which doubled, and production of base metals, which grew 16%.
International trade
Armenia's international trade, at $14.1 billion, grew a whopping 68.6% in 2022. Exports, at $5.36 billion, increased 78%, while imports, at $8.8 billion, grew 63.5% last year.
Russia accounted for 35.6% of all of Armenia's trade, EU countries at 16.2%, China at 12.4%, and Iran 5%. Almost a third, 30%, of Armenia's imports came from Russia and nearly half, 45%, of Armenia's exports went to Russia.
There were some notable changes in international trade last year, mainly due to the Russo-Ukrainian war. Overall trade with Russia, now largely isolated from the West, nearly doubled. While trade with Ukraine decreased by more than 40% from almost $170 to $97 million.
There is also significant change in trade with Turkey. For the first time, there was substantial Armenian export to Turkey. Last year Armenia exported $61 million to and imported $263 million from Turkey. For comparison, between 1995 and 2021 Armenian exports to Turkey averaged below $2 million annually. Gold made up the overwhelming majority of Armenia's exports to Turkey.
Trade increased greatly with numerous countries, such as with the United States (more than doubled from $207 to $465 million), South Korea (from $52 to $105 million), the United Arab Emirates (fivefold from $112 to $593 million), Japan (3.5x from $57 to $198 million). Trade with Greece increased nearly fourfold last year, but still stands at a modest $82 million.
Armenia's top exports for 2022 were: mineral products ($1 billion), precious or semi-precious stones and metals ($989 million), food products ($877 million), machinery and equipment ($695 million), base metals ($460 million), transportation vehicles ($322 million), textile products ($212 million).
Armenia's top imports were: machines and equipment ($1.7 billion), minerals products ($1.2 billion), transportation vehicles ($966 million), precious and semi-precious stones and metals ($691 million), non-precious metals ($624 million), chemical products ($587 million), food products ($579 million). 
Unemployment, Poverty and Labor Market
In December 2022, Armenia reached an all-time high in the number of employed people. It stood at 708,906, up 5.5% from 671,969 a year earlier. As of November, 70% were employed in the private sector and 30% in the public sector. 
In 2022, unemployment fell to the lowest levels on record. In the third quarter it stood at 11.6%, compared to 13% in Q3 of 2021.
In November, the average monthly salary overall was 247,989 drams ($627), up from 202,238 drams ($423) a year earlier. In the private sector, the average monthly salary stands at 274,275 drams ($694) and 186,293 ($471) in the public sector. The highest paying jobs in Armenia are in tech (988,630 drams or $2,500), finance (704,094 or $1,780), and mining (447,927 or $1,133).
Inflation continues to be high. The Consumer Price Index (CPI) climbed 8.3% compared to a year earlier. Inflation of food and non-alcoholic beverages stood at 10%, utilities at 8.2%, clothing at 7.2%.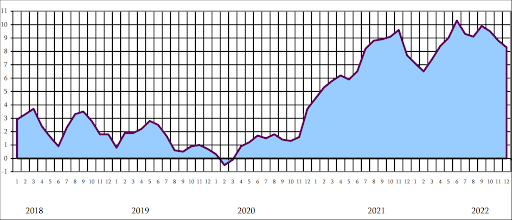 Consumer Price Index (CPI) year-over-year (YoY) changes in 2018–2022
The latest figures for poverty in Armenia are available for 2021, when it stood at 26.5%. This is the "average poverty" rate. It is measured by consumption (as opposed to income) per adult below 48,145 drams ($95.6) per month. Extreme poverty stood at 1.5%, but as much as 45.7% of Armenians can be considered poor if the upper range (consumption below 57,744 drams or $114.7 per month) is taken into account.
Demographics
Armenia conducted its decennial census in October 2022. The results have not been released yet. The two previous censuses were held in 2001 and 2011. ArmStat estimated Armenia's total permanent population on January 1, 2023 at 2,976,800, down from 3,018,854 in 2011 and 3,213,011 in 2001. Since the 2011 census, Yerevan's population has increased by almost 40,000 from 1,060,138 to 1,098,700. Armenia's rural population has decreased by almost 29,000, while Armenia's urban population besides the capital has seen a population drop of almost 52,000 in a decade.
In 2022, Armenia's natural growth rebounded to the pre-war and pre-pandemic levels of 2019. Last year Armenia saw 36,353 live births and 26,805 deaths, yielding a natural growth of 9,548. The two previous years, 2020 and 2021 were Armenia's deadliest in decades. In fact, 2020 saw more deaths (by 80) than births.
The three-year total of Covid deaths in Armenia stands at 9,808, including 3,545 in 2020, 5,451 in 2021, and 812 in 2022. 
Due to the Russo-Ukrainian war, 2022 saw a large influx of Russians into Armenia. Their exact number, especially non-Armenian citizens of Russia, is impossible to retrieve, but government data shows that the difference between the number of Russian citizens entering Armenia and those leaving is more than 65,000.
Overall, 2022 saw a positive net migration, based on arrivals and departures, of 38,732, compared to a negative migration of 43,874 in 2021.
As a side note, the most common names given to baby girls in 2022 were Nare, Arpi, Maria, Mane, Lyusi (Lucy), Mari, Anahit, Angelina, Mariam, and Yeva. For baby boys, the top names were: Davit (David), Narek, Hayk, Monte, Tigran, Areg, Mark, Mikayel (Michael), Daniel, and Aleks (Alex). Nare and Maria, Davit and Narek have maintained their top positions for several years now. Monte has become increasingly popular in recent years. It is primarily associated with Monte Melkonian, the national hero. In 2016, only 122 boys were named Monte, which made it the 39th most common baby boy name; 567 and 646 babies were given the name in 2020 and 2021, respectively, bringing it to the top 4 and 3.
Tourism
Tourism also rebounded to a large degree to the pre-pandemic levels of 2019, even exceeding 2018 figures. Last year 1.67 million tourists visited Armenia compared to 1.65 million in 2018 and almost 1.9 million in 2019. Russian citizens made up almost half of the total at 790,000 with Georgian citizens at second place with 175,000, followed by Iranians at 116,000, Americans at 50,000, German and French citizens around 23,000 each.