On Tuesday, February 1, 2022, an increase in the cost of electricity for residential consumers in Armenia came into effect. The rates had been set by a decision of the Public Services Regulatory Commission (PSRC) on December 29, 2021. These decisions used to be made in the summer but, since 2016, have been taken just prior to New Year and Christmas festivities, in the middle of winter, when cold weather and social obligations keep the public's attention elsewhere.
Back in June 2015, a 16.6% price hike sparked the Electric Yerevan protests that blocked traffic on Baghramyan Avenue, where the National Assembly and Presidential Palace are located; it is a key artery leading to Downtown Yerevan from its northern suburbs. That movement attracted international attention after the government used water cannons to disperse the protesters. As a result of the protests, the privatized electricity distribution company Electric Networks of Armenia (ENA) was sold by Inter RAO (a company partially owned by the Russian state) to Tashir Group (controlled by Russian-Armenian businessman Samvel Karapetyan). The price hike was subsidized before ultimately being scaled back.
Figure 1 details how the price of electricity in Armenia has evolved over the last decade. The 16.6% increase in 2015 had compounded over a 10.1% increase the previous year. As the post-protest subsidization plan ended, the price eventually settled at 44.98 AMD/kWh ($0.09/kWh) on February 2, 2017, where it was kept frozen for four years. Also in 2017, a new tariff category was created so that socially vulnerable families, i.e. those facing poverty, would receive a discount. About one in ten customers currently fall into this category.
Figure 1. Historical Daytime Residential Electricity Prices in Armenia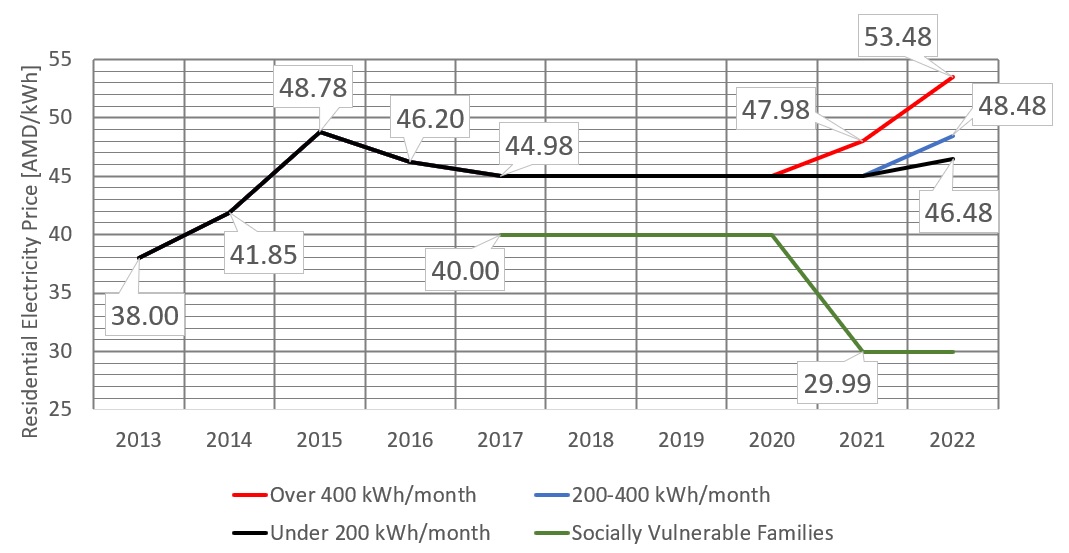 It is worth mentioning that the prices being discussed are those that apply to daytime usage. Customers who have an updated meter that can track time of use get a 10 AMD/kWh discount between the hours of 11 p.m. and 7 a.m. from November to March, or between 10 p.m. and 6 a.m. from April to October.
Because of the legacy of the Electric Yerevan protests, reassessing residential electricity rates had become a political lightning rod. In the aftermath of the 2020 Artsakh War, though, the Armenian Dram (AMD) faced pressure and began to slip in value. In addition to the global inflationary impact of COVID-19 pandemic-related social spending and supply chain shortages, a weaker dram meant that imported goods (including fuel), which are paid for in foreign currencies, cost more in AMD. In the midst of these dynamics, the price of electricity was adjusted for the first time since 2017. The majority of families did not actually experience an increase on February 1, 2021, though. The tariff was kept steady at 44.98 AMD/kWh for customers who consumed less than 400 kWh/month. The higher rate of 47.98 AMD/kWh (a 6.7% increase) only applied to those exceeding this threshold, about 10% of customers. Meanwhile, the special support for socially vulnerable families was increased, actually reducing the price they paid by 25%.
Thus, 2022 marks the first electricity price increase that will apply to the average middle-class consumer (the middle 80%) since the 2015 Electric Yerevan aftermath. A new consumption tier was added to differentiate between customers who use more or less than 200 kWh/month. Those who can keep their consumption below this threshold will only experience a 3.3% increase; those using between 200 and 400 kWh/month will be hit with a 7.8% increase. Those consuming more than 400 kWh/month, the tier that was created last year, will experience an 11.5% increase; they are most likely to live in the largest homes.
Table 1. 2022 Electricity Price Increases by Customer Type

Market Liberalization
Most of the population will still be paying slightly less than the prices proposed in 2015, but that might not be the case for much longer. On January 5, 2022, the PSRC announced that it will begin the process of transitioning to a liberalized electricity market, a project being supported by USAID. While details have not yet been released, market liberalization implies that an electricity consumer can choose to opt out of regulated rates and instead sign a contract with a different electricity retail company—other than ENA. These are purely financial arrangements; nothing actually changes with regard to the connection of their home to the electric distribution grid operated by ENA. These contracts only make sense, however, if there is reason to believe that the regulated price will increase higher than the contract price being offered. Unfortunately, in other countries where this new system has been introduced, there have been repeated episodes of commission-based salespeople unethically misrepresenting themselves to get customers to sign contracts they don't understand (committing them to unnecessarily higher rates) or just outright forging them.
The PSRC announcement says that ENA has until January 25, 2022 to inform customers about changes to their supply contracts that enable the new approach; however, no one contacted for this story reported receiving any such notification. Unlike in North America, utilities in Armenia don't mail out paper bills (to which a notice of changes to their terms of service could be easily attached). It is up to each customer to report to the Post Office between the 10th and 20th day of the month to check how much is due and make the payment. Third-party payment terminals and mobile banking apps also allow utility payments to be made more conveniently but don't break down the components of the amount due in as much detail.
Rising Water
Electricity is not the only utility getting more expensive. The price of water was increased by 11.4% on January 1, 2022. Prior to 2017, a number of different regional water companies operated throughout the country. These operations were taken over by Veolia, a French company, which won a contract to manage all of Armenia's drinking water and wastewater until 2030. Figure 2 shows how the price of water has evolved since then.
Figure 2. Historical Water Utility Prices in Armenia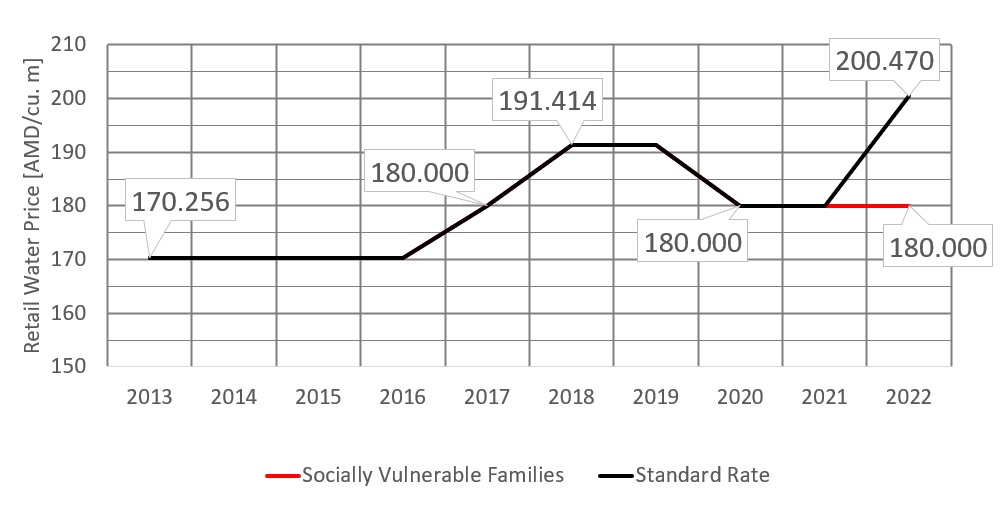 The cost per cubic meter of water supplied went up 5.7% on January 1, 2017, from 170 AMD to 180 AMD, when Veolia took over the operations of Yerevan Water. Veolia's supply contract entitled it to request further price adjustments as pre-determined underlying assumptions changed. On January 1, 2018, these calculations led to a 6.3% increase to 191 AMD/cubic meter; however, end-consumers continued to pay 180 AMD/cubic meter, with the remainder being subsidized by the state budget.
For 2019's rate, Veolia underwent the same process to apply for a price hike to 205 AMD/cubic meter. It would have represented a 7.2% annual increase. A review by the PSRC concluded that it qualified for a slightly lower price of 202 AMD. By this time, a change in government had taken place and a new approach was taken. The company and the government came to an understanding that the excess amount would be compensated for in the tariff calculations of 2025. The contract forecasted that the total volume of water supplied in 2025 would be higher (as better operations reduced service interruptions), to the point that the overall price per cubic meter should start to trend down. Thus, compensating the excess costs in the future could reduce overall price volatility. This agreement was reached in November 2018, at the height of the election campaign for the December 9, 2018 early parliamentary election, when a utility rate hike announcement would have been very politically sensitive. The official price was kept at 191 AMD but, thanks to state subsidization, end-consumers continued to pay 180 AMD.
For 2020 and 2021, initial assumptions about the volume of water supplied were reassessed and revised down. As a result, the official price was reduced to 180 AMD, eliminating the need for subsidization from the state budget and resulting in no change for end-consumers.
For 2022, however, Veolia applied for a price increase to 223.7 AMD/cubic meter, which would have represented a 24.3% annual increase. The PSRC did grant an increase in the amount that end-consumers will pay, the first since 2017, but limited it to an 11.4% increase at 200.47 AMD/cubic meter, less than Veolia was asking for. In addition, families that qualify as "socially vulnerable" will continue to pay the previous tariff of 180 AMD and not be affected by the increase. The changes have been in force since January 1, 2022.
A Dram Doesn't Go As Far As It Used To
Gazprom Armenia has also applied for an increase in the price of natural gas. The PSRC has begun reviewing the application and, if accepted, the new price will come into force on March 15, 2022.
At a February 1, 2022 rate announcement press briefing, Central Bank Chairman Martin Galstyan said that the impact of increases in the price of water and electricity on overall inflation can be expected to be in the range of 0.6%. That is, overall inflation in the country will be higher by 0.6% in 2022 than it would have been if these utility price increases were not enacted.
The Statistical Committee of Armenia (ArmStat) reported year-on-year inflation in December 2021 at 7.7%, with the "Food" category clocking in at 13.2%. While these figures should raise eyebrows, there are also mitigating factors to consider. Inflation also hit 7% in the U.S. in December 2021, a level not seen in that country since the 1980s. Higher prices are a global phenomenon, not restricted to Armenia.
Also, December actually marked a welcome reduction in year-on-year inflation in Armenia, compared to its level of 9.6% in November 2021 (17.4% for food). Inflation had been climbing steadily since June 2021; December's numbers are the first indicator that the trend may have reversed and will begin returning to the Central Bank's target rate of 4%.
Figure 3. Year-over-year inflation, by month, in Armenia for 2021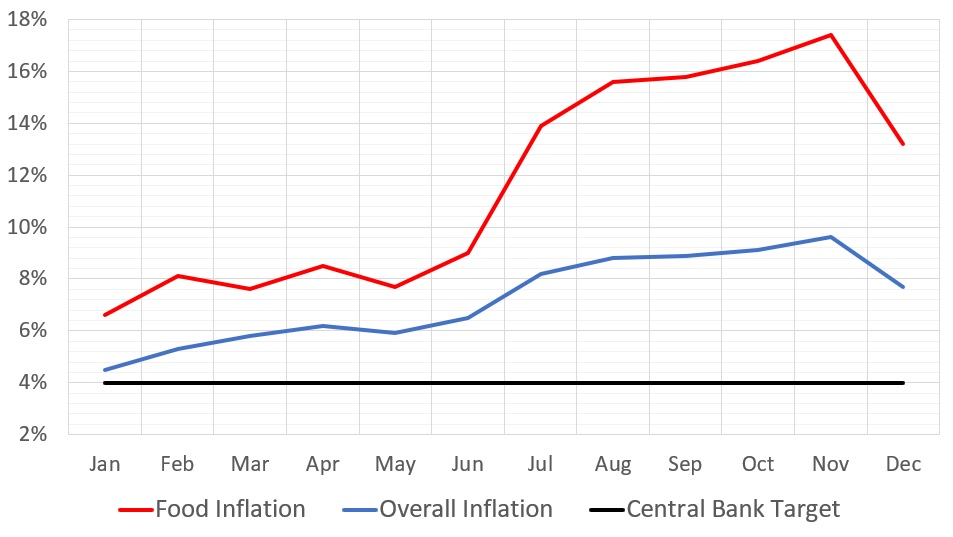 Wages have been climbing along with prices. The average monthly nominal wage in November 2021 was up 10.1% from the previous year.
The Central Bank of Armenia has been pursuing monetary tightening since December 2020 by raising its benchmark interest rate, which has a dampening effect on inflation. Since the end of the 2020 Artsakh War, the bank has raised rates eight times, taking it from 4.25% to 8.00%. The moves have contributed to reinforcing the Armenian Dram, which has largely recovered from its post-war volatility.
Figure 4. Historical AMD Exchange Rates vs. Central Bank Repo Interest Rate Since 2019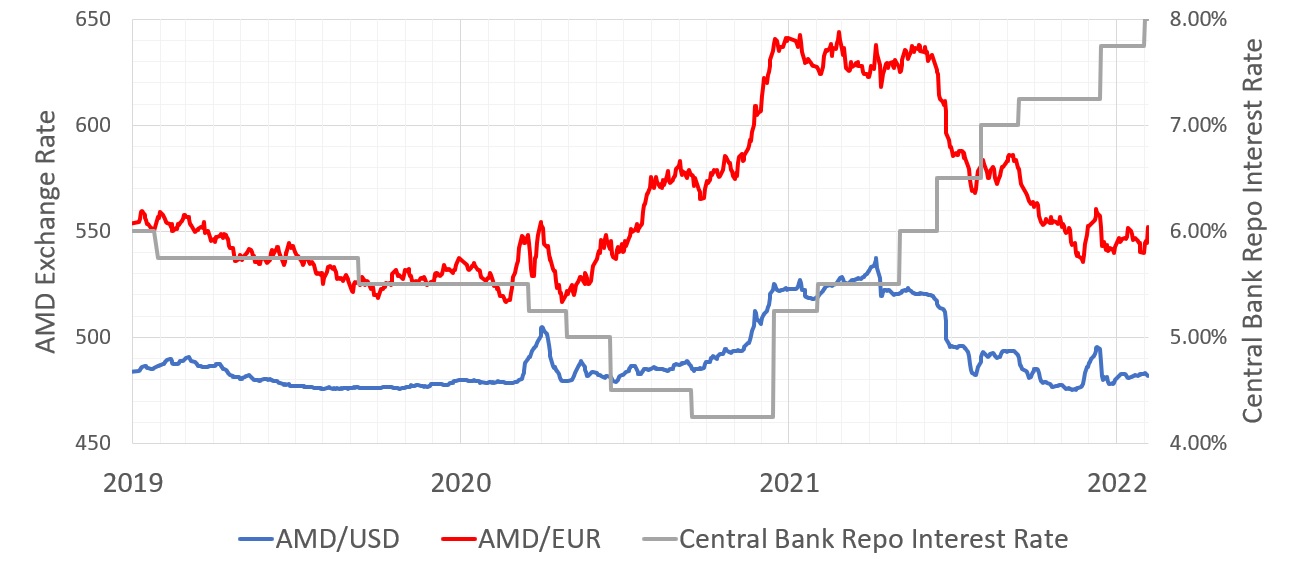 The U.S. Federal Reserve has also indicated that it will begin increasing its benchmark interest rate and scaling down monetary stimulus in 2022. These actions should dampen inflation in the global monetary system.