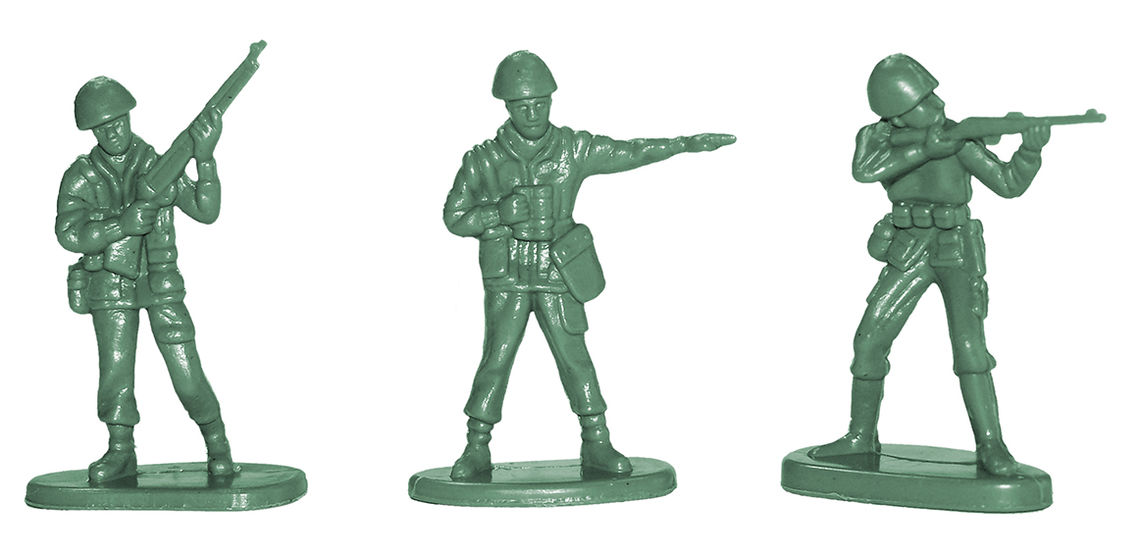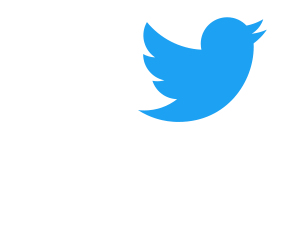 The Armenian Parliamentary election of April 2 was widely discussed on social media. Politicians, journalists, observers and also a large number of citizens were actively posting on different platforms. As usual, social and political discussions were most active on Facebook, but media activists, election observers, journalists and political analysts resorted to Twitter as a more news-focused platform.
Beginning with the 2012 parliamentary elections, the few but active Twitter users from Armenia have typically used this platform to disseminate detailed reports of electoral processes in the country. For those Armenians interested in elections but living abroad, for foreign correspondents and analysts interested in developments in Armenia, Twitter has become the most accessible source to follow. This is also because Twitter has a more functional search engine and since most posts from Armenia are in English and often in Russian it is where the most comprehensible information can be found.
Usually, the Armenian Twitter community discusses and agrees on a hashtag for every major event. This time around, the consensus was #Armvote17. And as is usually the case in recent years, there was an attempt to hijack the hashtag. As almost always during important events in Armenia, the attack on the hashtag came from Azerbaijan.
In the last couple of years, the Azerbaijani propaganda machine has made it its business to be actively involved in all discussions about Armenia and Karabakh and attempts to hijack hashtags. On April 24, as a rule, Twitter users from Azerbaijan start using #ArmenianGenocide and all related hashtags very vigorously in an attempt to sell an alternative presentation of a historic reality.
The Azerbaijani Twitter propaganda started with the IRELI youth GONGO organization in 2012-2013. Hundreds of young men and women were delegated the task of writing propaganda pieces in their blogs. Then they extended over to Twitter; an incredible number of posts on Armenian issues appeared. Eventually, in 2014 the group dispersed due to internal policy disagreements and gave way to the appearance of new Twitter "soldiers." It seems this is when the strategy changed as well. Hijacking Armenia related hashtags became an objective.
On April 2, the Azerbaijani Twitter army was ready for action. It was a Sunday, a day of rest in Azerbaijan when most people enjoy down time with their families, however the propagandist Tweeters started early in the morning and continued late into the night with their posts.
The gist of the Tweets coming from Azerbaijan was to present elections in Armenia in the worst possible light. For that reason, #Armvote17 was not only being used but also #Armenia, #ArmElections2017, etc. Another important factor was that the posts were being written in several languages – Russian, English, French, Spanish etc.
Taking into consideration that dozens of Azerbaijani activists were Tweeting nonstop, naturally, they occasionally managed to infiltrate the Twitter feed from Armenia.
Though, this pattern of behavior by the Azerbaijani propaganda apparatus is not surprising and has been around Twitter for years, this time around, an unexpected player appeared in the equation.
A couple of days before the election, on March 29, a website much loved by hackers that publishes anonymous reports, Pastebin.com, disseminated news that Anonymous (an international network of activist and hacktivist entities that operate on ideas rather than directives) was initiating an operation because the U.S was supposedly financing Armenia and they were against American money being funnelled to Armenia.
The operation carried a number of hashtags #USAID_OPPS #USAID_MONEY #HACK_USAID #Leaks #ArmeniaMoneyOpps #HACK #Hack_Armenia. Attached to it was a supposed letter from USAID to Armenian non-governmental organizations. That letter later appeared on the official US Embassy in Armenia Facebook page, with corrections highlighting the numerous mistakes in it. A similar fake letter was also sent out in the summer of 2015, during Electric Yerevan protests in Armenia against the electricity price hike.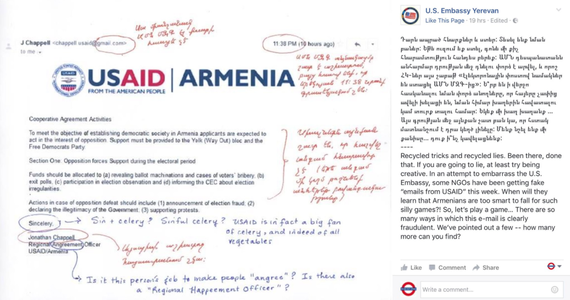 The Russian Connection
On Election Day, Twitter was bursting with similar posts in Russian. An enormous number of fake users were retweeting the fake USAID letter. In some versions, the notes from the US Embassy in Armenia were taken into consideration and the mistakes were corrected.
This was not the usual Azerbaijani Twitter propaganda activism. Apparently, there were no users at work, it was an automated attack of "fakes." Many of these fake accounts were created in 2014-2016. Here are a few examples: https://Twitter.com/mihail_osipov65, https://Twitter.com/VladimirJAkov13, https://Twitter.com/rais_nikiforov։
All these fakes had the following in common:
– They were in Russian.
– They were Tweeting only about the Armenian elections and the American influence on them.
– When there is no attack on Armenia, they mainly write about Russian-Ukrainian relations.
– They all, at one point or another, disseminated news from a certain Russian source, sm-news.ru.
Based on this information, it is safe to assume that these were Russian propaganda bots. Or there was an attempt to make it look like Russia was meddling in Armenian elections. Both scenarios are equally probable. But it is unclear as to who would benefit from such a quantitatively impressive but qualitatively useless effort.
To note, despite the attempt to hijack #Armvote17, a hashtag search on Twitter about Election Day, reveals that the top tweets were mainly posts from Armenia – by local Armenians and/or Diaspora Armenian observers.
" The gist of the Tweets coming from Azerbaijan was to present elections in Armenia in the worst possible light. "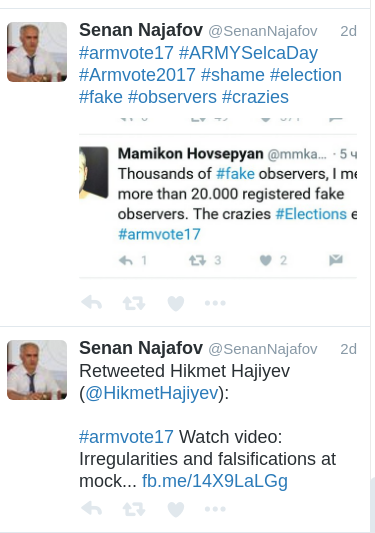 An example of an Azerbaijani propaganda troll.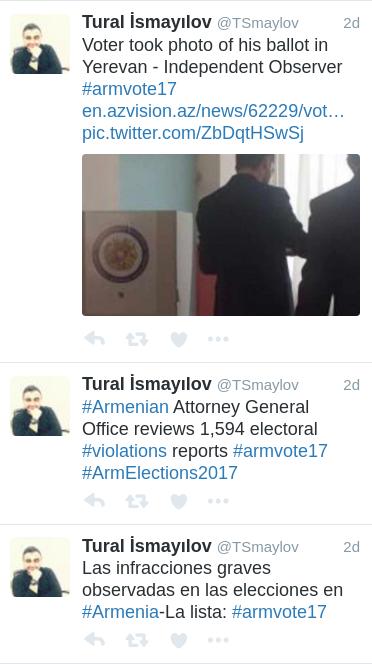 Azerbaijani tweets were written in several languages – Russian, English, French, Spanish.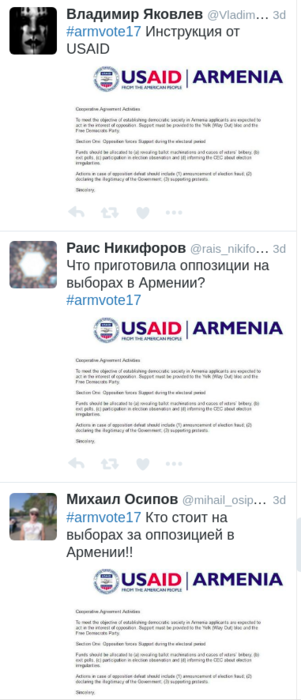 Examples of fake Russian Twitter accounts.