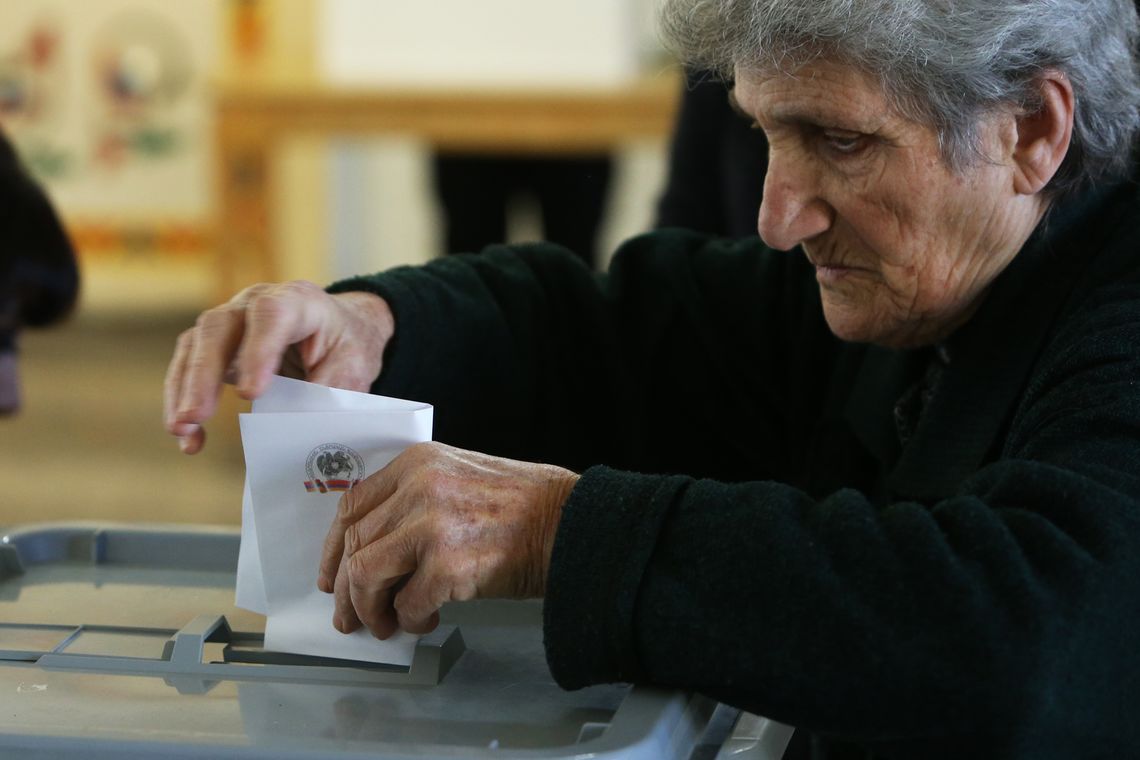 Citizens exercising their right to vote. Image by Photolure
The sixth legislative elections in Armenia are scheduled to take place on April 2, 2017. Voters will be choosing 101 members of the National Assembly from among five parties and four party blocs taking part in the election. The campaign officially started on March 5 and that same day parties released their election platforms.
Armenia is situated in a volatile region with 80 percent of its borders sealed, hence, it is important to understand how political parties and blocs look at the imbroglio and what their strategies are to deal with expanding regional uncertainties.
What are the foreign policy programs of the parties? How does each party plan to address Armenia's relations with its neighbors? This article aims to tease out the knots and present the various positions.
The 44-page platform of the ruling Republican Party of Armenia (RPA) is built around its campaign slogan "Security and progress." Minister of Defense Vigen Sargsyan joined the ruling party only three months ago – in November 2016, and heads the RPA parliamentary list of candidates. The parts in the program concerning the question of Armenia's relations with its neighbors are not extensive and they are mostly declarative with a vague strategic outlook. They mostly revolve around the importance of building a reliable security architecture. It states that Armenia does not consider any nation or state as an enemy and expects reciprocity. The leader of the party has been saying that since December 2012, hence, it offers little innovative insights. The program further anticipates that Azerbaijan and Turkey "stop denying the right of the Armenians for existence, sovereignty, sustainable and secure development." The program underscores that Armenia will continue to contribute to the consolidation of the Collective Security Treaty Organization (CSTO) and will implement its commitments within that security organization. Concomitantly Armenia aims at continuing to deepen its partnership with NATO, hoping to enhance the combat skills of its armed forces and improve civil-military relations. The section related to Iran, Georgia and Russia is quite short full and of declaratory and diplomatic formulations.
The Tsarukyan Bloc, formed on the bases of the Prosperous Armenia party, is headed by Gagik Tsarukyan, an Armenian millionaire who left politics in February 2015 to return in December 2016. This bloc is widely seen as the main contender of the ruling RPA. Its campaign slogan is entitled "It's time for changes and construction." Its initial 15-step program, which was officially announced weeks before the official start of the elections, has mostly offered an economic recovery program with little emphasis on foreign policy.
The foreign policy sections of campaign platforms revolve around three central questions – how to solve the Karabakh conflict, how to deal with neighbors and how to work with Russia.