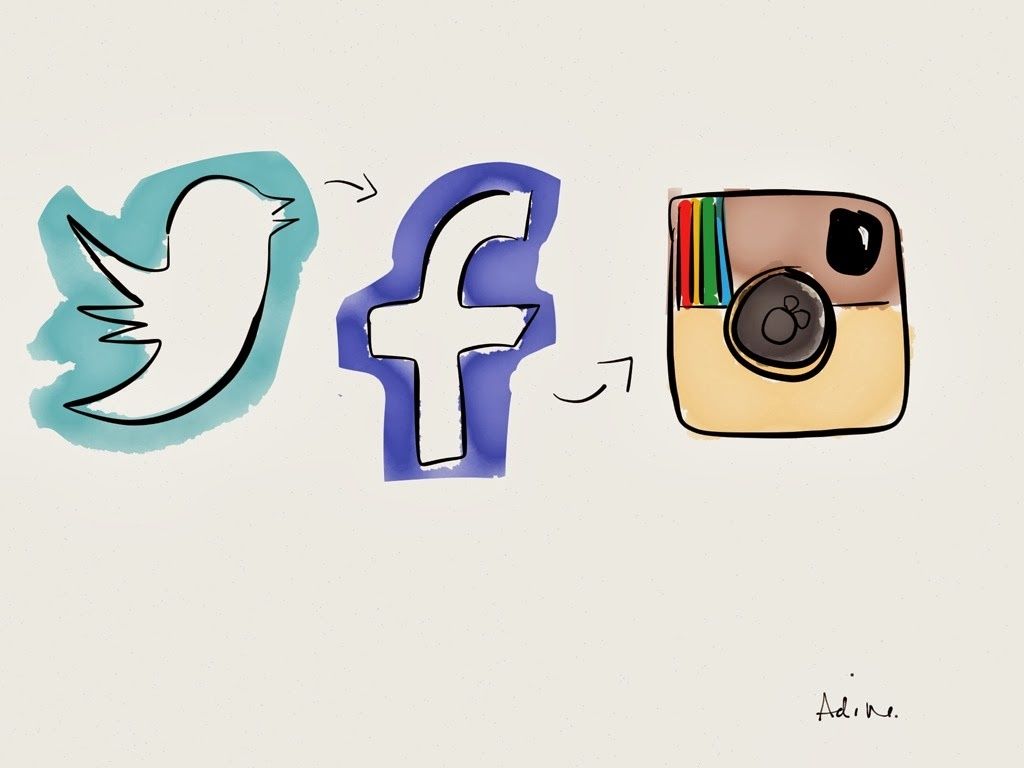 Photo credit: http://www.npo.io/
" The overall picture of the election campaign in social media illustrates that all the political parties were determined to actively use social media, yet they did not have a clear plan on how to do it. "
The cost of advertising on Facebook in Armenia has gone up twofold since March 5.  For many of those who have been advertising their small businesses on the platform, this doesn't bode well. And the reason is political. On March 5, the parliamentary election campaign kicked off in Armenia. Nearly all political forces rushed towards paid sponsorship on Facebook. The prices of advertising on Facebook are developed on the principle of auctions. It is quite evident that deep-pocketed political forces began to dictate the prices and small businesses who had previously been able to use the platform efficiently by spending modest amounts were hit hard.
These parliamentary elections are unique with respect to the use of social media. During the parliamentary and presidential elections of 2012-2013, social media was also utilized. However, at that time it was used mainly for intentions that were rather ruthless – dissemination of fake news or compromising materials about political opponents, using fake accounts to verbally attack members of different political parties, etc.
This time political forces decided to be civilized and the majority of them adopted another strategy. It is obvious that the major political forces either have their own PR and SMM (Social Media Marketing) teams or hired organizations providing such services. Moreover, it is clear that all party activists have been instructed to like and share related information on social media. During the previous elections, this kind of activity was ensured with the use of fake accounts. Frequently, fake likes for party materials and pages were purchased from Russia, the Middle East and other countries. This time young party members are actively doing the job previously done by fake accounts. Very often, there is no difference between them and fake users, as party materials are mainly being shared mechanically, without any comments, in a simply automated manner.
Facebook or Odnoklassniki: That is the Question
Political forces have concentrated on paid advertising in social media. The principal advertising platform is Facebook, as traditionally all major political and social forces are gathered on this social network; it is also used by different journalists as part of their professional toolkit and by party activists. However, this platform is not in the leading position in terms of number of users. The most visited social network in Armenia is the Russian Odnoklassniki (Ok.ru), owned by the Mail.ru group, which owns several similar platforms, where, like Facebook, it is possible to post targeted advertisements. Yet, this platform is hardly ever used for social and political activities. Only a few political parties are active here and have simply placed some banner advertising.
The advertisement set up by the Armenian National Congress (ANC) and Armenian People's Party Bloc оn the mail.ru platform.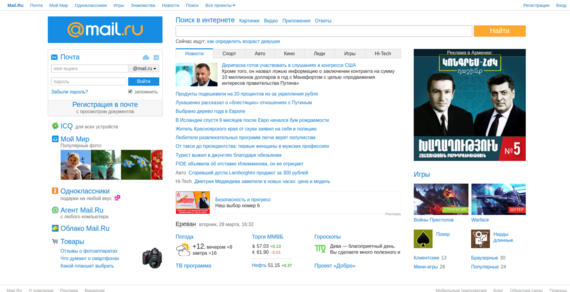 The advertisement of the Republican Party оn the mail.ru platform.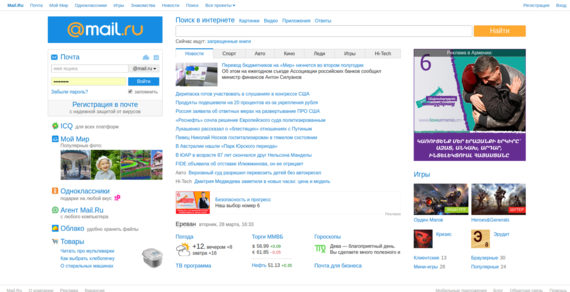 Catching them on Instagram
Budgets are mainly being spent on Facebook – there are about one million active users in Armenia, i.e. approximately one-third of the population. Most of the users on Facebook are young – about 75 percent of them are under the age of 35. Moreover, Facebook allows placement of its ads on Instagram as well, so the election campaign is heating up on that platform as well. Not surprisingly, the percentage of younger users on Instagram is even higher. And it's on Instagram where political forces are trying to introduce topics appealing to the youth. In addition, they are trying to introduce their younger candidates. The number of Armenian users on Instagram has increased dramatically over the last few months and is now about 400 thousand people, which is already comparable with those of Facebook. On top of that, a certain migration of young users from Facebook to Instagram has been observed, which is conditioned, among other things, by the extremely politically-loaded information on Facebook. Many younger people are "escaping" to Instagram to avoid the election campaign. But political forces are finding them here as well.
The idea of creating Instagram accounts belonging to political parties is relatively new; it can be proven by the fact that pages of the main political forces and their players have been created in the course of the last one or two months. Thus, Prime Minister Karen Karapetyan, who is the main driving force of the Republican Party in social media and whose photos are being used in the party's ads, created his Instagram page on March 15, ten days after the election campaign started. The Free Democrats Party also joined this social network during the election campaign. Nevertheless, not everybody had enough time to fully realize the opportunities provided by this platform. Moreover, most of the election campaign participants are using Instagram to place advertisements only as a Facebook application without working thoroughly with the audience.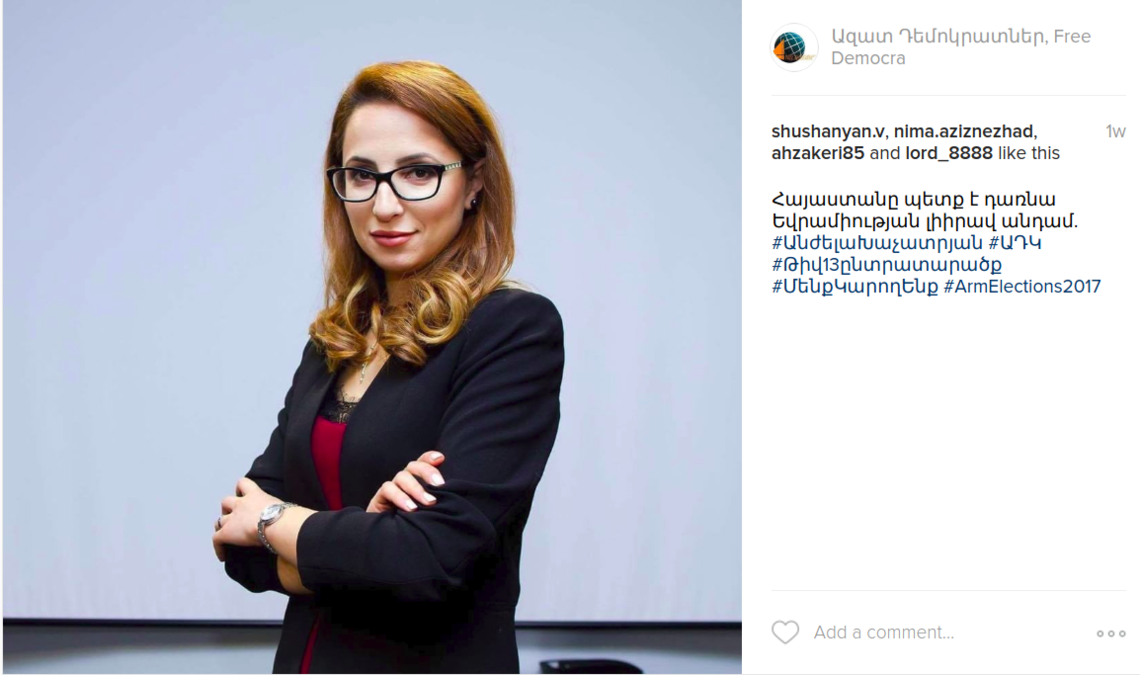 The advertisement of the Free Democrats Party on Instagram. "Armenia should become a full member of the EU." #AnzhelaKhachatryan #FD #N13pollingstation #WeCan #ArmElections
Tricks and Bricks
One of the common uses of social media for parties is to cast a wide net to attract potential voters. Political parties post an article or a video from a TV program or a meeting with voters and then actively disseminate the material. The party affiliates are the first to share the post, which is followed by their supporters. The next step is creating an advertisement with the same content. An advertisement is usually set for diverse groups, that is, its target audience is not a specific social group but the ad simply intends to reach all Armenians ages 18 and older. Consequently, the use of advertisements is not effective. About eight out of ten parties have adopted such an approach toward advertising and have not set a certain target audience (the provided number is an estimate and cannot be used as statistical data).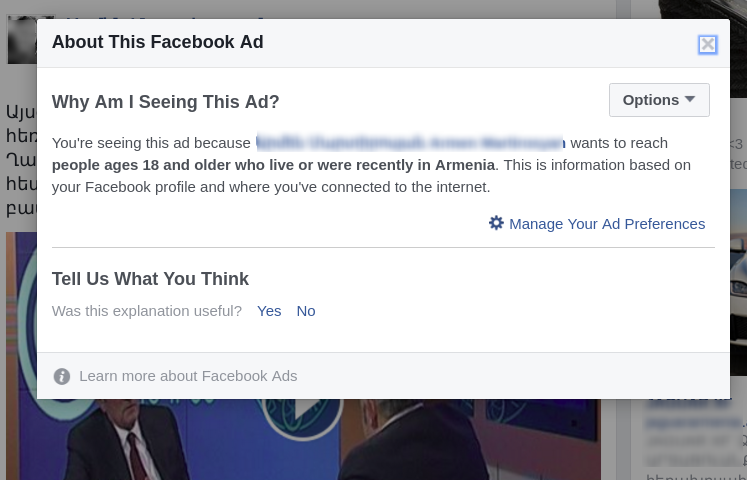 Certainly, we have also encountered much more creative approaches. For instance, when the target audience of an advertisement is too narrow.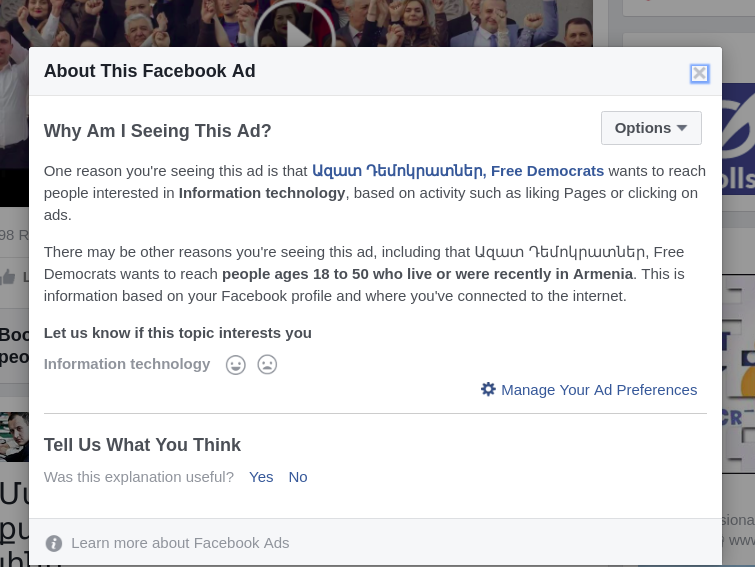 Furthermore, politicians are attempting to reach audiences using all possible features of this social network. For instance, Yelq Bloc's activists are regularly live on Facebook. Without a doubt, this is quite a beneficial strategy, because according to Facebook's policy, all friends and followers of a page receive notifications once the user has gone live. This seems quite a reasonable solution, yet very few dare to take full advantage of this feature.
Strangers in the Night
Candidates running on district lists (rating) constitute a separate case. In fact, under the new Electoral Code, each political party or bloc proposes one national electoral list of candidates, who independently compete in their electoral districts. Often, those candidates independently organize their political campaigns, and it frequently takes quite unusual forms.
For instance, Samvel Aleksanyan, a representative of the Republican Party and a Member of a Parliament, is actively advertised by the Yerevan City supermarket chain. (The MP has repeatedly denied that he owns the supermarket chain; as an MP he is restricted from business ownership).
Comments:
Hrant Hovhannisyan: I am almost sure that all those who denigrate Samvel Aleksanyan, have relatives, friends or even family members who are employed thanks to Samvel Aleksanyan's efforts.
Marine Kirakosyan: The entire staff of Yerevan City supermarket will vote for you Samvel Aleksanyan.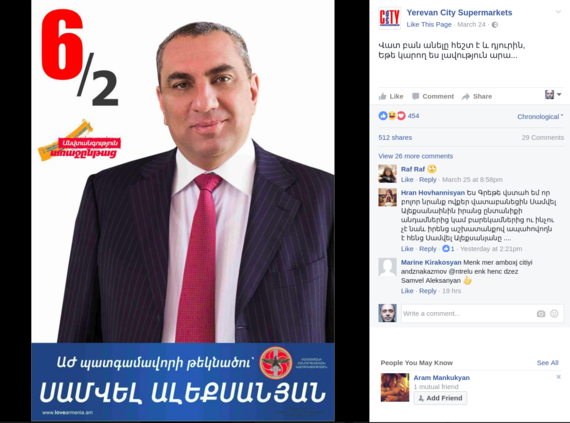 There are candidates whose advertisements are confusing, and it is impossible to understand who has placed the advertisement and what the objective is. The overall image is very surrealistic, as those candidates who do not have digital skills and are not proficient in the virtual space, hire specialists to ensure their promotion on the Internet. Sometimes, such efforts result in advertisements where politicians' heads are cropped.
ORO (Ohanyan-Raffi-Oskanyan) Bloc

"The aim of the bloc is to carry out significant reforms in Armenia in just one year."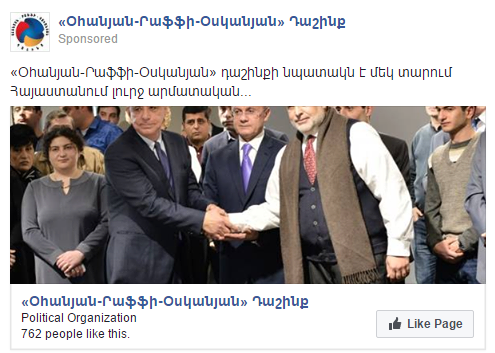 Sometimes it is not even clear why some particular pages promote the candidate, or what the advertisement's message is.
Le Rudwolf is a leather goods store

Arayik Grigoryan: "We should try to contribute to the fortification of the Armenian army with our daily work."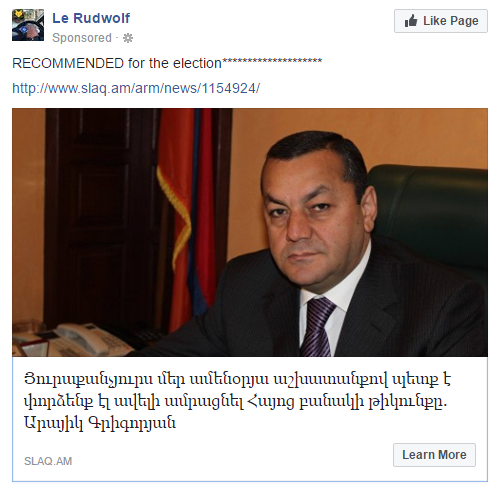 In general, all the political powers are active and mainly focused on Facebook. It is odd, but no political party is utilizing Twitter. It is true that Twitter doesn't have a large following, however, the majority of active young Armenian users are on Twitter.
It is also puzzling that by the end of March, ad prices significantly decreased to their initial rates. Simultaneously, the flow of political advertisements also decreased. It is hard to understand the underlying causes as political parties are not open about their advertising campaigns. Nevertheless, we may still make inferences. It is difficult to assess the efficiency of advertisements in social media, in particular because measuring it was never deemed necessary before. It can only be assumed that political parties never developed a well thought out budget and most of their finances were spent during the vigorous Facebook competition at the beginning of March. The overall picture of the election campaign in social media illustrates that all the political parties were determined to actively use social media, yet they did not have a clear plan on how to do it.