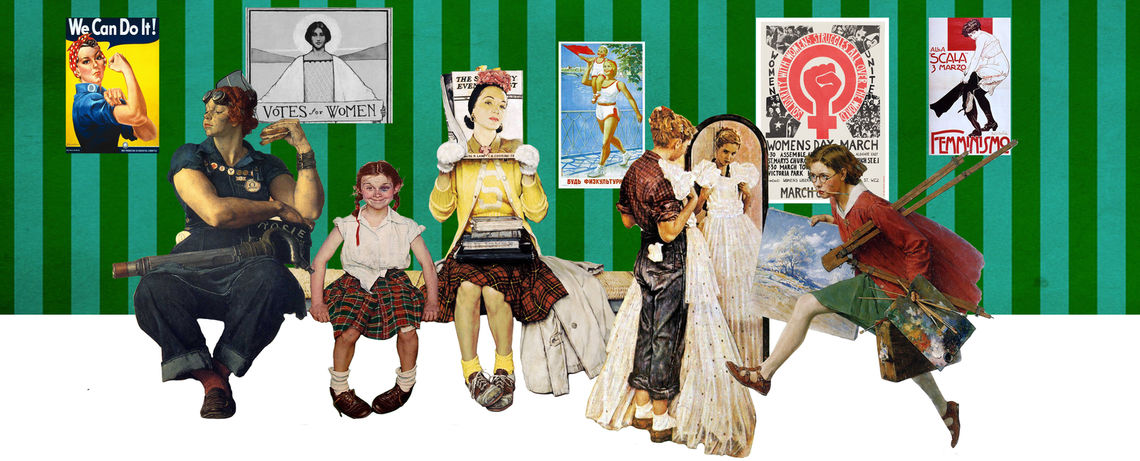 "How can you send your female child away on her own like that?"
I won a scholarship two years ago. Among thousands of high school students from Armenia, I was chosen to spend an academic year in America. And that is when my parents had to face similar questions.
Hearing of my achievement, people felt the urgency to remind my parents of the fact that I was female. And this was the moment when it became clear where achieving your dream through hard work ends and paying dues to convention begins. The moment when it became clear to me that to be a full member of society, it was not enough to be smart and goal oriented, one had to also be born male.
The struggle for the equality of the sexes officially began two centuries ago, and its first considerable achievement came a century on, with the women's vote. For the longest time, this struggle for equality was called women's rights and only in the 1880-s did the term Feminism enter use.
I wanted to find out what Feminism has come to mean in the contemporary Armenian social context for the 52.98 % of my country's population, i.e., the female contingent, more than 100 years after the term was coined. I set out to talk to ten women from my parents' generation and ten from my own.
I started my enquiry from my own backyard, That which in journalism would be called vox populi in this case was a with casual conversations with neighbors whom I have said hi to all my life and they have warmly responded, Hi, Anul jan.
I found out that feminists are "self-actualized," have "well-paying jobs," or "are able to get their opinions heard in society." For so many of my parents' generation, Feminism as the theory of the political, economic, and social equality of the sexes is only applicable for women of certain economic standing who are able to fight for their right to stand on equal legal and business grounds with men. It was relayed to me that if men are able to provide for the needs of the family, women can dedicate themselves to housework and to raising children with a clear conscience.
"What business does a man have in the kitchen? His job is to work and provide for the family. Wouldn't it be better if the husband made enough and his wife did not need to hold a job in her life?" I was told during one of these chats.
As for what my own generation makes of Feminism, the picture here is different. The girls can not make up their minds– is it a positive thing or not so much? "Feminism is about equal rights? I  thought it was about women demanding dominance."
I also learned that often, succumbing to public opinion, young women stopped talking about Feminism, "I was a feminist, then I gave up because it felt like I was fighting alone."
You stumble upon stories of discrimination at every step. When she was 18, Khanum Gevorgyan wanted to appeal to the village municipality for additional funding for one of her social projects. And even when she wanted to give back to her community she had to hear the word "shameful". What business could a girl have going to the municipality on her own? But the municipality is there for all, regardless of sex, and Khanum went anyway.
This biased behaviour and the derogatory use of the word "girl" by so many is what pushed Khanum to call herself a feminist. "For me, it is catastrophic to hear people say that it is a shame I was not born a boy. I know there are physical and physiological differences between men and women, but I can not tolerate it when women are undermined. Stereotypes make me angry and I compel myself to fight them every waking minute," says Khanum.
A hands-on member of civil society, Lara Aharonian, who heads the Women's Resource Center, points out that the beauty standards set for women are already cause for women to undermine themselves.  As for the role of women in society, most often, not having a son is considered a misfortune in an Armenian family. This speaks volumes about how society prefers boys to girls. "People also often believe that feminists are gay and hate men, meanwhile the whole point of the Feminist Movement was to achieve equality of opportunity between the sexes," says Aharonian. "People are often surprised when they find out that I have four children– but you are a feminist, they say. And I say, yes, I'm a feminist and I want my children to live in a world where people are not oppressed because of gender. Many believe that I want to establish a matriarchy but matriarchy and patriarchy are the same thing to me. Feminism is not about dominance, it is about getting rid of discrimination." In Armenia, feminists are fighting to have women's opinions be taken into consideration in any situation.
Both Gevorgyan and Aharonyan, despite the age difference, insist that the feeling of inferiority in women takes its roots in childhood, when girls are thought to be delicate, fragile; they can not play with boys unless there are other girls playing also; that when a man expresses an opinion it is not appropriate for women to disagree. Aharonian gives an example: Girls are put in dresses and told they can not climb trees, boys wear pants and are encouraged to play in the mud (Let him toughen up). And when a woman is assaulted, the first thing people ask is, 'Why was she there at such a late hour?' or 'Why was her outfit so short?' – What does it matter? The fault lies with the perpetrator," says Aharonian.
At 16 I learned that gender discrimination can be the cause of complex problems. At the program where I was one of the scholarship recipients, the number of female laureates has for years been larger than that of male recipients, which is evidence of our hard work, stubbornness and proactiveness.
I do not smoke, and do not intend to dye my hair blue* but discrimination finds me anyway. I often wonder, what would happen when I'm standing at a fork in the road again? What would the next 16-year-old do when she hits the invisible wall built by society? Will she succumb to "tradition" or will the equality of the sexes score one more poin.
*Reference to Asya Khachatryan's story who was subjected to psychological and physical police pressure  in Artsakh (Nagorno Karabakh) for having blue hair, smoking and walking late at night. the story was widely discussed, especially on social media. Asya was criticized for not behaving like a proper Armenian girl.
This project is funded in part by a grant from the United States Department of State.