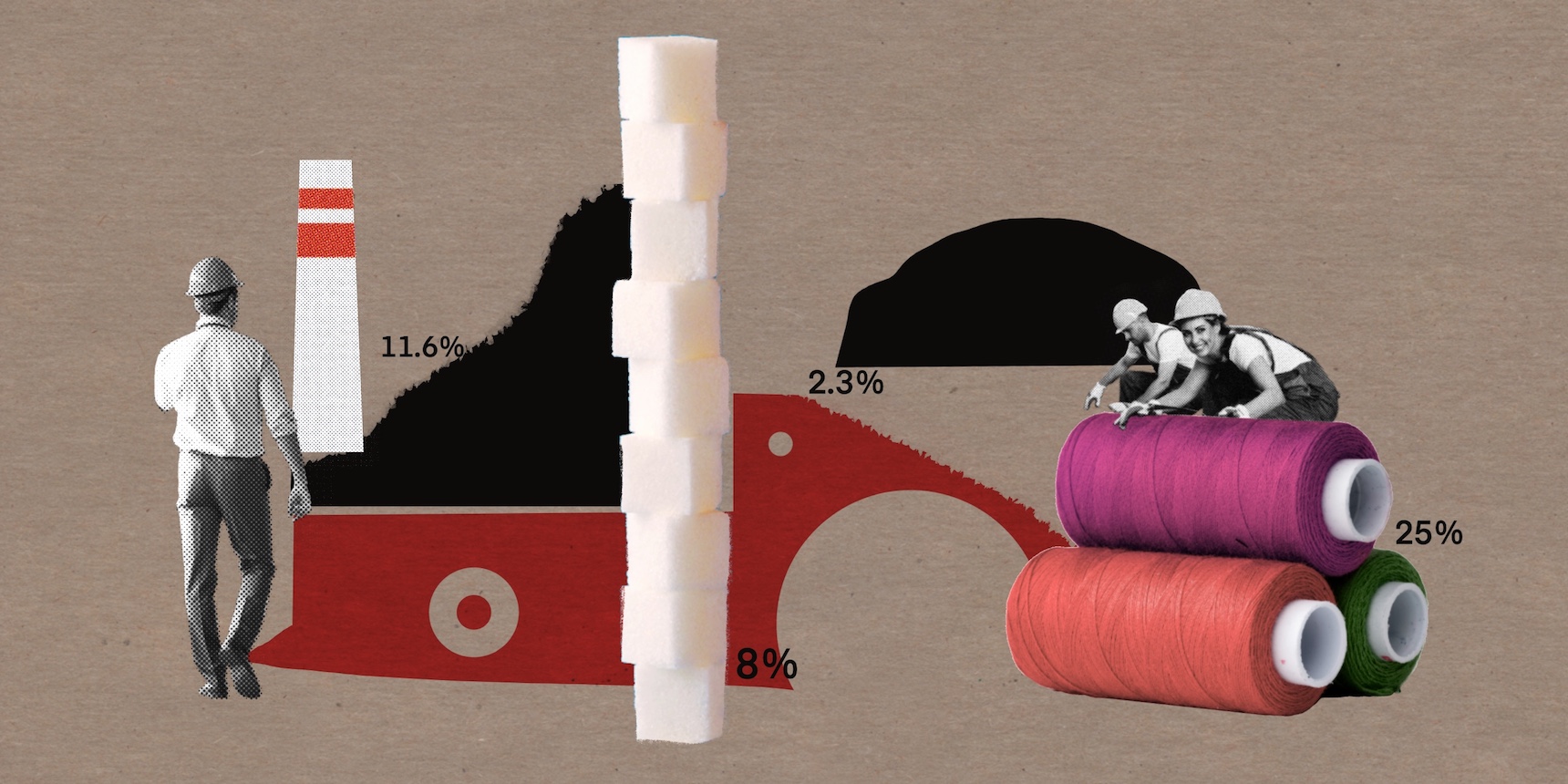 Armenia experienced de-industrialization after independence in 1991 as factories shut down en masse. In recent years, the country's leadership has recognized the potential of manufacturing as a means to combat poverty and unemployment. The development of the manufacturing industry can contribute to increased productivity among the labor force, expand exports, and attract foreign currency. In line with other developing nations, Armenia can utilize manufacturing, particularly high-value manufacturing, as a means to generate wealth and transition from subsistence agriculture. By promoting manufacturing, Armenia can shift its economic reliance away from traditional sectors such as agriculture and mining and move toward value-added activities and create a path toward sustainable economic growth and prosperity.
An Upward Trend: A Look at the Numbers
According to ArmStat, the state statistics agency, Armenia's manufacturing output in 2022 stood at $5.13 billion (2.234 billion AMD) and contributed $2.28 billion (994.6 billion AMD) to Armenia's GDP. The sector makes up 11.7% of the country's total GDP, compared to domestic (wholesale and retail) trade at 11.8% and agriculture at 10.4%. Its share in Armenia's GDP is comparable to those of the U.S., Spain, the Netherlands, Israel and Georgia. China's and South Korea's stands in the mid-20s, Turkey's at 22%, and Germany's at 19%.
Over the past decade, the share of manufacturing in Armenia's GDP has increased somewhat. Its share was a little over 9% between 2012 and 2015 and has grown to consistently exceed 11% since 2018, indicating an upward trend. Its peak was in 2020, at 12.3%. In contrast, the share of agriculture in Armenia's GDP has declined from 18% ten years ago to 10% last year. The wholesale and retail trade industry's share of GDP has fluctuated between 10% and 12%.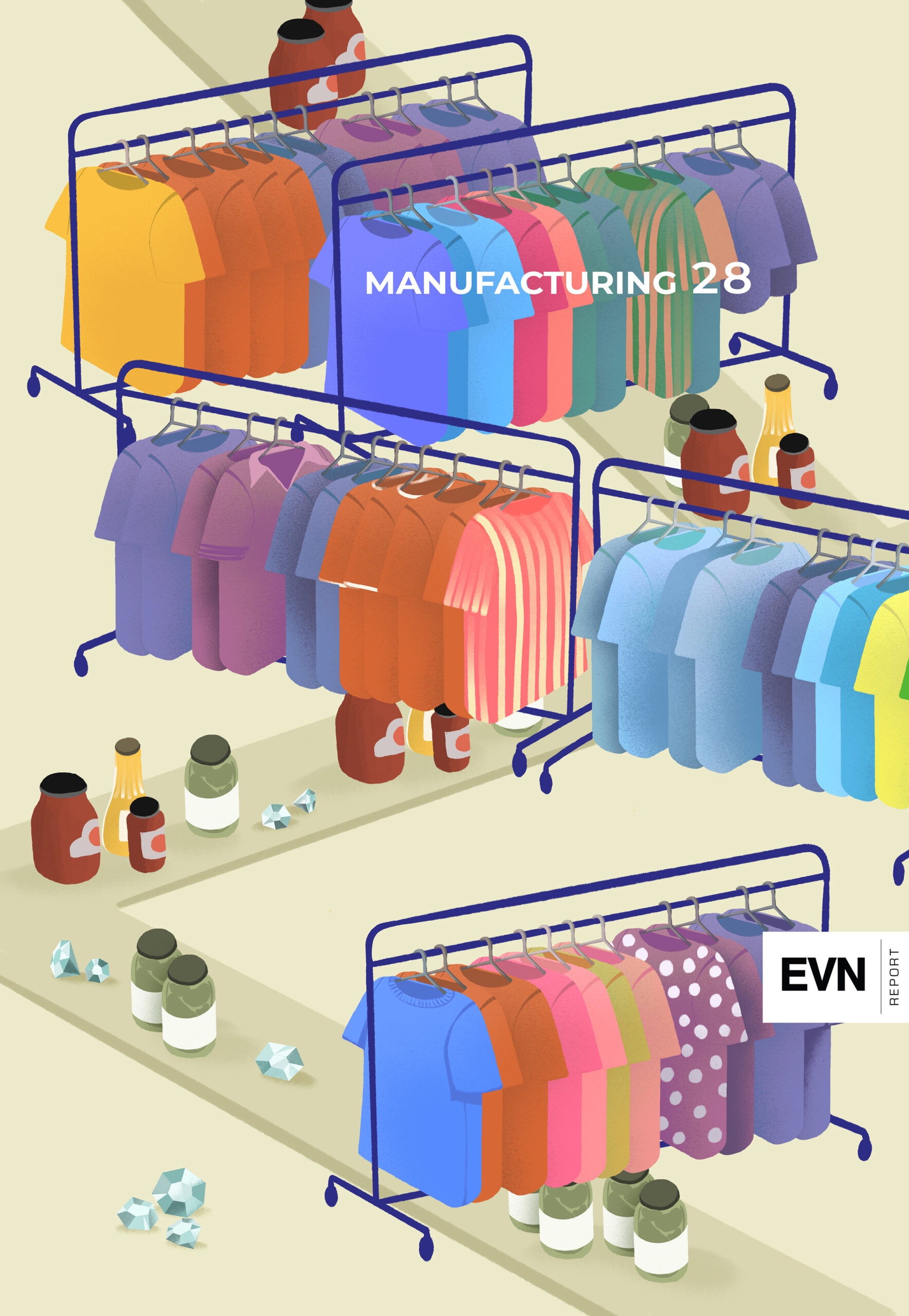 Following the collapse of the Soviet Union, Armenia experienced de-industrialization as factories shut down en masse. In recent years, the country's leadership has recognized the potential of manufacturing as a means to combat poverty and unemployment.
In this issue, we explore Armenia's diverse manufacturing industries, from food production to textile manufacturing to diamond processing. We delve into the challenges and opportunities facing each sector, the innovations driving growth, and the impact on Armenia's economy and society.
Armenia's manufacturing output has grown by a factor of 2.5 over the last decade from a little over $2 billion to $5.13 billion with an average annual growth rate of 9.3%. Armenia's GDP doubled in the same period. Manufacturing growth outpaced wholesale and retail trade, agriculture, and construction, but fell behind growth in the financial sector, mining, and information and communication.
There was a slight fall in 2020, but output quickly rebounded in 2021 and grew 19% last year, the highest pace of growth in a decade.
As of January, the manufacturing sector in Armenia employed 83,610 people, accounting for 12.1% of the country's total workforce. This number surpasses the combined number of people employed in healthcare (48,431) and IT (30,513) sectors. In contrast, the mining sector employs far fewer people, with a total of 10,913 employees. While the number of people employed in manufacturing has steadily increased over the years, its share of the workforce has remained relatively consistent. Five years ago, the manufacturing sector employed around 63,000 people, accounting for 11.4% of the total workforce.
The manufacturing sector in Armenia offers relatively lower wages compared to other industries. In January, the average salary in the manufacturing sector was $503 (199,217 drams), which is lower than the country's overall average salary of $630 (249,278 drams). In comparison, the mining sector provides an average salary of $1,184 (468,696 drams), while the construction sector $600 (237,025 drams). While wages in manufacturing are lower than some other industries, it provides significant employment opportunities. 
Armenia's manufacturing is concentrated in Yerevan (43%), followed by the regions of Ararat (15.6%), Kotayk (12.3%) and Shirak (10.1%). The capital and these three regions are responsible for 81% of the country's manufacturing output. They are followed by Armavir (6%) and Lori (3%), while the other five regions together contribute only 10% to the country's manufacturing output. There is also a positive trend of decreased concentration in the capital. Five years ago, Yerevan's share stood significantly higher, at 53.5%.
What Does Armenia Produce?
In the Soviet period, Armenia's manufacturing was dominated by chemical and heavy industries, including the manufacturing of machines, equipment and devices. The chemical industry made up more than 20% of the industry in the 1940s and 1950s, but declined to 6.2% by 1985. Its prominent centers were Yerevan's Nairit synthetic rubber plant and the large chemical enterprises of Kirovakan (Vanadzor). Heavy industry's share, on the other hand, grew from 6% in 1950 to 30% in 1985. Soviet Armenia produced electrical and measuring devices, vehicles, tools, computers, among other things. Other significant sectors included light (textile) and food (including cigarettes and beverages) industries, which by 1985 contributed 25% and 18.8% of Armenia's industrial output, respectively.
Currently, the leading sectors of Armenia's manufacturing industry are production of food (38.5%), beverages (12%), and tobacco products (8%), the manufacture of non-metallic mineral products, mostly cement and concrete (12.4%) and base and precious metals (11.6%). Other smaller sectors are the manufacture of plastic products (2.6%), clothing and textile (2.6%), and jewelry (2.3%).
Armenia's food industry is dominated by meat processing and the production of meat products, which is valued at almost $580 million and accounts for more than a third of the total food production. Bread production comes in second, followed by dairy products, flour, confectionery, and processing of fruits and vegetables.
In the beverage industry, Armenia's brandy ("cognac") is king. Last year it made up 56% of the beverage industry at $280 million in output. Armenia's wine production, while steadily growing, is far behind, at $47 million. Beer production followed at $33 million, while other distilled alcoholic beverages stood at $34.5 million. The production of non-alcoholic beverages, production of mineral and other bottled water stood at $108 million.
Production of tobacco products, despite a slight contraction over the past years, remains large, at $330 million.
The manufacturing of clothing ($102.3 million), leather and leather products ($10.3 million), and textile products ($6.7 million) collectively stood at $109 million. The manufacture of plastic and rubber products and paper and paper products are comparable, standing at $110 and $111 million, respectively.
Metal production stood at $441.5 million, with aluminum production at 36%, steel and other ferrous products at 35%, and precious metals at 25%. The manufacture of fabricated metal products stood at $41 million. Non-metallic mineral products stood at almost $514 million, with the manufacture of cement and concrete comprising nearly 90% at $458 million.
Other notable industries include diamond processing at $85.3 million, production of electrical equipment and machinery and other equipment at $50 and $42 million, respectively. The printing and reproduction of recorded media at $49.6 million, production of chemicals and chemical products (including soap and detergents, perfumes, cosmetics, explosives) at $40.5 million, and furniture manufacturing at $29 million.
In 2022 Armenia's most valuable manufactured exports were diamonds ($418 million), cigarettes ($320 million), brandy ($292 million), aluminum foil ($128 million), clothing ($127 million), and jewelry ($109 million). They were followed by tomato products ($48 million), preserved fruits, nuts, and berries ($45 million), cider and perry ($20 million), and wine ($19 million).
The Government Action Plan
The Armenian government's five-year plan for 2021-2026 aims to boost growth in the manufacturing industry by providing at least 80 billion drams (equivalent to over $200 million) of financing to enterprises capable of producing exportable goods. To achieve industrialization and extend the production chain, the government plans to establish three new industrial zones while developing the existing ones. The production of more complex and high-value products will also be encouraged.
The government aims to elevate the manufacturing sector's contribution to Armenia's GDP from 11% to 15%, while also identifying five key priority areas and devising development strategies for each. Additionally, the plan aims to raise the complexity of Armenia's manufacturing industry, which is expected to yield a more diversified and competitive sector.
Economic complexity is a measure of the knowledge in a society as expressed by the range of products it produces, as measured by a country's exports. The ability to sustain diverse and sophisticated know-how allows a country to produce a broad variety of goods, including complex products that few other nations can manufacture. The Economic Complexity Index (ECI) thus provides a valuable metric for assessing a country's economic development.
Armenia is ranked 77 among 133 countries in the 2020 ranking. The Armenian government states it will aim to increase Armenia's index from -0.39 to 0.1 in the medium term and make Armenia a country with high economic complexity within 10 years. According to the Atlas of Economic Complexity (at Harvard's Growth Lab), Armenia's ECI has actually dropped significantly in the past two decades. Armenia ranked 35th in 2000, while in 2020 it was 77th.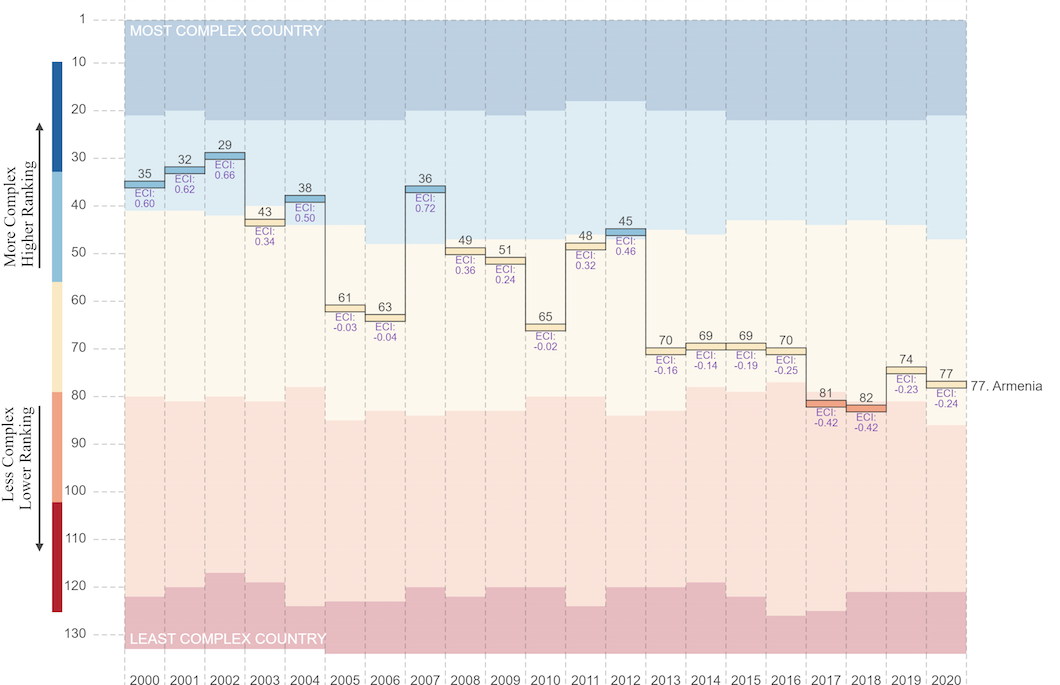 Promising Areas
The Armenian government has identified five priority areas of manufacturing in its five-year action plan, adopted in November 2021. They are: 1) the jewelry and diamond industry, 2) the light industry (encompassing food and textiles), 3) the heavy industry (including metallurgical and chemical production), 4) machinery industry, and 5) the pharmaceutical industry. Narek Teryan, the deputy Minister of Economy, told Armenpress in December 2021 that the government hopes to increase employment in some (diamond, jewelry, food, textile) industries, and introduce new technologies and automation in others (pharmaceutical and heavy industries). The government also intends to fund training programs of workers in priority sectors of manufacturing.
Initially, the government aimed to create a comprehensive concept plan for manufacturing and develop strategies for each sector. In late March 2022 the Economy Ministry proposed the concept plan for the development of the industry, but the government opted to proceed with strategies for each individual priority sector. So far, only the strategy for the textile industry has been adopted. The strategy for the pharmaceutical industry was introduced in October 2022 but is still awaiting approval.
The Economy Ministry's 2022 proposal has highlighted both challenges and opportunities in priority sectors. 
In the textile industry, there are several obstacles such as inadequate education and training, low productivity, and poor branding. Despite these challenges, the ministry has identified this sector as a steadily developing one. To ensure its growth, the diversification of export markets is crucial. Similarly, the food production industry faces challenges, including the need to improve product quality, expand export markets, enhance transport infrastructure, and create new routes for faster export of perishable goods. The ministry has proposed a series of measures to facilitate further expansion, such as simplifying export procedures, attracting foreign specialists, and establishing business connections through conferences and expos.
By 2026, the ministry hopes to increase the number of workers in both sectors to 30,000 in each. It expects to export $350 million of the $400 million textile production and half of the $3 billion food products by then.
The jewelry and diamond industry is facing several challenges that the ministry has identified, including difficulties in obtaining raw materials, a shortage of personnel, and limited opportunities for representation in foreign markets. To address these challenges, the ministry has proposed several measures, including tax reforms, expanding sources of raw materials acquisition, enhancing branding efforts, utilizing opportunities created by the Eurasian Economic Union, and investing in employee training. The ministry's objectives for the jewelry industry are to increase production to $150 million, exports to $90 million, and the workforce to 1,600 by 2026. Similarly, for the diamond industry, the ministry aims to increase production to $650 million, exports to $630 million, and the workforce to 2,300 by the same year. 
Heavy industry in Armenia encompasses metallurgy and chemical production. The government is focused on increasing metal production volumes by recycling scrap metals, which are strategically important raw materials since the country has no operating iron mines and lacks the capability for metal refinement. Importing metal would increase the prices of Armenian products, making them uncompetitive. Although Armenia has reserves of rare metals, including rhenium, selenium, tellurium, cadmium, and bismuth, producing them requires significant investment. Chemical production in Armenia covers a range of products such as paints and varnishes, pharmaceuticals, detergents and cleaners, and high-quality building materials like emulsions, solvents, and detergents. To encourage growth in these sectors, the government plans to build a copper smelter, extend the production chain of copper production, promote employee training, and consider constructing a plant for processing chemical substances produced as a result of metallurgical production. By 2026, the ministry aims to increase production to $1.7 billion and exports to $1.5 billion and increase jobs to 10,000. 
The Ministry of Economy proposes that the machinery industry should focus on machine building, microelectronics, and solar technologies. To achieve this goal, the ministry aims to increase foreign direct investment in the sector and position Armenia as a recognized regional center for research and development. Additionally, the government plans to form specialized engineering clusters, diversify export markets, improve intellectual property protection, promote knowledge commercialization, and create a level playing field for local manufacturers of solar technology equipment and imported products. Furthermore, the government intends to attract multinational corporations to Armenia and establish a technology park and an industrial zone. By implementing these measures, the ministry expects to increase production in the machinery industry to $500 million, exports to $350 million, and increase the number of employees to 5,000 by 2026.
Armenia's pharmaceutical industry is small, but the ministry considers it a steadily growing one. Boosting export potential and diversification of markets are considered preconditions for growth. The government hopes to kick off production of new medicines, and replace imported drugs with domestic production. It aims to bring large international pharmaceutical companies to Armenia, introduce international standards in the industry, among other things. The ministry aims to increase production to $300 million by 2026 and exports to $250 million, while increasing the number of employees in the industry to 2,500.