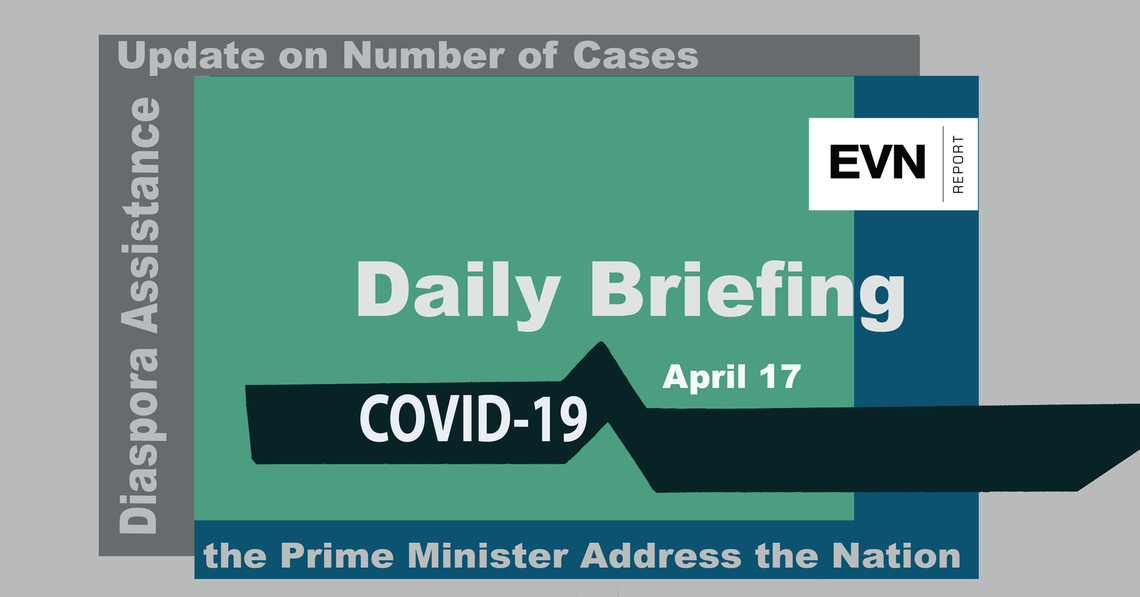 Cumulative Cases: 1201
Active Cases: 780
Recovered: 402
Deaths: 19
Prime Minister Nikol Pashinyan Address the Nation
8 p.m. 
Prime Minister Nikol Pashinyan spoke to the nation in a live address and spoke about the COVID-19 pandemic. Below is an unofficial translation of that speech:
Since March 16, 2020, there has been a state of emergency (SOE) in Armenia because of the novel coronavirus. The SOE was supposed to end on April 14, but we were compelled to extend it for another month because the crisis has not been overcome by Armenia or the world. As of now, there are 2,181,508 cases of COVID-19 globally, 147,337 have died, 552,264 have recovered. In Armenia, the situation is the following: we have 1,201 confirmed cases, 402 recovered and unfortunately 19 deaths. The average age of our compatriots who have died because of coronavirus is 73.8. All of those who died had serious pre-existing health conditions such as cancer, hypertension, diabetes, coronary heart disease, etc.
As of April 17, we have 780 patients currently in hospital being treated for COVID-19, about 1,700 are in quarantine and 2,647 people are in mandatory self-isolation. Regardless of these alarming numbers, I consider it important to underscore that, thanks to our healthcare system and state governing bodies, the virus continues to remain manageable.
Presently, half of the hospital beds designated for patients with coronavirus are empty.
This is the most important indicator in controlling the pandemic. In many more-developed countries, there were no places in hospitals for people who had contracted coronavirus. At least to this point, we have resisted the pandemic in an honorable way. And I would like to thank the medical staff, who for weeks have stayed away from their families, I applaud you.
I also want to mention that, from the very first day, we have created dignified conditions for people in quarantine. They are in hotel rooms, and provided with food and the necessary medical supervision. Many countries of the world bring Armenia as an example of how to treat citizens at times of crisis. In this time, we have repatriated thousands of Armenian citizens from different countries of the world. This was made possible through state funding as well as the help of local and diasporan organizations and donors. I want to thank all the organizations and individuals who helped. Donors have helped the Special Commission in importing a number of necessities to Armenia.
One other thing that is specific to Armenia during this time of the pandemic is that we did not have empty shelves, not even for a single day, something that happened in many countries of the world. For this reason, I would like to thank not only our businesses but our partners in Georgia, Russia and the Islamic Republic of Iran, who made sure to organize Armenia's imports and exports to the best extent possible. I want to thank all those countries and international organizations that helped Armenia in the fight against the coronavirus.
Dear compatriots, the coronavirus pandemic brought with it a number of social and economic difficulties and the government adopted 13 assistance programs to help the economy and the citizens overcome the crisis.
*The Prime Minister proceeded to describe all 13 assistance programs the government has formulated to mitigate the socioeconomic fallout. For a full list of those programs, follow our COVID-19 Daily Briefings.
The government continues to discuss future assistance programs and will take all the necessary decisions to counter this crisis. It is our goal to make each of the assistance programs as effective as possible and for the assistance to reach its beneficiaries as soon as possible.
I have to also admit that we have received many calls from people who are eligible beneficiaries of these programs but the electronic system has rejected their application. We will review all these cases. But for now, it is also clear that many people are deprived of the right to assistance because of the irresponsibility and sometimes illegal behavior of their employers. We will study all these cases and reach corresponding conclusions.
Regarding our strategy in combating coronavirus, we have to admit that, as long as there is no vaccine, the virus is not going to disappear and we are going to have infected citizens. Therefore, our strategy is as follows: to make sure that the number of infected is as low as possible and manageable for the healthcare system. On the other hand, we cannot stay locked up forever and live under quarantine or a state of emergency forever. Therefore, it is our strategy to live with the virus, parallel to the virus, and we should use the remainder of the state of emergency to learn the necessary skills to do this.
What does this mean in practice? We are allowing the resumption of economic activity in different spheres stage-by-stage but expect a great deal of responsibility from employers who must guarantee special coronavirus measures are in place at factories, at construction sites. Otherwise, instead of loosening the conditions, we will be obliged to make them stricter. Businesses should already have their own anti-coronavirus plans in place for restaurants and cafes that will reopen in the future. And I call on them to use the remaining SOE to solve this problem. This pandemic puts special responsibility on each one of us, everyone must do their utmost to not get infected and not infect others.
The coronavirus pandemic demands new behavioral norms and even new kinds of reflexes. Afterall, different episodes in history have shaped much of our behavior and we are possibly living through a time now that will bring changes to our customs, ways of interaction and daily behavior.
The government's anti-pandemic efforts have attained their initial results. But this should not diminish our vigilance, on the contrary, we should be even more vigilant in the upcoming weeks of the SOE. If we succeed in doing so, starting May 14, we will be able to step-by-step return to our normal lives. If we fail to adopt new rules of coexistence, the virus can spread with new momentum and leave us all facing a humanitarian disaster. And this is where my motto remains the same: The future of Armenia depends on one person and that person is you.
5 p.m.
Another case of COVID-19 has been confirmed in Artsakh, bringing the total number of infected to seven. According to the Ministry of Health of the Artsakh Republic, the infected patient has been taken to hospital and officials are now working to isolate everyone they had come into contact with.
4 p.m.
During a press conference, Zareh Sinanyan, the High Commissioner for Diaspora Affairs, spoke about the diaspora's professional and financial support provided to Armenia during the COVID-19 pandemic. Sinanyan said that the High Commissioner's Office continues organizing webinars, during which diasporan healthcare professionals share their experience with local doctors. He noted that those real-time exchanges of ideas are very beneficial for local doctors, since the virus is still new and not everything is known about it. Sinanyan said that the Commissioner's Office is considering expanding the scope of those webinars to include other disciplines as well. Discussions with a number of government bodies, including the Ministries of High Tech Industries and Education, Science, Culture and Sport are ongoing to better understand their needs and more effectively mobilize the available resources.
During the past two weeks, the Commissioner's Office has been working closely with the Defense Ministry and the World Food Program (WFP) to fundraise for the second delivery of medical supplies and equipment from China. Sinanyan noted that diasporan philanthropic organizations participated in the initiative with great pleasure and that they have managed to raise more than $500,000 from donations by Argentinean-Armenian Eduardo Eurnekian, the Izmirlian Foundation, the Calouste Gulbenkian Foundation, the Saint Sarkis Charity Trust and the Armenian General Benevolent Union. Donations toward the shipment were also made by the UN World Food Programme, the My Step Foundation, state resources, Chinese benefactors and other donors. The High Commissioner's Office has also started working with Hayastan All Armenia Fund to better coordinate the donated resources.
Speaking about the ongoing activities of the High Commissioner's Office, Sinanyan noted that, because of the spread of COVID-19, they have started reviewing the format of their scheduled programs. Two upcoming programs, Step Back Home and Young Leaders Camp, are likely to be cancelled. Sinanyan also said that they had started organizing three conferences for September, but considering the current uncertainties, the conferences will be held in an online format. Sinanyan expressed hope that the High Commissioner's Office will be able to implement the programs which are scheduled for the second half of the year, but depending on the circumstances, they are ready to make changes to the formats. Sinanyan also spoke about the iGorts program, which will place 20 diasporan Armenian specialists in various state agencies in need of their expertise. He noted that they have received over 750 applications for 20 positions. The Commissioner's Office is considering re-allocating their funding to expand the scope of iGorts, in order to involve more young professionals in Armenia's state apparatus.
While answering reporters' questions, Sinanyan noted that it is mostly Armenians in Middle Eastern countries that apply directly to the Commissioner's Office for assistance in organizing their return to Armenia. However, the largest number of requests directed to the government are from Armenian citizens based in Russia. Speaking about the assistance received from diasporan healthcare professionals, Sinanyan noted that, during the early days of the coronavirus outbreak, doctors based in Los Angeles fundraised and organized the transfer of 1 ton of medical supplies and equipment to Armenia. When asked about the transfer of Armenians from countries that do not have diplomatic relations with Armenia, Sinanyan brought up the recent transfer of 73 Armenians from Turkey. They have not received any more requests from Armenians currently in Turkey.
Sinanyan also spoke about the conditions of Syrian Armenians currently based in Armenia and said that they are among the groups that were hit the hardest by COVID-19. He explained that over 80 percent of them do not own a house in Armenia and pay rent. Despite not being able to work because of the restrictions, they are still paying those rents. The High Commissioner's Office is working to ensure that they also receive some form of assistance.
Ministry of Emergency Situations
12 p.m.
Deputy Minister of Emergency Situations Armen Harutyunyan, who is leading the Ministry's Rapid Response Unit, presented their activities in the fight against the COVID-19 pandemic.
Harutyunyan said that their unit has received 1,107 calls by citizens, of which 609 were about COVID-19. Psychological support was provided to 411 citizens. Harutyunyan said the psychological support department of the Ministry is now working remotely and citizens can call 911 to receive psychological assistance, which is also available through video conferencing.
Paramedics of the Rapid Response Unit have transported 101 people who had come into contact with an infected individual and seven patients. Overall, the Ministry has transported 855 contact persons, 28 were transported just yesterday from the Norashen Community. 130 rescue service professionals of the Ministry (ten from each region and 20 from Yerevan and the Syunik region) are currently on patrol service with the police; 25 first responders have been reassigned to help operate the government's hotlines; 14 members of the rescue service medical department have been reassigned to help operate the Health Ministry's hotline.
Harutyunyan said the Ministry of Emergency Situations is also responsible for the disinfection of public spaces across the country. They have disinfected 7,376 locations to date (including banks, ATMs, supermarkets). Disinfecting entrances and lobbies of residential buildings is not within the purview of the Ministry. However, if the municipal office of any given area does not have the capacity to disinfect common residential areas, they can contact the Ministry for assistance.
Harutyunyan said there are confirmed cases of COVID-19 among first responders and the Ministry is currently drawing up a plan for redistributing work in case the virus spreads specifically within the ranks of the Ministry's employees and generally in the country. Five employees have tested positive, three are currently in treatment, two have already recovered; 42 employees who have come into contact with their infected colleagues are currently in isolation.
The Ministry of Emergency Situations, in collaboration with UNDP, took part in distributing assistance (means of personal protection and food) to the elderly who live alone in the regions of Armenia. In this period, Harutyunyan said the Ministry has received 300 new computers from USAID and 175 pieces of disinfection equipment.
According to the Deputy Minister, compared to the same period in 2019, the number of non-coronavirus-related calls have increased by 150.
Update on Number of Cases
11 a.m.
In its latest update, the Ministry of Health said 42 new COVID-19 cases were confirmed in Armenia and 44 people recovered, bringing the number of active cases to 780 and the number of confirmed cases to 1201. A 58-year-old patient with preexisting health issues, who on April 8 had undergone coronary artery stenting, has passed away, bringing the number of deaths to 19.
Baby Born to COVID-Positive Mother
10:40 a.m.
Minister of Health Arsen Torosyan informed through a Facebook post that on April 16, the first baby was born to a mother who had tested positive for COVID-19. Torosyan said both mother and child are in good health. The mother has tested negative for the virus after giving birth, the child will be tested today. Both will remain under doctors' supervision for 14 days.