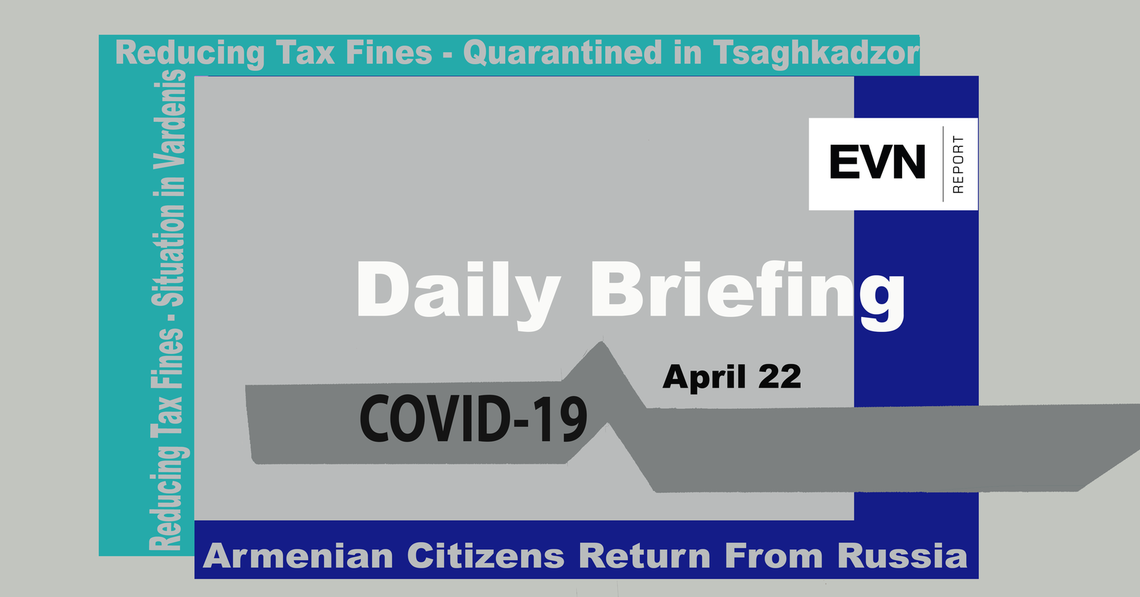 Cumulative Cases: 1473
Active Cases: 816
Recovered: 633
Deaths: 24
6:30 p.m.
During the second and final reading, Parliament voted in favor of a draft bill tabled by Mikayel Melkumyan from the Prosperous Armenia Party (PAP), proposing to reduce tax delay fines imposed on small- and medium-sized enterprises (SMEs). According to the existing regulations, taxpayers must pay a 0.075% fine on overdue payments each day. With the proposed changes, the percentage was reduced to 0.04% for each day. The bill will affect the overdue payments that have been incurred since April 21.
Armenian Citizens Return From Russia
5:30 p.m.
203 citizens of Armenia returned from Moscow on a charter flight today. This was the fourth Moscow-Yerevan charter flight organized by the Armenian government since the COVID-19 outbreak. The Tashir Charitable Foundation paid for the flight's expenses. All 203 passengers will be placed under a mandatory 14-day quarantine. The Russian side also sent medical supplies and diagnostic tests on the same charter flight.
Quarantined in Tsaghkadzor
7 p.m.
In a Facebook live, returning from the resort town of Tsaghkadzor, Minister of Health Arsen Torosyan said there are currently nine establishments in the town hosting around 750 quarantined citizens in addition to the 203 expected to arrive from the Russian Federation during the day, who will also be quarantined. Torosyan said about 350-400 of the confirmed cases in the country were people already in quarantine, which has helped to considerably curb the spread of COVID-19.
According to the Minister, there are establishments designated for quarantine in Yerevan, Gyumri, Vanador and the Tavush region. Torosyan said they plan to continue to quarantine people as long as they are able to control the spread. "I'm saying all this to give you an understanding of the human and financial resources required to maintain control," said Torosyan. However one structure alone, as dedicated as they might be, cannot face this global challenge. Everyone has a role to play and it is important that people follow social distancing and hygiene rules, especially when restrictions are gradually loosened, even if it goes against our collective nature and culture. Bringing his own example, Torosyan said he visited his parents for the first time in a month only recently but being aware that all his precautionary measures are not 100% guaranteed to keep him safe from infection, especially since he is in a risk group. He said that, despite his utmost desire, he did not hug his mother or shake hands with his father.
5 p.m.
By the decision of the Warden of the Special Commission Tigran Avinyan, the town of Vardenis in the Gegharkunik region is under lockdown. The lockdown began this morning and will last until April 28. Only residents of the town and certain kinds of supply deliveries will be allowed.
There are 47 confirmed cases of COVID-19 in the town of 12,000. In an interview with Azatutyun TV, the mayor of Vardenis, Gnel Sanosyan, said that, of the 47, 12 are hospital staff members, one is a doctor. Nine cases were registered at a local polyclinic, where two doctors were infected. In the interview, Sanosyan also said that a number of infected civilians are members of a religious group. About 150 people who have come into contact with the patients have been quarantined. However, Sanosyan said they are still in the process of investigating the initial source of the spread of the virus.
4 p.m.
The Public Services Regulatory Commission (PSRC) of Armenia has announced that the extraordinary circumstances (force majeure) regarding people's inability to make utility payments is no longer in play as of April 22, as a result of the government's assistance programs and the Special Commission's decision to allow certain economic sectors to resume operations.
The PSRC said many of the banks are working regularly, at least one post office is open in each neighborhood and citizens can always make online payments or use payment terminals. The Commission advised all citizens to make their utility payments. The announcement also said that, when and if justified, special cases will be taken into account.
12 p.m.
Deputy Ministers of Economy Arman Khojoyan and Tigran Gabrielyan gave a briefing about the second assistance package aimed at mitigating the economic consequences of COVID-19 in the agricultural sector. Khojoyan spoke about both the programs initiated by the Armenian government as well as international organizations. He noted that there is an increasing interest toward agricultural assistance programs, and according to statistics provided by the Central Bank, 13,000 applications have been submitted to date, in the overall amount of 27.6 billion AMD. Between April 1 to 20, over 2,940 of the submitted applications have been confirmed and are worth over 4.34 billion AMD. Khojoyan also noted that 10 more applications (worth 694 million AMD) were confirmed as part of the first assistance package, which also targeted business entities working in the agricultural sector. Deputy Minister Kochoyan pointed out that, in the first three months of 2020, 1,638 loan applications were confirmed (worth 6.8 billion AMD), which means that the number of loan applications that were confirmed in the last 20 days is almost double the number of applications confirmed in the first three months of 2020.
Khojoyan explained that, based on the feedback that the ministry has received from potential applicants and interested individuals, they made certain adjustments to make the programs accessible to wider circles of people. The proposed recommendations are still being discussed, and will be finalized in the next few days.
Kochayan briefly introduced the programs that are being implemented with financing from international organizations. As part of the Community Agricultural Resource Management and Competitiveness Project of the World Bank, it is expected that, in the next two months, at least 30 grants will be provided to 30 processing companies to improve their production capacity as well as food safety conditions. With the implementation of this program, it will be possible to ensure that food safety conditions are in compliance with international standards. The program is worth over 500 million AMD. Khojoyan said that applications are already being evaluated, and hopefully the results will be finalized within the next month. As part of this program, 190 pieces of agricultural equipment will be provided to co-ops, which are already part of this program. An additional 460,000 euros will be provided to Armenia within the framework of the European Union's Green Agriculture Initiative. Programs targeted to the agricultural sector are also being implemented by the United Nations Development Program (UNDP) and Austrian Development Agency in Tavush, Shirak and Lori regions. As part of another program implemented by the UNDP, grants with a maximum value of $20,000 will be provided to small- and medium-sized enterprises in Vayots Dzor and Gegharkunik regions to improve their processing capacity.
Speaking about the state assistance programs, Deputy Minister Gabrielyan noted that eight ministry experts continue to provide consultations to over 250 applicants every day. Consultations are being provided by specific departments of the ministry. Gabrielyan clarified that there is an increasing interest toward state programs targeted at building and upgrading smart animal husbandries, and 53 applications were submitted between January and April, 2020. The greenhouse development program is also among the state programs that attracted much interest this year. To date, 93 applications were submitted, 65 of which have been confirmed. The Minister stressed the importance of the training component in all of the state assistance programs, during which the applicants learn more about the specific agriculture sector where they want to make investments. He also spoke about the intensive gardening program. He said that, during 2019, 20 applications were submitted and that 12 applications were submitted in the first three months of 2020. Gabrielyan pointed out that, although the three government programs are implemented through loans, for all of the programs, 30 to 50 percent of the expenses are rebated.
Speaking about importing fertilizer, Gabrielyan said that, because of the spread of coronavirus and the closure of some factories, imports were reduced in March. He also briefly spoke about the slaughterhouses across Armenia and noted that, currently, 82 of them are being constructed and upgraded in various regions. The ministry is particularly interested in 34 of them, which are going to provide services (the rest are being built to meet the needs of a local farmer). The Deputy Minister expressed hope that their construction will be finished on time.
While answering reporters' questions, Khojoyan clarified that agricultural assistance programs offered by the ministry are either in the form of loans or rebates. Individuals interested in loan programs should first apply to a bank, while those interested in programs, the expenses of which are being fully or partially compensated, should apply to the ministry.
Update on Number of Cases
11 a.m.
According to the Ministry of Health, 72 new cases of COVID-19 were confirmed in Armenia, bringing the total number to 1473, of which 816 are active cases; 24 people have recovered, bringing the total number of recoveries to 633. No patient died in the last 24 hours, the number of deaths in the country stands at 24.
10 a.m.
According to the Armenian Unified Infocenter, around 50 COVID-19 patients above the age of 70 have recovered in Armenia. Many of the patients had moderate health issues, some were in critical condition, and a few had light symptoms.
The oldest person to recover from COVID-19 was a 93-year-old woman (b.1927) who initially had moderate health complications but her health improved. She has since recovered and was released from hospital.
Two other women, 90 and 88, and an 86-year-old man have also had moderate health issues due to the virus and have since recovered.