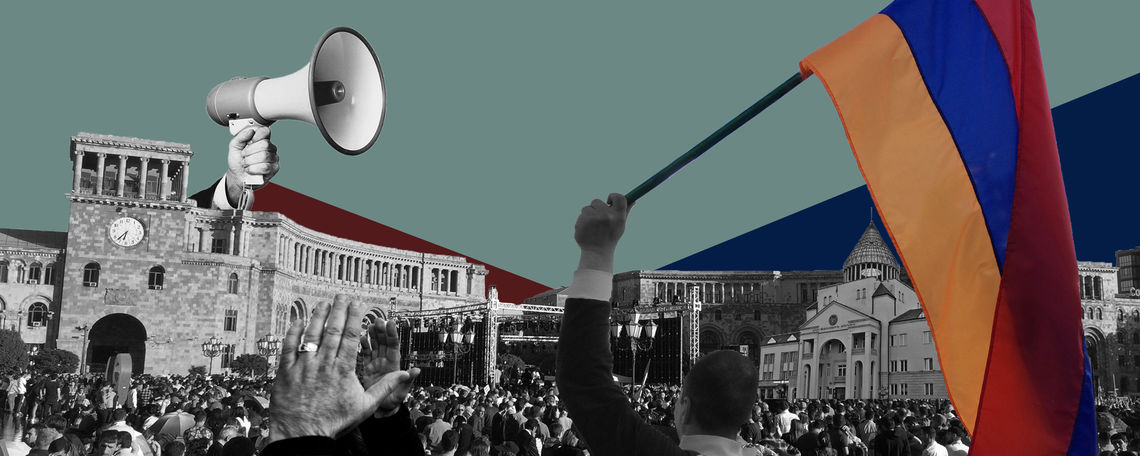 Armenia's Prime Minister Nikol Pashinyan delivered an hour-long speech at a rally in Stepanakert, the capital of the Republic of Artsakh on August 5 ahead of the opening of the Pan-Armenian Games. Thousands of people, including athletes from Artsakh, Armenia and the Diaspora, flooded into Renaissance Square and listened to Pashinyan set out his government's strategic goals, including statements on the Artsakh conflict settlement process.
"An Unprecedented Rally" and Calls for Unification
Addressing the swelling crowd, Pashinyan recalled how, as the Soviet Union was beginning to crumble under its own weight in 1988, the people of Artsakh expressed their desire for reunification with Armenia in the very square they were now gathered. This statement was met with chants of "Unification!" from the crowd. He continued by saying that any final settlement of the conflict could only be possible on terms acceptable to both the people of Armenia and Artsakh. Since rising to power, Pashinyan has repeatedly said that, as the elected leader of Armenia, he cannot speak on behalf of the people of Artsakh – Armenia has never officially recognized the Republic of Artsakh – and that the Republic of Artsakh must be a party to the negotiation process. But on August 5 he proclaimed "Artsakh is Armenia, period."
During the hour-long speech, Pashinyan also spoke about Artsakh's "role" in the Velvet Revolution. He said thousands of students, entrepreneurs and politicians from Artsakh were actively involved in the revolutionary process, which created a new reality and "this reality will undoubtedly have a direct impact on the Diaspora and the Republic of Artsakh." With national presidential and parliamentary elections slated for 2020 in Artsakh, these statements are worth dwelling on.
Pashinyan's relations with authorities in Stepanakert have been cool at best, most likely because of the latter's ties with the former regime in Armenia, who launched a concerted effort to position Pashinyan as weak in many policy areas, including accusing him of being ready to cede territory to Azerbaijan. Tensions between Pashinyan and authorities in Artsakh were further aggravated when Artsakh President Bako Sahakyan and former President Arkadi Ghukasyan came to Yerevan to personally vouch for Robert Kocharyan, Armenia's second president, at a bail hearing. Kocharyan has been charged with attempting to overthrow the constitutional order during the March 1, 2008 post-election clashes that left ten people dead.
Cool relations with Yerevan and upcoming Artsakh elections surely must have been on Bako Sahakyan's mind as he addressed the crowd in Renaissance Square. Speaking just ahead of Pashinyan, the President was met with whistles (a sign of disrespect), and jeering, mostly by supporters of his controversial political opponent Samvel Babayan, who were chanting "resign" and "Babayan, President." Babayan, a polarizing figure in the country, is a former Defense Minister of Artsakh, who was later charged with an assassination attempt in 2000 against then-President Arkadi Ghukasyan and sentenced to 14 years in prison. Released early due to health issues, Babayan left for Moscow and returned to Armenia in May 2016, following the Four Day War. He is now vying for the presidency of Artsakh, but it is not clear if he will be allowed to run as the law requires a president to have lived in Artsakh for the past ten years.
It remains to be seen if Pashinyan's My Step coalition will throw their support behind a particular political party in the Artsakh elections.
Overly Ambitious Strategic Goals?
A significant portion of Pashinyan's address focused on a number of large-scale strategic development goals.
One of those strategic goals according to the Prime Minister is to have a population of 5 million by 2050. The current population of Armenia is estimated to be just over 2.9 million people. This will require the robust repatriation of Diasporan Armenians as negative natural growth rates (approximately 1.57 children per woman) and net out-migration have taken a toll on the country's demographics since independence. Today, more than 10 percent of Armenia's population is over the age of 65 and this figure is estimated to reach 22 percent by 2050. Even the newly-appointed High Commissioner for Diaspora Affairs said that a repatriation policy is not currently on the agenda as the country simply cannot sustain a concerted, organized repatriation plan.
In order to secure employment for 2.5 million people, 1.5 million new jobs will be created, thus eradicating poverty, according to the Prime Minister. Unemployment and underemployment continue to be serious challenges. In fact, the unemployment rate in Armenia increased to 16.9 percent in the fourth quarter of 2018, from 15.3 percent in the third quarter of the same year. Armenia's current poverty rates stand at just under 30 percent despite all national action plans for its reduction.
On several occasions, Pashinyan has said Armenia must move from being an agricultural-focused country to an industrialized one. In his speech in Stepanakert, he reiterated that position, saying industrialization was key to Armenia's success and growth. He estimated that, by 2050, the country's GDP would grow 15-fold. In 2018, Armenia's GDP per capita was about $4,280 USD. In the first quarter of 2019, it grew by 7.1 percent and it is expected to reach $4604 by the end of the year.
Pashinyan said that by 2050, the minimum wage would be seven times higher than the current rate. In June of this year, the Armenian government approved a draft law raising minimum monthly salaries from 55,000 AMD ($115 US) to 68,000 AMD ($143 US). Assuming parliament ratifies and approves the bill, that would mean that, by 2050, minimum monthly wages for Armenians would stand at about $1000 US/month. To put that into perspective, Australia currently has the highest minimum wage in the world, at the equivalent of $2,200 US (based on a 40 hour work-week). The foundation for establishing a minimum wage is about covering the cost of living; one of the basic elements that should determine the level of minimum salaries is the minimum consumer basket. According to Armenia's National Statistical Committee, the monthly minimum consumer basket is about $128 US.
He noted that that another strategic goal is to ensure that there will be at least five tech companies in Armenia valued at over $10 billion US and an additional 10,000 startups. Sounds promising, especially given the importance that has been attributed to Armenia's IT sector by this government and the one before. Skilled, knowledgeable human capital is needed to bring significant change to the country's high-tech sector but, in order to create highly skilled human capital, Armenia needs to fundamentally transform its education system, which the previous administration tried, but failed to do.
Another strategic goal is to ensure that the Armenian Armed Forces are among the world's top 20 militaries in terms of combat readiness and that the intelligence service is among the top ten globally. He said that there must be a 20-fold increase in funding for health, ensuring universal health coverage for all citizens, as well as science and education. Yet another goal is to increase the number of tourists in the country to 15 million annually. Armenia's national football team would move on to become medal winners at European or world championships and Armenia would bring home 25 Olympic gold medals.
Pashinyan said that this plan, as ambitious as it is, could be realized through the consensus of the Armenian people. He went on to say that while his government is ready to implement these goals by 2050, some of them could be realized earlier. "We will start working on the realization of these goals today," he said. This was an interesting point, given that a day earlier, he addressed the dire state of affairs in the country's system of governance, painting an almost doomsday scenario, saying that the slate had to be wiped clean, and institutions needed to be built from the ground up.
Secret Document and the Current State of Affairs
On August 4, a day before unveiling the strategic plan, Pashinyan spoke on Facebook Live about a secret government document from 2014, which allegedly established that Armenia was institutionally a failed state. The document, which was drafted during Serzh Sargsyan's administration, purportedly contained information so sensitive that the Prime Minister said he could not even disclose the title. The document apparently said that Armenia was institutionally paralyzed and that after reading it, he understood some of the fundamental challenges and issues that need to be addressed.
Pashinyan went on to say that there was no quick fix to any of these challenges, noting that his government inherited a state apparatus that was in such a state of crisis, that to try and fix it in one year would not be realistic. He explained that the entire government structure was based on corruption and that, once corrupt elements and practices were removed, there was in fact no system in place to govern. He went on to say that they must now rebuild institutions and only then will it be possible to begin resolving issues in different sectors such as the judiciary and state procurement bodies. He admitted that, on the surface, some institutions seem to be functioning but, once you dig deeper, you see that it is simply a facade. Pashinyan said that, moving forward, he will focus on developing strategic priorities to address this state of disarray.
The Velvet Revolution and Stagnant Structures
As pundits, political scientists, observers and many others will say, what happened in the spring of 2018 was not a textbook revolution. It was a massive uprising that generated a political crisis, resulting in the Parliament voluntarily replacing its Prime Minister with an opposition candidate. Adhering to the requirements set out in the country's Constitution, snap parliamentary elections were called and a new political party swept into power in December 2018, led by Nikol Pashinyan and his My Step faction. Institutions were not razed to the ground; the system of governance was not dismantled or transformed. Everything more or less stayed the same; it could be argued that it was merely a transfer of power.
While the people's participation in the nationwide movement that came to be known as the Velvet Revolution was revolutionary for Armenia, there's really nothing revolutionary about this new government or the system of governance. Institutions, practices and systems of governance remain, for all intents and purposes, the same. Crippled by an archaic bureaucratic structure, those in leadership positions in the government sometimes seem to be traumatized by what they have inherited: a demotivated, ineffective, inefficient and sometimes incompetent civil service on the one hand and a mid-level bureaucracy accustomed to preserving the status quo on the other.
To be fair, the politicians in Parliament, the ministers, the deputy ministers and their inner circles are mostly new, mostly idealistic, and mostly "clean." What they lack is experience and institutional memory (and sometimes humility). If nothing changes, all of their good intentions and energy will be similar to changing the body of a car with a dead engine.
Having good intentions, competence and idealism is not enough when structures and institutions have not fundamentally changed. They are not only functioning in the same physical structures, but within the same antiquated bureaucratic system making efficiency and expediency almost an impossible daily, uphill struggle – overall institutional paralysis.
Setting strategic goals is important. I would even argue that it is a novelty for a country that never seemed to be interested in long-term goals and objectives. The revolution is still in progress. Whether Pashinyan and his government will have the support of the people to make the necessary (and very painful) radical structural changes remains to be seen. And a final observation: Who will be holding the Prime Minister accountable for goals set for 2050?