"Turkish goods should be rejected in our country. Our money should not be directed to the enemy's army," states entrepreneur and founding director of Soft Papyrus Tigran Karapetyan, referring to the ban on the import of Turkish goods. He also adds that some entrepreneurs will face difficulties in their supply chain as they try to adjust; importing from Turkey had previously been quite convenient.
On October 24, the government approved a decision to ban the import of consumer (ready-made) goods of Turkish origin for six months. The ban will take effect on December 31, 2020. The decision is justified by security concerns, taking into account Turkey's overt support for the war unleashed by Azerbaijan against Artsakh.
"This decision will address product safety threats relating to Turkish goods, while also stemming the flow of financial proceeds and fiscal revenues to a country that has demonstrated a clear hostile attitude," the government's statement reads.
Soft Papyrus produces hygiene goods (such as tissue paper) in Armenia. Prior to March 2020, the company imported raw materials from Turkey. However, after problems arose in the Turkish factory, they chose to switch suppliers in favor of the Iranian and Russian markets. As finished tissue paper and paper towel products are also imported from Turkey to Armenia (through Georgia, due to Turkey's economic blockade), the company's products compete in terms of both price and quality against the imported products. They assert that the decision will not lead to a shortage of goods in the market, nor contribute to inflation.
How to Distinguish Products of Turkish Origin
Today, the average consumer is mostly concerned with how to distinguish products of Turkish origin and whether the embargo will extend to well-known brands. Deputy Minister of Economy Varos Simonyan clarifies the issue: "The country of origin of a product is the country in which it was either fully produced or received its final, sufficient processing, in accordance with the criteria established by law. Therefore, foreign brand garments, which are produced in Turkey or have been sufficiently processed in Turkey, are goods of Turkish origin. They will be prohibited in the customs territory of the Republic of Armenia."
Experts highlight the fact that, at this stage, the embargo does not apply to the import of raw materials. Samvel Gevorgyan, Founding Director of Business Support Center (BSC), says that the reasoning for this approach is two-fold. Firstly, it is more difficult to find alternative markets for raw materials. And secondly, once the raw material is imported, new value is created for which salaries and taxes are paid in Armenia and local production develops.
Why Six Months?
Deputy Minister Varos Simonyan noted that, according to the Eurasian Economic Union Treaty of May 29, 2014, EAEU member states may unilaterally apply non-tariff measures in trade with third countries. Such temporary measures may be valid for a maximum of six months from the date of their enactment. "But nothing prevents the ban from being extended once more for yet another six months," he explains. "There are no quantitative thresholds for re-applying restrictions in this regard."
The Government of Armenia has notified the Eurasian Economic Commission of its decision, proposing to apply tariff restriction in all EAEU member states. If the offer is not accepted, Armenia will unilaterally apply the tariff restriction. Other EAEU member states will still be able to import Turkish goods but cannot then redirect them to Armenia.
Turkish Products in the Armenian Market
Although Turkey has openly supported Azerbaijan on the Artsakh issue, and keeps its border with Armenia closed because of it, foreign trade indicators show that the volume of imports from Turkey to Armenia is significant, while exports from Armenia to Turkey are negligible.
Thus, according to data from the Statistical Committee of the Republic of Armenia, imports from Turkey amounted to about $2.3 billion and exports to about $15.2 million from 2009 to 2019.

Source: Statistical Committee of the Republic of Armenia
According to the Ministry of Economy, in 2019 alone, imports from Turkey amounted to 128 billion AMD (or $268.1 million), of which $69.4 million was in clothes, $10.3 million in citruses, $35.3 million in machines and equipment (ex. electric heaters, refrigerators), $24.3 million in petroleum and petroleum products, $23.6 million in chemicals and related industrial products, and $21.6 million in non-precious metals and items produced from them.
According to preliminary estimates, of the 128 billion AMD in imports in 2019, final consumption or finished goods made up about 100 billion AMD (78%), with intermediate consumption goods (raw materials) comprising the remaining 28 billion AMD.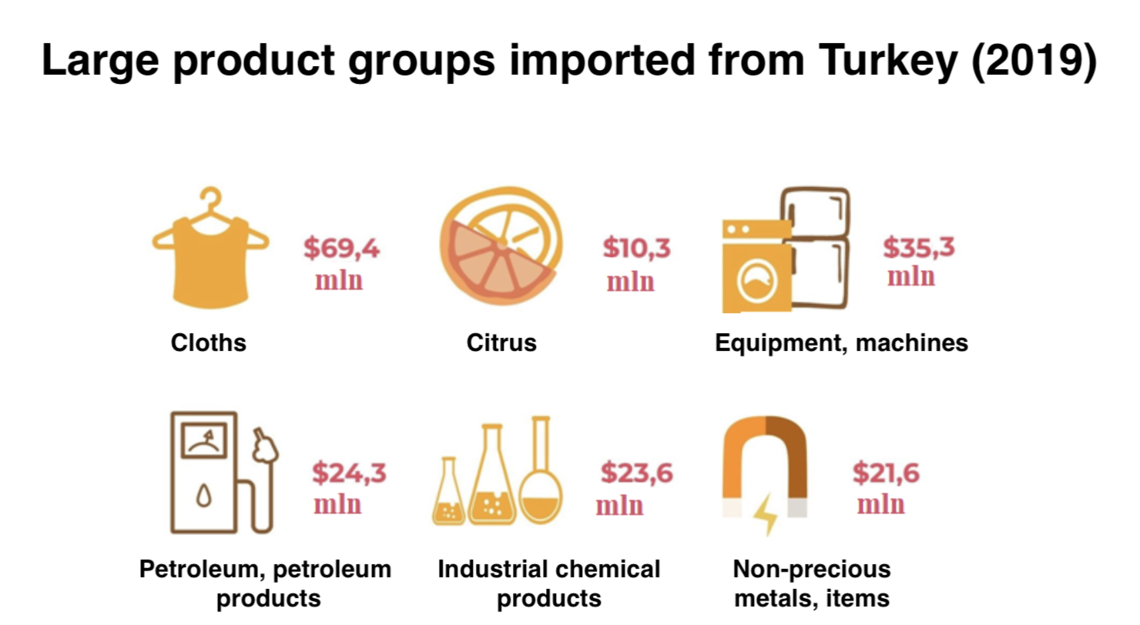 Source: RA Ministry of Economy
Who Will Suffer and Why?
"In general, most of the goods imported from Turkey have convertibility with similar qualities, but the transition to substitutes will take some time," Varosyan says. "Studies have shown that consumer goods of similar quality and type can be imported from other countries or, more importantly, can be produced in Armenia. We believe that the transition period will allow Armenian businesses to find more flexible mechanisms to replace imports from the Turkish market, as well as establish local production for some products."
Minister of Economy Tigran Khachatryan has virtually ruled out the possibility that this decision by the government may lead to inflation in the market.
Samvel Gevorgyan of the Business Support Center gives three reasons why the volume of Turkish goods in the Armenian market is so large:
The product price-quality ratio meets the demand
The importing process is accessible in terms of logistics
There are reliable interpersonal relations among partners, which allow making payments in cash in instalments, or without advance payments, etc.
Bearing these factors in mind, the government must lend a hand to businesses who imported consumer goods from Turkey and will face certain issues, by finding alternative suppliers in other countries. Gevorgyan is offering free consultations to businesses currently working with Turkish suppliers. He has received hundreds of requests.
Deputy Minister Simonyan notes that the government will also stand by Armenian businesses: "Support will be given to businesses using every available tool to resolve all issues arising, as quickly as possible."
Expectations from the government are not only limited to finding new suppliers. According to businessman Tigran Karapetyan, the government can offer bank assurances, assist in the import of raw materials, set tax incentives, offer subsidies, and so on. As to the issue of giving priority to Armenian products in the market, the businessman mentions the experience of Belarus, where stores have separate sections for local products. Applying this approach would require government intervention in Armenia as retailers have not been particularly motivated to follow suit.
New Export Markets
Saudi Arabia also enforced an embargo on Turkish goods on September 28 of this year. They were followed by Morocco and the UAE, fellow Arab countries. There is now an opportunity to consider why Armenia's trade links with these Arab countries have not been stronger.
Marketing expert Aram Mkrtchyan, currently residing and working in Kuwait, points out that, if Turkish products and services are pushed out of Saudi Arabia, Armenia also has the potential to fill the vacuum created. "In reality, the full palette of Armenian products, garments, food, etc. can find its place in this market with, of course, minor exceptions: alcohol and pork products."
After the decision by the government, Mkrtchyan announced his willingness to help businesses find new export markets. He received hundreds of responses and started a Facebook group, which quickly grew. Currently, a database is being created, and issues are being grouped, from marketing knowledge to logistic issues. The targets are Oman, Bahrain, Saudi Arabia, Kuwait and the UAE. The emphasis, however, is on Saudi Arabia and Kuwait, as they have the largest and most financially sound markets. "In order to avoid misunderstandings, however, it should be pointed out that results shouldn't be expected instantaneously. With hard work, results can be expected within 6-12 months. In special cases, if we are dealing with very well-organized and export-experienced companies, that timeframe may be considerably decreased," states Mkrtchyan.