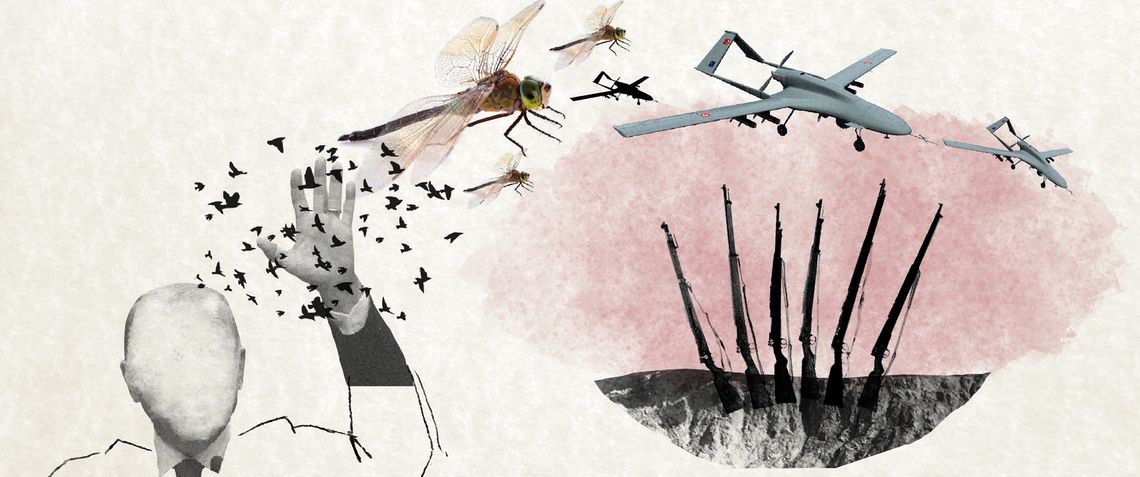 David Frum, a speechwriter for former President George W. Bush, called the latest war in Artsakh "the world's first drone war." Many analysts disagreed by pointing to the extensive deployment of unmanned aerial vehicles (UAVs) in Libya and Syria. Others argue that it was the first case of an inter-state drone war with "state militaries going at it with gloves off." In any case, virtually everyone who followed the war agrees that drones played a vital role in the 2020 Artsakh War, especially for the Azerbaijani side, which deployed Turkish- and Israeli-made combat and reconnaissance UAVs against the militaries of Artsakh and Armenia. Both Turkey and Israel continued to actively supply arms to Azerbaijan throughout the war. The large-scale deployment of drones by Azerbaijan led to commentators writing a number of articles about its lessons for the U.S., EU, China and India.
Bayraktar UAVs Take Flight
The single most important UAV used in the war was the Bayraktar TB2, which was developed by the Turkish Baykar company. It was designed by Selçuk Bayraktar, the U.S.-educated son-in-law of Turkish President Erdoğan,[1] who made Turkey one of the world's "most prolific user[s] of killer drones." The TB2 UAVs were introduced in 2014 and have been used by the Turkish military against the Kurdish PKK in Turkey, and in Turkey's operations in Syria and Libya. Each TB2 drone costs between $1 million to $5 million.
In June 2020, Azerbaijan's Defense Minister Zakir Hasanov told Turkish media that the country plans to purchase UAVs from Turkey. Karabakh Records, a semi-official Armenian source, claimed on July 18 that Azerbaijan may have received up to six Bayraktar TB2 drones from Turkey. According to Russian intelligence sources, cited by Kommersant, around 20 Turkish drone operators were stationed at the Dollyar airfield, not far from Ganja, in July and August to provide support for the war. Military analyst Rob Lee believes Azerbaijan likely had some ten or more TB2 UAVs during the war, which were operated by Turkish crews. According to Le Monde, Azerbaijan had only six.
During the 44 days of the war, Azerbaijan's Defense Ministry released dozens of videos showing Armenian military equipment and personnel being decimated by TB2 strikes. Armenia's air defense systems proved largely ineffective in countering them. Movses Hakobyan, former Chief of General Staff of Armenia's Armed Forces and chief military inspector during the war, claimed that Russian-supplied Polye-21 electronic warfare (EW) systems disrupted Azerbaijan's drones for four days, after which Azerbaijan adapted and resumed the strikes. There was further speculation that Armenia had received Krasukha EW systems from Russia, but this remains unconfirmed.
Just two days before a trilateral armistice was signed, Armenia's Defense Ministry representative Artsrun Hovhannisyan claimed that the Armenian side had set a world record in downing Bayraktars. The Armenian authorities claimed on October 20, 2020, that around ten Bayraktars had been downed. While Oryx, a military blog which documented weapon losses on both sides based on visual evidence available in open sources, counted only two Bayraktar TB2 losses during the war. Armenian authorities released photos of downed TB2 drones on three occasions (October 20, October 22, and November 8). Lee, the military analyst, says the photos of the third TB2 "may have just been Armenian forces photographing the first TB2 wreckage elsewhere." Overall, Armenia claimed to have downed 262 Azerbaijani UAVs, but Oryx counted less than 10% of that number.
Component Supply Interrupted
From the very beginning of the 2020 Artsakh War, producers of the components of the notorious TB2 drones came under heavy scrutiny. In early November 2020, the Armenian National Committee of America (ANCA) identified the companies that have produced components of the Bayraktar TB2, based on visual evidence. ANCA noted that Bayraktar drones contain parts and technology from U.S. firms and U.S.-based affiliates of foreign firms located in NATO countries.
During the war, one country and at least three companies suspended shipments of Bayraktar components to Turkey. Another company ceased shipments of Bayraktar components two months after the war ended.
On October 5, Canada's then-Foreign Affairs Minister François-Philippe Champagne released a statement suspending relevant export permits to Turkey after learning of allegations that Canadian technology was being used in Nagorno-Karabakh. The allegations centered around imaging and targeting systems produced in Canada that were being used by Azerbaijan. On October 1, The Globe and Mail reported that in May 2020 Canada issued permits for L3Harris Wescam, a company based near Toronto, to export seven MX-15D imaging and targeting systems to Baykar, the producer of the TB2 drones. The Canadian peace research institute Project Ploughshares said that Azerbaijan's air strike videos indicate that the drones are equipped with systems produced by L3Harris Wescam.
On October 20, 2020, Armenia's Ministry of Defense (MoD) displayed a TB2 reportedly shot down by the Artsakh military the day before. Shushan Stepanyan, the MoD spokesperson, said the remote-controlled camera on the downed UAV is a L-3 WESCAM CMX-15D, manufactured by Wescam in June and installed on the TB2 in September. Kelsey Gallagher, a researcher at Project Ploughshares, said that the photos released by Armenia were the "clearest footage we have of one of them downed anywhere" and argued that, without the sensors, "Turkey would not be able to conduct modern air strikes as we know them."
Armenian Prime Minister Nikol Pashinyan urged other countries to follow Canada's example and ban Bayraktar component shipments to Turkey (although it was a temporary suspension). On November 13, 2020, the Armenian National Committee of Canada (ANCC) urged the Canadian government to enforce a "permanent and unconditional" ban on arms sales to Turkey and Azerbaijan.
On October 23, 2020, a representative for Viasat, based in Carlsbad, California, said they had ceased shipment of Bayraktar components to Turkey. According to ANCA, the TB2 drones contain AMT (Airborne Modem/Transceiver) devices produced by Viasat. Ken Peterman, the president of Viasat's government systems business, said: "We have delivered some of these products to the Turkish military and the Turkish defense industrial base. To be clear, we don't know if these products are involved and being misused and misapplied in this terrorism, in this genocide."
On October 25, 2020, Quebec-based Bombardier Recreational Products (BRP) suspended the shipment of aircraft engines to Turkey, after it became known that Rotax, the company's Austrian subsidiary, had supplied aircraft engines to Turkey, which were being used on the TB2 UAVs.
On November 4, 2020, Garmin, which produces GPS navigation technology, released a statement noting that one of their products has been incorporated into the Bayraktar drones and used "to kill innocent civilians in Armenia and Nagorno-Karabakh (Artsakh)." The company said the product was commercially available and "is not designed or intended for military use, and it is not even designed or intended for use in drones." Garmin also added that they "will take appropriate action following our investigation to guard against our equipment being used again in this manner."
On January 11, 2021, Andair, a UK-based company that designs and manufactures precision aircraft components, released a statement that the company has "halted supply and cancelled all orders from Baykar Makina" after it became apparent that their product was used on military drones. Andair was approached by the Armenian embassy in London on November 2, 2020, requesting that the company stop supplies to the company that produces the TB2s.
After Canada's decision, the website Defense News noted that the Bayraktar TB2 drones feature "critical foreign parts" and that Turkey is still dependent on imports for its top UAV. But the military blog Oryx argued that the ban on TB2 components is "likely to achieve little but to speed up the research and production of these indigenous replacements, making Turkey self-sufficient in yet another category of weapons manufacturing." It may turn out to be just the case. A day after Canada's decision, Ismail Demir, head of Turkey's defense industry agency, tweeted that the country will start the mass production of CATS cameras to be installed on Turkish drones. On October 30, 2020, Selçuk Bayraktar, the man behind the TB2 drones, tweeted that TB3 and Akıncı drones will be powered by Turkish-made engines.
In the meantime, Turkey has sold TB2 drones to Qatar and Ukraine.
Still Stuck in the Past
During the 2016 Four Day April War, Armenia's then-President Serzh Sargsyan famously said that the Armenian military was fighting with "1980s weaponry." Davit Tonoyan, who was Deputy Defense Minister at the time, argued that those 1980s weapons forced the enemy to back down from its intentions. Four years on, in January 2020, Pashinyan proudly declared that his government had "turned the shameful chapter" of 1980s weaponry because the weapons purchased under his administration are "either brand-new or were manufactured in 2019." Pashinyan did not hesitate to show off the newly purchased Su-30 fighter jets, including taking a selfie in one. Their necessity was questioned instantly and, according to Movses Hakobyan, Armenia had not even received their missiles. Regardless, the jets did not take part in combat in the 2020 Artsakh War.
Samvel Babayan, the prominent war hero and former commander of the Artsakh Defense Army, warned after the 2016 war that Armenia needed effective air defense systems against Azerbaijan's artillery and UAVs. Although under Pashinyan some surface-to-air missile (SAM) systems like Tor and Osa-AK were indeed purchased, these proved largely ineffective. Babayan harshly criticized the inadequate air defense systems of Artsakh and Armenia after the recent war.
UAVs Are Here To Stay
In late December 2020, Armenian media picked up a Russian Telegram channel claim that Armenia was in talks with Russia to purchase Orlan-10 UAVs. Armenia likely used these drones in the latter part of the war. They may have been provided to Armenia from the Russian base in Gyumri, which received Orlan-10 UAVs in 2015. These drones are currently in use by the Russian peacekeeping forces in Nagorno-Karabakh for monitoring the ceasefire. In January 2021, Armath engineering laboratories announced that it will introduce a program to teach school children about designing and operating drones in spring 2021. It will include 65 workshops all over the country.
——————————
1-Not to be confused with Berat Albayrak, who is another US-educated son-in-law of Erdogan and recently resigned as Finance Minister.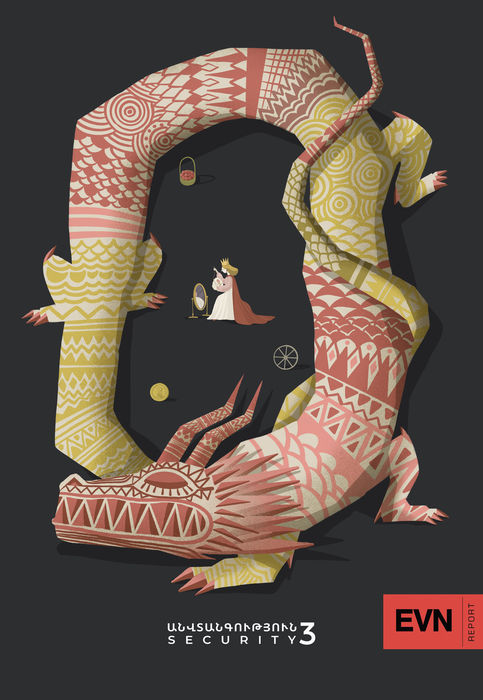 The 2020 Artsakh War highlighted the urgency of addressing security pitfalls. The January 2021 issue of EVN Report's Magazine, entitled "Security," covers a wide spectrum of security concerns facing Armenia, from energy security to physical security to food security and beyond.