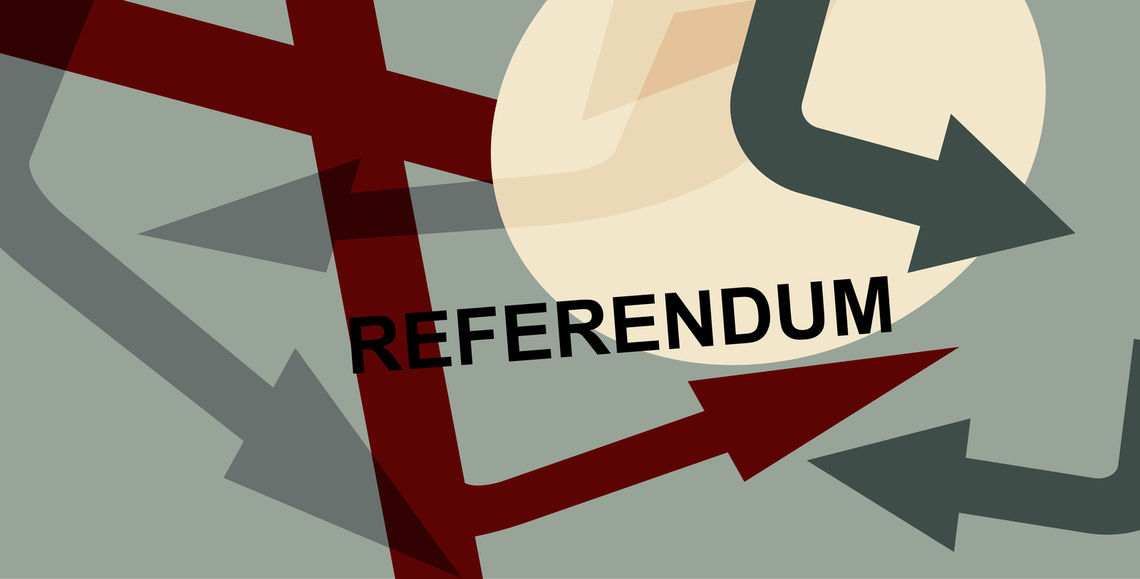 "The best argument against democracy is a five-minute conversation with the average voter." Although that quote is attributed to him, Sir Winston Churchill was a firm believer in elections. Babken Tunyan, a Member of Parliament in the My Step caucus and Chair of the Standing Committee on Economic Affairs, set off a social media frenzy when he articulated a similar sentiment near the end of a page-long Facebook post. Discussing whether the decision to open the Amulsar gold mine should be put to a referendum, he wrote, "I don't want my [hopefully fictitious] illiterate neighbor Paul, with his large illiterate family, to play a larger role in this particular matter than me." Ironically, the August 22, 2019 post followed an online poll that MP Tunyan had created on his official Facebook Page a month earlier, asking followers to vote (and forward the link "in order to get the opinions of as many people as possible") on the exact same topic.
This article is not about the Amulsar project, which you can read more about in other EVN Report articles. It is about referenda and direct democracy. Writing for EVN Report immediately before the December 2018 parliamentary election, Joe Nerssessian unpacked Nikol Pashinyan's paraphrasing of Article 2 of the Armenian Constitution when he announced: "The highest power belongs directly to the people and the people carry out direct governance." A year after the rally where that quote was said, the Armenian Revolutionary Federation (ARF) challenged the Pashinyan government to hold a referendum on the future of the Amulsar gold mine. Artsvik Minasyan, a former ARF Minister of Nature Protection, suggested that opponents of the mine use the mechanism of a citizens' initiative to launch a yes/no referendum on "prohibiting the operation of mines at Amulsar." MPs quickly expressed their viewpoints on that approach. Alen Simonyan, one of three Deputy Speakers in Parliament, argued that a referendum wouldn't be fruitful by saying,
"I don't think that the Amulsar issue is an important enough issue to hold a referendum. There are entrenched stakeholders. I'm not sure that, after a referendum, there won't be further manipulations. They can say anything they want, starting from [accusations that] the referendum was fraudulent and ending with [accusations that] it was not conducted properly. I'm not sure that that's a solution because I don't see the situation where those people who are saying the mine should not operate will agree to let the mine operate. No matter the situation, they won't be convinced. For some people, this topic has become trendy; even without knowing where Amulsar is, they are against [a mine at] Amulsar. I see [a referendum] as a pointless exercise."
His logic appears to assume that the referendum result would be pro-mine. His My Step colleague, Hovik Aghazaryan, with the understanding that a hypothetical referendum would be held at the local level only, also opposes it but with the opposite assumption:
"The fundamental issue is that it's clear that residents of Jermuk will say that they don't want [a mine], naturally. If we know the result of the referendum, if Jermuk and the surrounding area is put to a referendum and we essentially know the result, what's the point? …This is a national-level issue. This is an issue about state continuity. It's true that we came to power through a revolution, through the power and decision of the people but, in the end, there's the state, right? With its responsibilities, with its international relations, in the sense of adherence to international agreements, in that sense, the issue is at the national level. It follows that a referendum only in the Jermuk area is entirely senseless."
MP Sergey Bagratyan, from the Prosperous Armenia Party, was in favor of a referendum. He saw it as an acceptable way for the Pashinyan government to distance itself from a mess that it did not initiate. Suren Sahakyan, the executive secretary for the Citizen's Decision Social Democratic Party, which placed ninth in last December's parliamentary election said that direct democracy is a central pillar of their party platform but he "doubts the necessity of a referendum" in the case of Amulsar because he sees the dangers of mining in the area as too great.
Citizens' Initiative: The Long Road to a Referendum
The Armenian Law on Referenda is silent on whether regular legislation (as opposed to constitutional amendments) originating in the National Assembly can be put to a referendum. That category is neither included in the list of "allowed" items in Article 4, nor in the list of "not allowed" items in Article 5. On the other hand, citizens' initiatives (sometimes also referred to as ballot initiatives or ballot propositions), which are laws that originate from ordinary citizens outside of the legislature through a signature-gathering process, definitely can go to a referendum but only after having gone through a long, grueling process.
To start a citizens' initiative in Armenia, after drafting a new bill, you need to gather a group of 50 initiator citizens, who will register with the Central Electoral Commission (CEC). Doing so starts a 45-day countdown, during which you need to collect signatures from at least 50,000 citizens in support of the bill. Currently, the 50,000 figure is specified in Article 109 of the Armenian Constitution and does not fluctuate with changes in the country's population. Note that this number is for regular legislation; amendments to the Constitution require 200,000 signatures. The signatures can be made electronically through the CEC's website (for citizens who have registered an e-signature associated with their national ID card) or in-person at a city council or other government building using a pre-approved paper form, in the presence of a representative of the registered initiators and a local civil servant, or by a notary public at their office. To get space in a city council building, initiators need to file an application three days in advance. A sustained effort requiring an average of 1111 signatures per day for a month and a half will certainly rely on having completed preparatory work, identifying potential supporters before starting the time-limited formal process. Then, the CEC has one month to verify that the signatures collected are valid, checking that there are no repeated names and that all names include their birthdate and ID document number.
But 50,000 signatures is not enough to launch a referendum. If the CEC finds that the signatures are valid, then, the original group of 50 initiators has 15 days to present it to the National Assembly. MPs could decide to accept the initiative and pass it into law after two readings, requiring only a simple majority. Only if they vote down the citizens' initiative bill (or fail to pass it within two months of sittings), does it move on to the next stage, where the initiators have a new 60 day period to collect at least an additional 300,000 signatures in the same manner as before. The wording of Article 204 of the Armenian Constitution suggests that the original 50,000 cannot be included in the new set of 300,000. It is an enormous hurdle, as it implies collecting an average of 5000 signatures per day (3.5 signatures per minute) for two months. Interestingly, youngsters are forbidden from getting involved in the process. The law stipulates that anyone assisting in collecting signatures must be at least 16 years old, while signatories themselves must be at least 18.
After these signatures are collected and verified by the CEC, the bill is submitted to the Constitutional Court to verify its compatibility with the Constitution. The wording of a citizens' initiative bill needs to be well thought out as it is not easy to amend. If the Constitutional Court gives its blessing to the constitutionality of a bill, and it is accepted in a national referendum, it can only be amended in the future through another referendum, and not earlier than twelve months later.
Lowering the Bar
As long as these rules are in place, you can rest assured that only well-funded, highly-organized groups would be successful in triggering a referendum.
One Yerevan-based think tank, the Institute of Public Policy (IPP), feels that the existing citizens' initiative legislation is too cumbersome and was not written with the intention to provide a genuine opportunity for direct citizen participation. A March 2019 report, authored by IPP researcher Hovhannes Galstyan, makes a number of recommendations with the intention of making it easier to bring a citizens' initiative to a referendum, including:
Lowering the initial 50,000 signatures required for a citizens' initiative down to 25,000, matching Georgia's threshold and aligning it roughly with the voters-to-MPs ratio
Reducing the size of the registered group of initiators from 50 to 10
Doubling the time available to collect signatures from 45 days to 90
Eliminating the restriction for in-person signatures to be collected only within government offices
Allowing a two-week grace period to correct signatures deemed invalid by the CEC
Requiring the Constitutional Court to rule on the bill's constitutionality before its proponents embark on collecting the additional 300,000 signatures.
Enacting the first recommendation would require an amendment to Article 109 of the Constitution, which Parliament could pass with a two-thirds majority, without requiring a referendum.
State-Level Votes in the United States
In the United States, according to the Initiative and Referendum Institute at the University of Southern California, 24 states allow citizens' initiatives. It is typical for the number of necessary signatures to be based on the number of votes cast in the previous Governor election. For example, the number of signatures required for a citizens' initiative in California (where they are called propositions) is 5 percent of the votes cast in the previous Governor election. That threshold is 8 percent in Michigan and 10 percent in Maine. In comparison, Armenia's current 350,000-signature requirement corresponds to 28 percent of the valid votes cast in the December 2018 parliamentary election (1,256,141). Changing this number requires an amendment to Article 204 of the Constitution, which itself can only be done through a referendum.
The circulation period, during which signatures can be collected is 150 days in California, 180 days in Michigan, and up to one year in Maine, all considerably longer than the IPP's proposed 90 day period.
In Maine, an alternate form of citizens' initiative, called the People's Veto, is also available. Citizens can prevent a law passed in the legislature from coming into force if they file an application within 10 days of it passing, and subsequently collect signatures, within a shorter 90 days, equal to 10 percent of the voter turnout of the previous governor election. If the effort is successful, the law is put to a referendum during the next scheduled election. This exact process played out in 2018, when the legislature tried to kibosh a grassroots attempt to move the state to a ranked choice voting electoral system, which had only passed through a citizens' initiative after years of the legislature refusing to take up the issue. In the end, the people won.
Iceland's Refusal to Bailout a Bank's Foreign Customers
Iceland used referenda as part of its dispute with the United Kingdom and the Netherlands over deposit insurance claims arising from the bankruptcy of one of its biggest banks. The negotiated agreements to repay 4 billion euros – a hefty sum for a population of 360,000 – were referred to the people, who rejected them twice, despite threats of economic repercussions. In the end, the "Icesave dispute" went to the EFTA Court, which ruled in Iceland's favor.
Electoral Reform in New Zealand and Canada
Between 1992 and 2011, New Zealand held a series of three referenda on changing their electoral system. As a result, they went from a single-member plurality "First-Past-The-Post" system to a mixed member proportional system, which introduces party lists in order to tie a party's share of the vote with its ultimate share of the seats.
During Canada's 2015 election, Justin Trudeau's Liberal Party had also promised to move away from First-Past-The-Post. After he was elected with a majority government, legally-speaking, his caucus had enough votes to change the electoral system unilaterally. Nevertheless, the Conservative Party argued that it would be morally wrong to do so, given the quasi-constitutional nature of a country's electoral system, and that a referendum was imperative for any change to be legitimate. Ultimately, the Liberals abandoned the promise and made only smaller-scale adjustments to election administration legislation, anxious to avoid a referendum in the wake of the June 2016 Brexit vote.
The Internet Is a Weird Place for Elections
Prime Minister Boris Johnson has said that the United Kingdom will be leaving the European Union on October 31, with or without a deal. But there was also another important vote in the United Kingdom in 2016 that took three years to resolve. The Natural Environment Research Council (NERC) launched a new polar research ship on September 26. In 2016, NERC held an online poll to find a name for the vessel. The winning submission was "Boaty McBoatface," which beat out "Usain Boat," "Clifford the Big Red Boat," "I Like Big Boats and I Cannot Lie" and "Pingu" among others. In the end, though, they named the ship "RRS David Attenborough" after the famous narrator of BBC nature documentaries. One of its robotic submarines has been named Boaty McBoatface instead.
Boaty McBoatface received 124,109 votes. E-signatures are certainly an efficient approach to processing Armenia's citizens' initiatives. Still, with a requirement to find 350,000 supporters, it is doubtful that any joke initiatives would make it through.

Electoral Code reform has been on the agenda in Armenia following the Velvet Revolution last year and the Republic of Artsakh just enacted amendments to its Electoral Code as it prepares for national elections in 2020. Harout Manougian looks at the situation in both republics.
Read more

Alen Shadunts writes that being democratic should not be a party ideology; democracy is a pre-existing bedrock condition, not an agenda for a particular government.
Read more