The European Parliament adopted a resolution on June 15 strongly condemning the abduction of Azerbaijani investigative journalist and civil rights activist Afgan Mukhtarli near his home in Tbilisi, Georgia.
According to his lawyer, Elchin Sadigov, Mukhtarli was abducted outside his home on May 29 and forcibly taken to the land border crossing between Georgia and Azerbaijan. The next day, he ended up in Baku in the custody of the Investigative Unit of the State Border Service of Azerbaijan. Sadigov alleges that the men who apprehended the journalist were reportedly wearing Georgian criminal police uniforms. According to the lawyer, the men beat Mukhtarli, tied him up, put him in a car and planted 10,000 Euros on him. Mukhtarli is now facing charges of smuggling and crossing the border illegally.
Afgan Mukhtarli had sought refuge and was living with his wife Leila Mustafayeva in Tbilisi, Georgia since 2015 after several Azerbaijani journalists critical of President Ilham Aliyev's regime were being arrested on trumped up charges.
The disappearance, abduction and reappearance of the Azerbaijani journalist in Baku raised a storm of controversy across the region. There are many Azerbaijani political refugees in Georgia, but over the last several months, many had voiced concerns over their treatment in that country. Azerbaijani activists over the past year had allegedly been experiencing difficulties by Georgian authorities. They reported being shadowed and believed that they were under surveillance, often times by people they suspected were Azerbaijani security forces.
Prior to the adoption of the June 15, 2017 resolution in the European Parliament "On the case of Azerbaijani journalist Afgan Mukhtarli," a number of MEPs held debates and delivered speeches. Up to 20 members addressed the parliament concerning the issue.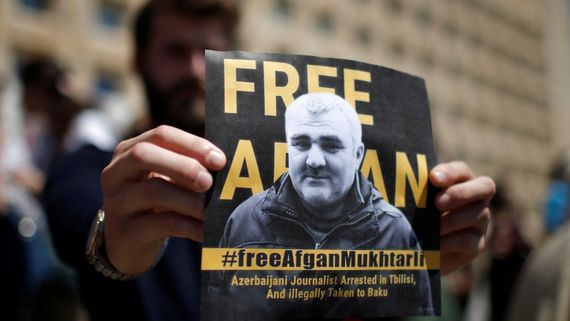 The strongly worded resolution condemns the abduction of Mukhtarli and "his  subsequent arbitrary detention in Baku; considers this a serious violation of human rights and condemns this grave act of breach of law."
The resolution goes on to urge Georgian authorities to "ensure a prompt, thorough, transparent and effective investigation into Afgan Mukhtarli's forced disappearance in Georgia and illegal transfer to Azerbaijan and to bring the perpetrators to justice." It also calls on the authorities in Baku to "immediately and unconditionally drop all charges against and release Afgan Mukhtarli, as well as all those incarcerated as a result of the  exercise of their fundamental rights, including freedom of expression; calls, in the case of Afgan Mukhtarli, on the Georgian authorities to take all the necessary steps vis-à-vis  the Azerbaijani authorities in order for him to be able to be reunited with his family."
The European Parliament resolution expresses concern that Mukhtarli's case is "another example of the Azerbaijani authorities targeting and persecuting critics living in exile and their relatives at home; recalls the previous cases of international arrest warrants requested for Azerbaijani citizens living in exile who are critical of the authorities." [Full text of the resolution here].
Shortly after Mukhtarli's abduction and forced detention in Baku, a number of governments and international bodies issued statements condemning by Azerbaijan and Georgia.
Levan Asatiani, Amnesty International's Campaigner on the South Caucasus said, "This is a deeply sinister development in a country known for its long crackdown on journalists and human rights defenders. Afgan Mukhtarli must be immediately and unconditionally released and protected from torture and other ill-treatment."  Asatiani went on to say that it seems that Georgian authorities were complicit in this plot.
On June 3, the U.S. State Department issued a statement that it was disturbed by Mukhtarli's abduction: "We urge the government of Azerbaijan to release all those incarcerated for exercising their fundamental freedoms in accordance with its international and OSCE commitments.We are closely following the Georgian investigation into the reported abduction, and urge that it be full, transparent, and timely."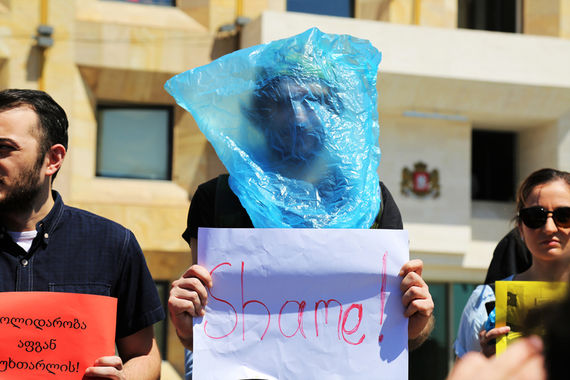 On June 6, during a meeting of the Human Rights Commission of the Georgian parliament, journalists covered their heads with plastic bags to protest Mukhtarli's abduction. Photo credit Giorgi Lomsadze.
On May 31, Human Rights Watch had said, "Georgian authorities should immediately investigate Mukhtarli's kidnapping, including whether Georgian law enforcement agents were complicit in illegally transferring Mukhtarli across the border or whether they actively participated in his kidnapping."  Giorgi Gogia, South Caucasus director at Human Rights Watch said that no one would believe Mukhtarli "voluntarily tried to enter Azerbaijan from where he fled to escape persecution" especially since his passport was still in Tbilisi.
Reporters Without Borders (RSF) also issued a statement calling on "Georgian authorities to explain how Afgan Mukhtarli, an Azerbaijani journalist living in exile in Georgia, was abducted and taken back to neighbouring Azerbaijan, and calls on the Azerbaijani authorities to free him at once."
Johann Bihr, the head of RSF's Eastern Europe and Central Asia desk said, "The Georgian authorities must immediately explain what happened to Afgan Mukhtarli and provide security guarantees for the other Azerbaijani exiles in Georgia. Whether Mukhtarli was kidnapped by foreign operatives or whether the Georgian security forces were accomplices to the Azerbaijani regime's persecution of its critics, this is a very grave incident that cannot remain without consequences."
In an interview with Radio Free Europe, Elman Nasirov, an Azerbaijani MP had stated that Mukhtarli was in fact detained in a joint operation by Azerbaijani and Georgian special forces.
In response to Nasirov's allegations, the Azerbaijani Prosecutor General's Office denied any implication in the forced abduction of the journalist. In a statement they said that law enforcement agencies of Azerbaijan had not collaborated with their Georgian counterparts. "As reported earlier, at 22:40 May 29, Azerbaijani citizen Afgan Mukhtarli without his national ID card on him attempted to flee after illegally crossing from Georgia to Azerbaijan away from the nearest border checkpoint. He was detained by border guards after refusing to obey their legal demand," the statement read.
The State Security Service of Georgia also denies involvement in Mukhtarli's case and has launched an investigation by the Ministry of Internal Affairs under Article 143 of the Criminal Code on unlawful imprisonment.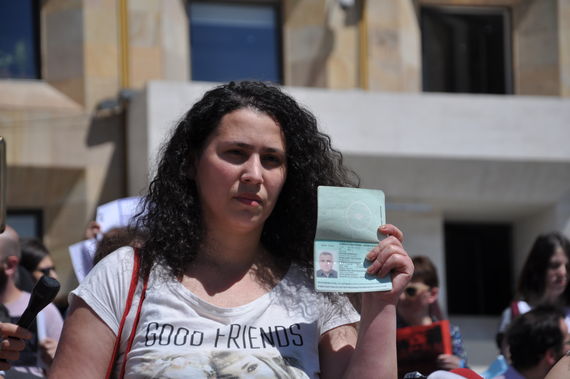 Leila Mustafayeva, Afgan Mukhtarli's wife says she had applied for a Georgian residence a year ago but was denied. Following her husband's abduction she was offered Georgian citizenship but has refused to accept it as it means giving up her Azerbaijani citizenship. Leila Mustafayeva is seen in the photo holding her husband's passport which had been left behind in their house in Tbilisi. Photo by Mari Nikuradze/OC Media.
Nasirov also claimed that protests in Georgia over Mukhtarli's arrest were a "result of the Armenian Diaspora and anti-Azerbaijani elements."
There have been protests in the Georgian capital by human rights activists and others condemning this case. On May 31, the day Mukhtarli's case was to be heard in Baku, several dozen gathered outside the government building to voice their concern. Mukhtarli's wife, Leyla Mustafayeva who was also at the rally said, "I am holding his passport right here. Can the Georgian authorities please explain how a man crossed an international border with no identification documents on him?"
On June 6, during a meeting of the Human Rights Commission of the Georgian parliament, journalists covered their heads with plastic bags to protest Mukhtarli's abduction.