In a July 16 interview to Armenia TV's "R-evolution" program, President Serzh Sargsyan spoke about the combat preparedness of Armenia's military, the situation on the Karabakh-Azerbaijan Line of Contact and issues of national security, including the state of the economy.
During that interview, the president also remarked on some of his statements in the past that had stirred controversy in the country.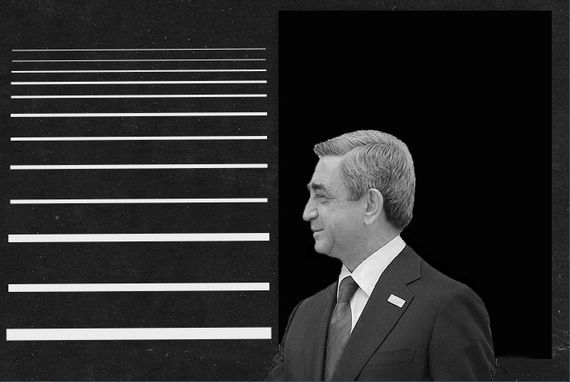 Guns from the 1980s
During a press conference in Germany in April 2016, and talking about the Four Day War, Sargsyan had said that Armenia's military was still fighting with guns from the 1980s.
Elaborating on his comment, the President explained, "Any given military operation, be it a day long, a year long or five years long, is a lesson that you have to review and derive conclusions from. It is these military operations that reveal what [weapons] your adversary uses and how. You have to try and find the antidote."
In reality, the purpose of military intelligence is to reveal the adversary's military capability before the potential outbreak of war.
Moreover, in an open letter addressed to Serzh Sargsyan dated June 26, 2013, former Defense Minister of the Republic of Artsakh, Samvel Babayan, who at the time was in exile in Russia, writes about Azerbaijan's acquisition of advanced weapons (mentioning Israeli made drones) and advises the President to update the Armenian military's 20th century armory. In the letter, Babayan proposes a tactical modernization of military capacity and a strategic action plan for military operations on the Line of Contact. Sargsyan never responded to that letter.
In his December 31, 2015 New Year's address, Sargsyan declared, "The Armenian Armed Forces are strong as always. Today, the Armenian army is as ready and efficient as ever. "
Almost three months later, the Armenian military could not fully restrain the Azerbaijani advancement and yielded territories during the Four Day War in April, 2016.
During the Armenia TV interview, President Sargsyan also said, "It was following the failure of the Madrid Principles (2007) that Azerbaijan began moving toward a military solution to the conflict."
More than likely, Sargsyan meant the Kazan failure. Granted, the Kazan document is an amended version of the Madrid Principles, an undisclosed document drawing out the Basic Principles for the settlement of the Nagorno-Karabakh conflict based on the principles of the Helsinki Final Act (1975) of Non-Use of Force, Territorial Integrity, and the Equal Rights and Self-Determination of Peoples. During the Kazan meeting (2011) Azerbaijan advanced additional provisions and the hopeful meeting fell flat.
In reality, it was right after the Kazan failure that, within a year's time, Azerbaijan's military budget doubled.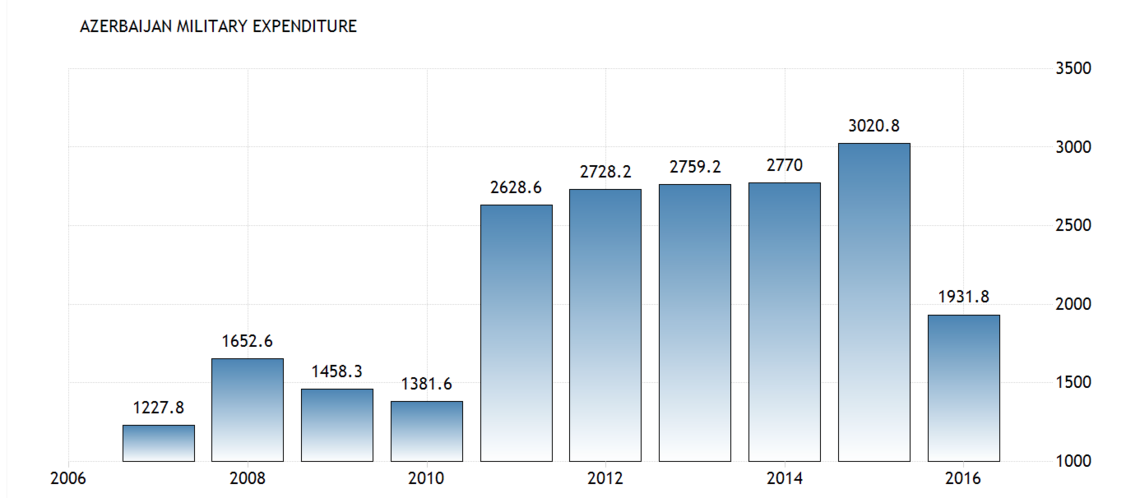 In 2011, Azerbaijan's military budget was 1.3 billion USD, it grew to 2.6 billion in 2012. In 2015, the Azerbaijani military budget exceeded 3 billion USD, an all time high in that country's history. In 2016, Azerbaijan's military expenditure was at 1.9 billion and the proposed military budget for 2017 is about 1.54 billion.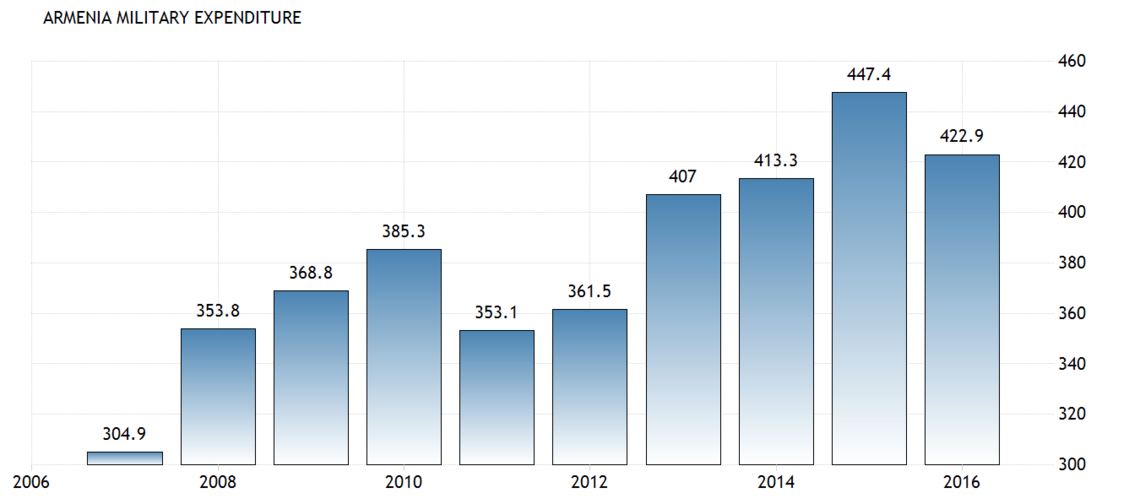 Armenia's military budget in 2011 was about 353 million USD, 361 million in 2012 and it reached 422 million dollars in 2016. For the sake of comparison, it needs to be mentioned that in the period between 2008-2015, Sargsyan increased the Police Force budget by five times, while military expenditure grew only 1.2 times.
President Sargsyan said in his interview to Armenia TV that the life of the officer and the soldier is most valuable. However his military politics don't attest to that.
Sargsyan also said, "Anyone who claims that they can make Armenia a richer country than Azerbaijan in two years or five years should be banned from politics. Much more time will be required for that."
Azerbaijan's GDP was 37.85 billions dollars in 2016, Armenia's was 10.5 billion. To be 'richer' than Azerbaijan, Armenia needs to improve its GDP 3.5 times. Again, for the sake of comparison, it needs to be mentioned that Armenia's GDP was 2.82 billion dollars in 2003 and reached 11.66 billion in 2008; in five years, it grew approximately 4.1 times. With proper strategies and policies, Armenia is capable of registering such growth in a short time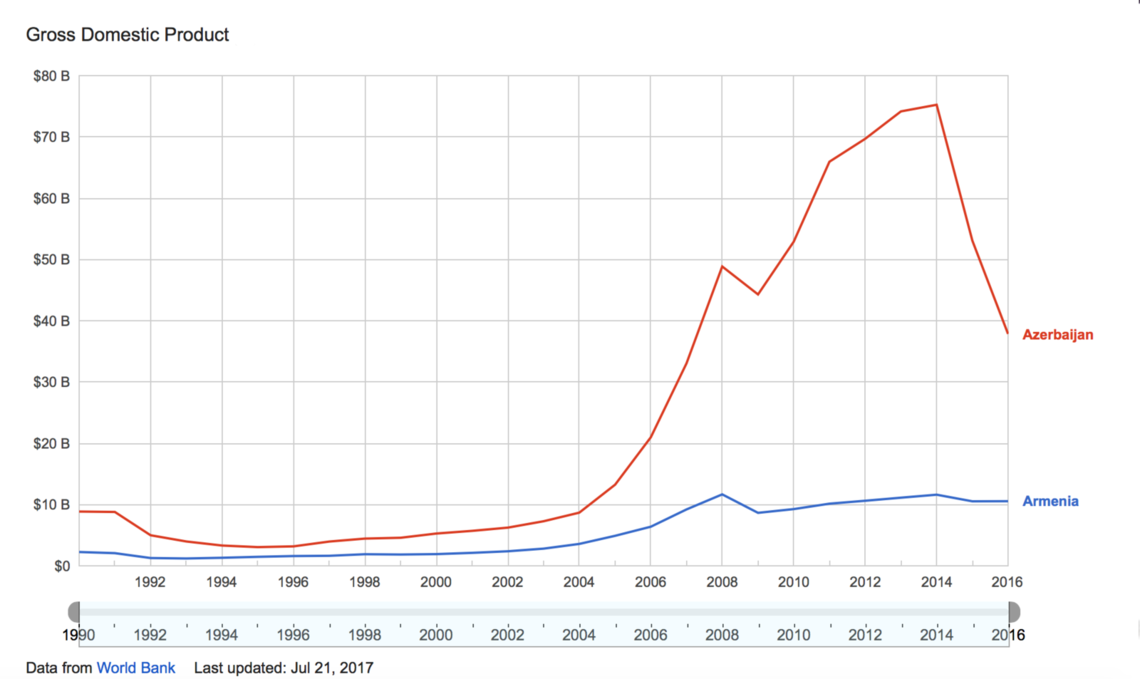 Sargsyan also referenced an interview he had given following the March 2013 Presidential Elections where he had said that if the government does not register seven percent annual economic growth between 2013- 2017, then it should step down.
To date, no administration has secured an annual seven percent economic growth and no administration has ever resigned for that reason. Meanwhile, Sargsyan insisted that governments have changed for not securing economic development.
The economic growth index was 3.5 percent in 2013 but the government of then Prime Minister Tigran Sargsyan did not resign for that reason. The Premiere stepped down in April of 2014, citing the pension system law reform as his reason for the resignation.
Tigran Sargsyan's successor, Hovik Abrahamyan resigned following the crisis of the Yerevan police station takeover by the Daredevils of Sassoun in July of 2016 that threw the country into turmoil. The resignation of both governments had nothing to do with economic growth.
Speaking of investments, President Sargsyan evaluated the investment tendencies (trends) in Armenia as satisfactory.
But the real investment numbers show a different trend.
For example, direct foreign investment in the fourth quarter of 2016 amounted to 134 million dollars, but only 73 million was invested in Armenia in the first quarter of 2017. In the last 10 years, direct foreign investment in Armenia has declined from 942 million dollars in 2008 to 338 million in 2016.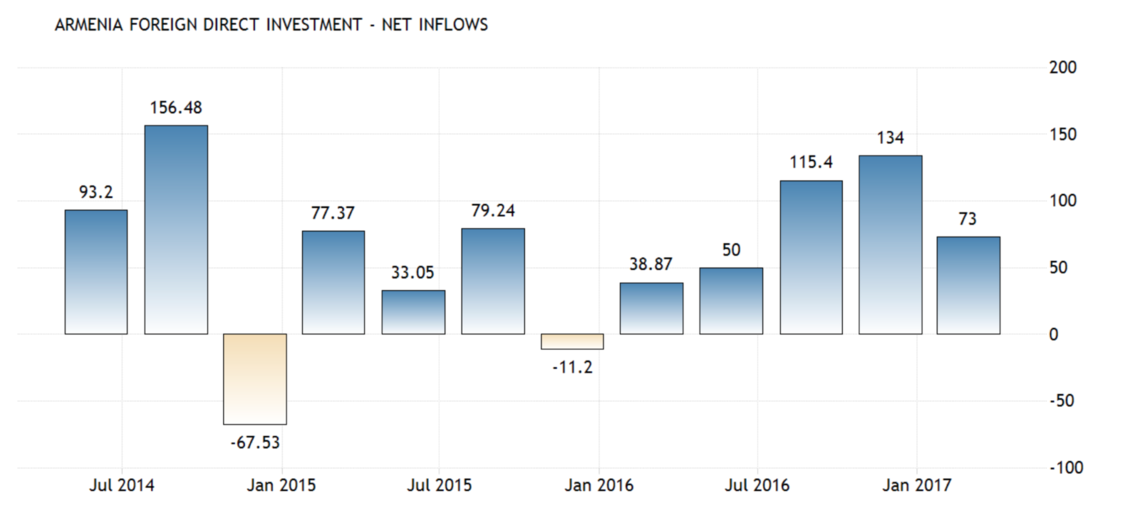 Referring to Russia's arms sale to Azerbaijan, President Sargsyan mentioned that he has not heard the Russian President voice an official stance about the matter.
Actually, on August 10, 2016, during a joint conference with Sargsyan, Vladimir Putin said, "And, let's say, a country like Azerbaijan – an oil producing country with a fast developing economy and quite a large volume of gold value reserves – is definitely able to buy weapons anywhere."