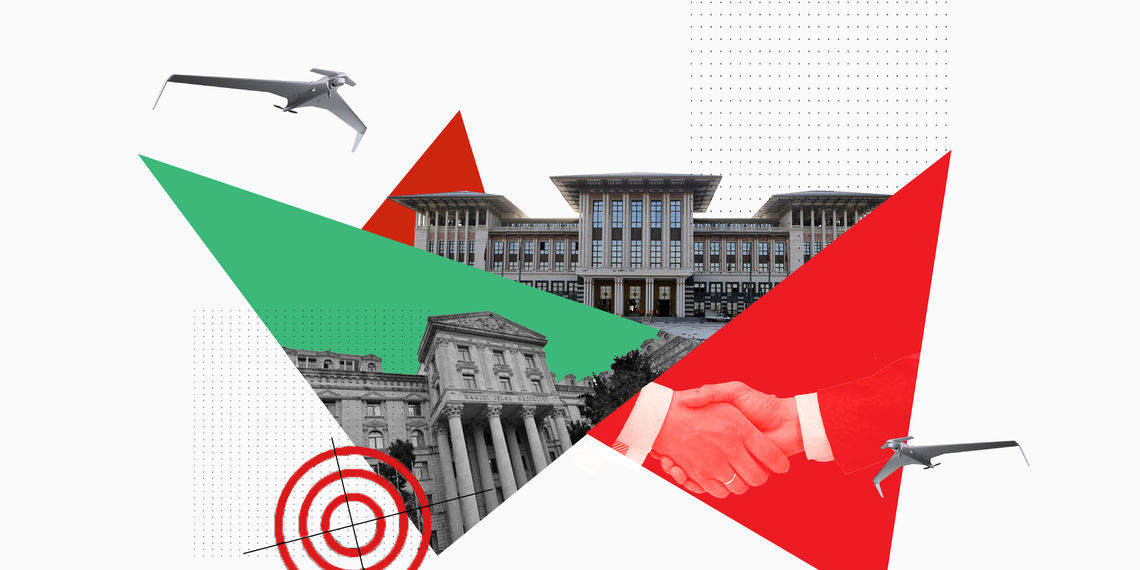 The worst escalation in violence since April 2016 that took place on the border between the Tavush and Tovuz regions of Armenia and Azerbaijan on July 12-16 did not remain, and perhaps could not remain, between the two countries. Despite the global call to halt all hostilities amid the coronavirus pandemic, Azerbaijan took advantage of the situation and destabilized the region once again. This article does not aim at examining the escalation itself, but rather understanding the chain of reactions in Azerbaijan and Turkey, after the violent military outbreak unfolded.
The disposition and actions of Azerbaijani President Ilham Aliyev was notably different during the past few days. His behavior and crisis management style, his posture and rhetoric, his public statements and actions indicated that his confident demeanor had been shattered. Aliyev acted like an impetuous gambler whose actions led to quick and self-inflicting policy decisions based on the inspiration of the moment. At least three of his public deliberations and decisions stood out: a) sacking Elmar Mammadyarov as Foreign Affairs Minister; b) outright criticism of the Ministry of Foreign Affairs; c) his disappointment about the low number of volunteers who signed up for the war against Armenia.
Public attitudes are always difficult to evaluate, especially in countries with authoritarian regimes and especially during the pandemic. In addition to these considerations, plunging into dubious military adventures against a neighboring country may damage fragile domestic stability beyond repair. The fortunes of military aggression may shift at any moment, dragging the country into chaos. This is the type of development that unfolded in Azerbaijan. Amid this situation, the humiliating dismissal of Mammadyarov was particularly surprising. Rumor had it that Aliyev was planning to sack him months ago and the fact that Mammadyarov was working from home on the night of the escalation, and failed to connect to an e-meeting with cabinet members, should not be viewed as the only reason for his dismissal.
Mammadyarov was one of the most experienced diplomats in the post-Soviet space as he shaped and institutionalized Azerbaijan's foreign service. His removal is more than just about him; it also signals the restructuring of existing networks and connections that have been built up over years and upcoming changes to Azerbaijan's foreign policy. Aliyev is yet to explain to the public and Azerbaijan's partners what the dismissal really meant. How will Azerbaijan's foreign policy change? Will Aliyev get rid of the diplomats and ambassadors he considered unfit for his foreign policy objectives? Or perhaps, the sacking of Mammadyarov was the result of tensions in the power structure in Azerbaijan. Was Mammadyarov tasked with carrying out a special diplomatic mission in parallel to the military operation, which he failed to deliver? Was he sacked to deflect the attention of the society from domestic ills?
One particular perspective stands out. Until 2012-13, the corrupt practices and lack of professionalism in their Armed Forces were seen as primary reasons for Azerbaijan's military failures. As a consequence, Safar Abiyev, the Minister of Defense for 18 years, was sacked in 2013. The Deputy Minister of the Interior, Zakir Hasanov, replaced him and initiated large-scale reforms, which in turn led to frequent violations of the 1994-95 armistice, eventually culminating in the 2016 Four Day April War. To Aliyev, Hasanov's appointment paid off. Following the same logic, Mammadyarov, who was a minister for 16 years, had to leave, too. The appointment pattern of ministers in two crucial positions – Foreign Affairs and Defense – reveals that, since 1991, there were seven Foreign Ministers in Azerbaijan, six of which were appointed during the first 13 years. Since independence, Azerbaijan has had 11 ministers of defense (both acting and full-time), nine of which were appointed during the first four years of independence. The pattern of sacking and appointing new ministers of defense was mostly connected with defeats on the frontline or being involved in plots against the presidents. While in the case of foreign ministers, the pattern was a bit different. Each new foreign minister was involved in a new phase of negotiations, which were undertaken by the OSCE Minsk Group Co-chairs.
With this pattern in mind, how will the new minister change the direction of negotiations? Aliyev needs someone who can revitalize Azerbaijan's foreign policy and the foreign service and act in sync with the Armed Forces. Aliyev's criticism of his diplomats showed that there is more on its way. His bold accusations of treason and treachery leveled against diplomats were more than an outburst of anger or disappointment. Aliyev's headstrong and impulsive statements meant more than he communicated. His criticism was about the stagnation, deep-seated corruption and lack of progress in the quality of Azerbaijan's foreign service. The new minister, who is not a professional diplomat and has almost no experience in diplomacy, needs an impressive start to meet Aliyev's expectations. However, diplomacy has its own logic and easy breakthroughs are difficult to attain. In his public appearance, Aliyev expressed his disappointment toward France and the U.S., two of the three co-chair countries of the Minsk Group, meanwhile praising Russia. From this, one can speculate that the new minister may be tasked with either working relentlessly on reshuffling the OSCE Minsk Group or changing its format.
Baku Protests
The unprecedented public demonstration in downtown Baku on the night of July 14, and the way it spiraled out of control, revealed a different type of tension that Aliyev had to confront. There were also reports of similar demonstrations in other Azerbaijani cities. Domestic commentators were quick to dismiss claims that it was staged; however, some of them did admit that "a part of the protests was organized by the government." Aliyev's tongue-lashing of the protestors by questioning their determination and commitment to fight against Armenians was also an implicit confession that the decades of anti-Armenian campaign and brain-washing had limited effect. To underline his point, Aliyev stressed that 60 of the 150 volunteers, who turned up at the State Service for Mobilization and Conscription to go to the front, were from the Tovuz region. However, why would Aliyev treat the protestors that way? He could have used the demonstration in his domestic politics and negotiations to argue that his people ardently want the conflict to be resolved by violent means and use that factor as additional leverage. Yet, he chose to criticize them. However, the nationalist and religious slogans, the calls for violence and war and wishes voiced by the Baku protesters on the evening of July 14 showed that protests of this nature can undermine the existing domestic order too.
After the news of the first casualties of high ranking officers reached Baku, the people also directed their criticism toward the regime by questioning the previously-heard assurances that Azerbaijan's army is invincible. If so, how could a general of an "omnipotent army" be targeted and killed on the second day of fighting? Aliyev had ample reasons to be fearful, as popular revolts in other post-Soviet countries started in a similar fashion when angry mobs marched the streets to display their anger, destroyed cars and inflicted physical damage on state institutions. In the case of Baku, it was particularly different, because it was during the collapsing years of the Karabakh war when more than 30,000 people marched in the streets chanting radical claims. The ghost of post-Soviet revolutions may continue to chase the Aliyev regime with greater consistency. Baku's July debacle on the frontline and domestic instability may lay the groundwork for even greater crises to come.
What comes next now is a more pertinent question. Baku's grand-strategy against Armenia and Artsakh, that was famously coined "Strategic Patience" and "Peace for Prosperity" was championed by Mammadyarov. Now, however, that ambitious strategy is showing cracks revealing inherent tensions and the shortsightedness of Azerbaijan's approach. Baku's policy may be easily metamorphosed, radicalized and internalized. Aliyev's jingoism has reached its limits. His regime's display of hatred against Armenia and the Armenian nation and its thirst for revenge, even by threatening to attack the Metsamor Nuclear Power Plant, reveals its parochial nature. Aliyev's fear of hostile Armenophile coalitions abroad and subversive forces at home keep haunting him and motivate his ill-conceived policies against Armenia. The Karabakh conflict can be solved only through peaceful means, no matter how hard and how often he and his regime try to deny it. He should know very well that violence begets violence. It is a vicious circle. His policy of overhauling the Karabakh equilibrium through violent means can and will backfire.
Comprehending Turkey's Reaction
In parallel to the shelling of Armenian positions and villages, Azerbaijan appealed to Turkey for assistance. The way Turkey responded to Azerbaijan's request can be divided into three categories: the official response, the visit of Azerbaijani officials to Ankara and bringing up the security of the Azerbaijani pipelines passing not far from the borders of Armenia and Karabakh.
To many, Turkey's bold diplomatic, political, symbolic and psychological support extended to Azerbaijan may come as unprecedented. This time, too, what Turkey did was from an old playbook: Ministers of Defense and Foreign Affairs make threatening statements reflecting the deep-seated institutional animosity towards Armenia, followed by statements of condemnation from the President and the political parties in parliament. Turkey's engagement in a campaign of vilification of Armenia then raises expectations in Azerbaijan, which then is followed by a display of popular disappointment after being deceived by their "elder brother" and left alone again. These steps follow each other and have become a routine process throughout the past decades.
Among all of Turkey's statements and actions, one meeting stood out: the visit of Ramiz Tahirov, Azerbaijan's Deputy Defense Minister, and Kerem Mustafayev, Commander of the Nakhichevan Garrison to Ankara. In the presence of his Chief of Staff and three branches of the Turkish Armed Forces, the Turkey's Minister of Defense, Hulusi Akar, conveyed his strong support to Azerbaijan followed by two group photos during the meeting and afterward. The meeting raised a number of questions. If Azerbaijan really sought Turkey's military backing behind closed doors, it raises questions of why Akar had to host Tahirov in Ankara and not in Baku, if they already had all the agreements of strategic cooperation in place. If Tahirov hoped to use his ingenuity to goad Turkey into committing an aggressive act towards Armenia, he clearly failed. What was the real aim and outcomes of the meeting? It is yet to be determined. The meeting of Turkey's Director of Defense Industry with Tahirov was no less interesting, as it revealed that Azerbaijan was looking for more military-technological support from Turkey.
One of the reasons that Turkish public opinion was quick to second the government's reactions was related to the fact that Azerbaijan is better positioned in the Turkish information space, in contrast to Armenia's total absence from there. It was because of this advantage that Turkey easily consumed (unsupported) Azerbaijani claims that the Armenian Armed Forces have targeted energy pipelines and these strategic pipelines are under threat. The news went viral in Turkey, exposing the dangers of information warfare.
The military record of Azerbaijan's armed forces during the past few days of escalation, the decisions and statements of the political and military elite and a set of other developments revealed that Azerbaijan's inflated self-confidence failed the crush test. The statement about attacking the Metsamor Nuclear Power Plant was the culmination of missteps and ill-judgments. The reckless statement, which is tantamount to state terrorism, needs to be universally condemned. It was a fatal blow to Aliyev's reputation and he therefore needs a fresh start, which may come in different forms. From now on, Aliyev and his regime should be in the global spotlight. The international community should keep a watchful eye not only on his most obvious moves, but his every conceivable move, even the most foolish, which if unanticipated might undermine regional, and perhaps, global security. Ultimately, will Turkey keep supporting Aliyev's regime which threatens to attack a nuclear installation just a few kilometers away from its own border?