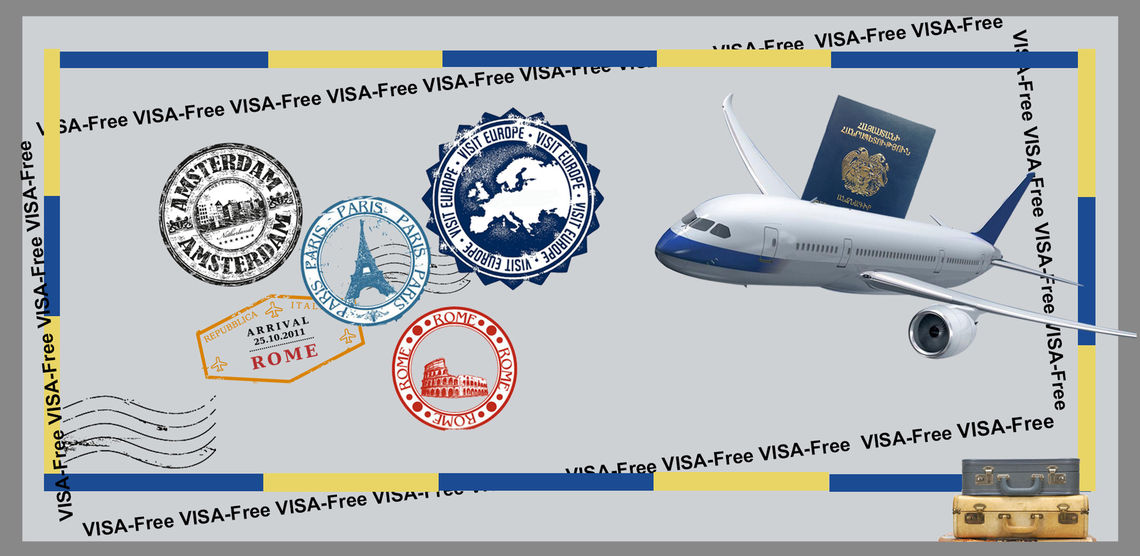 The Council of the European Union, which along with the European Parliament and the European Commission is one of the three legislative bodies of the EU, presented their Conclusions on Eastern Partnership policy beyond 2020 in May 2020. The Council is the only explicitly intergovernmental body of the EU where the executive representatives of the member states, be they ambassadors, ministers or heads of states, present their official state position. In the document, the Council expressed its willingness to begin negotiations with the Eastern Partnership countries which do not yet have a visa liberalization agreement. They are Armenia, Azerbaijan and Belarus.
The document reads: "The possibility to launch new visa liberalisation dialogues with the remaining countries, whose citizens require visas to travel to the EU, will be considered, in due course, if conditions allow, provided that well-managed and secure mobility conditions are in place, including through the satisfactory implementation of the visa facilitation and readmission agreements."
Since the launch of the Eastern Partnership in 2009, "mobility and people-to-people contacts" has been one of its four thematic platforms, together with "strengthening institutions and good governance," "economic development and market opportunities," and "connectivity, energy efficiency, environment and climate change."
From the point of view of free mobility, there are several fundamental documents that are crucial. Mobility Partnership (MP) is an agreement between the EU and the Eastern Partner countries, and operates under the Global Approach to Migration and Mobility agreement. All six Eastern Partnership countries have already signed the document. The EU and Armenia signed The Joint Declaration on a Mobility Partnership in Luxembourg in 2011, which was a stepping stone in the area of mobility, ensuring better management of irregular and illegal migration.
The next group of agreements are Visa Facilitation (VF) and Readmission Agreements (RA). All six Eastern Partnership countries have already signed VFs. The VF and RA entered into force in Armenia in 2014. Due to these agreements, the procedure for Armenian citizens to obtain a European visa became easier, with fewer required documents (Article 4). Consular fees were reduced from €60 to €35 and the category of persons who may qualify for free visas was widened (Article 6) to include pensioners, children under the age of 12, members of national and regional governments and of Constitutional and Supreme Courts, persons with disabilities and the persons accompanying them, members of official delegations, pupils, students, post-graduate students and accompanying teachers, journalists and technical crew accompanying them in a professional capacity, participants in international sport events, representatives of civil society organizations and persons invited by Armenian community non-profit organizations registered in Armenia, persons participating in scientific, academic, cultural or artistic activities, including university and other exchange programs, persons who have presented documents proving the necessity of their travel on humanitarian grounds, including to receive urgent medical treatment and the person accompanying them.
The visa issuance procedure was accelerated to 10 days (Article 7) and the quota for 2 to 5 year multiple-entry visas was increased.
The other important document is a Visa Liberalization agreement. More than 60 countries have a visa-free regime with the EU, meaning that their citizens can enter the Schengen Area without a visa for a stay of up to 90 days within a six month period. Eastern Partnership countries Georgia, Ukraine and Moldova have already been granted a visa-free regime. Other countries in the European neighborhood that have successfully implemented visa-free regimes with the EU include Albania, Bosnia and Herzegovina, North Macedonia, Montenegro and Serbia. There is a set of criteria that countries should meet in order to be granted a visa-free regime. The EU sets roadmaps for each country to achieve the desired results in the fields of rule of law, combating corruption and irregular migration, fighting against organized crime, provision document security and improving administrative capacity. It should be clarified that this arrangement does not provide permission for the visitor to work in the EU. EU Ambassador to Armenia Andrea Wiktorin pointed out: "Visa liberalization does not mean that you can go to European countries to work. It is important for everyone to understand that, otherwise you will be highly disappointed. This means that you can come to the EU for 90 days within a period of six months. This gives you many opportunities, and it also increases your sense of responsibility."
Visa liberalization with the EU is envisaged in the Comprehensive and Enhanced Partnership Agreement (CEPA) signed in 2017 and has been ratified by 22 out of 26 EU member states. Article 15 of CEPA states: "The Parties shall continue to promote the mobility of citizens through the Visa-facilitation Agreement and consider in due course the opening of a visa-liberalisation dialogue provided that conditions for well-managed and secure mobility are in place. They shall cooperate in fighting irregular migration, including through the implementation of the Readmission Agreement, as well as promoting border-management policy as well as legal and operational frameworks."
It is obvious that the implementation of VF and RA is critical to achieving a visa liberalization regime with the EU but administrative changes will also be required. The Schengen Area states introduced the Visa Information System (VIS) in 2015. It is a common biometric database of Schengen visa applicants. The latter must provide their fingerprints and biometric passport, which will remain in the database for five years and should be renewed after that.
Another important reform is the installation of the biometric passport system in 2012. Between 2014 and 2016, all new Armenian passports contained biological data and cost €50, or €56 for both a passport and ID card. The biometric passports contain the fingerprints of both index fingers. Biometric passports consist of 40 pages instead of 32. The ID cards also include the holder's address and enable the use of e-signatures which simplify government services such as online tax payments.
However, after 2016, Armenian citizens were once again given the option to receive a regular, non-biometric passport. In 2018, Article 8 of the Armenian Law on Identification Cards reversed course once again, requiring that all new passports issued after January 1, 2019, include biometric data. However, the digitalization of passports and public services still remains a significant issue hampering a visa-free regime with the EU.
Another important issue is the prevention of illegal migration and asylum seeking in the EU. According to Schengen visa statistics, all Schengen consulates located in Yerevan received a total of 59,012 Schengen visa applications. 52,081 of them were approved and 16,530 were granted multiple-entry visas. Only 11.8% of the applicants were rejected. The illegal migration situation among Armenians is improving.
EU officials confirmed that lifting visas is not a political issue but a technical one. In November 2019, a deputy managing director at the European External Action Service, Luc Devigne, stated that the main issue delaying dialogue is that of Armenians overstaying their visas in the Schengen Area and seeking asylum in Europe.
"This is not a political issue. This is a working issue. I'm pretty sure that when the conditions are fulfilled, when there are no problems of overstaying [EU visas] or asylum seekers, the decision will be positive," said Devigne according to Azatutyun.
Armenian authorities have confirmed repeatedly that visa liberalization with the EU is one of the government's top priorities. Foreign Affairs Minister Zohrab Mnatsakanyan emphasized: "There are numerous notifications, various issues relating to the attitude and policy regarding migration. We are very sensitive and will not act in a way that will lead to the abuse of the visa regime. We do not welcome actions resulting in problems. Now we are told that there are other countries that use the visa-free regime and abuse that, but this is not a sufficient fact for us. We want to be assessed in accordance with our values and capacities, and it is in this regard that all our experts, respective agencies, dealing with migration, are in touch with the respective European experts to assess to what extent our capacities are developed and are in line with the standards, so that we can launch the visa liberalization dialogue." The comments hint at the problems other Eastern Partnership countries encountered after instituting a visa-free regime.
For instance, in 2018, a year after the launch of visa liberalization with Georgia, German Interior Minister Thomas de Maiziere referred to the number of Georgian nationals seeking asylum in Schengen countries as "worrisome."
Prime Minister Nikol Pashinyan presented the declining numbers of asylum applicants from Armenia. In the first six months of 2019, only 1815 applicants applied for asylum, compared to 2475 in the same period of 2018 and 3250 in the first half of 2017.
According to Eurostat's quarterly Asylum report, Armenian asylum applicants apply mostly to Germany, France and the Czech Republic. The number of registered applicants in France is 365, 195 in Germany, and 75 in the Czech Republic. Armenian asylum applicants top the list of asylum seekers in the Czech Republic, followed by Georgians and Ukrainians.
However, at a June 11 appearance in Parliament, Mnatsakanyan confessed that issues remain with respect to the implementation of the visa liberalization agreement with the EU. "We have a corresponding platform with our EU partners for discussions on this issue," he said.

There is a growing view that the Eastern Partnership needs to formally move beyond its founding premise as a bridge between neighbors and to become a vehicle for significant economic integration and ultimately, perhaps, EU accession.
Read more

Following changes in migration policies of EU countries, an increasing number of illegal Armenian immigrants were deported from the Schengen area. Armenia's government has introduced a draft program, which, if adopted, will be the first initiative aimed at providing state support to deported Armenians.
Read more