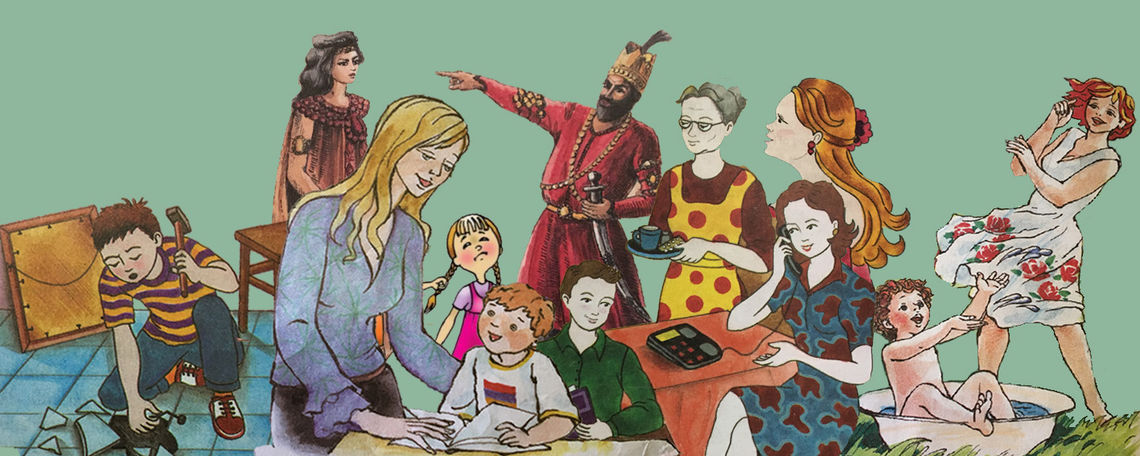 In Armenia, discussions about public school textbooks are primarily about the lack of proper methodology and the complex technical language that students can hardly comprehend. The focus on the peculiarities of each subject and students' level of comprehension leave many social issues on the sidelines, including gender inequality. A close examination of Armenian public school textbooks reveals persistent gender bias and stereotyping at almost all grade levels.
Gender bias in textbooks is a prevalent issue throughout the world, considering the fact that textbooks occupy approximately 80 percent of classroom time. UNESCO states that gender bias in textbooks is an obstacle to the establishment of gender equality in education. Not only does it reinforce gender stereotypes, but also may possibly "contribute to the lowering of girls' achievements, especially in weak schools in poor countries."
Armenia is a signatory to a number of international agreements undertaken by the United Nations that emphasize the importance of gender equality in education, including the Sustainable Development Goals (SDGs), Millennium Development Goals (MDGs) and Education for All (EFA). In 2010, Armenia adopted the Gender Policy Concept Paper which identifies gender-related issues in various spheres, including health, socio-economics, management and education.
Article 4.3. of the concept paper provides a comprehensive list of goals and objectives Armenia should reach in regard to gender equality in the education sector, including:
– Creating optimal conditions to maximize the creative and intellectual development of both sexes by further improvement and democratization of the education sphere.
– Educating socially active and responsible citizens, shaping an egalitarian gender culture, supporting gender equality in society, social justice and enjoyment of social freedoms.
– Establishing gender-balanced representation at all levels of the education sphere.
Article 4.4.3 of the paper calls for the formation of "an egalitarian notion of gender relations, drafting new education curricula and manuals directed at the creation and implantation of principles of gender equality, as well as at overcoming traditions that encourage patriarchal gender stereotypes."
However, a close look at current textbooks reveals that Armenia hasn't translated these principles into action yet. There are two prevailing issues that can contribute to further gender inequality and the reinforcement of a patriarchal society in Armenia: the lack of representation of women and gender stereotypes.
The Underrepresentation of Women
Although the level of underrepresentation varies from one textbook to another, it is present in most subjects and grade levels. Some of the most striking examples are Armenian history and literature textbooks. The eighth grade Armenian literature textbook covers eleven authors – all of them men. Note that David Gasparyan, the author of the textbook, has included a separate section about Ernest Hemingway next to Hovhannes Tumanyan, Gabriel Sundukyan, Teryan and others, but has not included any female Armenian writers such as Zabel Yesayan and Shushanik Kurghinian.
In fact, from grades 7 to 10, only one literature textbook includes one poem by one female Armenian writer. The seventh grade textbook allocates a page and a half to a short biography of Silva Kaputikyan and one of her poems, Kele Lao (Come on, Lao). The same textbook includes at least three poems and an average of 5-10 pages each for the male authors that make up the rest of the 215-page book.
Similar observations can be made about Armenian history textbooks. Taking the eighth grade history textbook[1] as an example, while photos and illustrations of men appear 77 times, portraying people of various occupations and nationalities – Komitas, David Bek, Peter the Great, Vasil Behbutov, Shahamir Shahamiryan, etc. – female characters appear only four times. Moreover, three of these four images do not portray a specific woman whose name is referenced in the text. Rather, one of them is a landscape painting by Stepanos Nersisyan, where women are dancing dressed in traditional garments. Their faces are not visible and their figures occupy very little space. Two other images on pages 166 and 127 have women in group photos, portraying a female choir and a group of orphans, both girls and boys. Only the image on page 165 has a portrait of an Armenian actress from Tbilisi, captioned "Siranush." No last name or any additional information is provided about her either in the caption or in the text.
Some public schools use history textbooks published by Manmar and the picture is even worse. In Manmar's eighth grade Armenian history textbook, male figures appear 89 times, most of them in portraits, while there is not a single image of a woman or a girl, either in group settings, or as a separate portrait.
Similar patterns can be observed in high school textbooks
Frequency of Representation of Female and Male Personalities and Characters in Textbooks (text and illustrations combined).

Source: Silova, I. (2016). Gender Analysis of Armenian School Curriculum and Textbooks (Policy Brief). World Bank.
Gender Stereotyping 
It's very important to realize that boys must be brave, risky, and girls – feminine and gentle.[2]
Not only are girls and women underrepresented in textbooks, they are also portrayed in stereotypical roles, both in text and illustrations. The conventional gender expectations regarding people's careers, household roles, duties, physical looks and behaviors apply to both male and female characters.
Boys are portrayed as strong individuals doing athletic activities or carrying out tasks that require muscular strength. One might argue that illustrations only serve as complementary materials to the stories and must be created accordingly. However, in texts where the sex of the characters isn't even mentioned, gender stereotypes still apply to the accompanying illustration.
The text in image 1 reads, "A proverb: If we bring our shoulders together, we will move mountains." Note that the text is completely gender neutral, yet the illustrator and authors of the book have ascribed the the quality of being strong to boys only. This kind of bias and stereotyping isn't unique to one textbook only or to Armenia specifically but seems almost universal. It is even more apparent when it comes to occupations and household duties, e.g. girls do the shopping, washing, cooking, ironing while boys repair and carry things.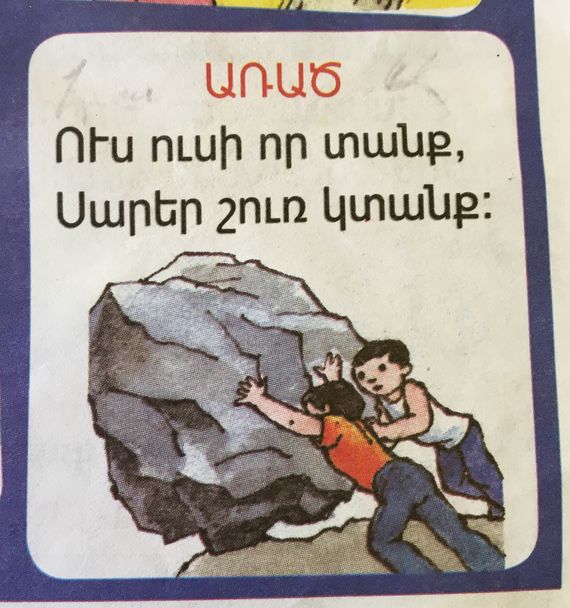 When it comes to careers, men are presented as engineers, doctors, drivers and construction workers, while women are portrayed as teachers, actresses and housewives. Women are constantly linked to their families, taking the role of a mother, daughter or a grandmother, who are mostly portrayed as loving, caring and modest but, at the same time, passive and dependent on someone else.

The textbooks for crafts (home economics)[3] even goes a step further by blatantly dividing activities into "for girls" and "for boys" sections. For instance, the sixth grade[4] crafts textbook has ten units: four for boys, four for girls and two joint ones. According to the visual indicators next to the unit titles, girls are supposed to engage in cooking, sewing and knitting, while boys are presented with woodwork, metal processing and various machines. The only lessons that are co-educational are graphics and electronics.
To conclude, textbooks don't present women in their full professional capacities. The range of available career choices presented for women is limited and often passive. By not portraying women as decision-makers, scientists and entrepreneurs, textbooks directly or indirectly shape students' career choices, likely creating constraints between their aspirations and established norms.
By failing to properly highlight female freedom fighters, social workers, artists, writers and politicians, by failing to include Armenian female writers' and artists' work in public school textbooks, the authors and publishers of these textbooks devalue the role of Armenian women and their legacy in our collective history. By leaving out women like Mariam Khatisyan, Mari Beylerian, Zabel Yesayan and many more, they artificially suppress inspiration for achievement among half the younger generation and the entire Armenian nation unfortunately suffers as a result.
———————————————–
1-  Melkonyan A., Simonyan, A., Nazaryan A., Muradyan, H., (2013): Armenian History 8. Yerevan, Zangak Publishing
2- The World Around Me, 3rd grade.
3- Armenian: Տեխնոլոգիա
4- Authors: S. Hovsepyan, A. Harutyunyan, M. Aghajanyan, L. Verdyan.