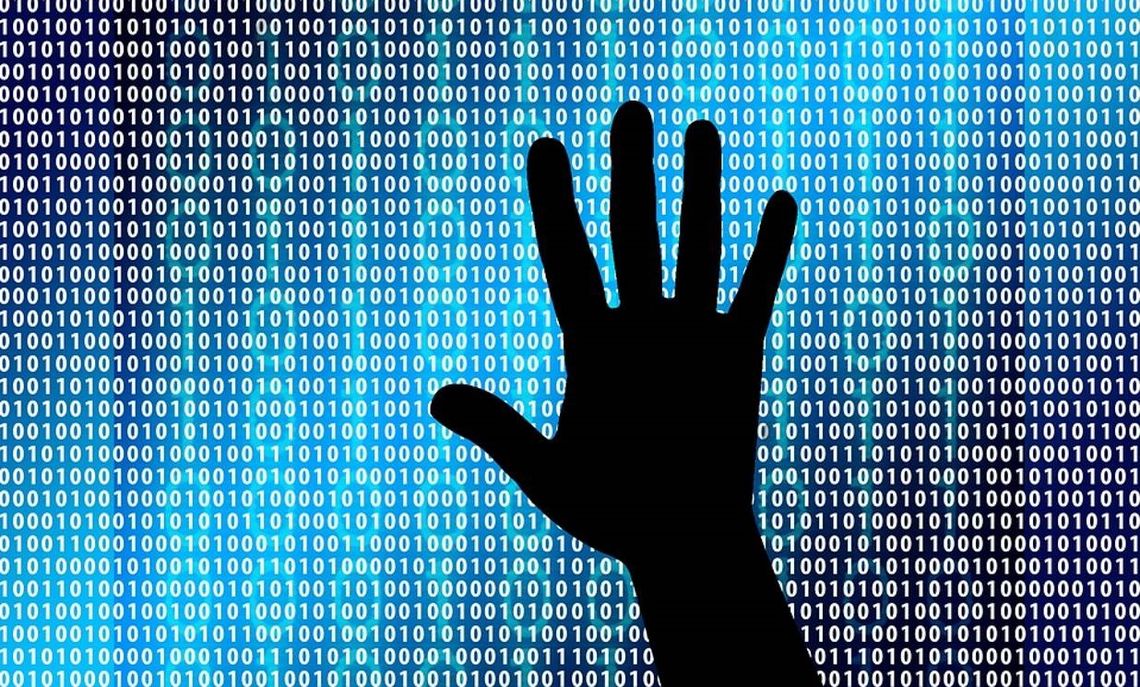 Armenia and Azerbaijan are not only engaged in military operations against one another, but they are also now gradually intensifying information warfare. Today, this information war is being waged in the media, through social networks, on academic platforms – all platforms where it is possible to disseminate information and propaganda.
How Did the Information War Begin?
The information war between Armenia and Azerbaijan started when the two countries did not even exist and were part of the Soviet Union as two republics. However, more specifically, the information war broke out in February 1988, when during an extraordinary session, the People's Deputies of the Nagorno-Karabakh Autonomous Oblast approved the secession from Azerbaijan and unification with the Armenian SSR.
During those early months, this warfare was taking place underground; in the Soviet Union, only the state had the right to generate and disseminate information. Information leaflets were being created based on the experience and example of samizdat (a system in the USSR and countries within its orbit by which government-suppressed literature was clandestinely printed and distributed). Enormous quantities of historical materials, political analyses were printed and circulated "hand-to-hand."
As the years passed, the dissemination of information became much more coordinated, and both sides began involving public institutions and a huge number of specialists. Without а doubt, the nationalization of the dissemination of information was a time-consuming and lengthy process. Azerbaijan was first to head in this direction.
Until the early 2000s, the information war was being carried out in an impromptu fashion by both sides. The internet has merely made everything much more expansive and intensive.The presidency of Ilham Aliyev resulted in significant changes in the "national propaganda." Still, in 2003, Aliyev attempted to minimize contact between Armenian and Azerbaijani non-governmental organizations on the level of public diplomacy. Afterwards, he commenced devising a state propaganda system, which was built around the presidential administration. One of the first meetings was at the Academy of Sciences, where the president requested to revise history.
In April 2004, Aliyev personally compiled the edition of the Azerbaijan Encyclopedia, and instructed that all Armenian names be removed from the encyclopedia. That same year, the Heydar Aliyev Foundation was established and was headed by Azerbaijan's First Lady Mehriban Aliyeva. The Foundation finances various propaganda programs and initiatives. A number of other institutions were established whose mandate, among other things, was to finance anti-Armenian propaganda campaigns and programs. These included the State Assistance Council for NGOs of the President's office, the President's State Assistance Foundation for Media Development, and many others.
While propaganda and advocacy mechanisms were being quickly developed in Azerbaijan, Armenian state authorities did not consider the importance of dealing with the information war in a centralized and coordinated manner. It was only in 2009 when the "Information Security" concept paper was developed in Armenia, which resulted in the establishment of the Information and Public Relations Center of the Staff of the Government of Armenia. The range of the responsibilities of the center included a campaign against Azerbaijani propaganda. In fact, the bilateral information warfare employing significant measures broke out right at that time. The information war proceeded in tandem with the escalation of the armed conflict.
Media as a Tool in the Propaganda Campaign
The severe escalation of military clashes at the beginning of April 2016, has come to be known as the Four Day War. It was the worst outbreak of violence since the full-scale Karabakh War which ended in 1994. However, it must be acknowledged that since 2014, there have been a significant number of clashes not only on the Karabakh-Azerbaijan Line of Contact but also along the internationally recognized state border between Armenia and Azerbaijan. These incidents resulted in dozens of casualties, both military and civilian.
In the years 2014-2015, the information war also escalated. Information flow from both sides intensified, which helped both Armenia and Azerbaijan to strengthen their domestic campaigns and attempt to influence the international community.
It was exactly at this time period that media in Azerbaijan underwent structural transformation. Aliyev's regime essentially eliminated opposition media. The work of NGOs advocating democratic reforms were obstructed. Dozens of journalists, social media activists, and representatives of civil society were arrested or persecuted. Many of them were charged as being Armenian agents. Reporters Without Borders ranked Azerbaijan 163  out of 180 countries in its World Press Freedom index; and every year, its position has been deteriorating. As a consequence of this policy, Ilham Aliyev's regime was able to quickly take control of the media. This has allowed the country's authorities to not only supervise the media but to also implement a coordinated propaganda campaign using the media.
Information Warfare in the Context of Armed Conflicts
From the perspective of military propaganda, Armenia and Azerbaijan have completely opposing approaches. Over a course of several years (2010-2012), the Armenian Defense Ministry began working in a more transparent manner regarding incidents in the army, thanks to pressure from Armenian civil society, active pressure from many activists on social networks and also because of the army's own policies. It is obvious from today's society-army relations, that the army does not withhold information about deaths in the military. Regardless the circumstances of the incident, whether the cause is military or internal, the Defense Army informs society. This has led to certain degree of trust on the part of society. In turn, such transparency allows the army to combat Azerbaijani propaganda. When Baku reports that Armenian side has suffered a large number of casualties, the transparent work of the Ministry of Defense serves as a countermeasure.
Since 2014, Azerbaijan has headed in the completely opposite direction. Ilham Aliyev's directive (September 2014) and a number of other decrees have limited the dissemination of military information both in the press and in social media. Furthermore, journalists are not allowed to enter the conflict zone without a special service permit. The Azerbaijani army has also reduced the amount of disseminated information.
The major consequence of such a policy is the complete cover-up of military casualties. The Ministry of Defense of Azerbaijan essentially refuses to provide information on deceased soldiers and does so only in extraordinary cases.
Thereby, during the armed clashes on April 2-6, 2016, the Ministry of Defense of Azerbaijan reported only 31 casualties. It is also noteworthy to mention that no names of victims were released. Regardless of the confidentiality of their data, with social media and open source tools, Razm.info announced that 92 Azerbaijani soldiers had been killed. Yet, even this is not a final estimate. For instance, the calculations of Bellingcat, an open source and social media investigation organization, verify that Azerbaijani fatalities ranged between 400-500.
Social Media as a Battlefield
It is understandable that social media has become one of the major platforms of the Armenian – Azerbaijani conflict. It is easy to falsify information and even easier to penetrate into the rival's domestic landscape. Social media rapidly disseminate information to the users in other countries. That is why both sides make solid efforts to hold a leading position in the social media.
For the past several years, the Azerbaijani side has exerted great effort to create information flows on Twitter. Young Azerbaijani supporters of the ruling party are extremely active on Twitter and generate enormous amounts of tweets in an attempt to attract all the information flows with the hashtags of Armenia, Artsakh, and Azerbaijan. If you search the #Karabakh, #Armenia, and #Azerbaijan, you will find Azerbaijani users with many similar posts. Moreover, the vast majority of those users post in English, Russian, and Armenian.
For instance:
Guler Huseynova
#Armenia #NKPeace #Karabakh
Archeologists have found large parts of Ramzes II statue in the landfill

Guler Huseynova
#Armenia #NKPeace #Karabakh
As a result of riots in Baku, 40 people were arrested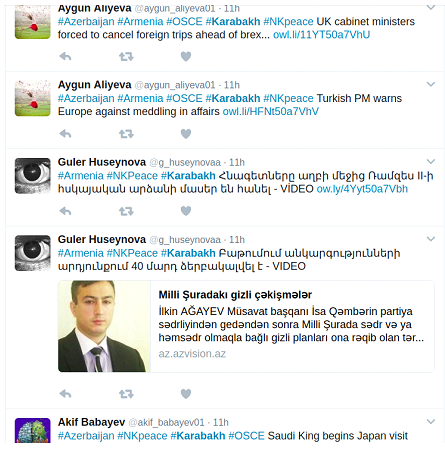 Propaganda and Azerbaijani Twitter Users
The Ministry of Foreign Affairs (MFA) of Armenia has an active team on Twitter; this includes the media division and embassies and their staff.  They do not disseminate information with identical content but rather the diplomats work in a coordinated fashion, targeting foreign diplomats, public figures, and politicians.
Since 2016, Facebook is being utilized actively as a platform for propaganda. Activists of both sides create fake user profiles, which disseminate fake news during times of military tensions. Azerbaijani hackers have also started to attack Armenian users and spread disinformation from Armenian user profiles.
For instance:
Roza
I just got a call from the local military enlistment center. They informed me that my son has to go there in the morning. My neighbors also got a call. I think they are recruiting volunteers again, the same way as they did in April…
Laura
We also got a call two hours before. My husband was told to go to the central military committee, as he did previously. We shouldn't panic, otherwise we will have a lot of casualties.
Roza
We already have a lot of casualties. Hospitals are full. Each second soldier has lost a hand or a foot. I can't get how Levon can't understand that he should let children fight and descend in front of these Turks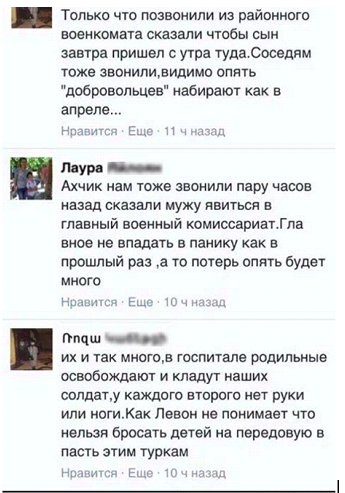 The information war between Armenia and Azerbaijan is going to continue. Both sides acknowledge that information is becoming more influential in the context of modern armed conflicts. This suggests that more substantial means and measures, as well as professionals and specialists, are going to be involved. It is already obvious that not only propaganda but also cyber attacks and hacking operations are going to play larger roles. Neither Armenia nor Azerbaijan have official cyber armies. Nevertheless, the increase both in the quantity and quality of cyber attacks and intrusions already attests to the fact that both sides are preparing for an even greater cyber war.