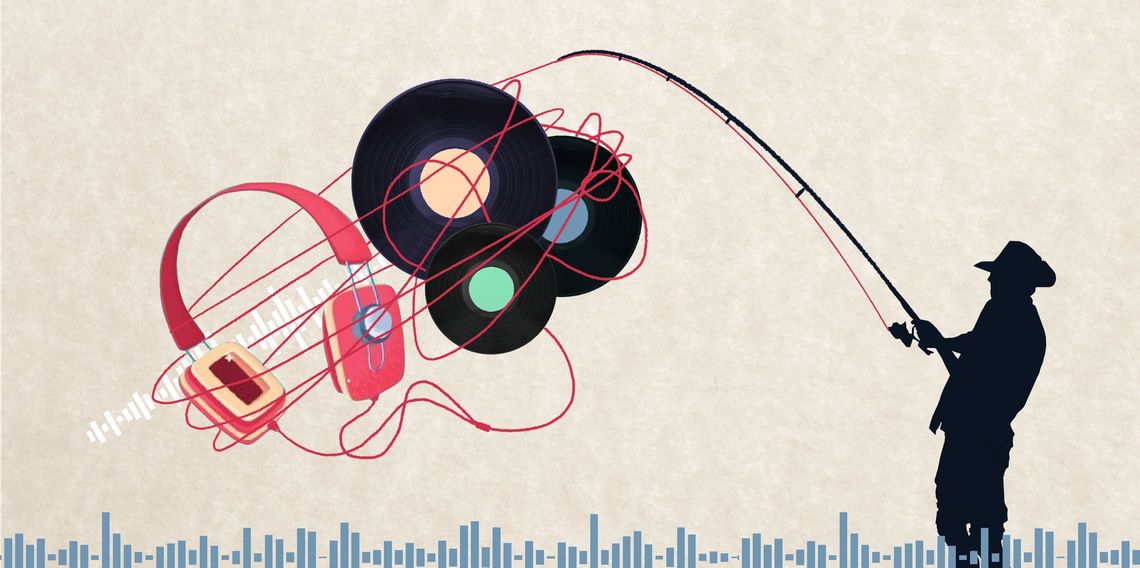 Artists have been facing a real problem in Armenia: not getting fairly compensated for the music they release. In an age when sales of physical disk copies have drastically declined, with concerts and tours put on hold because of a pandemic, how are musicians supposed to get by?
A Snapshot of the Armenian Music Industry
"Weddings to funerals," said Narek Barseghyan, the lead vocalist and guitarist of one of Armenia's most famous bands, The Bambir, to describe the local music industry. Barseghyan explained that most local artists earn money performing at private events in Armenia or the diaspora, whose market is larger than the local one. Songwriters and producers are also accustomed to selling ownership over their work instead of benefitting from a royalty system. Next to this unsustainable business model, music piracy (both physical and digital) is also quite common in Armenia, which causes further financial harm to artists.
Barseghyan explained that even top-tier Armenian artists like Rouben Hakhverdyan have struggled with the current system in place. This is why musicians, like The Bambir, who are fortunate enough to find relative success in Armenia often seek music deals abroad to be treated and compensated fairly for their creative labor.
That being said, copyright infringement is not an issue restricted solely to developing countries like Armenia. Even the world's most powerful artists like Taylor Swift regularly battle against copyright matters. Accordingly, legal mechanisms, from as early as 1710, have steadily been put in place around the world to protect the rights of a wide array of creators, including music artists.
Armauthor
There is one local non-profit organization that has championed this cause for the past two decades. Armauthor is a collective rights management organization that collects, distributes and pays royalties on behalf of creators who cannot execute the task individually. The organization also protects the interests of rightsholders when necessary, and collaborates with several international and local partners, including the Armenian government.
To benefit from their services, creators initially apply for a free membership at Armauthor. In return, the organization contractually pursues their financial interests, pays taxes on their behalf, and receives 15% for administrative fees, which according to Armauthor General Director Susanna Nersisyan mainly goes into paying staff salary, utilities and improving their services. They currently work with 1500 rightsholders and offer free consultations to whoever needs them.
Armauthor's 2019 report shows that they signed license agreements on behalf of their clients with 468 licensees which included theaters, concert halls, TV and radio, restaurants, and other individuals and organizations. Nersisyan mentioned a recent meeting with the Public Radio of Armenia's new management, where, for the first time, they agreed to pay royalties for not only the music they use on air but also on their digital platforms.
This, according to Nersisyan, is a major improvement in Armenia which she and her team have worked hard to achieve over the years: "We have been trying to improve the role of Armauthor so people can understand that this is an important field not only for the creator but also for the country." Better copyright enforcement leads to a more developed economy, which also affects Armenia's global reputation, she stated.
Despite some improvement in the sphere, however, Armenia still has a long way to go. Although some regularly pay license fees to artists there is still a large majority that do not. Restaurants and event venues, for example, are some of those establishments that notoriously avoid their financial responsibilities by hiding their names, addresses and the salaries they pay. These entities would often host events and avoid paying for the copyrighted material they use. Some mysteriously disappear before Armauthor reaches their venue to collect their clients' royalties, Nersisyan said.
That being said, Armauthor itself also has room for growth. Their services mainly extend to the music and theater industries, leaving out other core sectors such as visual arts and publishing.
Armenia's Copyright Law
Copyright and related rights law, which falls under intellectual property (IP), was adopted by Armenia in 1999 and was last redrafted in 2006. This is quite a long time for a sphere of law that has evolved drastically in the past 15 years. Nonetheless, Nersisyan, who was involved in drafting the law herself, believes that it is generally good and meets key international norms such as the Berne Convention.[1]
Based on open government data, a new copyright draft law was expected to be finalized and passed by the new administration in 2019. Nersisyan mentioned that there are political reasons behind the stalling of the draft law but refused to elaborate further.
Currently, Armenia's Ministry of Economy has a separate governmental body, the Armenian Intellectual Property Agency (AIPA), which directs copyright issues. Kristine Hambaryan, the Head of the AIPA, said that the draft law still needs to be discussed by the Cabinet, after which it will be submitted to the National Assembly. She believes that it will likely pass by summer 2021 or by the end of the year at the latest.
Hambaryan also mentioned that the newly proposed law will enhance conditions for collective rights management, as well as give the opportunity to rightsholders to demand higher royalties in comparison with the minimum royalty rate system that is currently in place.
Hambaryan's thoughts resonate with some of the same points that Nersisyan raised: "Even if the law changes, without changing people's mindset, nothing will change… There are no gaps within the current law; it is just the practical side that is not working." She explained that, in addition to copyright infringement itself, many violators resist working with civil society, in this case Armauthor.
The solution for Hambaryan lies in raising awareness about copyright issues via public service announcements and discussions on TV, as well as through the education system. "If we start educating students about copyright today, it should yield results years later. I cannot imagine any other way," she said.
Such needed actions have also been suggested by the Intellectual Property Rights Center of Armenia, which has prepared a comprehensive report on the "State of intellectual property protection and enforcement in Armenia." The report, published in 2020 with the support of the UK Government, includes a list of recommendations for both the government and rightsholders to follow.
What About Enforcement?
Nersisyan, who also acts as the senior copyright attorney at Knyazyan & Partners, one of the leading IP law firms in Armenia, said that there have been a few copyright cases in the country. However, the high cost of pursuing legal action, in addition to disappointing remedies and general results of lawsuits, including ones Armauthor itself represented, have discouraged many from going to court.
Nersisyan explained that the current judiciary system represents an important aspect of the problem. She noted that some of the judges they worked with were not objective and that they generally do not have sufficient knowledge about copyright law: "The judiciary system is not functioning. Specialists are rare… If, let us say, three objective, just trials are held, the field would surely develop."
Hambaryan also agrees that judges do not have strong copyright knowledge, which has often led to unjust verdicts. She attributes the lack of specialized judges to the low activity in the field. Nonetheless, she recognizes the problem and considers development necessary.
Vibes
Barseghyan and his business partner, Arsineh Valladian, have also come to the conclusion that more needs to be done to advance Armenia's copyright sphere. As such, they co-founded Vibes, which came to fruition during the pandemic. Vibes presents itself as "a platform for building bridges between Armenians around the world and connecting them all to cumulative Armenian culture and values."
Under this umbrella vision, Barseghyan and Valladian plan to establish a digital radio, and to record and represent Armenian artists both locally and internationally. "Our purpose, instead of going to the West or working with the dysfunctional system here, is to build an institution to not have to register in the West or in the East," explained Barseghyan.
Despite being a for-profit organization, Vibes, like Armauthor, will also strive to place artists' interests above its own. Their aim is to make enough profit to sustain, to be able to help any artist – not just musicians – who collaborates with them regardless of their financial situation. "We're trying to use the money to create the cause, not to create the cause to make the money. For us it's that aspect. We want the movement of cultural revival," Valladian illustrated.
However, they understand that change will not come easily. There are two things to be done, Valladian explained. The first, as similarly echoed by Hambaryan, is to change the mindset around purchasing music in Armenia. "Maybe it is not the time for it now, but people generally need to learn that stealing is not the way to go… This mentality, not just in music, should be changed," said Valladian.
The second is to be able to export local music. It is very difficult for young musicians in Armenia to record their music. And when they do, their work is not marketed – not even in the diaspora. Armenia does not have proper record companies or, if it does, they have not been successful, Valladian explained.
According to Valladian, Armenia, with its rich cultural heritage and lively music scene, is deprived of access to global markets. "There's clearly something here that needs to be tapped into and if we can create that channel… so that they [artists] won't have to struggle to even be able to play, then I feel like we're obligated to do it, because we can," she said.
The founders of Vibes are hopeful about the future, as Nersisyan and Hambaryan are. Barseghyan noted that the new generation understands the value of paying for music as they use streaming services like Spotify, which recently launched in Armenia.
Author's Note: Special thanks to AGBU Papazian Library's Head of Reference and Circulation Services, Hasmik Galstyan, and to Legal Counsel at the Foundation for Armenian Science and Technology, Angelika Simonyan for their valuable insight which shaped this article.
——————————
 1- The Berne Convention was adopted in 1886 and deals with protecting the works and rights of authors (creators), giving them the legal means to control their work ("Berne Convention," n.d.). The convention was signed by Armenia in 2000, as well as a list of other related international treaties ("International Treaties," n.d.).
Not a True Story But a Real Story