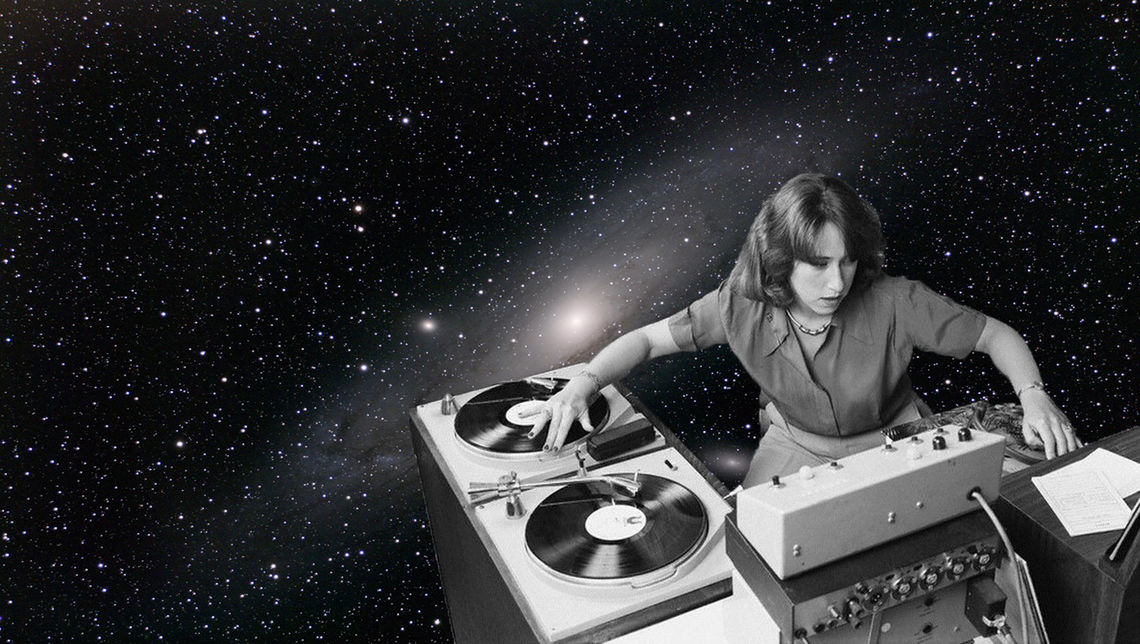 October is known as a month rich with tech events throughout the world and, this year, Armenia was no exception. The 2019 World Congress on Information Technology, one of the biggest IT events in the world, took place in Yerevan on October 7-9. Names like Alexis Ohanian, Kim Kardashian, Gary Vaynerchuk and Richard Quest dominated headlines over three packed days. But the other kind of star, the ones in space, was also on the agenda.
One of the Congress' keynote speakers was Armenian-Spanish astrophysicist Dr. Garik Israelian. He has spoken at many international conferences and published more than 500 scientific articles. Israelian led the international collaboration that provided the first observational evidence that supernova explosions are responsible for the formation of black holes. This discovery was cited by Stephen Hawking in his public lecture "Quantum Black Holes." Nominated by the Swiss Academy of Sciences, Israelian was awarded the 2010 Victor Ambartsumian International Prize for Astrophysics, Physics or Mathematics.
Starmus: Science Communication Through Art
Dr. Israelian is a founding director of Starmus, a global festival of science communication and art. In describing the event, Stephen Hawking once said, "In a world beset by so many terrible problems and so lacking in solutions, Starmus offers a ray of hope." After his talk at WCIT, Dr. Israelian highlighted the importance of "science communication" as a tool for popularizing science for mass audiences. Starmus was created with that purpose in mind. Israelian announced that he hopes to hold the next edition of the festival in Armenia.
Starmus is a biennial festival that brings together leading scientists, astronauts, musicians and artists to share their passion for knowledge with the public and to popularize science through art. It was founded in 2011 and every edition of it since then has been themed around space exploration while also scoping other directions in science.
Music plays an essential role at this festival. Brian May, a musician, and an astrophysicist, and also the lead guitarist of the rock band Queen, is an advisory board member of the festival. Throughout its five editions, Starmus has hosted Hans Zimmer, the 21st Century Symphony Orchestra, The Tangerine Dream electronic music band, and many others.
Starmus uses music to promote science in an entertaining, artsy way. "We always invite popular musicians from different music genres. However, experimental electronic music is 'genetically' closer to astronomy," said Dr. Israelian. "We can connect several astronomical phenomena with acoustic waves then convert them into electronic music elements and compose new music with them. We even had experimental projects, where we were exploring the acoustic waves of stars and used them to compose electronic music – a music of stars." They turn astrophysics research into a literally "stellar" electronic music experiment.
Most Scientific Challenges Come From Space
Space presents an unknown number of unsolved problems for us to explore. However, astronomy has lost some of its popular appeal from the days of the first moon landing 50 years ago. In one survey, "astronaut" lost out to "YouTuber" among careers that children in the U.S. and UK (but not China) would most like to pursue. However, new private ventures such as SpaceX, Blue Origin and Virgin Galactic are injecting new money into research and development.
Speaking on why financing R&D in astrophysics is important, Dr. Israelian explained: "Astrophysics puts new challenges in front of scientists that spur innovation. When Ohm and Ampere were exploring the laws of electromagnetics, people probably thought they were crazy. But now, the world cannot live without their inventions. They did not start researching to discover electricity specifically; they were just exploring an unsolved problem, which led to inventions they could never dream of. The same applies to any science direction and its subsequent inventions. For space studies, the technologies used for that research (e.g. building the Hubble space telescope) are being patented and used in other industries. For example, image processing for space studies was later applied in the medical industry. After all, astrophysics creates a new worldview that no other science can offer. Only artists can understand that worldview, which is why we work with them at Starmus."
Core Problems in Astronomy: Gravitational Waves
In his presentation at WCIT 2019, Dr. Israelian pointed out several unsolved problems in astronomy for the 21st century. One of them is gravitational waves, which were detected only in 2015, although the theory was suggested a century ago by Albert Einstein. This discovery led three American researchers to win the 2017 Nobel Prize in Physics.
Gravitational waves can be considered as the waveform or the shape of the space. Sciencealert.com describes them as "ripples in the fabric of the Universe produced by heavy objects changing speed." We can't view them as an electromagnetic field. The theory of relativity also suggests that they are a structure in space, where deflections spread in the form of waves.
Gravitational waves became a hot subject for research, especially after the discovery of a complex waveform from two colliding black holes. One black hole does not emit gravitational waves, a collision of two does. However, no energy or light is emitted after such a collision because their gravity is so strong that they do not let any electromagnetic radiation escape – which is why they're called "black holes." We can see their collision as the friction of two closed spaces. After colliding they create a new closed space, a new black hole. Calculations say that the weight of the mass created after the collision is less than the sum of the weight of those two black holes taken separately. This difference is turned into energy in the form of gravitational waves.
Modern scientists are exploring such phenomena to understand the shape of space. We know that it's not flat and smooth, but we are not sure what the actual shape is. Light does not travel to us in a straight line; it reaches us with deviations through the waveforms of space. Our problem is that we cannot know its real trajectory, which would explain the shape or structure of the waveform of the space. Sometimes, exotic objects in space create gravitational lenses, bending light. It's an example of how the waveforms can be affected by different massive objects and how light can travel through accordingly.
Scientists are now trying to understand the topology of space. "How do we know that the whole universe is not a sphere and we won't come back to the same place at the end. We need to understand the topological structure of space," sums up Dr. Israelian. He's also interested in defining patterns and explaining the principles of light traveling through space that can be clarified after discovering the topological shape of the space.
Astrophysics in Armenia
Armenia used to be a powerhouse for astronomical inventions by well-known scientists such as Victor Ambartsumian. "Unfortunately, now we do not have professors who can lecture based on contemporary bases and standards of astrophysics. Most of our great researchers either quit or left the country. Armenian professors have fallen behind recent developments in science and astronomy and they cannot properly teach or lecture.
Sadly, no inventions have come out of the Byurakan Observatory after Victor Ambartsumian [who died in 1996]. They have not made technical upgrades in the equipment used. Almost no qualified astrophysicists are left in Armenia and there are no students to study projects there. However, I am sure that we do have interested young students with big potential, but nowadays the boom is in Information Technologies, so they apply themselves in industry instead of focusing on research," reasoned Dr. Israelian.
Interestingly, he did not mention a lack of funds. He explains that, even if we have enough financial resources, we do not have the brains here. "I know several talented Armenian astrophysicists that work or study abroad. If there's a new model in science and academia as well as proper conditions for them, they'll be willing to come and teach here. If they open a department for astrophysics, I can bring lecturers and I can come twice a year to teach. We just need to lay the base and infrastructure and it will attract the young generation. We just need to promote that there's a future in astronomy."
Dr. Israelian doesn't want a narrow focus on IT to leave astrophysics as an afterthought and that is why he founded Starmus. His model of "science communication" is essential to fill this gap. By explaining phenomena and discoveries such as gravitational waves in a non-scientific framework, by mixing science with art and by making it more digestible for a mass audience, we'll ensure people will continue looking to the stars for many years to come.