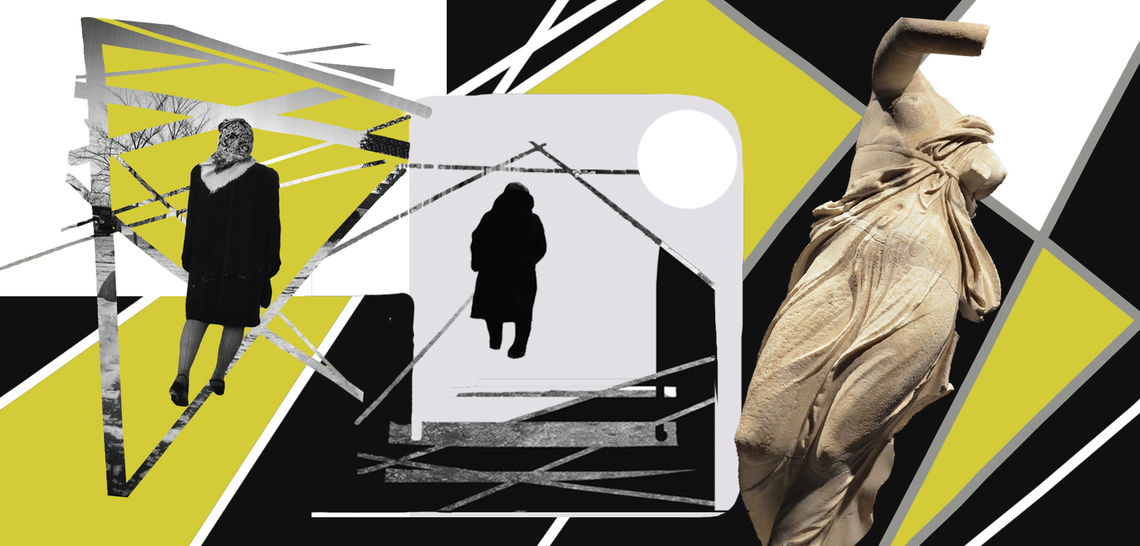 "When the children make noise, our next door neighbor starts banging on the wall. Always. He says that he is not well and we are disturbing him. But when I was moaning from pain and hunger, that didn't seem to bother him." This is how Lusine (not her real name), 27, describes the 12 days she spent under quarantine with no food and the treatment she received at the hands of her husband and mother-in-law.
Immediately after she got married, her husband's demeanor changed when she moved into his family home: "He told me his mother is sick and, from now on, I would be responsible for maintaining the home. Starting from that moment, his mother kept saying that I was not capable of doing anything right, that I didn't know how to cook and that I was not worthy of being in their home, but they would still keep me. She would say the same thing to her son in the evening…" Lusine notes that, despite the psychological abuse, she did not experience prolonged physical violence.
"When I was pregnant with my second child, she would say, 'Fine, we get it, you're pregnant, but do you have to eat so much? You are eating everything my son earns.' When a State of Emergency was declared, my husband's store also closed, so we were at home," Lusine says. "He was very stressed. His mother would constantly complain to him about my eating. I told her, I am a nursing mother, I need to eat so I am able to breastfeed my baby. But that would only make them angrier…"
Lusine's sister says that after "becoming angry" her sister's husband slapped Lusine several times and dragged her to the bedroom and told her not to leave the room. After that incident, the sister says that when she tried to talk to Lusine, her voice sounded strange: "She never told us anything. We had no idea that they had been abusing her all the time. She told us everything only after we brought her home. She said, 'I wish at least the neighbor [who is an old acquaintance of the family] would have heard my voice and told you about it.' It was April 18, I think, when I talked to her, and she told me, 'I am so hungry' and I felt her voice change. I became alarmed and told my father about it. We went to their house. As soon as we entered, she threw her arms around me and started sobbing."
Emergency Calls Regarding Domestic Violence Have Increased
Most countries were forced into lockdown because of the coronavirus pandemic and people were urged to stay home. Shortly thereafter, the first reports began emerging about the increase in domestic violence cases. For example, in France, by the 11th day of the quarantine, emergency calls had increased by 30%. In Paris alone, it had reached 36%.
According to Deputy Head of the General Department of Public Security, Colonel Nelly Duryan, 56 cases of domestic violence were investigated in Armenia between March 16 and April 30, 2019, 53 out of which included cases of violence committed by husbands against their wives. Out of the 56 cases, 16 criminal proceedings were initiated. During the same period in 2020, 10 cases were investigated, eight out of which were cases of violence committed by husbands against their wives. Criminal proceedings were initiated for two out of these ten cases.
A total of 301 emergency calls regarding domestic violence were reported during the period from March 16 to May 13, 2019. This year, there were 329 calls in the same time frame. Nelly Duryan noted that not all the calls are then registered as domestic violence cases. When police arrive, the couple may say that they were only having a loud argument. If any bodily injuries are identified, however, the case can be referred to criminal prosecution.
As prescribed by Articles 6 and 7 of the Law on prevention of domestic violence, protection of persons subjected to domestic violence and restoring peace in the family, police issue a warning for a first offense. However, if there are grounds to believe that the violence may be repeated or less than a year has passed since a warning was issued, an immediate intervention is taken.The five forms of immediate intervention include: 1) force the violent abuser to immediately vacate the victim's area of residence and prohibit them from returning there for a predetermined length of time; 2) prohibit the violent abuser from visiting the victim (and, if necessary, also any minors under their care) at their workplace, educational institution, recreational space, residence, etc., 3) prohibit the violent abuser from approaching the victim (and, if necessary, also any minors under their care), within a specified distance; 4) confiscate weapon(s) possessed by the violent abuser; 5) prohibit the violent abuser from communicating with the victim through telephone, letters or any other means of communication (and, if necessary, also with any minors under their care).
The Vulnerable Are Even More Vulnerable
Women, elderly people and children living under the same roof with violent abusers are even more vulnerable during quarantine restrictions. Hasmik Gevorgyan, Head of the Women's Support Center Program says the problem has become more acute because of the virus. "All beneficiaries who ended up in our shelter mentioned how tense the atmosphere was during the lockdown, when they were not able to leave the house," she explains. "Before, they would get to enjoy some peace when the violent abuser was at work; now, even that reprieve was gone as they had to spend 24 hours in fear and tension."
Zaruhi Hovhannisyan, Public Relations Coordinator of the Coalition to Stop Violence Against Women, notes that the number of emergency calls to the coalition's member organizations has increased by 30%. "The vulnerable groups have become even more vulnerable," she says. "Plus, the accessibility of various support services is more limited now." According to Hovhannisyan, during this period, the coalition member organizations were contacted by some women who said they were restricted from using the telephone at home. With public transportation suspended, it is very hard for them to reach out to anyone.
Hasmik Gevorgyan from the Women's Support Center recounted an incident where one woman walked all the way to Yerevan from a neighboring region. "She had escaped from home and hidden somewhere. We were able to establish contact with her," Gevorgyan says. "Our social worker went out with a carto bring her to the shelter. There was another case where police officers helped us transport the woman. Each case was resolved differently, but it is a serious problem both for us and the beneficiaries. If a woman wants to flee abuse, where can she go when there is no public transportation?"
Both Zaruhi Hovhannisyan and Hasmik Gevorgyan confirm that the number of emergency calls has increased; however, not all of them are cases of physical violence. For instance, the Women's Support Center received 79 calls in April, of which 45 had to do with various social issues. "We will have the real picture once the State of Emergency is lifted and we thoroughly analyze the impact it had," states Gevorgyan. "For example, there was a case when a divorce process was initiated; however, the woman was not able to benefit from state assistance because the divorce was not finalized. Her husband is a registered employee, but he is not paying alimony. A criminal proceeding has been initiated."
Just the Tip of the Iceberg
According to Nelly Duryan, a total of 388 perpetrators were registered during the period of January 1 to May 13, 2020. Warnings were issued for 299 cases, and immediate intervention was taken in 89 cases. Out of the 388 abusers, 339 were men, 45 were women and 4 were minors.
Beyond the reported numbers, however, it is hard to estimate the full scope of the issue as there are social barriers to reporting. "According to people's perceptions, it is embarrassing to raise the issue in front of the police. They often try to find support in other ways," Galstyan says. "These alternative approaches, however, don't offer the same legal protection that police involvement does." The police officers' own attitudes also continue to be an issue, however. "There are cases when people go to the police and feel pressured by the officers to take back the charge," says Galstyan.
Hasmik Gevorgyan adds "Naturally, there are psychological obstacles to initiating a criminal proceeding against one's husband, son or other family member. The women want the violence to stop but not necessarily to go down a road that may lead to fines or prison sentences."
"I Fear That I May Fall in Love With Someone Like Him…"
Twenty-year-old Armine (not her real name) is another victim. "My brother is always pulling me by my clothes and forcing me to dress, as he calls it, 'more conservatively.' When I tell my brother that it's none of his business, my father will take his side. My mother tried to intervene several times to no avail."
Her brother is a year younger than her but is given more authority. "As soon as I say something, they call me sharp-tongued and say I am dishonoring my father. I finally got fed up, gathered my belongings and went to stay with my grandmother."
Armine has been living in her maternal grandmother's house for the past month. She explains what led to the last straw: "[My brother] has always treated me badly, but now, during the quarantine, with nothing else to do, he became even more aggressive. He took away my phone because, he claimed, I had been messaging someone without his knowledge. That led to a fight, he swore at me, beat me several times, and took away my phone." After the fight, she took a taxi to her grandmother's house and hasn't returned.
Armine continues, "My brother is very handsome, and he behaves in public. He even has a girlfriend. That girl has no idea how he abuses me. He also tried to beat our mother a couple of times when she was defending me. I do fear, though, that one day I may end up marrying someone like him." Armine is conflicted on whether she should share her experience with her brother's girlfriend: "I think about it a lot. I am not sure if they will get married or not, but one day she is going to be disappointed. If I say something now, she will probably not believe me. She will probably tell my brother about it and he will take it out on me."
She says she never considered reporting her brother to the police but would have reached out to support organizations if she didn't find sanctuary with her grandmother.
Don't Be Indifferent
Lawyer Nona Galstyan feels that the pandemic response should have considered domestic violence issues by, for example, raising awareness about existing hotlines or even establishing additional centers to handle cases.
Zaruhi Hovhannisyan says that neighboring Georgia took a more proactive approach: "From the start of the lockdown, short messages were sent to the entire population, instructing them what number to call if they witness or themselves experience any violence. This is a preventive approach. Different countries have tried placing posters in drugstores and other frequented locations."
Nelly Duryan notes that all on-duty police officers are instructed to pass along support center hotline numbers when necessary.
Besides action by the state, individuals must also fight indifference: "In many cases, as we do analysis, we can see that a different outcome could have occurred if a neighbor or a friend responded from their workplace or educational institution. However hard a person tries to hide it, these issues are often apparent to those outside the family," states Nona Galstyan.

When a State of Emergency was declared in Armenia because of the COVID-19 pandemic, many people lost their jobs. Many of them were unregistered workers and today have found themselves more vulnerable than ever.
Read more

Educational institutions around the world are moving to online learning as the COVID-19 pandemic wreaks havoc. Narek Manukyan examines the Armenian education system's preparedness for distance learning following the government's announcement of a one-month state of emergency in the country.
Read more