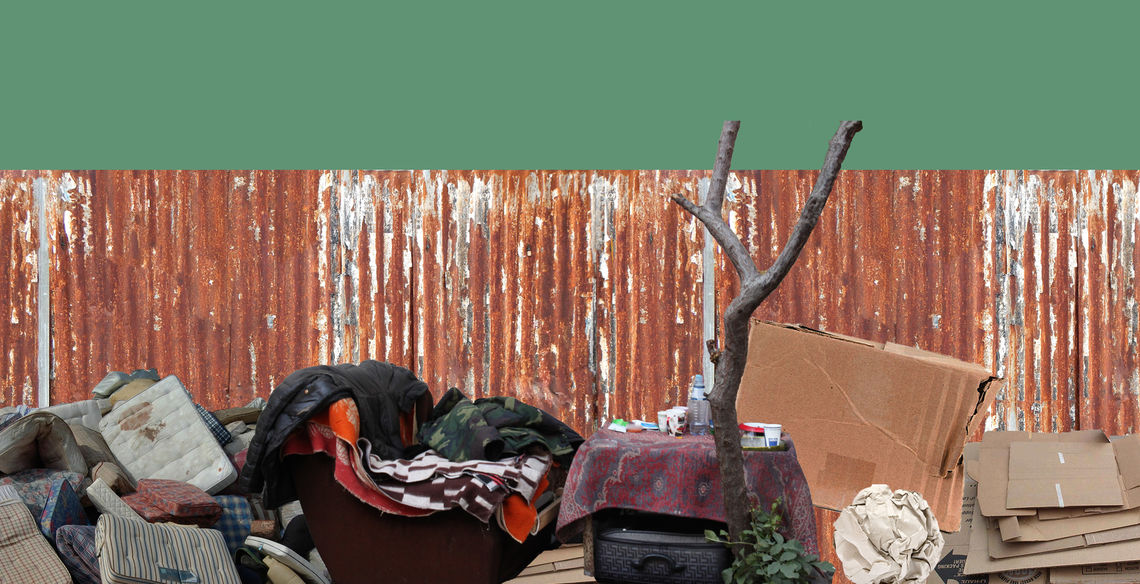 When Annie and Arthur entered the Hans Christian Kofoed Shelter, both were homeless and suffering from mental illness. They were cared for, fell in love and are now happily married in a rented home of their own. But they are some of the lucky few homeless suffering from mental illness in Armenia who were given a chance.
The government prohibited Armenia's only homeless shelter, Kofoed, from accepting mentally ill homeless in 2015 for the safety of other residents. A visit to the shelter makes it clear that it cannot carry an added load. Yet, a significant number of those living on the streets in Armenia suffer from untreated mental illness because there is no place for them to go.
"The main problem is that the mental health centers are very few, and families try to get rid of their family members who suffer from mental illness, and that is mainly why they become homeless," says the shelter's social worker Hamlet Hovannisyan.
This explains the strong correlation between mental illness and homelessness. According to the National Institutes of Health (NIH), if untreated, "[Patients] are more likely to drop out of school and are less likely to be fully functional members of society when they reach adulthood…Conversely, the costs of not treating mental disorders can be seen in ruined relationships, job loss or poor job performance."
Dr. Aram Hovsepyan is the head of Mental Health Service and assistant professor of the Department of Psychiatry of the National Institute of Health. He says that 85 percent of mental disorders can be treated, allowing the individual to function and work–– but these cases are not acknowledged in Armenian society or prioritized in the mental health system. "There is no real systematic program which helps people to cope with these conditions. It is a problem," he says.
While Armenian stereotypes have created the notion that mental disorders are untreatable, the social stigmas discourage families from sending their children to counseling out of fear of being labeled as 'crazy.' "The close relatives are lacking information and confidence—they are not sure that they can really help. They are not sure that it is safe, they are not sure that there is something they can do," says Hovsepyan.
In many cases, the mental health institutions allow for permanent residency. Even so, Hovsepyan says these places are limited. "They are always busy, they are always full, so if somebody needs it, they can wait for months or even years to find a place," he says. Pilot projects and different initiatives surrounding mental health have been introduced for a long time in Armenia, but they have not received enough support to make real changes—it is up to the government.
While the concept of "no invalids in the USSR" was strong during Soviet times, this issue has lingered for much longer. For generations, those with mental illness have essentially been hidden from view, homeless, or trapped in an antiquated institutionalized system.
But the recent governmental efforts along with a slow shift in mentality prove potential for the deinstitutionalization and reintegration of the mentally ill, as well as increased social programs for the homeless.
Taboos in Armenia
On average, one in four people suffer from mental disorders, states the World Health Organization. Yet, less than one percent of Armenia's population seek psychological services, according to Khachatur Gasparyan, a candidate of psychological sciences.
"Gasparyan believes this number is a result of the social stigma that likely starts with the family, distrust in the field of psychology and lack of mental health awareness," says a previous article done by EVN Report. Simply put, the stigmas and consequent neglect increase the incidence of family abandonment, unemployment and homelessness in those suffering from mental disorders.
Scientifically, the term mental illness refers to a range of cases from minor depression or anxiety, to severe bipolar disorder or schizophrenia, along with many conditions that fall on a large spectrum. But Hovsepeyan says that Armenian culture tends to put them into one box, assuming that any mental disorder is untreatable and that the person is 'mad.'
But most disorders can be treated with either counseling, medication or a combination of the two, according to the NIH and Hovsepyan. While extreme cases need regular monitoring, the majority can lead a functional life if treated well. "Depression or panic disorder for example, don't need shelter and daily care, and these people don't appear in the center of attention for our services," says Hovsepyan. Although shelter is not necessary for most cases, an untreated minor disorder can still hinder a patient from integrating into society, and most of these patients do not have a place to go. "I think the situation has changed over the last few years," he says, but emphasizes the long road ahead. Raising awareness and breaking the stereotypes is absolutely necessary to move forward. "[We need] more media coverage to talk about this problem, describing more successful stories about the fact that it's okay to live with this, it's okay to work with this," says Hovsepyan.
A Closer Look at the Mental Health System in Armenia 
In order to reduce the homeless problem, there need to be fundamental changes in the mental health system with long term solutions for all types of mental illnesses, not just severe cases. Lusine Kocharyan is the head of the public health department in the Ministry of Health, and is adamant about the changes that need to be made. "There are a lot of problems in this area but a lot of work is being done," she says adding, "The main problem is [discharge] of these patients, their rehabilitation and life after."
Currently, the mental health institutions assess whether the patient needs permanent institutionalization or temporary (in the case of an acute condition.) If temporary, the patient would only stay for 24 days but will have access to outpatient medicine and consultation—all of which is entirely covered by the state according to Armenia's Law on Psychiatric Care. But if the patient is homeless, they either live in the mental institution forever, or the government tries to find solutions. There currently is not a specific place where they can go, however. They can try to enter the waitlist for the daycare centers funded by the Ministry of Labor and Social Affairs, or contact Hans Christian Kofoed Shelter if the patient is not dangerous. Even so, Kofoed is typically at maximum capacity being Armenia's only homeless shelter. Reconnecting with their families is unlikely due to stigmatization. Essentially, the path after treatment is unclear, and often leads to continued homelessness or unnecessary permanent institutionalization.
Although long overdue, the Ministry of Health says that fundamental changes to the law are being made, as well as public awareness campaigns to try and change the stigmatization of mental illness. There are three main mental health institutions in Armenia: two in Yerevan holding a total of about 200 patients combined, and one in Sevan with 430 mostly-permanent residents. There are locally funded smaller institutions in Gyumri, Vanadzor, Kapan and Vardenis.
Anahit Gevorgyan is the head of the division for elderly issues in the Ministry of Labor and Social Affairs. She says that the ministry funds two of Armenia's five nursing homes which contain daycare centers for mentally ill homeless ages 18 and older. "But the problem is that there are a lot of people waiting in the queue and they are very crowded," she says.
Depending on their capability, either the patient or their family can sign to be handed over to the institution, where they will then be assessed and treated accordingly. "Or, the commission [of the institution] can decide for them if involuntary treatment is needed. Then, during 72 hours [the institution] can apply to have a judge and get approval that this person can have involuntary treatment in this hospital," says Kocharyan.
She says that Armenia is changing its mental health practices according to international standards and human rights defenders: "We start with the law and then will work on improving the situation in these institutions such as renovations and treatment guidelines." Community based day care centers are also in the works with the Ministry of Social Affairs.
But the mental health services have been one of Armenia's most pressing issues for a long time, according to experts. Especially in the wake of the war with Azerbaijan and the earthquake in Gyumri, a large number of catastrophe-related disorders such as post-traumatic stress disorder are crippling the mental health of that generation of Armenians, many of whom are now homeless.
The lack of childhood treatment, which is the most important aspect for fighting mental illness in adults is also to blame. "The major improvements should be in prevention and treatment during childhood to avoid complications," says Kocharyan. She adds that there are not enough doctors to care for adolescents suffering from mental disorders in Armenia. There are two main orphanages in Armenia that provide for mentally ill children, but the options are limited once they are of-age.
The Ministry of Health has adequate funding for adult institutions, spending about 3 million USD (1.6 billion AMD) per year towards the hospitals. Kocharyan also says that if they are eventually able to provide more services to children and destigmatization, it will increase cost efficiency to better allocate funding and move away from mass institutionalization, which is the ideal goal.
Until these promised steps to reform are fully carried out, there currently does not seem to be a way out of the homelessness problem. A patient with a minor disorder who is not eligible for fully state funded services, will not be able to access the proper medication or counseling to remain stable. Patients who are not treated are more likely to drop out of school or be unemployed according to the NIH. Moreover, "It is not allowed to ask for psychiatric evaluations, but often [employers] just refuse," says Hovsepyan about finding work.
Mental Institutions should not be homeless shelters, says Kocharyan, but in many cases they act as such for patients who have nowhere to go, taking up beds for those who need them. And keeping someone in an institution for life, especially since 85 percent can function independently, is regarded as an antiquated and unethical practice among experts. "The main idea is that they should live in other places, and they should not stay in the institution when they have finished treatment," she says.
Armenia's Homeless
The Hans Christian Kofoed Foundation is Armenia's only homeless shelter holding about 100 temporary residents. Slightly secluded up a winding road in Vardashen, it is located just outside of Yerevan. Kofoed is surrounded by trees and open space, and visitors are greeted by the residents. Family photos, stuffed animals and personal sentiments adorn each of the beds that make up the rooms. The residents live on the second floor in shared bedrooms. They are separated by gender, and each room is lined with beds with space for personal belongings.
The homeless population in Yerevan alone remains at an estimated 300 according to the Ministry of Labour and Social Affairs, but exact statistics are meager. Moreover, there is no data or research specifically regarding mentally ill homeless, according to Hovspeyan.
"We have had a homeless problem for a long time in Armenia," says Gevorgyan from the Ministry of Social Affairs. The ministry started partially funding a small homeless shelter in 2006, and then transferred the services to Kofoed in Vardashen in 2014. Since then, they have been giving Kofoed about 100,000 USD (52 million DRAM) per year, covering food twice a day for the 100 residents, and the salaries of the employees at the shelter. "We were funded by the Danish government but the funding stopped about two years ago," says Nara Talyan, an employee at Kofoed.
The shelter has social workers and a psychologist who help the residents in their personal struggles and conflicts among each other. There are a total of 28 staff members who handle any of the residents' needs, even out of their own pockets. "The hygienic things, shaving, anything…we do it ourselves," adds Talyan. There is also a doctor who vets the residents to check for venereal diseases, in which case they cannot live there. There are also lawyers who help with paperwork and documentation for those who are able to leave the shelter.
The residents and employees at the shelter plant trees and harvest fruit in the summer, and the staff organize some excursions. According to the administration of the shelter, they provide some vocational training to help the temporary residents find a job and re-integrate into society. "Some have found jobs, some have been reunited with families," says the director Shavarsh Khachatryan. Many of the residents are elderly or unable live independently however, and are either placed in nursing homes, or are allowed to stay until they are found a suitable replacement. The doors are open for the residents and for visitors to come and go as they please. The main issue is funding and the lack of available space for new residents.
Gevorgyan says that the Armenian government plans to launch an open call and take applications from organizations by the end of 2019, who would be able to facilitate a new system providing for 150 homeless. The government will fund this program, consisting of an elderly nursing home where 30 of those 150 can live. The other 120 homeless, 18 years of age and older, would be able to sleep at the center only.
It is important to consider the large number of NGOs and charitable foundations that exist in Armenia, mostly through the massive international diaspora community. For a long time, these have been funneling money into different efforts—often related to health and education. But the question remains why none seem to have noticed Kofoed, or the fact that it is Armenia's sole homeless shelter. "Now we seek a donor organization which will support us for utilities and other expenses, especially during the winter," says Talyan.
Regarding the government's long-term goals, Gevorgyan says that the Ministry of Labour and Social Affairs is trying to create a community-based system of small homes for homeless with mental illness, rather than large institutions. "It's a work in progress," says Gevorgyan.

Dr. Aram Hovsepyan examines how people can sometimes fall victim to hidden violence by those closest to them. While this case study is an extreme one that led to implausible results, it highlights the need for education, awareness and most of all, compassion.
Read more

In this piece about mental health issues, Gayane Ghazaryan presents an overall picture of what struggles young people with mental disorders face in Armenia. By piecing together her personal experience with OCD, the stories of three young people and expert opinion, she presents the main factors that hinder the improvement of people's mental health.
Read more