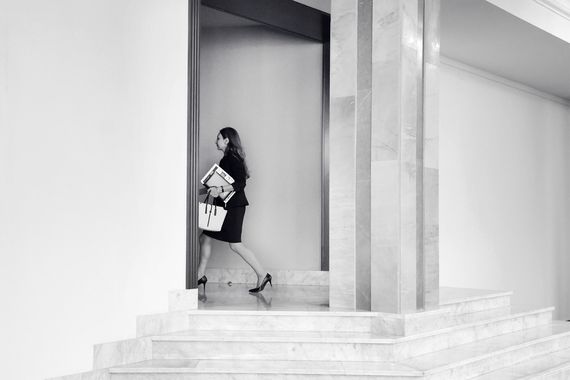 Photo by Narek Aleksanyan.  
The Ministers
It was difficult to predict that years of protests in Armenia led mainly by young activists who for the most part rejected engagement with political powers would finally culminate into a popular movement that took the country by storm. Many of those activists are now holding positions in government. Who are they and how do they propose to bring about changes that will restore trust and confidence and more importantly improve political efficacy?
EVN Report's "The Ministers" series seeks to find the answers to these questions and more.
It was in her sophomore year at university that Lilit Makunts realized that fighting for justice wasn't simply a slogan. From her first involvement in a civic initiative to her foray into politics, Makunts has been 'present' all along, although perhaps slightly under the public radar. That is, until she was appointed as Armenia's Minister of Culture on May 12.
"I was in my third year of university when I realized that I have the soul of a soldier of justice who wants to fight for things people will benefit from," she says. That realization led her to be an active participant in the civic initiative, "In the Name of Scientific Advancement" (Hanun gitutyan zargacman/Հանուն գիտության զարգացման). "This is how I got involved in civic activism," she notes.
A linguist specializing in political discourse, she was trained to analyze how language and politics and diplomacy are connected.
It was when she was pursuing her Master's degree in 2004 that she decided to make the transition into politics. She became a member of the Liberal Party of Armenia when she was approached by the founders. "I said, OK, why not? If we want to promote changes then I need to be part of it institutionally," she explains. Makunts not only became a member of the rank and file of the party, but was then a member of its political board and later headed up the party's youth organization.
Mass protests following the highly contested presidential election of 2008 was a turning point. The Liberal Party joined the opposition alliance holding around-the-clock demonstrations in Yerevan's Liberty Square to protest the results that had secured the presidency for Serzh Sargsyan. "We were part of this alliance and we collaborated and cooperated with all the youth movements," Makunts explains. "That's when I became part of the HIMA (Now) movement."
Her interaction with Nikol Pashinyan started during her time in the HIMA movement and later with her engagement in building the Civic Contract initiative which later transformed into the Civic Contract party led by Pashinyan. While she understood that it was necessary to transfer activism to an institutional political level, she chose, however, not to become a member of Pashinyan's political party.
The HIMA youth initiative was launched in April 2008 after security forces stormed Liberty Square to disperse protesters on March 1. This led to a series of tragic events that left ten people dead and has come to be known in Armenia simply as Marti Mek (March 1, the day the attack took place). HIMA was composed mainly of students and its agenda focused on three key issues: the release of political prisoners, the freedom of assembly and freedom and pluralism in media including ending harassment by tax authorities of online and traditional opposition media outlets.
Makunts says she is proud of those times. "I gained so much in terms of understanding what was happening in the political life of Armenia and what is the right way to address things," she says adding that at the time they were also fighting against a plethora of issues outside of politics including the destruction of historical monuments in the country.
Then came the disillusionment and fatigue. Following the 2012 parliamentary elections, Makunts felt that she was continually bumping up against walls. "I needed a break and decided to give up on politics and go back to the civic sector," she explains. "Seeing people voting based on bribes, I felt powerless and realized we needed to work with these people first and then get back into politics."
And that's what she did. She worked with different NGOs working in youth education and empowerment, giving them the skills and tools they needed to promote change. "I understood that we needed to make change from the bottom up," she says.
Her interaction and cooperation with Nikol Pashinyan started during her time in the HIMA movement and later with her engagement in building the Civic Contract initiative which later transformed into the Civic Contract party led by Pashinyan. While she understood that it was necessary to transfer activism to an institutional political level, she chose, however, not to become a member of Pashinyan's political party. "My position was personal," she explains. "I used to be a member of the Liberal Party; I wasn't against the idea of Civic Contract, I supported them, but I didn't feel ready to change from one party to another, it was my personal position."
Cultural Engagement
When Makunts was appointed Minister of Culture, social media was buzzing with a flurry of questions, mainly asking who she was and what her credentials were in the sector. Understanding the public pressure, Makunts explains that it was not an easy path. "My personal perspective is that whoever is the culture minister, needs to be someone who is not directly engaged in cultural activities," she states. "I came to this certainty a week after I was appointed.
She believes that had she been directly involved in the cultural life of the country, it could have created gaps and would have been difficult to view the wider perspective. That is why she immediately began meeting with and engaging with cultural representatives and figures. "It's important to listen to those who work in the field everyday and understand the issues," she notes.
Most days Makunts feels like a firefighter having to put out fires everywhere. "You feel like you're making progress and then you get sidetracked, distracted all the time," she explains. "This makes things difficult sometimes."
But is the culture ministry a strong enough institution to have a minister who doesn't have much experience in cultural activity? Makunts argues that the ministry isn't about one person at the helm but rather a collaboration of people with a similar vision and passion for the arts. However, she also admits that when the institution is weak, it can lead to problems when formulating policies and an agenda for revitalization. That is why a consultant body consisting of representatives from all spheres of culture is being formed to promote ideas, critical thinking and cooperate with the ministry.
Resources and funding are a perpetual dilemma for Armenia's new government. The minister believes that the creation of endowments and foundations that will support the arts is critical taking into consideration Armenia's rich cultural heritage and the fact that there is really very little funding. She hopes to address this issue by creating bridges between the public and private sector to cooperate not only financially but for the inflow of fresh new ideas. "We need conceptual changes and one of them is this bridging of the public and private sector," she says.
One of the other serious shortcomings is the absence of cultural management.
Cultural Corruption
Since becoming minister, Makunts has faced the issue of the prevalence of corruption – real and perceived. In conversations and discussions with ministry staff, the prevailing attitude was that every decision had to be about fighting corruption. "If we think only about money and corruption, we are not going to get anything done," she says. "Our ministry has to provide equal opportunities for everyone, not only state but also private organizations." The only way to combat corruption, according to the minister, is the rule of law. "For the most part, our laws are pretty good, it has been the lack of political will in implementing the laws that led to corruption," she notes. "One of the ways of fighting corruption is to be thinking about culture and not how to fight corruption."
Makunts believes that the demand for professionalism is going to eliminate many elements of corruption in the sector but that first and foremost there needs to be dialogue. "People need to share ideas, they need to be appreciated for the work they're doing," she says. Her discussions thus far with artists have been beneficial in helping her devise strategies. "I make a map of what the problems being voiced most often are to be effective and productive."
The Ministry of Culture has 70 state non-profit organizations under its purview. These include state orchestras, theatres, art galleries, house-museums, etc. The ministry provides subsidies to all of them including the buildings, providing 90 percent of utility costs, salaries, etc.
However, most days Makunts feels like a firefighter having to put out fires everywhere. "You feel like you're making progress and then you get sidetracked, distracted all the time," she explains. "This makes things difficult sometimes."
And the difficulty in ensuring professionalism, efficiency and productivity will come with many difficult decisions. Currently, the Ministry of Culture has 70 state non-profit organizations under its purview. These include state orchestras, theatres, art galleries, house-museums, etc. The ministry provides subsidies to all of them including the buildings, providing 90 percent of utility costs, salaries, etc., "Basically, we sustain those organizations," she notes. "I agree that we need to review them, some need to be combined and our approach has to be based on the effectiveness of these organizations, and this is not an easy process; it will be a painful process." The crux of the issue is their effectiveness according to Makunts. Structural changes will be necessary and this is where the issue of a lack of expertise in cultural management surfaces and where she believes training and providing expertise to these organizations must be one of the many priorities of the ministry. She gives the example of the Ajemyan Theatre in Gyumri which has an extensive repertoire. "Their audience is the largest and they have more performances than any other theater in Armenia," she says noting that this particular theater gets the same amount of subsidies as the rest. "It is possible and it's happening in Gyumri."
Just like the other ministries in post-revolution Armenia, Lilit Makunts is facing many serious challenges, from mismanagement to a lack of professionalism. However, she is confident that through sheer will, determination and lots of hard work and most importantly, the trust and confidence of the public, it will be possible to embark on the changes that need to take place. And while she has not been part of the cultural scene in the country, her political and civic activism has given her the insight to understand the critical role culture can play in education, the economy, in politics and especially diplomacy: "When we are having meetings with ambassadors or diplomats I highlight that culture is so important in diplomacy, it serves as a bridge between peoples and nations and building peace."