As the school year ends in Armenia, so do the strange times, challenges and attempts at distance education. To document the transition, I have been photographing children and adults who experienced the changes to visualize what online learning—or the lack of it—looks like, what children are doing during the time that they would otherwise spend at school.
For parents, there was the additional workload of having to film videos and take pictures of their children's homework for teachers to check. One story follows a mother of two in the village Haytagh, who films her children reciting Victory Day poems for school. In the village of Taronik, children are seen busy helping adults in the morning hours. A boy named Ruben in Yerevan has a hearing disability and the lockdown has affected his learning of sign language. Empty school classrooms and educators working from home are also an important part of the story.
As access into homes is limited, I have also included a personal perspective of how I help my own children with their learning activities. As difficult and different this time has been for everyone, it has also revealed much about who we are as educators and as learners.
This project was funded by the National Geographic Society.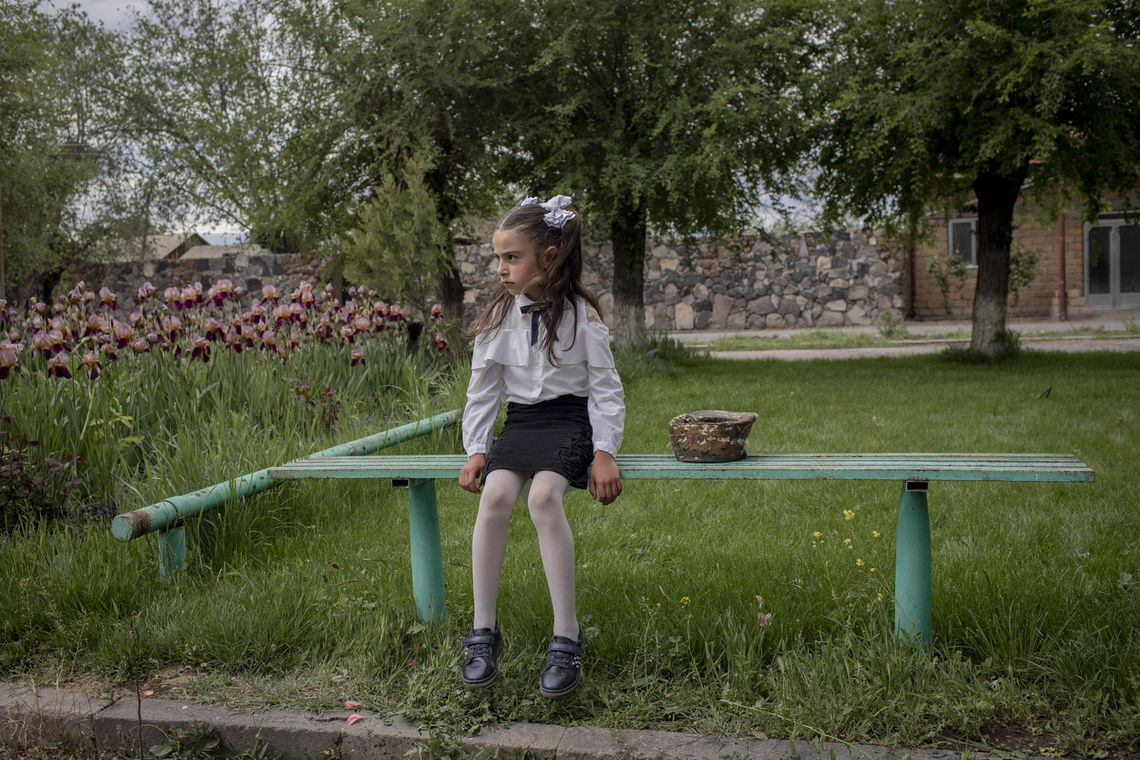 Mane Muradyan, 8, looks toward her mother and brother as she waits on a bench in her village of Haytagh, on May 8. Mane is a 2nd grade student. She is dressed to be filmed by her mother for a video to be sent to her teacher ahead of Victory Day on May 9.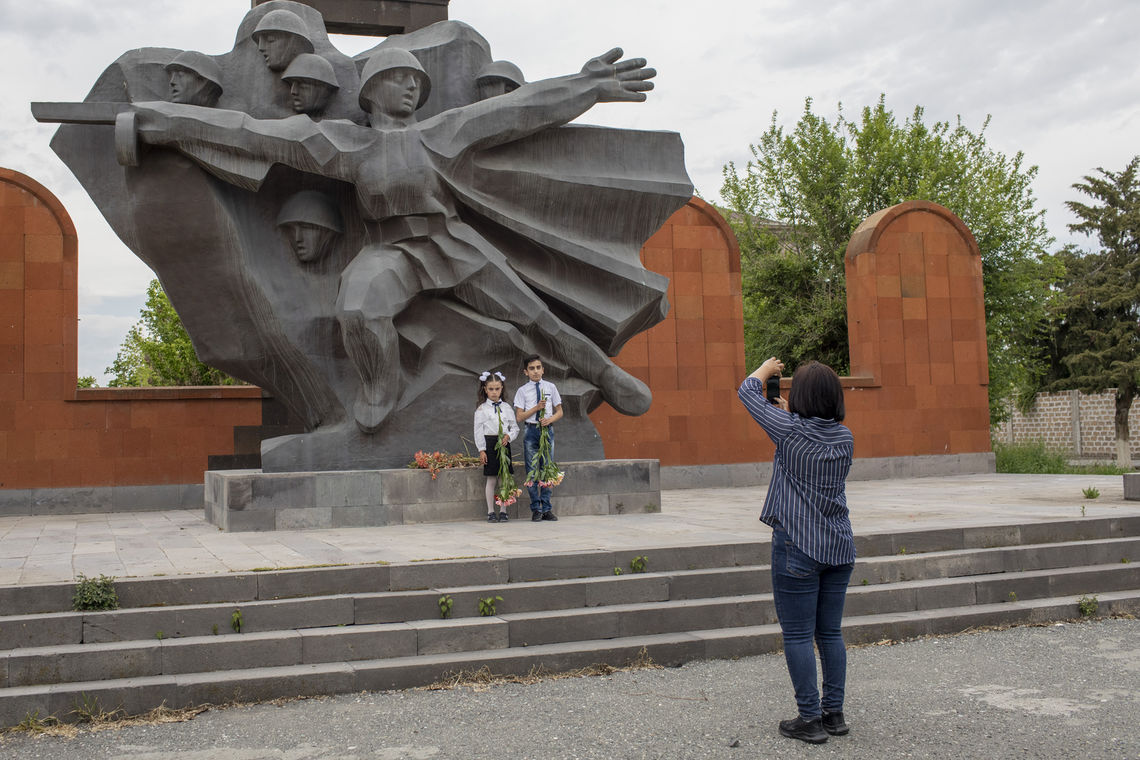 Mane Muradyan, 8, and Ashot Muradyan, 11, are filmed by their mother Mariam Abelyan, 31. Mariam films her children as they recite Victory Day poems and historical accounts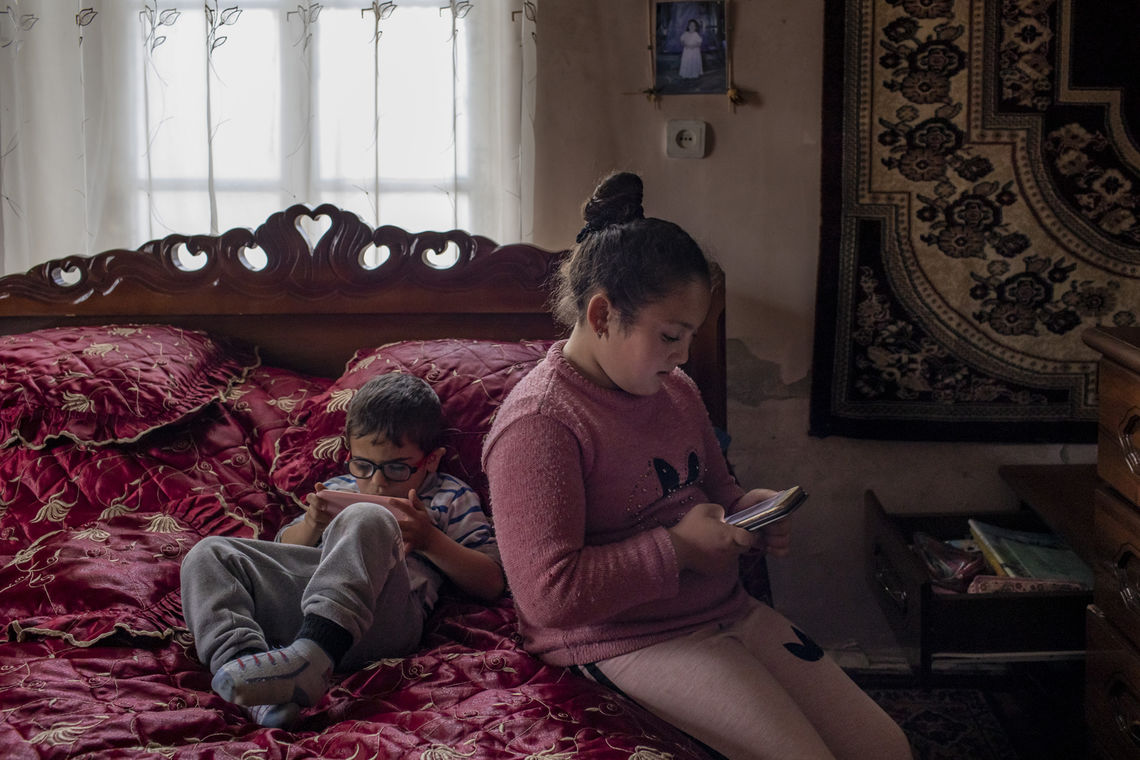 Nushik Gasparyan, 9, (right) and her cousin Suren Gasparyan, 3, look at smartphones in their house in Haytagh on May 8. Nushik is in the 3rd grade and using her grandmother's smartphone as the main tool for communicating with her teachers. Her mother uses it to take pictures of Nushik's homework and to film her for verbal assignments.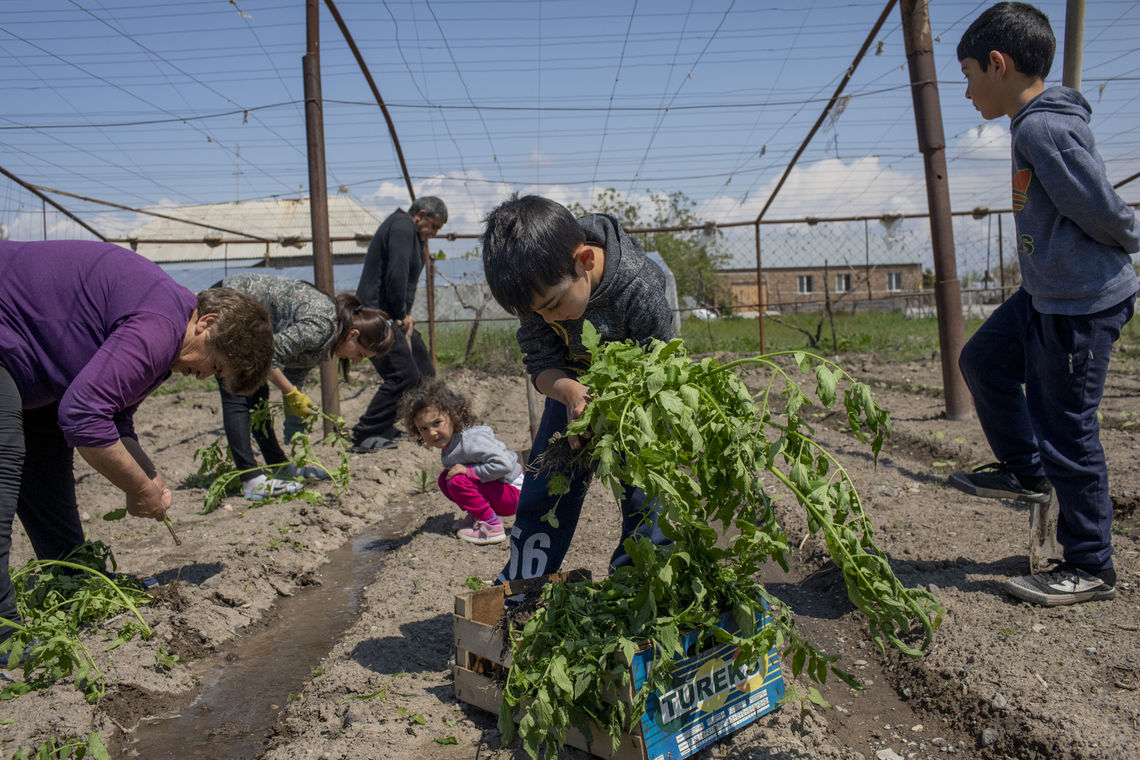 Tigran Daveyan, 7, (center) helps his family plant tomatoes in the village of Taronik on April 29. Tigran's brother Taron, 8, (right) and sister Tatev, 2, are also with the family. The morning hours would otherwise have been spent at school but, since school is closed, the family has taken the children to join them as they farm. Taron and Tigran have one or two online classes per day. They use their grandmother's smartphone to communicate with teachers.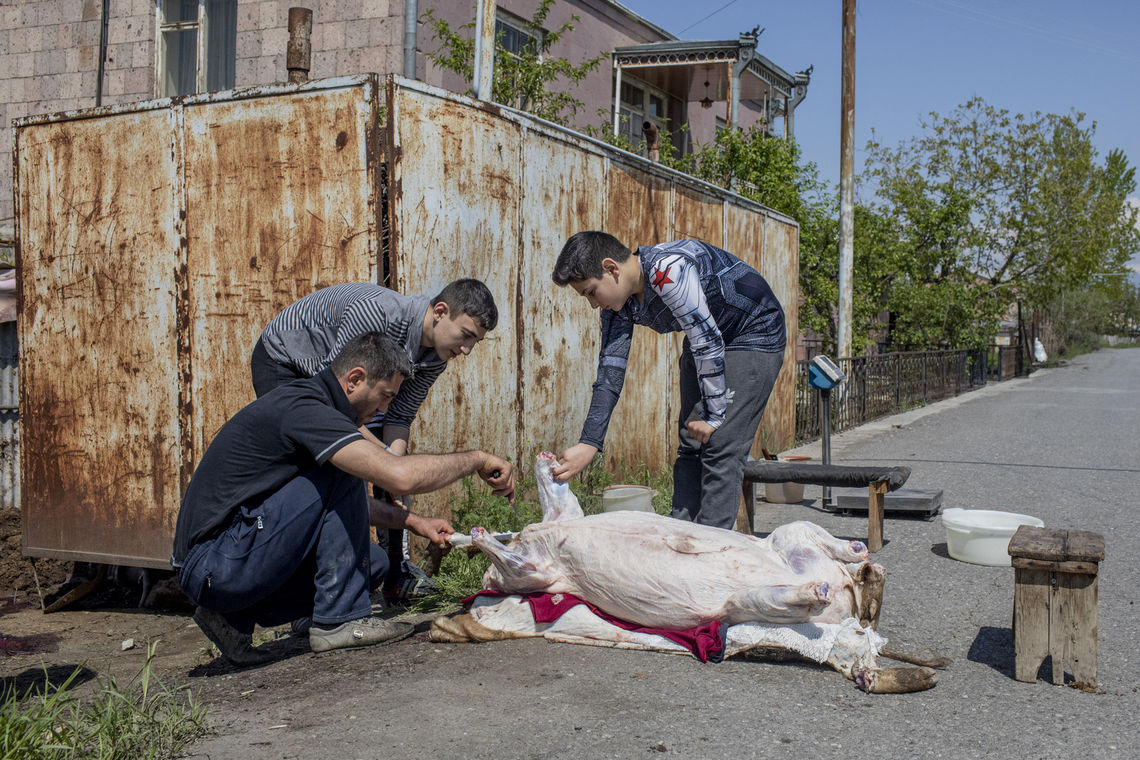 Artur Dashtoyan, 13, (right) and his brother Arman Dashtoyan, 14, (center), help their uncle slaughter a pig in Taronik village on April 29. The children normally live and attend school in the nearby town of Ejmiatsin but have moved to the village since schools closed. They have one to three online classes per day.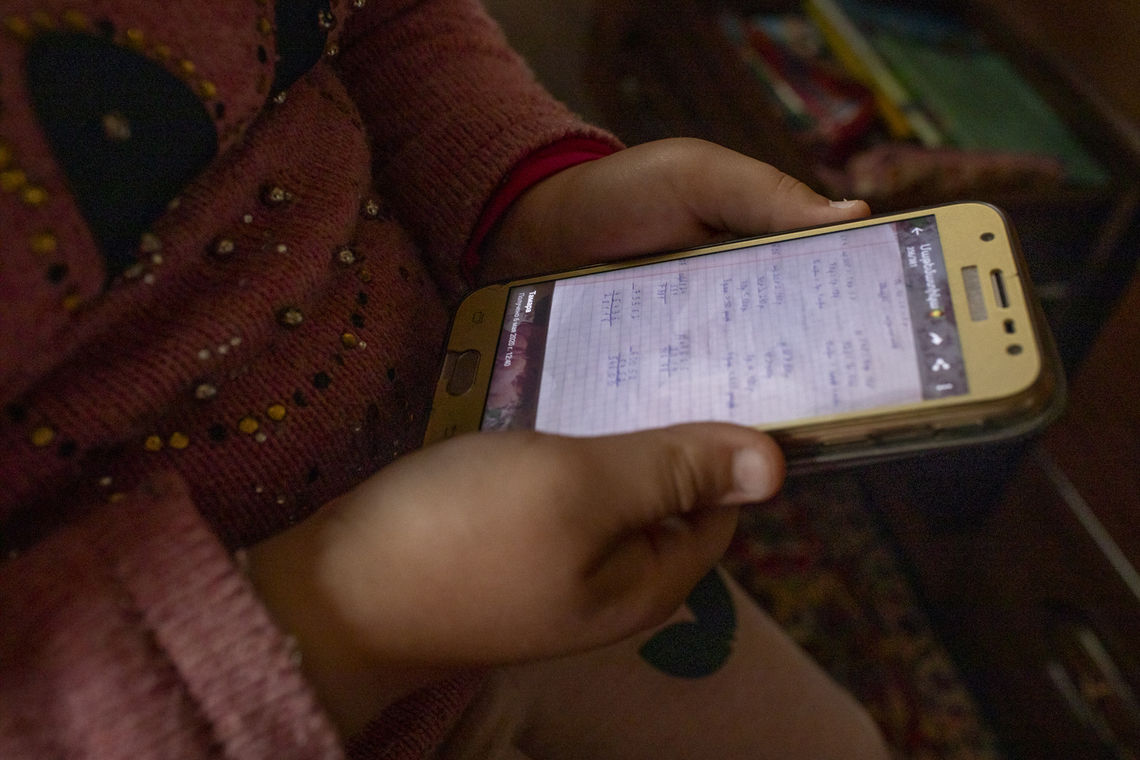 Nushik Gasparyan, 9, looks at a photographed homework page on her grandmother's phone at her home in Haytagh village.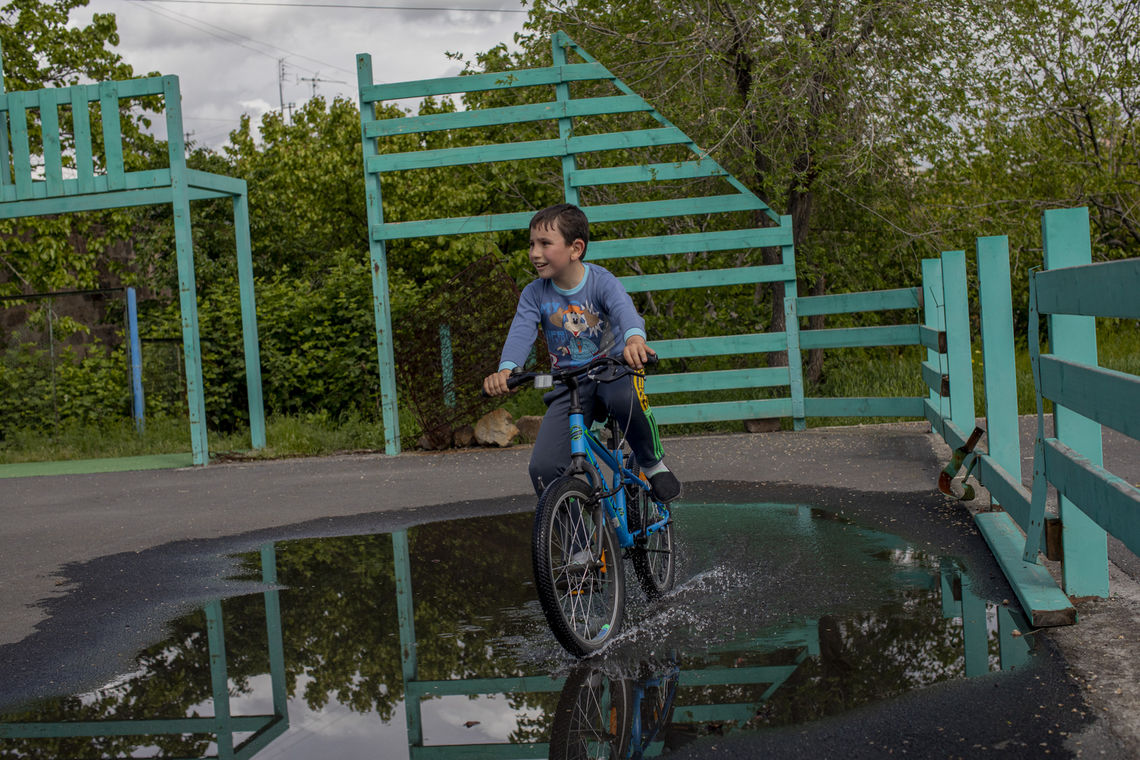 Ruben Grigoryan, 8, rides a bicycle in a playground close to his home in Yerevan on May 7. Ruben has a hearing disability. It has been a great challenge for him to continue learning sign language without the physical presence of his teacher.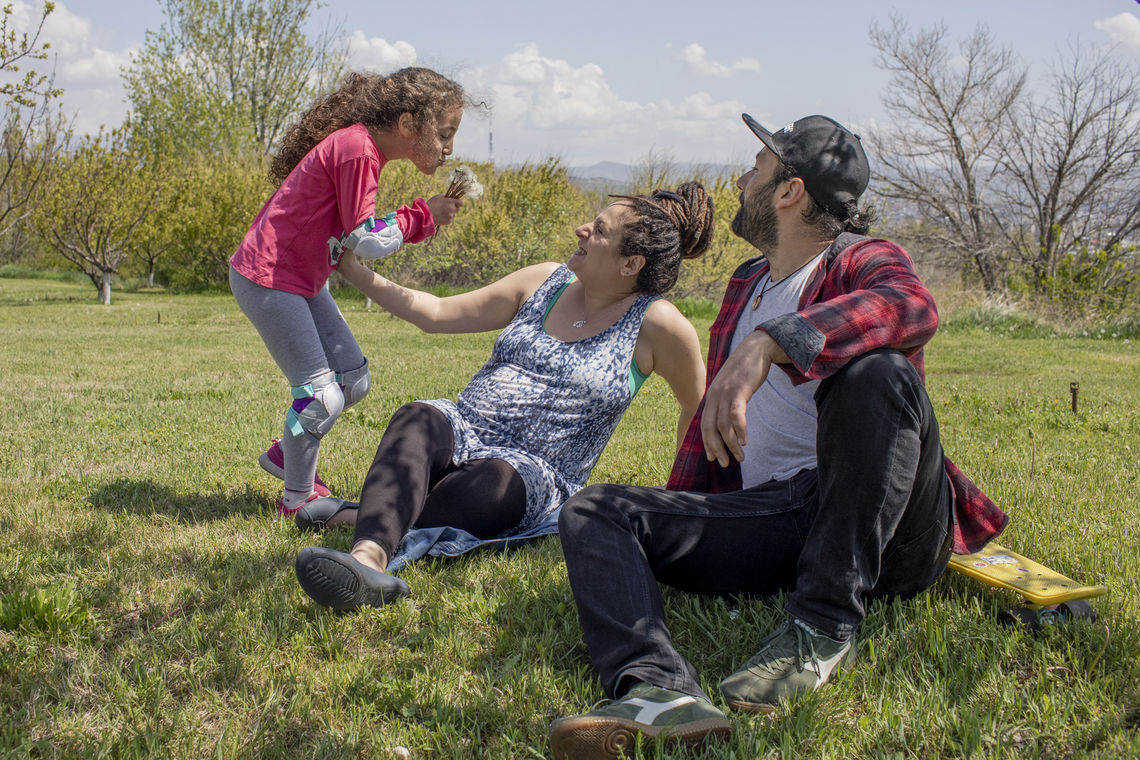 Aaliyah Kamay, 6, plays with her family in a park in Yerevan on April 16. Her mother Anna Kamay, 37, says about the COVID-19 lockdown, "This is an overwhelmingly traumatic experience for all of us and we need to take it easy. While we do a lot education-wise (reading books, doing math, etc.), I prioritize this time for Aaliyah to actually learn the life skills they don't teach at school like cooking and planting. I don't care if she lags behind (though, being a pedagogue myself, I'm sure she won't) in the school curriculum, as she can easily catch up."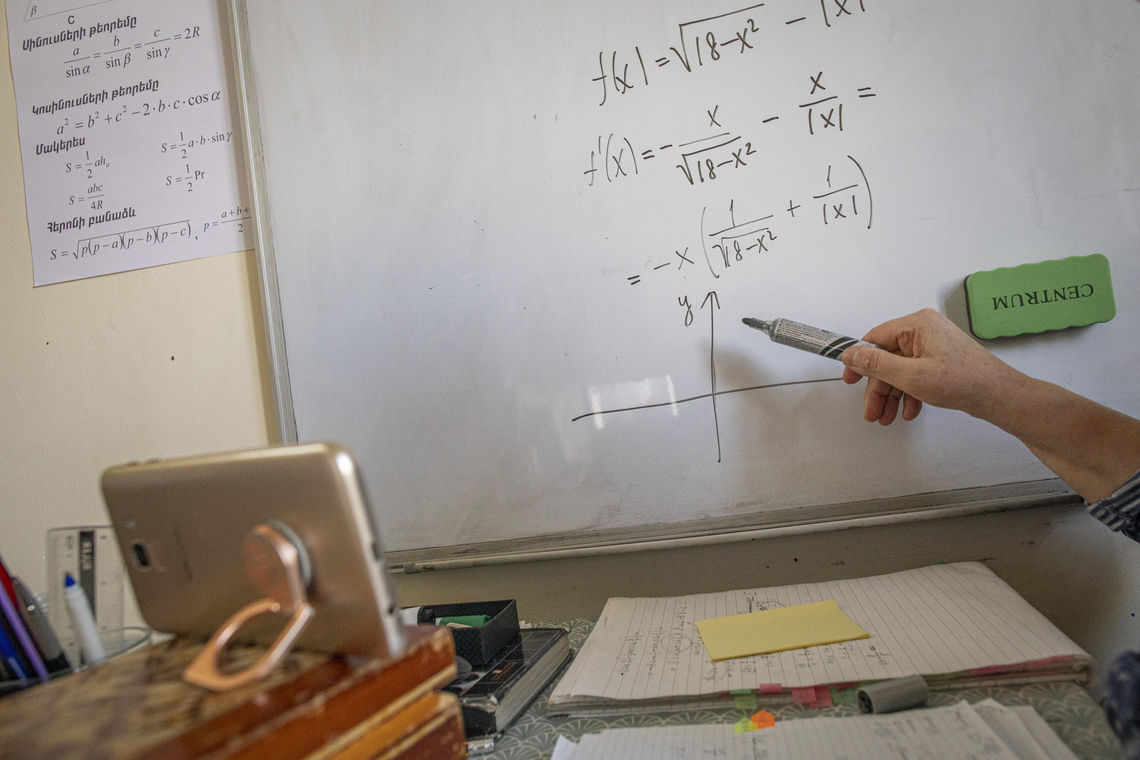 Julieta Veys, 62, teaches an online mathematics class at her home in Yerevan on April 9.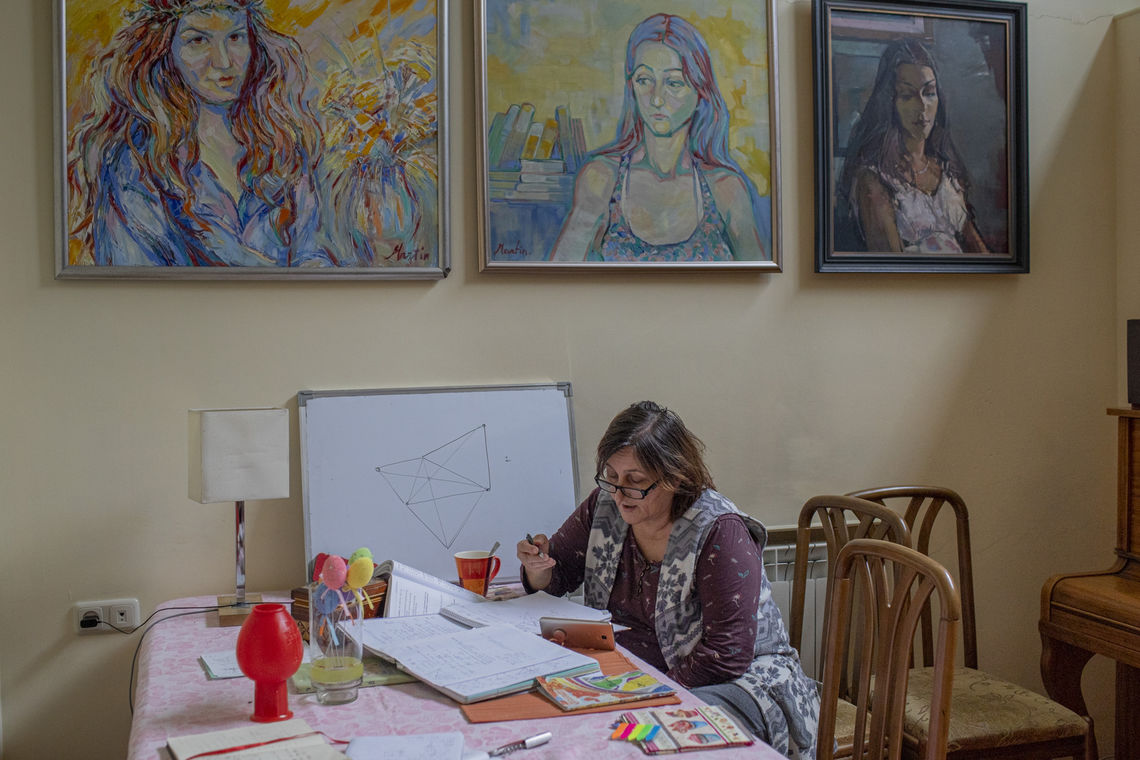 Julieta Veys, 62, teaches an online mathematics class at her home in Yerevan on April 15.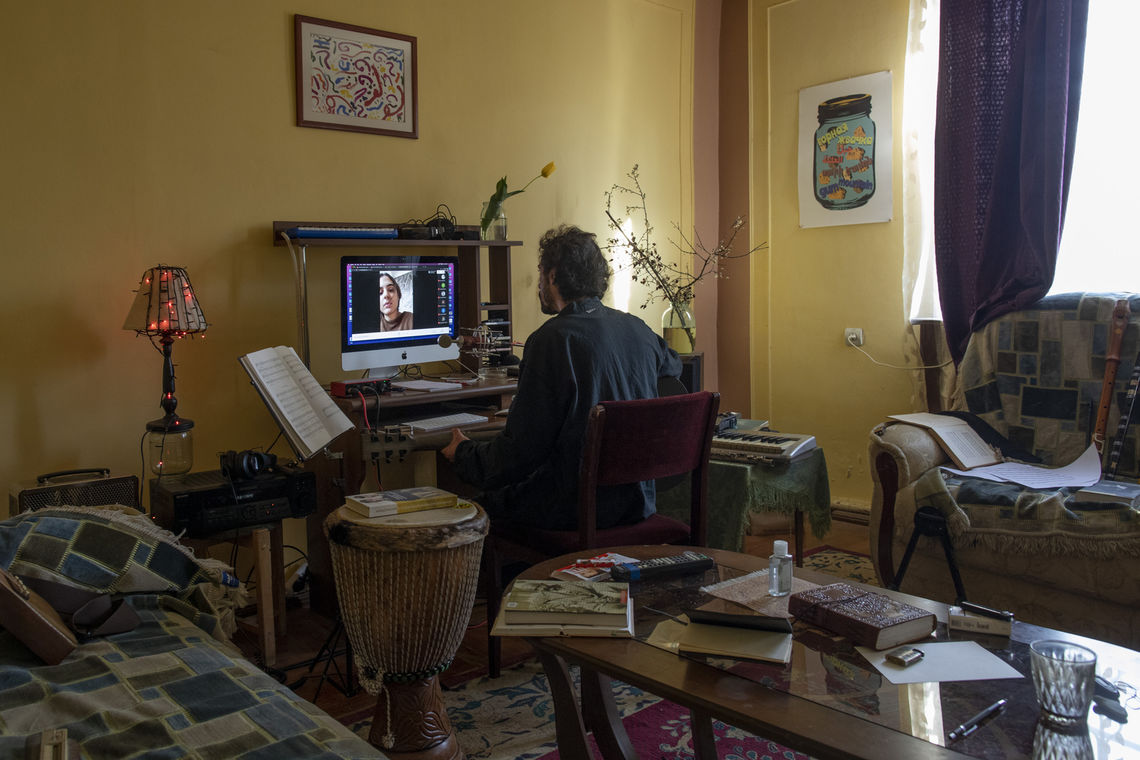 Arik Grigoryan, 36, teaches an online music class at his home in Yerevan on April 9.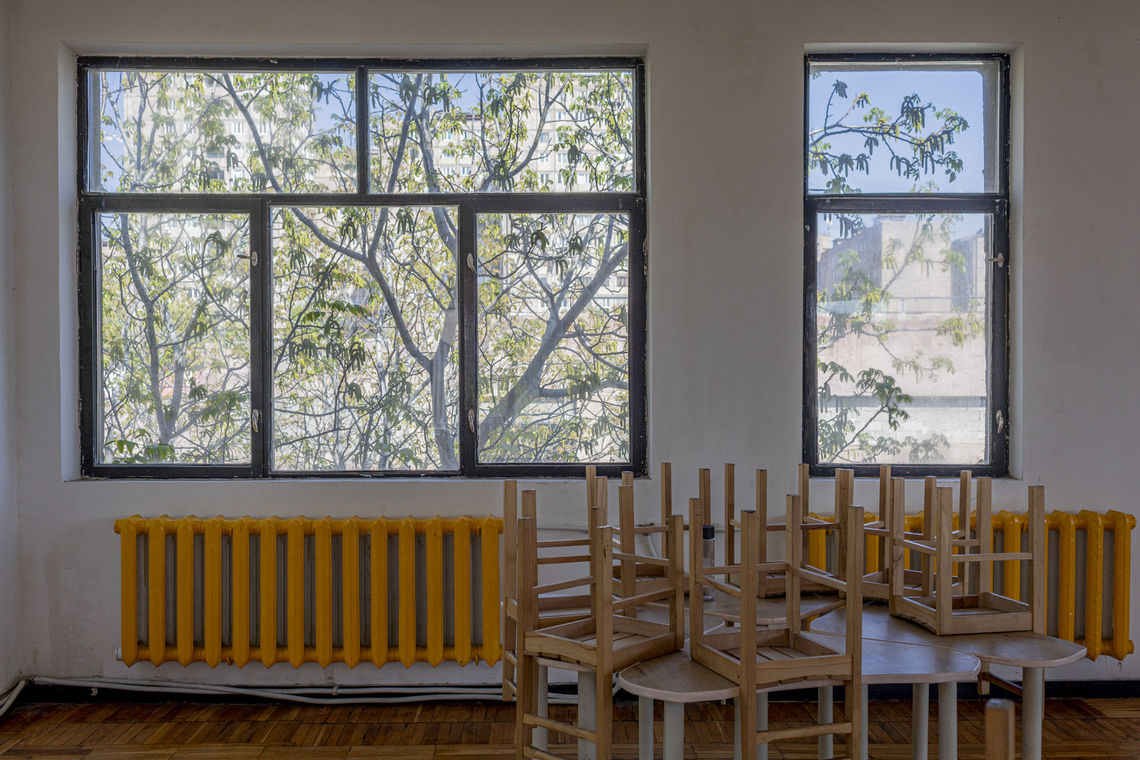 Spring outside the windows of an empty classroom of the Mkhitar Sebastatsi school in Yerevan.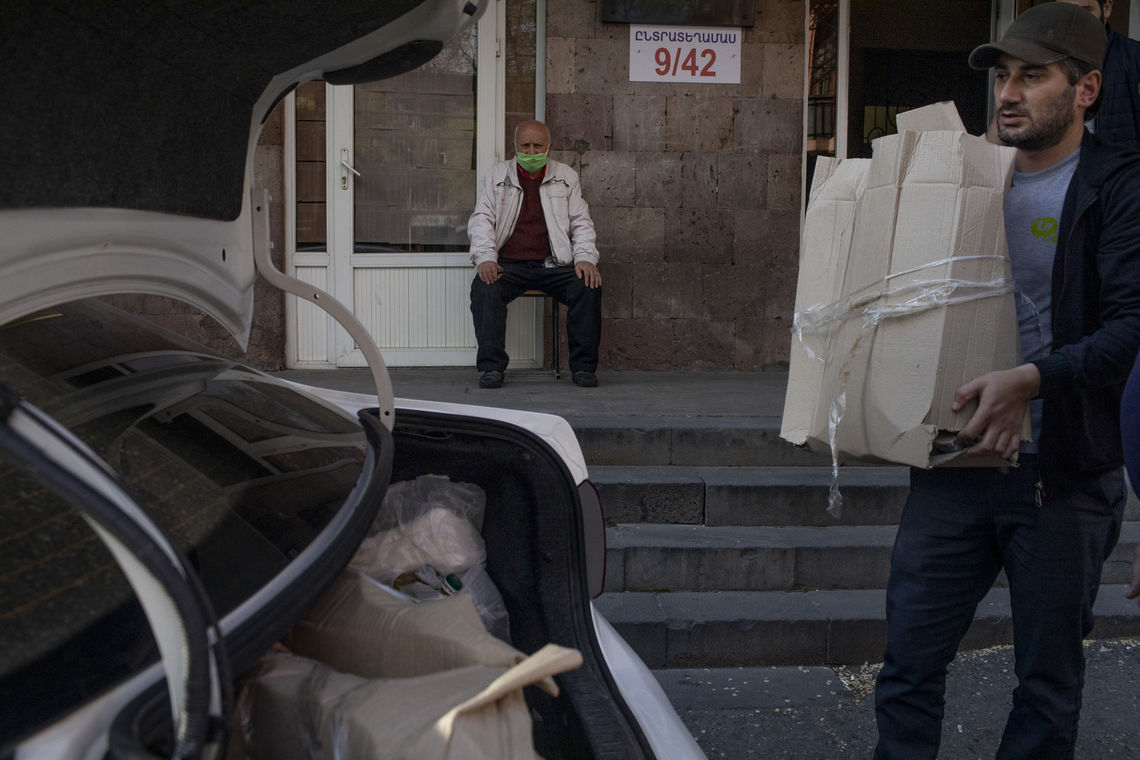 Donated computers in Yerevan are taken to remote villages to provide access to online education to children who do not have their own devices.
Computer parts collected in the Khachik Dashtents school in Yerevan.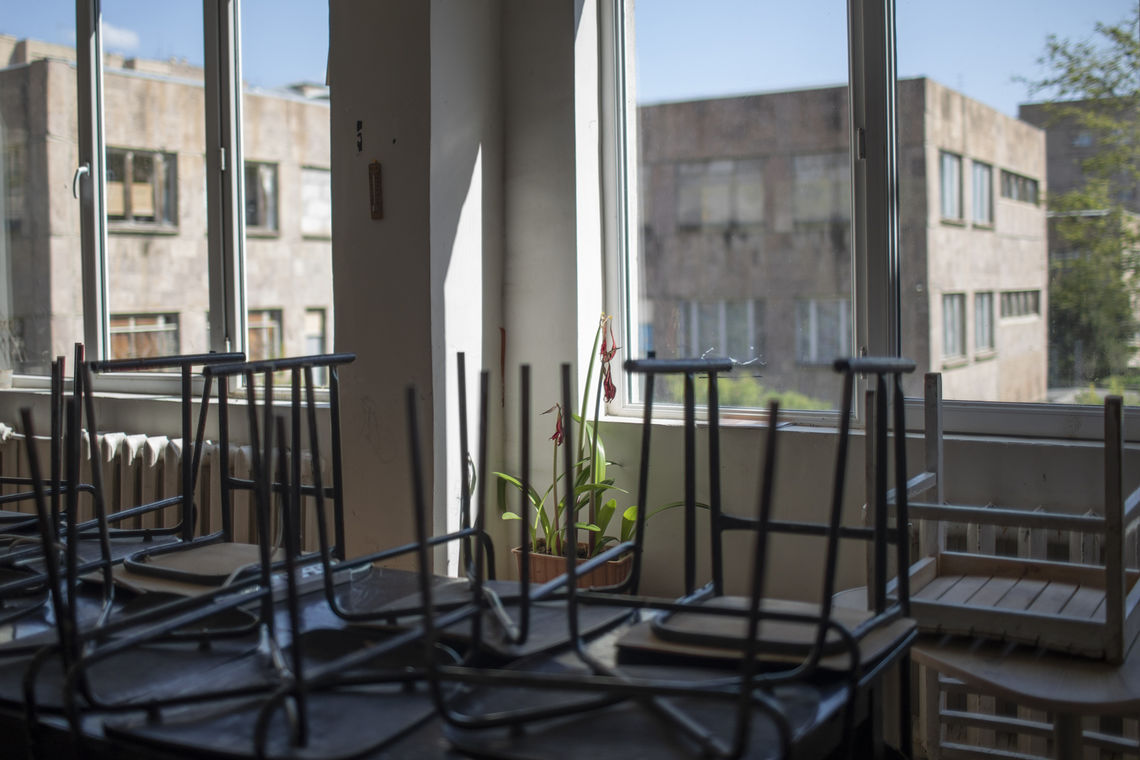 Chairs are turned over in the closed Mkhitar Sebastatsi school on April 16.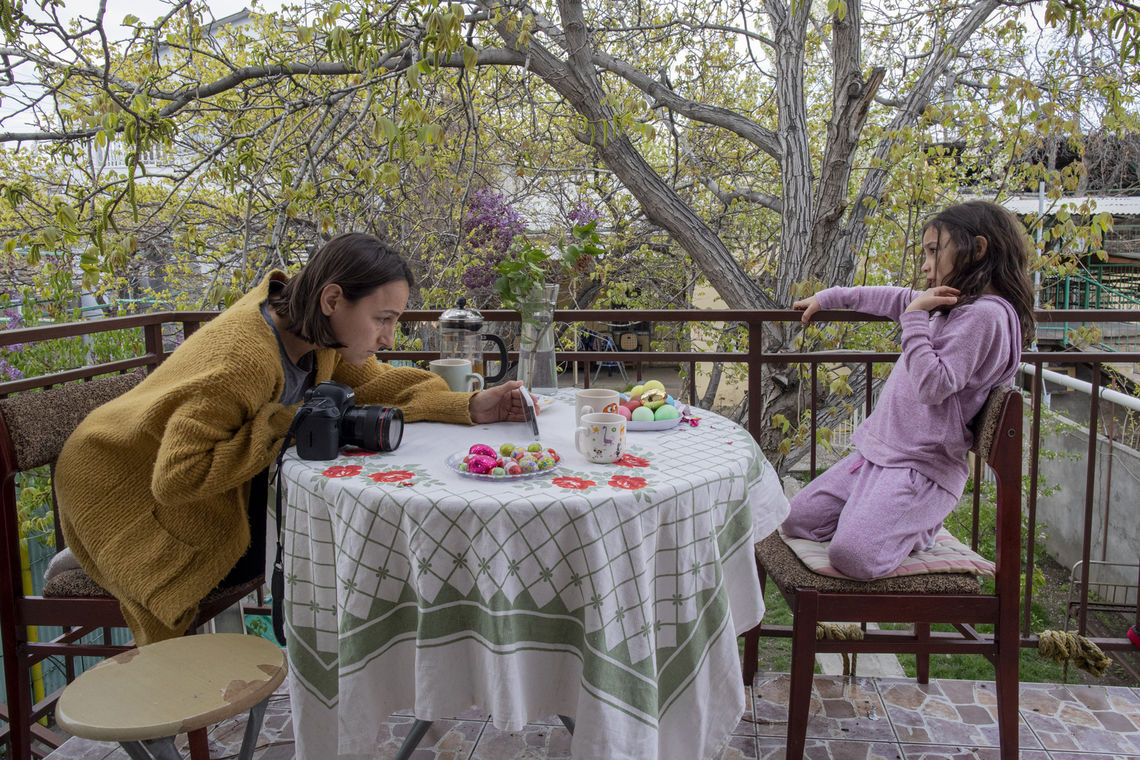 Anush Babajanyan films her daughter Ella for a homework assignment on April 10.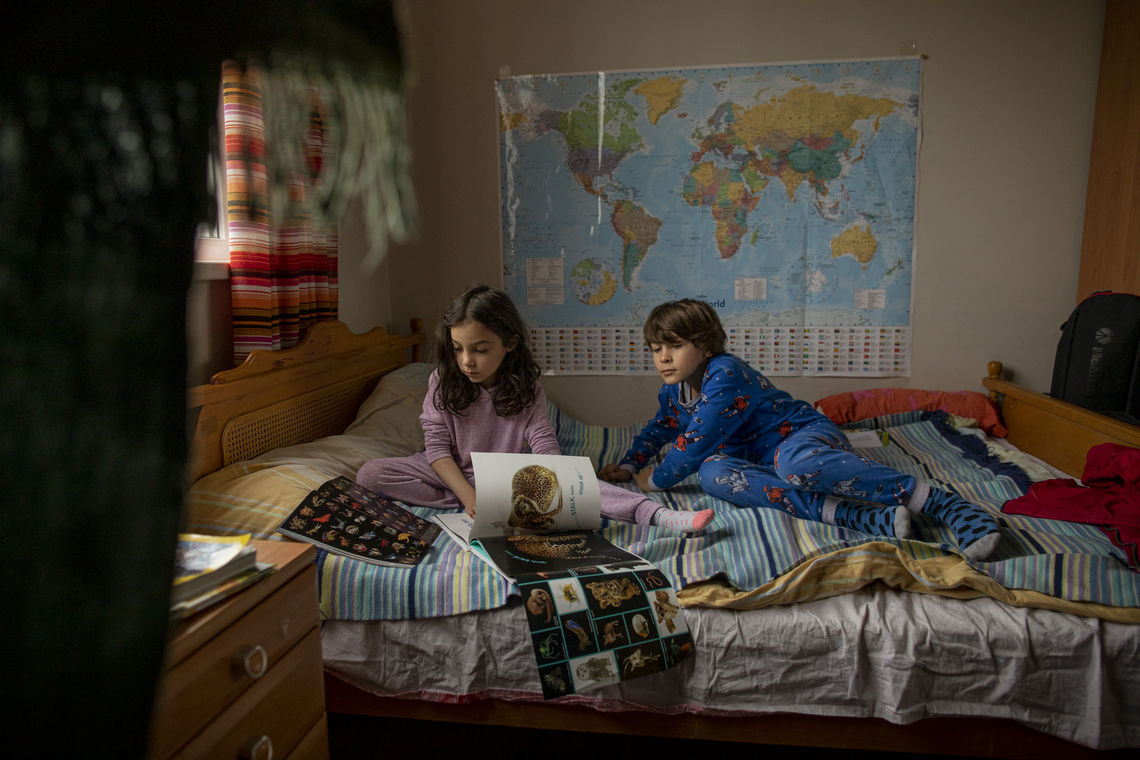 Anush Babajanyan's children, Ella, 8, (left) and William Vagharshak, 10, look through photos by Joel Sartore in their bedroom on March 29.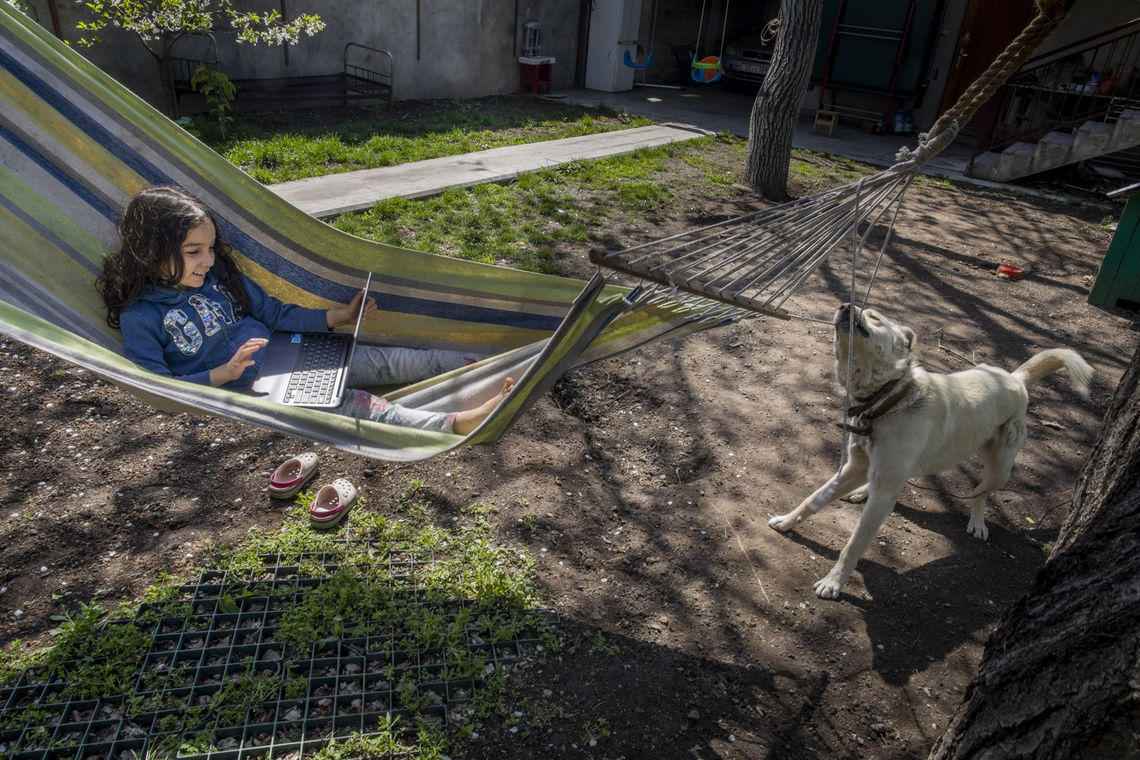 Ella Grigoryan, during an online class in the backyard of her home on April 9.
A closed school seen in the suburbs of Yerevan on April 26.