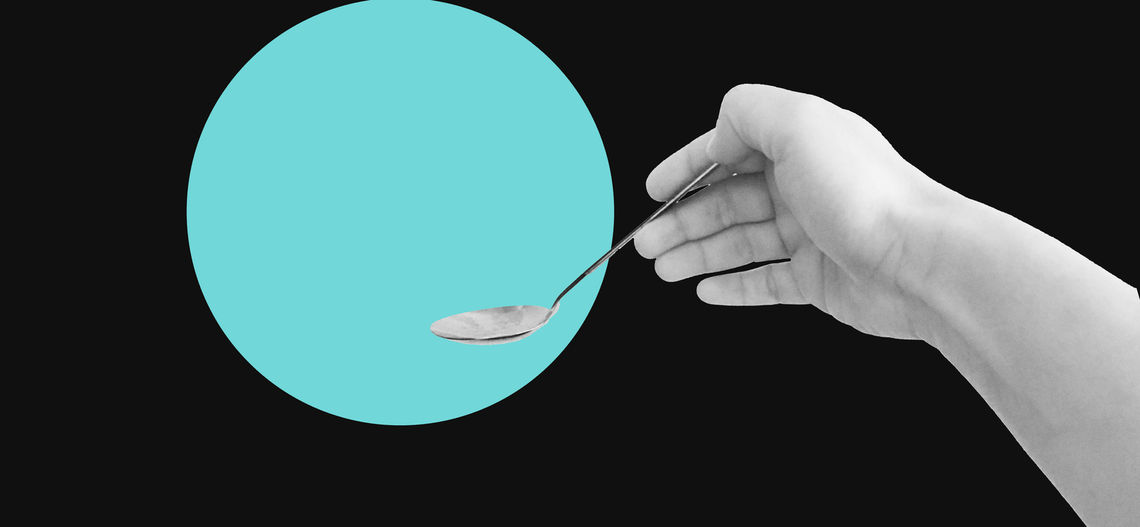 The definition of malnutrition according to the World Health Organization:
Malnutrition refers to deficiencies, excesses or imbalances in a person's intake of energy and/or nutrients. The term malnutrition covers two broad groups of conditions. One is 'undernutrition'—which includes stunting (low height for age), wasting (low weight for height), underweight (low weight for age) and micronutrient deficiencies or insufficiencies (a lack of important vitamins and minerals). The other is overweight, obesity and diet-related noncommunicable diseases (such as heart disease, stroke, diabetes and cancer).
"My baby was born premature. After two weeks, we were discharged from the hospital. Once we got home my mother and mother-in-law started pressuring me to give my breastfed baby water and flaxseed oil. They had their reasons, which were mostly grounded in superstition and a belief that it would help my baby's gastrointestinal tract work properly. I initially resisted, but after a few days I finally caved in to their demands. I put aside everything I knew and had read and listened to the grandmothers who had 'life experience.' When I took my six-week old baby for our first medical check up, the doctor became concerned with the yellow tinge on her skin. Jaundice can often happen in premature babies and my baby's had gone away before we were discharged from the hospital, Now it had come back. I told the doctor about the 'methods' our grandmothers had suggested. She told me to stop straining my baby's stomach and liver. A few days later the yellowness went away. It might have been a coincidence. Most probably, it wasn't.
"When my baby passed the 40-day threshold,* our neighbor insisted that I give her carrot juice. Then a relative recommended we start solids at four months and shared her 'experience' of giving her baby beef broth with a bottle. Usually people who know nothing about medicine consider it their responsibility to give absurd and dangerous advice to all mothers. Many listen, however many resist.
"Although it's been four years, I still can't forgive myself for endangering my child's life with that godforsaken oil and water. We were lucky that my ignorance and weakness didn't cause any permanent damage. However, many other children aren't that lucky and end up having to deal with health issues for the rest of their lives due to carelessly managed diets."
Issues with Nutrition in Armenia
Article 36 of the Armenian Constitution states, "Parents shall have the right and obligation to take care of the upbringing, education, health, comprehensive and harmonious development of their children."  Article 7 of the RA Law on the Child's Rights also states, "Each child has the right for health protection and strengthening." The UN Convention on the Rights of the Child also stresses the importance of health.
Indeed, the right to health protection is one of the fundamental rights of children. However, that right isn't always protected. A proper diet is integral to ensuring a child's health. To determine how children in Armenia eat, the Armenian Demographic and Health Survey is conducted every five years. The last survey was conducted by the Statistical Committee of Armenia and the Ministry of Health from December 8, 2015 to April 5, 2016 and was funded by USAID, the United Nations Population Fund (UNFPA) and the Joint United Nations Program on HIV/AIDS (UNAIDS).
According to the survey, nine percent of children in Armenia (one out of ten) are stunted and of those, four percent are severely stunted. The analysis shows that the largest group with stunted growth (17 percent) are 6-8 months old, and the smallest group (five percent) are 24-35 months old.
The survey also found that four percent of Armenian children are wasted (low weight for height) and two percent severely wasted: "Wasting levels are highest for children under six months and 36-47 months (six percent each). By region, wasting ranges from 0 percent in Tavush to 23 percent in Aragatsotn." The research also found that levels of wasting don't fluctuate based on location or a mother's education, despite the fact that children born to women with secondary or vocational education are less likely to be wasted compared with children born to women with other levels of education.
What the survey also found was that Armenian children tend to be more overweight than stunted due to improper diets. Fourteen percent of children under five years of age are overweight.
Boys tend to be more overweight than girls (15 percent compared to 13 percent respectively). The number of overweight children are higher in villages (16 percent of children) compared to cities (12 percent). Children living in the Ararat Marz tend to be more overweight (36 percent), compared to children from other marzes (5-19 percent). The survey also states that the proportion of children who are overweight steadily declines as wealth increases.
The survey concludes that the number of stunted children has decreased dramatically from 18-19 percent in 2005-2010 to 9 percent in 2015-2016. The number of wasted children has not changed much since 2005: the number has decreased from 5 percent in 2010 to 3 percent in 2015-2016. The proportion of overweight children has increased from 11 percent in 2005 to 15 percent in 2010. However, that number didn't particularly change in the following five years: the proportion of overweight children was 14 percent in 2015-2016.
A recently published 27-year global diet analysis found that "suboptimal diet is responsible for more deaths than any other risks globally, including tobacco smoking." According to the research, it is estimated that one in five deaths globally (about 11 million deaths) are associated with poor diets that contribute to a range of chronic diseases. Researchers found that the problem isn't only about unhealthy options (red meat, soda with high-levels of sugar), but rather the lack of healthy foods in people's diets.
Causes of Improper Nutrition: Poverty or Lack of Knowledge?
To evaluate poverty levels in Armenia, the National Statistical Committee published "Armenia: Poverty Profile 2008-2015" in 2016, which found that 34.2 percent of children under the age of 18 lived in poverty and two percent in extreme poverty.
Astghik Minasyan, Head of the Department of Social Assistance at the Ministry of Labor and Social Affairs of Armenia, states, however, that one of the main reasons for improper nutrition and diet is not so much lack of financial means, as many might assume, but lack of education of the parents.
"There is no direct correlation between poverty and malnutrition, in other words, malnutrition is not always a product of poverty," Minasyan explains. "It's true that Armenian families are ready to do anything for their children, however, their behavior towards nutrition is skewed. Feeding too much and feeding correctly are two different things."
According to Minasyan, an improper diet can have many reasons, one of them being relationships within the family. For example, disputes between a mother-in-law and daughter-in-law can entail the mother-in-law pressuring the daughter-in-law to feed the child a certain way claiming that this is how she fed her own children.
Minasyan notes other factors as well, such as incorrect nutritional plans, lack of knowledge, and abuse in interpersonal relationships: "Sometimes there are cases of economic abuse where they don't allow the mother ensure proper nutrition for her child."
Dr. Susanna Harutyunyan, a pediatrician and faculty member of the Department of Pediatrics at Yerevan State Medical University and director of Trust Health NGO, agrees with Minasyan: one of the main reasons children are exposed to improper diets is a lack of knowledge.
It's possible to provide a child with enough nutrition, however, the diet may not include meat and dairy. As a result, the child won't receive enough proteins, which can lead to protein or certain vitamin deficiencies.
"There are cases when a child eats large amounts of starch, such as potatoes and bread," Dr. Harutyunyan explains. "The child's weight might be normal in this case, however they may also be malnourished and will get sick more often."
Regarding severe malnourishment, Harutyunyan notes that although they see some cases, in Armenia those are quite limited
"We've seen a case where a child was fed only condensed milk starting from five days old. The child was in a very bad state and was brought in because of a rash. That rash was the least of the baby's problems," recalls the doctor. "The child had severe pneumonia, as well as other issues. It's difficult to say what would have happened if they had not brought the child in then." Dr. Harutyunyan adds that one of the main reasons for severe malnutrition is broken families where there is abuse or that live in poverty. She goes on to say that extreme cases can be avoided if primary healthcare services for children worked properly.
"Children, especially those five years and younger, should constantly be supervised," Harutyunyan says. "Children under the age of one have several mandatory doctor visits during which their growth is screened in order to catch problems early on." According to the physician, a child should be registered in the healthcare system and doctors must see them in a timely manner (as per the requirements of the law), even if there are families that don't take their children to state clinics, or move constantly. "The primary healthcare system has to work properly so cases such as these are discovered and solved in time."
While experts admit that there are many flaws within the system, they note that they are trying to take preventative measures and are doing a lot of work.
Astghik Minasyan from the Ministry of Labor and Social Affairs says that the Ministry is currently preparing guidelines for social workers so they can identify problems within families and, as a result, also give proper assistance to such children.
The Ministry has also organized a workshop for medical and social workers with the assistance of the World Bank for the same reason, so experts can identify if wrong diets are being implemented and if there are causes of concern, to address them immediately. If such cases are confirmed and they are due to financial reasons, then the Ministry will take action to solve them.
World Vision Armenia, with over twenty years of experience working in 200 out of 900 communities in the country, has played a major role in improving nutrition in Armenia. Karine Abelyan, director of World Vision's Early Childhood Development Program, says that they continuously carry out programs to try and change attitudes towards nutrition and nurturing children through educating medical workers and parents.
"First, we organized several educational programs with medical workers, where we taught them the advantages of breastfeeding and then how and when to start solid foods," Abelyan says. "Education centers for parents were established in state clinics. The program finished in 2016, however those rooms are still being used today. We regularly educate medical staff by teaching them new skills and producing many videos. We've also organized classes on how to prepare healthy meals." The Early Childhood Development Program has also included state administrative bodies in their projects to ensure their continuity.
According to Abelyan many parents consider a good diet to include baked goods, chips, different sodas that contain high levels of sugar.
"Standards for good living have changed," She explains. "People consider themselves good parents when they give their children what is being advertised the most. We have a lot of work to do in such cases in terms of knowledge. In the last several years we've carried out extensive work in developing more knowledge and we are now seeing new mothers that are more informed."
However, the biggest program the Government has carried out with different international organizations has been the program on providing meals to schoolchildren.
The Arabkir Joint Medical Center and Institute of Child and Adolescent Health found in their 2013-2014 Study on Health Behavior of School-Age Children that Armenian adolescent children widely consume food high in sugar content. On average, 50 percent of Armenian adolescents eat sweets everyday, 65 percent of girls aged 15 to 17 eat sweets a couple of times a day.
Based on the same study, many schoolchildren and adolescents don't eat breakfast, which in turn can cause early fatigue and can impact their learning process and progress. Children who don't eat breakfast often eat at school. However, according to different research, not all schools are capable of providing healthy meals.
Currently, Armenia doesn't have clear laws regulating how educational institutions should manage their meals.
School Meals: Solving or Compounding the Problem?
The National School Meals Program was launched by the UN World Food Program (WFP) and the Ministry of Education and Science of Armenia in 2010, gradually expanding in all the regions. Currently, the program includes primary school children in all marzes. The program is carried out in seven marzes that are funded by WFP and in three marzes (Syunik, Vayots Dzor, Ararat) that are funded through the state and receive technical support from a branch of the  Nutrition Institute of the Russian Federation.
Depending on a school's conditions and financial means, meal plans may include a hot breakfast or processed food, mainly juices and sweets (biscuits, wafer cookies, chocolate glazed biscuits, etc.).
It should be noted that the National Schools Meals Program is not carried out in Yerevan where only a few private schools provide meals for students.
"School meals are provided differently. There are schools that have excellent conditions, and there are schools that prepare meals in unsanitary conditions," says Dr. Harutyunyan, whose NGO published a report on meal plans for students in secondary educational institutions. "For example, in one school a bag of flour was placed in the bathroom because it was near the kitchen," she explains. "Many schools don't have bathrooms or sinks. Many require air hand dryers or paper towels.There are schools that don't have cafeterias, there is no quality supervision, the energy value is not maintained. Very few schools provide meat and there are schools that only give two pieces of low-quality biscuits."
According to their report, the majority of schools don't have nurses. However, a nurse is needed to check if staff is healthy and to inspect how food is maintained, prepared and served. A nurse has to also periodically check students' growth and has to take appropriate action when there are any causes for concern.
"Very few schools have nurses that know what their main purpose is and carry out their responsibilities appropriately," Harutyunyan says. "A nurse, as well as a biology teacher, has to provide information on healthy lifestyles and a proper diet. We have not seen this in any of the schools. Moreover, many of their meals are low-quality and unacceptable."
According to the doctor, there is much to be done in school meal plans. Yerevan must also be included, because there is a large number of malnourished children in the capital as well.
"If a child is not properly growing, that means mentally they won't develop properly either and won't be able to use their intellect and capacity to its full potential," Harutyunan explains. "A malnourished woman will most probably have a baby with a very low birth weight. This will presumably mean her child will grow up malnourished. It's the same with obesity – there is a great probability that being overweight as a child will continue into adulthood with all its problems. Malnourishment is a burden passed down through generations and needs to be resolved immediately."