When I decided to write about women who, according to the vast majority of Armenian society, have non-traditional careers, I had my own stereotypes regarding the topic. Although I believed that I had long ago overcome the notion that there were professions for only men and others suitable only for women. When I spoke over the phone with Captain Victoria Khachatryan, the head of the 17th Special Rescue Service Brigade of the Ministry of Emergency Situations, I had a specific image of her in my mind.
We had arranged to meet at her house so that we could become better acquainted and have an honest and open discussion over a cup of coffee. Victoria met me in her girlish Nissan March (another stereotype that a Nissan March is a "girlish" car). When she got out of her car, before me was a beautiful woman, with long hair and stunning makeup. My first instinct was that my interview was with a model rather than someone leading a brigade of first responders. It was at that moment that all my notions and stereotypes were shattered.
After drinking coffee and trying homemade dried fruits, we prepared to leave – I was going to shadow Victoria throughout her day as a first responder. She put on her uniform and tied her long hair into a tight bun and we left for the village of Smo in the Kotayk region where the Special Rescue Service of the Emergency Situations Ministry is located.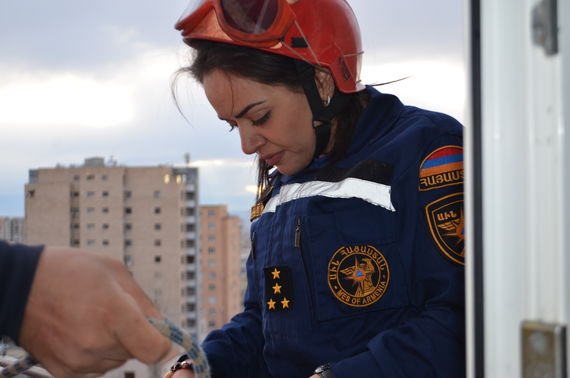 On the way there, Victoria told me how she decided to become a first responder and then inspired her sister, Tatev to become a firefighter. Victoria said that as a child, a uniform was her weakness.
"Whatever my parents might have dreamed that I become, regardless, I would have chosen a profession that would give me the ability to wear a uniform. Fifteen years ago, my dream was to become a police officer. I would half-jokingly threaten my mom that I would go to Israel for military service if she didn't help me fill out the application form to enter the Police Academy of Armenia. Finally, mom helped me but unfortunately or fortunately, I don't know, I was rejected. But I hate losing and found an alternative to my dream. I got admitted to the Berkut Bodyguard College and graduated with honors."
"It was at that time that I found out about the Emergency Situations Department and immediately applied to their HR office so that I could work as a first responder. The staff were extremely surprised to see a 17-year-old girl applying for the job. I clearly remember how they were trying to convince me to change my mind suggesting office work as a more appropriate job for a woman. But I was unyielding and now you see the result."
Victoria said that while she was studying at the college, she was also working as a bodyguard. But very soon she understood that her mission in life isn't about providing security to one person but helping as many people as possible.
"During every shift we get anywhere from 5-15 calls and this process has been going on now for 10 years. We respond to every single call and provide our services for free because our service is free for all citizens. When we finish our work, people try to thank us somehow. For example, once we helped an old man open the door of his flat, because he was locked in and unable to get the door open. The lock of the door was damaged and when we found out that he's a pensioner and wouldn't be able to afford repairing it, we did it ourselves. The old man wanted to thank us and offered us sweets and fruits. This is a unique form of expressing gratitude, which is simply invaluable for every first responder. It is moments like this that immediately alleviate your fatigue, and make you forget about the complexities and difficulties of the job and you are reminded who you are working for."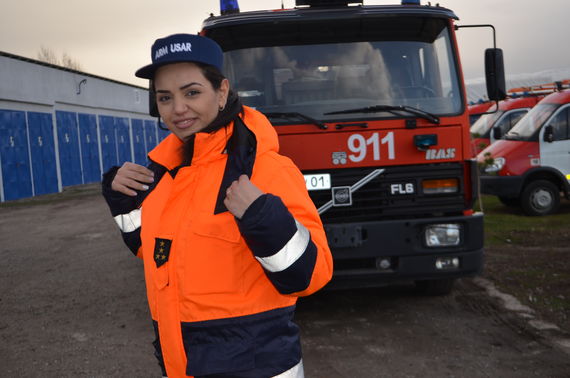 On May 16, 2009, Victoria became Armenia's first and only female first responder. Sometimes it's very difficult to be the only woman in a male dominated environment. She becomes reflective and admits that there hasn't been a single day that she has tired of her job; she is always the first to respond to a call and does everything with love. Although Victoria has been working in the field for ten years now, every time is like the first time because her enthusiasm and desire to help never wanes. Victoria admits there are stereotypes that women in specific professions, usually reserved for men, are obsessed with their careers and don't form families, something that doesn't correspond to her reality. She is married and has a child.
When she's on night shift, her husband takes care of their child. She is devoted to her family, she cooks, entertains guests, goes to the hairdresser, and does everything a mother and a wife does. The only difference between her and other women is that she can't leave the city or switch her phone off because at any time there might be an emergency. Her service is everyday and every hour, however Victoria manages this complex and heavy workload and it doesn't stop her from paying attention to her eyeliner or getting frustrated over a lock of hair out of place. When we were preparing to leave her place earlier, her sister Tatevik was also getting ready for work and Victoria with her signature speed helped her sister style her hair and only then did we leave the house. But the two sisters have one important rule; high heels and feminine apparel is only for times outside of work. During the day when they're working, nothing flusters them or distracts them, makes them despair although they may weep while watching a movie.
When we arrived at the Special Rescue Service, the first responders got a call. A person living on the 8th floor of a highrise was locked in his apartment and called for help. Victoria took her team to help the man and our photographer followed them to capture their work with her lens. I went to meet Lilit Ghazaryan, a search and rescue dog trainer and the eight special dogs she works with. It was unbearably cold outside but I couldn't deprive myself of the opportunity of interacting with those beautiful creatures. The downpour from the day before had created a muddy mess, but playing with those dogs, who to be honest, I was scared of initially, all barking together like choir, made me forget everything. Lilit explained that they are well-trained professional search and rescue dogs and their barking was their way of greeting a new visitor.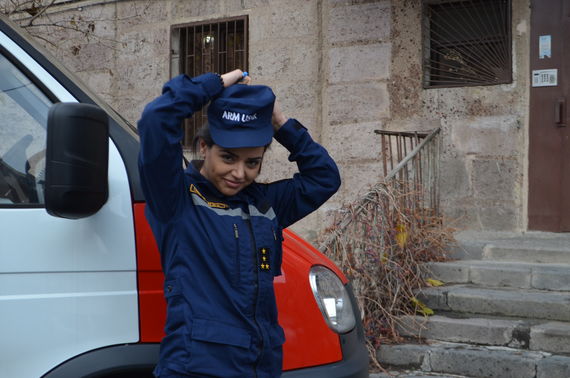 Lilit, a veterinarian started working at the Ministry of Emergency Situations when she was studying in university. I asked whether it's difficult or unusual to work as a search and rescue dog trainer, a very unique profession for a woman according to many people in Armenia. Lilit said that she never paid heed to society's opinion, she chose a job that would be interesting and would inspire her and what people say doesn't concern her. Lilit loves all animals, but dogs are her inspiration.
There are some days they don't get any calls because these dogs are used in specific situations – to search for missing people or sniff out explosives.
It just so happens that being a woman helps in various situations.
"We got a call that a little girl was missing. A large group of rescuers, including special rescue dogs were searching for the child. We had suspicions that she had fallen into the river. The entire day as we were searching for her, the girl's mother was with me. It was a case when a woman understands another woman in ways not possible for others. We knew the child had died and for that reason we were all in a terrible psychological state."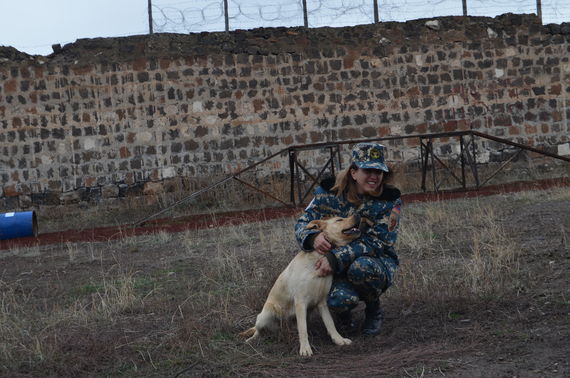 As Lilit was telling the story, I noticed that she was pronouncing each word carefully, taking deep breaths in-between, sometimes with long pauses, almost as if she was trying to collect her breath and her strength. It was as though I could hear every beat of her heart and understood that in such situations, it is so difficult to be a woman, especially when you are expected to act like a man. Lilit notes with pain that during her work day, they don't receive calls of joy…and as much as she has learned and become accustomed to the difficulties of her job and as much as she tries to distance herself and analyze the situation somberly, she has not lost the most important feature that both men and women need – to be human.
"It's been 15 years now that I have been working as a search and rescue dog trainer and first responder. Most times people don't know who the dog handler is. After finding out, they are surprised and ask me why I've chosen this profession. Some people even suggested that I find another job, but I knew that I'm the one that chose this profession. My work is interesting to me as much as it was when I first started here. How many people do you know that can say their job continues to be as inspiring for them as it was when they started? Yes, I have a unique job and I'm proud of it. People can talk however much they want."
I continue following Lilit and Jack's lively game. I see such happiness on both sides – one is the master who is very happy and proud of her dog's skills, and the second is Jack, one of the old-timers of the MES, who is pleased with his owner's happiness.
I begin to understand that it is really difficult to find women in my country that don't pay attention to society's opinion and simply choose the profession they love. Choosing a career is a serious step, it's a reflection of your personality, your willingness to keep your principles and not be influenced by the rigid opinion that a woman's only mission is to have a family and become a mother. Women who don't have families and don't become mothers, continue to be women, do they not? While most women's dreams are constrained by their parents or grandparents who try to convince them that their only goal in life should be to become a mother and create a family, more and more women are choosing their own way. It shouldn't have to be a decision between a career or marriage, it should be about having choices and ultimately being able to combine these two roles together and finding joy and happiness in both as a woman.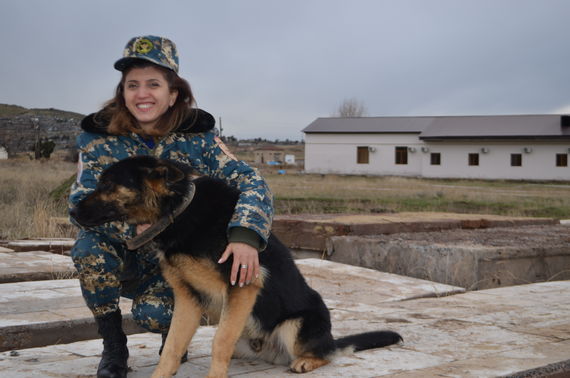 I collect my thoughts and reach the other part of Yerevan to get to a fire station in the suburb of Charbakh. Tatev Khachatryan, Victoria's sister and another firefighter meet me there and introduce the team, who are all men. The men jokingly ask why I'm writing a story only about a woman. But soon they scramble to help their colleague have a great photo session and a thorough interview. Tatev says that while Victoria is her younger sister, she almost always takes on the role of the older one. Victoria inspired her so much that she decided to become a first responder herself initially and then a year later moved on to become a firefighter.
"I wanted to be a doctor, but then I entered the Legal Department of the Yerevan Institute of Forensics and Psychology. Vika would come from work and talk about all her stories and this inspired me. And one day I said that perhaps I could also become a first responder. I applied and was accepted. You know, there are girls that come and say they want to get into the profession without realizing the gravity and responsibility of this job. It just seems very interesting for them. But I thought for a very long time before making the decision to become a first responder. I asked myself so many questions, whether I can, if I'm ready to devote myself to this job because it really demands serious devotion. Sometimes we are forced to carry out heavy labor, sometimes staying at a location for days and must get used to doing things that most women find very difficult. The men on the team help, and often they don't allow us to do our job, something which I find unacceptable. I have chosen this profession, therefore I have to carry out my service with honor. Every day we receive any number of calls varying from small household fires to extremely serious situations. A first responder must be extremely prepared for any kind of situation. People sometimes are in stress, they are searching for a person to rely on, to talk to, and if I'm the only one they can trust, I can't be indifferent. Once we got a call from an old couple that were locked in their house. I had to enter their home from a window using a rope. When the woman saw me, she forgot about everything and called out to her husband screaming, "Look, it's a girl!"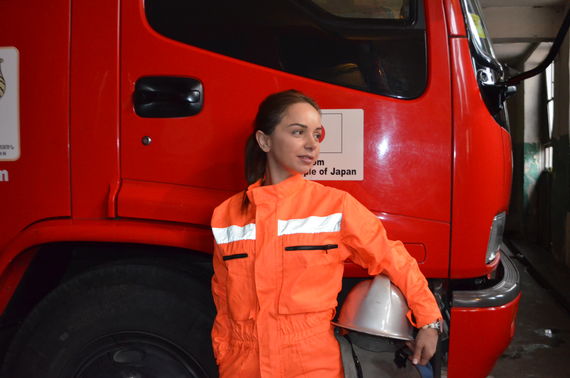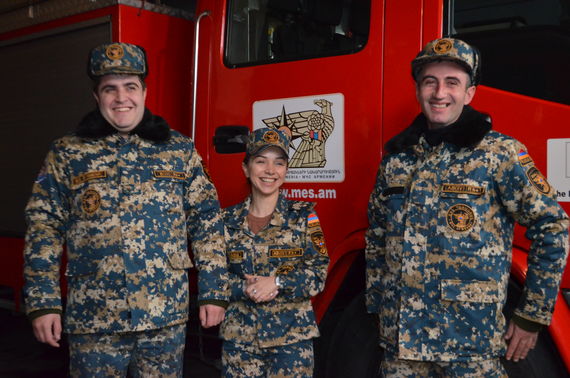 Tatev has come to accept these kinds of circumstances and finds it quite normal now. What people and relatives say doesn't concern her. Sometimes neighbors even ask Tatev and Victoria to help them out by fixing a light socket without taking into account that they are first responders and not contractors.
If Tatev's profession is no longer a surprise for her neighbors, being a firefighter is often shocking for men. Startled by the revelation, they start asking numerous questions which she patiently responds to. The first few moments are strange but then they see before them a beautiful woman, who may appear delicate or feminine but who can rip that veil off in a second and throw herself into a burning building.
I spent an entire day these beautiful and incredible women. Sitting in front of my computer now and writing this text, I realized one thing; none of these women stopped being a woman because of their profession. Just like many other women, they too, might spend the biggest chunk of their salary on clothes, they may cry over simple things, they may be pleased with themselves for shedding a few kilos, but what sets them apart from many others is their unbreakable will and passion for their job. They choose to ignore society's perceptions and expectations. They are the women many of you may have at least once trusted to save your life.