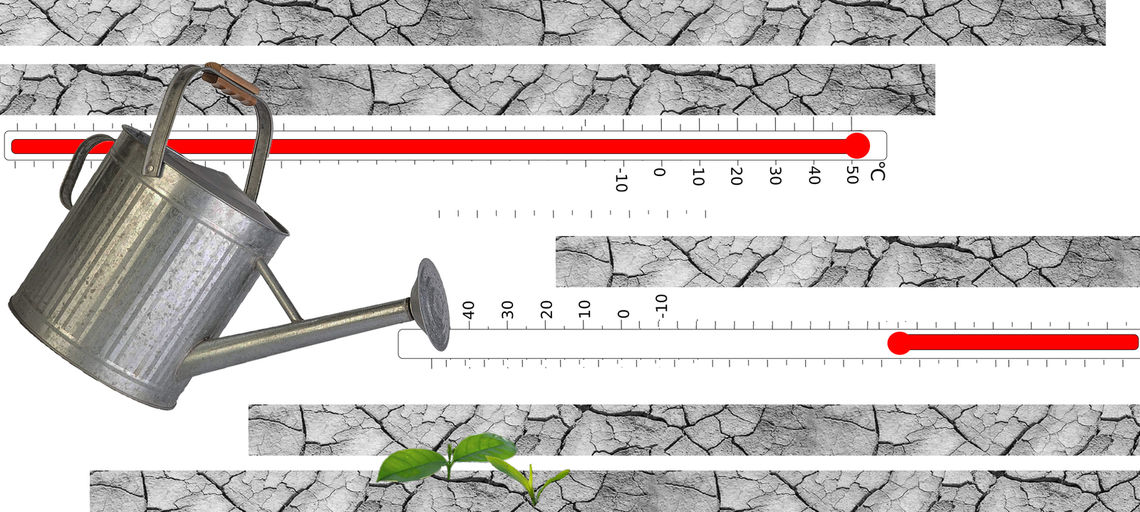 In terms of total greenhouse gas emissions, Armenia's contribution to global climate change is far below the levels of other countries. However, as a mountainous country with a dry climate, it is ranked fourth among countries in Europe and Central Asia likely to experience the greatest increases in climate extremes by the end of the 21st century. According to the Armenian Ministry of Environment's Third National Communication on Climate Change, it is expected that temperature increases and reduced precipitation will negatively impact human health, accelerate desertification and deplete water resources. Less water availability will result in reduced hydropower generation and agricultural output. Extreme climatic phenomena, such as droughts, floods and wildfires, will become more frequent, leaving a permanent mark on natural ecosystems and biodiversity.
Although climate change is primarily the consequence of industrial activities in the developed countries of the world, its burden is shared by all. The Deputy Minister of Environment Irina Ghaplanyan said that Armenia has already registered a 1.3 Celsius degree increase in temperature and a nine percent decrease in precipitation. The 2017 Climate Risk Profile of Armenia prepared by USAID states that the average annual temperature is expected to increase between 1.6-2.2 Celsius degree, and precipitation is expected to decrease between 7-10 percent by 2050.
According to Aram Ter-Zakaryan, the team leader for the National Adaptation Institutional Framework Enhancement at UNDP, it is very difficult and sometimes impossible to talk about the impact of climate change quantitatively. "Armenia's efforts should primarily be targeted towards adaptation and mitigation practices," said Ter-Zakaryan. "We should focus on evaluating how vulnerable a particular area or species is to the effects of climate change and make sure that we adapt to those changes."
Human Health
Climate change has the potential for dramatic impact on human health. An increase in the frequency and duration of hot days and heat waves, as well as changes in the frequency of precipitation, may directly and indirectly affect human well being. Climate change indirectly contributes to the aggravation and spread of cardiovascular, respiratory, infectious and other chronic diseases. Direct impacts are illustrated by the increase in accidents caused by extreme weather events. According to the Third National Communication on Climate Change, there is also a correlation between temperature increases and the incidence of miscarriage. Some adaptation measures include public warning systems for unfavorable weather conditions, and strengthening capacity for rapid response to epidemics and disease outbreaks.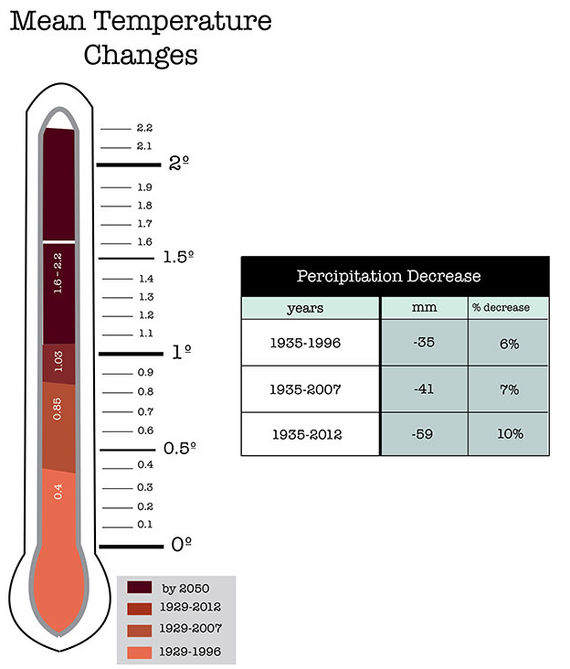 As climate conditions change, incidents of malaria can also increase, especially in dry climate zones. A malaria epidemic peaked in the Ararat Valley in the late 1990s with over 1,000 cases confirmed. Although Armenia has been considered malaria-free by the World Health Organization since 2011, measures need to be in place to detect malaria cases in their early stages to prevent future outbreaks.
Water Resources
Ghaplanyan believes that the projected temperature increases will threaten the sustainability of major ecosystems, including water resources. The efficient management of water resources plays a significant role in Armenia's economic development and determines the degree to which the country's limited water resources will be impacted by climate change. Despite institutional and legislative frameworks in the water resource management sector, Armenia still faces challenges. About 50 percent of the water allocated for irrigation is lost due to inefficient management and inadequate infrastructure.
Ter-Zakaryan noted that Armenia, similar to many other countries, does not have accurate data about its water resources. Consequently, evaluations regarding the impact of climate change are approximate and incomplete. To collect data on rivers, for example, measurement equipment needs to be placed at both the source of a river and where it flows into a larger body of water, such as another river or lake. Unfortunately, the equipment that Armenia uses is outdated and not sufficient in number to be installed in all river basins. "Vulnerability assessment is, of course, conducted but because of the lack of data, our evaluation is full of uncertainties," noted Ter-Zakaryan. "With enough data, we can better understand how much of the water is being used for irrigation purposes or how much of it evaporates and, based on that, better mitigate the risks of climate change."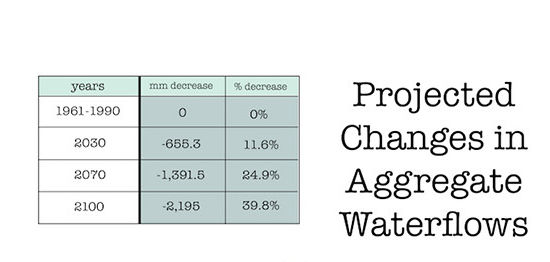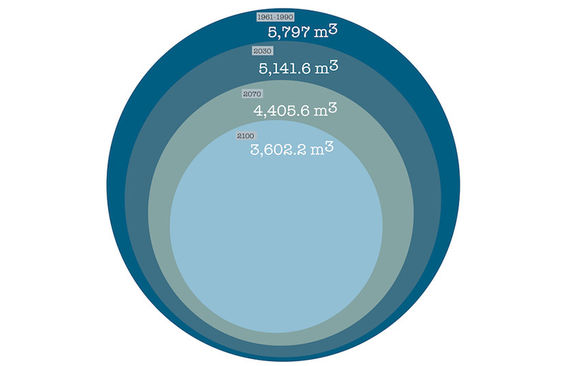 Natural Ecosystems
This summer was quite alarming, in terms of the number of forest fires and burnt areas that were reported by the Ministry of Emergency Situations. As of August 20, 2019, 6796 fires were registered throughout Armenia, 57 percent higher than the same period last year. Reportedly, in more than 90 percent of the cases, the initial cause of the fire included a human factor. Ter-Zakaryan believes that the impact of climate change on natural ecosystems, including pastures and forests, is not very significant. "But natural ecosystems become more vulnerable to the effects of climate change in areas where human factor is also involved," he added.
Another illustration of the human factor contributing to the vulnerability of natural ecosystems is when communities located close to a forest influence the forest's capacity to maintain its original biodiversity. Such activities may include logging or hunting, which coupled with the effects of climate change pose a greater challenge for the ecosystem. Under normal conditions, however, natural ecosystems despite being affected by climate change, are quite flexible and if the change is not very extreme, they can easily adapt to the changing circumstances. "When the human factor is involved, the self-healing process is either very slow or does not happen at all," said Ter-Zakaryan.
Armenia's rich biodiversity, which includes rare, endemic species, is also under greater threat due to climate change and will need to adapt to rising temperatures. "Some species both flora and fauna will move further up and reposition themselves in higher elevations, others will adapt differently, some with lower resilience capacity for adaptation will be at an increased risk of reduced population," said Ghaplanyan. According to USAID, approximately 15 percent of Armenia's higher plant species are in danger of extinction; semi-desert and desert areas are expected to increase by 30 percent, and forest fires are expected to become more frequent.
Agriculture
Climate extremes, which in Armenia have usually been illustrated in the form of frost, hail, heavy rainfall, strong winds, and heatwaves, have significantly impacted agriculture, which is among the most climate dependant sectors of the economy. Seasonal changes of precipitation, as well as changes in the duration and frequency of precipitation, are more common now. "Take rain for example, instead of being proportionally distributed within several months, we may now experience rain during one week only," explained Ter-Zakaryan. The key priority should be reducing the potential negative effects of the changes in climatic conditions on agriculture.

Ter-Zakaryan believes that it is all about "improved management and reduced vulnerability" through adaptation. According to him, in agriculture, adaptation can be implemented by replacing the existing plant species with those more resistant to climate change. Drop-irrigation or anti-hail protection systems are both forms of adaptation in agriculture. In the case of drop-irrigation, people adapt to the scarcity of water resources, while in the case of anti-hail protection system, people effectively prevent the consequences of hail. The same principle applies to greenhouses, which Armenian farmers have been using for quite a long time now.
Ter-Zakaryan also spoke about passive solar greenhouses with drip irrigation systems, which are again a form of adaptation targeted to communities where climate change may lead to migration. The greenhouses, which can be built in mountainous and sunny regions of Armenia, are designed to maximize solar heat collection through the use of specific technologies, which increases their overall energy efficiency. "During summer months, the temperature in these greenhouses will increase so much, that villagers would sometimes use air conditioning, so that the plants can survive," explained Ter-Zakaryan. Such greenhouses have already been built in several villages of Gegharkunik region. "So, in communities where the practice of agriculture is challenged by climate change, there is always room for creative solutions."
The Ministry of Territorial Administration plans to increase the portion of renewable energy in the next five years to 50 percent, which will be an important step towards decreasing Armenia's greenhouse gas emissions. "Currently renewables stand at close to 30 percent of Armenia's energy structure, and the country is just tapping into its solar energy potential," said Ghaplanyan. "So the projected growth and increase of the share of renewables as ambitious as it sounds is very doable."
Armenia is currently working on an ambitious project, aimed at developing a National Adaptation Plan with the support of the Green Climate Fund, which is a global fund helping developing countries adapt to climate change. The project aims to support the prioritization of climate change adaptation investments in six priority sectors: water resources, agriculture, energy, health, tourism and human settlement. The project will also establish Armenia's adaptation priorities, and make sure that the country is ready to fulfill its targets under the Paris Agreement and the UN's Sustainable Development Goals.
————————-