I continue to document this photo diary—which I started during the days of the war—in the context of post-war realities and traumas.
What was going on behind the scenes when loved ones were on the front lines of the war? How is it possible to overcome the feeling of a distorted reality caused by the war? How does a person deal with their grief and the current absence?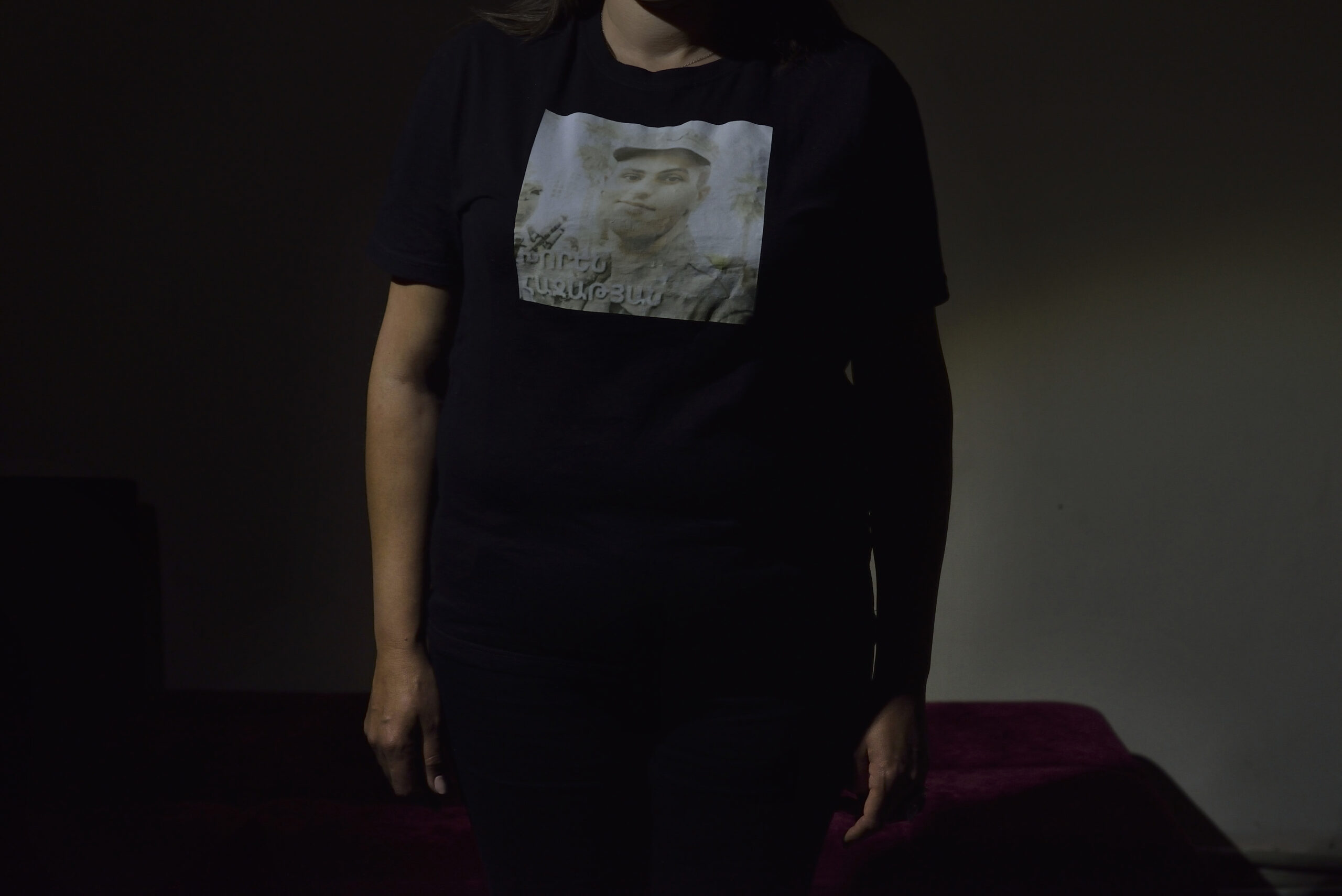 Asya, Yerevan, November 24, 2021

Ivanyan village, Artsakh, September 29, 2020
Khoren's childhood photo, Yerevan, November 24, 2021

Dadivank, November 14, 2020
Asya at the Nubarashen cemetery, January 29, 2022

The outskirts of Martaker, Artsakh, November 19, 2020
Thread and needle from Khoren's personal belongings, November 24, 2020

Charektar, Karvachar region, November 13, 2020
Asya, Yerevan, November 24, 2021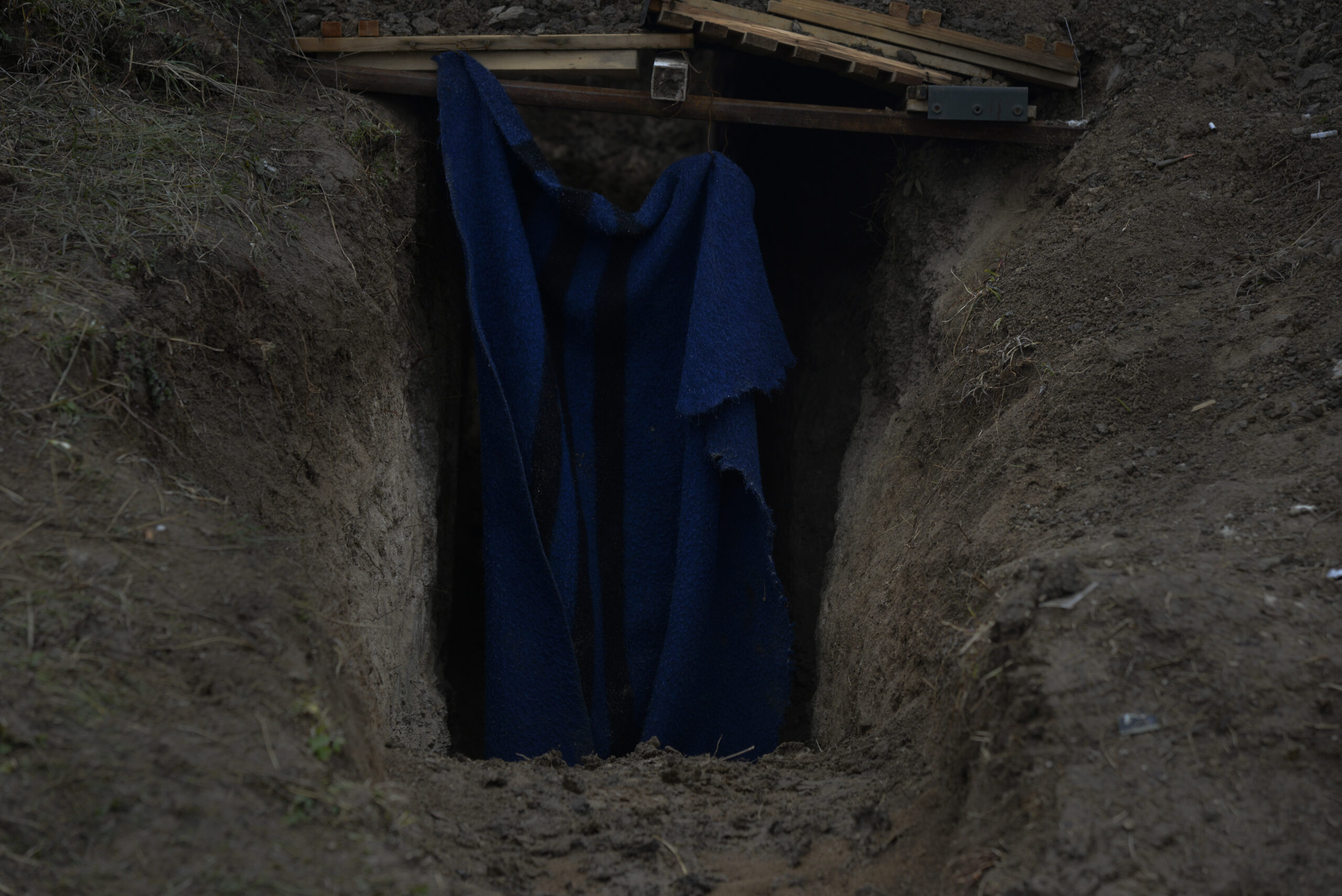 Trench, outskirts of Stepanakert, November 20, 2020

Outskirts of Shushi, November 20, 2020
Calendar from Khoren's personal belongings, November 24, 2021

Torn curtain, outskirts of Shushi, November 20, 2020
Khoren's grave, Nubarashen, January 29, 2022

 Khoren's tombstone, Nubarashen, January 29, 2022

Soldier, New Getashen, Karvachar region, November 14, 2020
 Khoren's grave, Nubarashen, January 29, 2022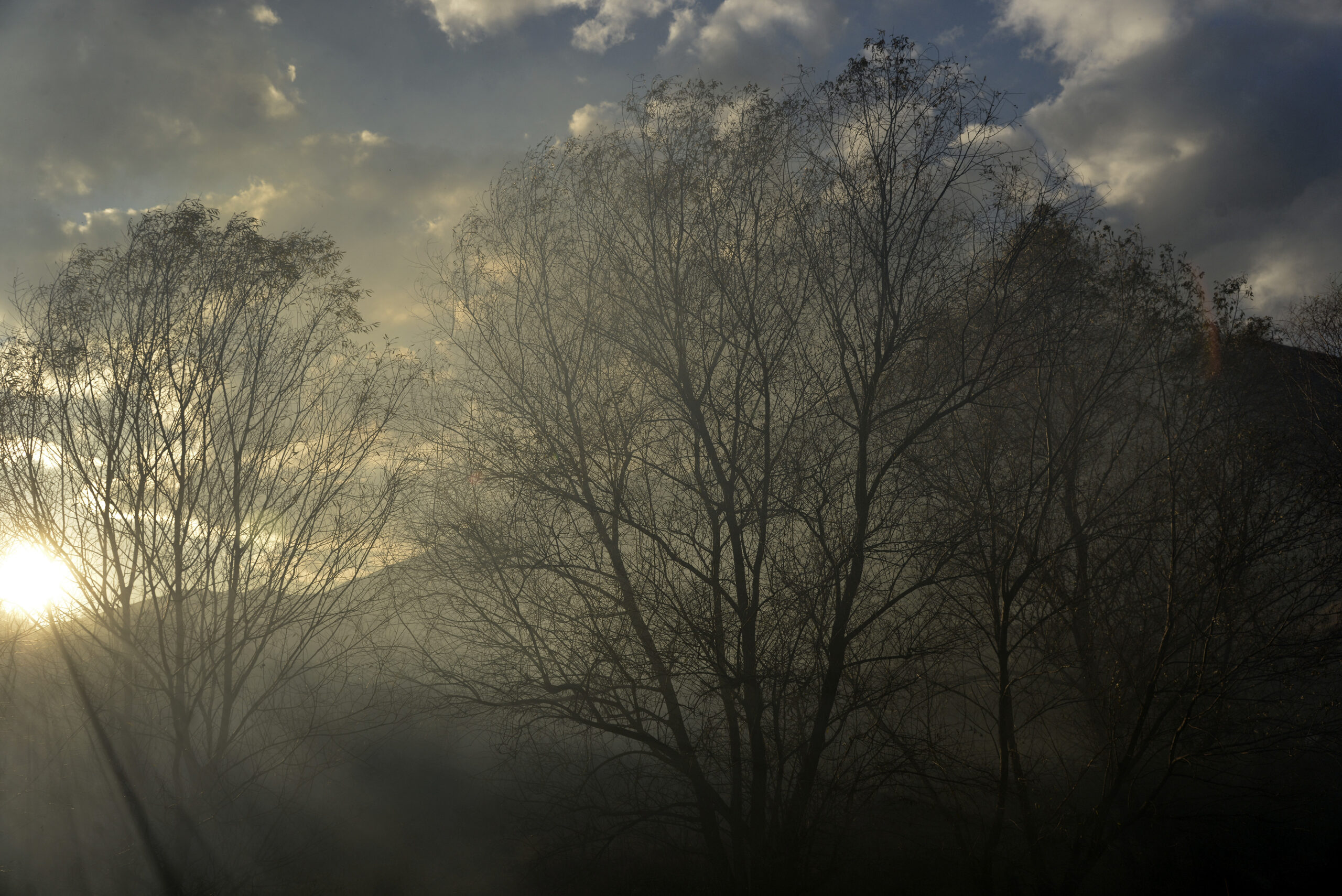 New Brajur, Karvachar region, November 22, 2020
Asya
I am Asya Sahakyan, Khoren Hajatyan's mother. I am 39 years old. My son went to the army on July 17, 2019, a symbolic day for us because it is my daughter's birthday. We celebrated the whole night and in the early morning hours of the 17th, we bid farewell to our son.
I was 38 when that ill-fated incident happened. From the zborni punkt (mobilization center), he was taken to Artsakh and from there to Martuni-2.
About 20 days later he called and said happily, "I have been entrusted with a very big job, I have to update the border maps."
Premonition
It was September 24, he said "I'll probably not return." 
He said, "Mom, I am saying this so you remember." When the war started, I was terribly tormented by the thought of why he said that.
Later, he called again. It was September 29, and he said, "If I don't return, remember, it's war, don't blame anyone."
I have written those same lines on stone.
…My husband and I spoke with him in the morning, at 10:30 a.m. He called his father again at 5 p.m. I assume he called to say goodbye. At 10 p.m. without meaning to, I fell asleep. Psychologists say that my brain decided to do that to calm itself, to not feel all of that. My husband did not sleep that whole night. At the time, we were living in Erebuni, and when helicopters landed at the hospital, my husband said, "I should go and help, maybe someone else will help my child." In the morning, I woke up. My husband said, "I heard voices all night, voices that were tormenting me. I went to the hospital three times, there was no helicopter. It's strangely calm today, they weren't bringing soldiers."
It was the early morning of October 23.
I don't know…many things coincide and I believe and then I don't believe. I look at it from the side of faith, the side of pure chance, the side of pure destiny.
Trapped
It was October 11. I was watching television and they said on the news that the boys had been surrounded and had been able to break free. I began thinking, Dear Lord, your glory is great, I wonder whose children they are. At that moment, Khoren called and said, "We are not the ones to hand over land to these people, they captured the post but we will retake it." I asked if I could know where he was stationed. For the first time he said, "Mom, we have been surrounded in Jabrayil for three days, there is no help coming." And at that moment, Artsrun[1] announced that they have been able to break free. My days and nights melted into each other. It was already midnight, we took the children and came to the church across from Rossia. We were not the only ones there. There were many young people on their knees praying. He called the next day and said, "An ural[2] came to get us, we are free."
Foxhole
A volunteer soldier told me, "There was a strange peace. It happened on the heights of Fizuli. It happened at 10:30 p.m. The darkness there is terrible, you can't see a single thing. Later, Khoren said 'I'm going to get some rest.' Khoren went inside, it was a foxhole he had built…We did not know how or what happened to us. There was an awful dust, darkness, we couldn't see anything."
The commanding officer had given the order to retreat. Tigran, a boy from Aparan said, "No, we know that we are all going to die, but we have promised each other to make sure that our bodies will be sent to our parents."
That whole night that boy began to dig. He had started to dig from the wrong side. Until 6:45 a.m. Tigran had dug with his hands and had yelled that no one use a shovel so that nothing should happen to Khoren. When he brought him out, Khoren was already dead. Tigran lost his mind. He said, "I am guilty, if I had reached him sooner…" But he had no way of doing that. On November 1, Tigran was also killed. He was from the village of Ghegharot in Aparan. I have visited his grave also.
The Morgue
Khoren used to call us everyday at 10:30 a.m. At 10:15 a.m., my husband received a call. His friend said, "I know that you expect Khoren's call at this time, but Khoren is no longer with us. I consider it my duty to tell you this because I don't know whether or not I will be alive in the next second. Just take care of the body." We kept in touch to make sure Khoren's body would reach the city quickly because the boys were saying that the body might disappear. They called on the 24th, to say that Khoren would be at Heratsi[3] at 9 p.m. My husband gets there and I don't know, he doesn't believe his eyes. He says this is not my son. I searched all the hospitals, all the morgues, I even went all the way to Goris. We found his photo in Goris with a code. We checked the morgues all the way to Yerevan. We did a DNA test three times. They said there's a foot, come and take that foot. I didn't agree with the DNA result. And three times, the DNA test said that it was his foot. But my son's body exists, how could I take a foot? The last day they told us the DNA test was wrong.
I went to the military police. I said, I am a woman and have been asking for my son's body for 20 days. You have turned me into stone. For 20 days, my husband and I have not eaten, have not drank water, have not slept. I would go to the morgue three times a day to see who they had just brought in, so that I could find my child. It was on November 12, I was at the morgue on Heratsi again. I called and asked, boys, were there any marks on Khoren's body? They tell me that when they pulled Khoren from the foxhole, his foot was broken. They tried to put the bone back in, but it came apart. There's a wound on the top of his right foot. They show me; there's a wound on the same spot. He had a small tattoo of a cross on his arm. He was upset that one of the arms of the cross was crooked. My husband went and took a photo with his phone. He brought it back. It was Khoren's cross.
My husband had been mistaken the first time. He had said that it was not Khoren. But it was, he was unrecognizable.
We have seen a lot of terrible things. More than the mothers, the fathers had gone searching. Everything that I have lived through has been a horror. Those were our children they collected and sent back. If I have been horrified by what I have seen, then what about those children-soldiers who had to pick up the bodies and place them in bags and send them…can you imagine what they have seen?
Pain
They gave us Khoren on the 13th and we buried him in the Sovetashen[4] cemetery on the 15th.
Now I go and visit him alone or I shut myself inside and simply look at his photos and cry. I don't do this in front of my husband. I don't do this in front of my other children. It's true, I consider myself half a human, but I don't want my two other children to remain in this pain. Let them live their lives so that they have stories to tell their own children.
I don't want people to know that I am the mother of a hero so that no one feels sorry for me. I am a person, I don't want to show anyone else my pain. My pain is mine. He fought for his fatherland, it was war, it was destiny. That's all.
I don't know, we continue to live.
Recovery
I have gone to psychologists who have helped me. I went for about three months. In group sessions, we were able to overcome by helping one another, by giving each other hope. I think the group therapy helped me more; other mothers would say the same.
Later, that center decided that they should choose mothers who, one might say, are strong, who can judge more clearly. They chose 13 mothers. Now, the 13 of us have been selected to volunteer…and we have become a large support group.
When they call and tell me that in a particular region, there is a problem, I go there on my own, arrive and help. I think that perhaps any one word can help them—the parents—out of their terrible condition. Experience has shown this to be true. I have told all the mothers that regardless of the day or time, if they are sad, if they need me, I will speak with them. If a mother calls me, I cannot not answer. Therefore, they need me.
Villages
We invite mothers from the villages also. Whoever can, comes. When we went to Stepanavan, we went to City Hall and got the information of the parents and invited them. In the beginning, to be honest, they were in very bad shape, but later they approached us and began talking. They were no longer crying. They started laughing and said, "We want you to come often. It's as though we've isolated ourselves in our homes.
We now have an organization called Haverzh [Eternal]. It's a large army of 300 mothers. We visit each other. Two days ago we went to Kirovakan. They are very conservative in the villages. During a meeting with 30 parents in the auditorium of the municipality, you look out and all you see are women dressed in black with black headscarves. These gatherings help them come out of this situation.
Meanwhile, we write to each other in our group chat, we ask who among our mothers is sick, how can we help? This has become our daily routine. We can sit, talk and laugh with our heroic mothers. We understand that laughter in its proper context. Perhaps our relatives will think, why is she laughing? But when we get together with the mothers, that is a private world for us, where we have much in common, starting from the birth of our children.
We might be strangers, but we are at ease with one another. We are not strangers, right now, all the families of the dead are in the same position. I went to Oshakan today and it doesn't matter that I have no connection with the dead child, but today we enter their house like it's our own.
I had surgery on my leg but I consider it my duty to go to the grave of any one of our heroes.
And I am not the only one. Our mothers say that it's as though we have forgotten all of our own relatives, we have become new friends and relatives to each other.
I have come into contact with more than a thousand mothers. They say that their relatives stand by them, support them, but we are comforted only by mothers like ourselves. Naturally, my own mother doesn't understand what I feel, how a soldier's mother feels who has lived through that pain.
I feel such a sense of calm that I can do something good for someone. And I am one of them.
They told us that there are five heroes from Aragatsavan. I went to Aragats village in Aparan with my family. We had decided that we would go on a pilgrimage. This is what I need. I take a taxi. I rent my home but I don't consider it a luxury to pay for the taxi or buy flowers.
These were my Khoren's words: Do something good and move on.
I've seen many heroes in my dreams, but I don't see him. I even saw a hero in my dreams for six days who was giving me the name of another hero from one of the villages of Hoktemberyan, telling me that I should go to his grave. I went and found it. I often see dreams like this.
They were alive. We were proud that we had them and now they are in heaven. And now it is a painful pride, but pride.
The Fight
I am constantly talking with God. I ask him, beg him to tell me for what? I have that question.
For a moment, we lost our faith.
Sometimes when I'm looking at photos of Khoren, I start arguing with him too. I ask him, you knew, why didn't you run? And then I tell myself that's not the kind of person he was. The only fight I have with the Lord is this: I've said, Dear Lord, if you were going to take him, you should've taken him quicker. Why did you make him so old? He looked like an old man in the morgue. Khoren had presented such a good image of the war that I had not felt the fury of it. I did not cry once during the war. I used to say, why are you crying? Just say, Dear Lord, I am giving him to you. But whoever was crying, whoever was saying no, no, their children are here and I gave mine to the Lord. Sometimes I say, Dear Lord, I said I would give him to you, I didn't ask you to take him.
Footnotes:
[1] Artsrun Hovhannisyan was the Defense Ministry's spokesperson who was providing daily updates on the situation on the battlefield.
[2] Ural is a Russian-made general purpose off-road vehicle.
[3] Asya is referring to the morgue located on Heratsi Street in Yerevan.

[4] The old name of the Nubarashen cemetery.