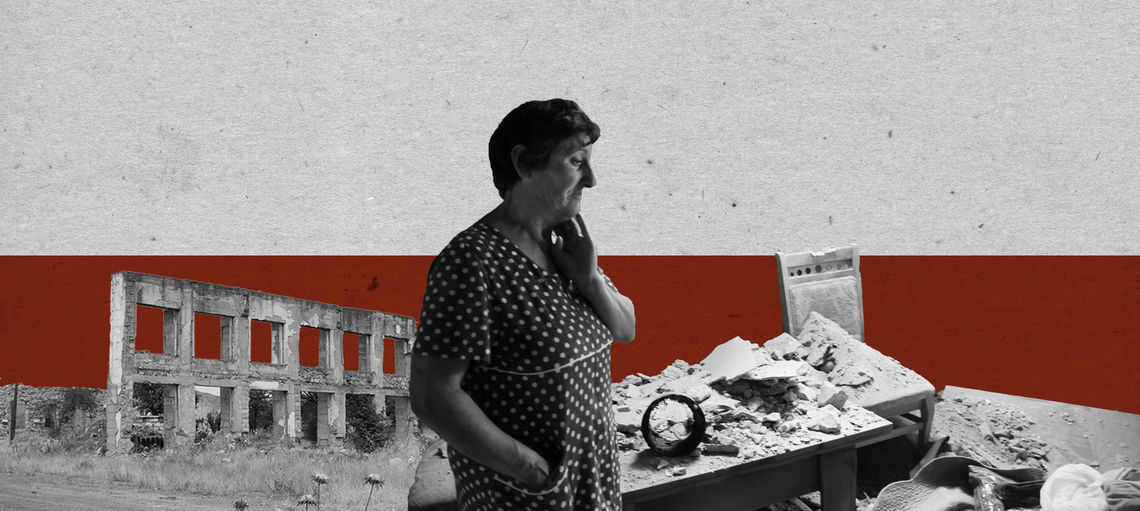 October 9, 2020 was a turning point for the resumed war in Artsakh. Despite several days of attacks against civilians, the Azerbaijani government stooped even lower and attacked Artsakh's main Ghazanchetsots Cathedral in Shushi, where women and children had been seeking refuge. There is no military facility within a radius of at least 2 kilometers from the cathedral. The blast was so powerful that it damaged an apartment building 200 meters from the church. Hours later, Azerbaijan blasted the church a second time, injuring three foreign journalists who were documenting the damage from the first strike. This conduct constitutes a serious breach of the 1954 Hague Convention and its 2nd protocol (to which Azerbaijan is a party), and a war crime.
Although Armenians have grown accustomed to Azerbaijani aggressions since 2016, the scale of the ongoing attacks are unprecedented. Civilian centers, including those in Artsakh's capital Stepanakert, were targeted and the population was rushed to shelters for safety. During the first week of the war, Stepanakert—located far from the frontline—along with several cities and villages in Artsakh, became the target of Azerbaijani aggression. Moreover, Azerbaijan used Polonez and Smerch rockets against the civilian population of Stepanakert, Shushi, Martuni, Martakert, Hadrut…
The war is unprecedented in scale due to the joint collaboration of Azerbaijan and Turkey. Together the two nations targeted towns and villages that had not been impacted by prior border clashes. Drones were shot down over Armenia's Gegharkunik and Kotayk regions, threatening the territory of the Republic of Armenia. More than 20 civilians including women and children have died due Azerbaijani attacks far from the frontlines.
Furthermore, this military aggression was launched and continues amidst a global pandemic, ignoring the UN Secretary-General's call for a global ceasefire. Armenia is among 170 countries that endorsed the UN ceasefire appeal during the COVID crisis. Azerbaijan refused to join this initiative.
Azerbaijan is severely breaching international humanitarian law which clearly prohibits attacks against civilians and civilian objects and requires distinguishing between civilian and military objectives. Azerbaijan has been clearly targeting civilians across the frontlines and also using rapid artillery fire systems and other indiscriminate weapons to attack peaceful settlements. These are grave breaches of humanitarian law and war crimes. According to international law, it is prohibited to use methods or means of combat which are not capable of ensuring such distinction. This means Azerbaijan is violating the international humanitarian law prohibition against using weapons that are incapable of distinguishing between civilian and military targets. This prohibition is not only codified in Additional Protocol I to the 1949 Geneva Convention (and additionally included in the legislation of non-member states, such as the U.S. and Israel). Conveniently, Azerbaijan has not signed and ratified the Additional Protocol I. However, this does not relieve Azerbaijan from the obligation to respect the principle of distinguishing between civilian and military targets. This rule has been recognized by the International Court of Justice as a foundational principle of international humanitarian law. This principle derives from elementary considerations of humanity and dictates of public conscience, which are binding on all states in every situation of armed conflict.
It's not a surprise that the Armenian government has submitted an application to the European Court of Human Rights (ECtHR) to impose interim measures against Azerbaijan for violating the European Convention of Human Rights (ECHR) by targeting civilians and civilian settlements. Though the ECtHR has accepted the Armenian application regarding interim measures, Azerbaijan has not complied with the judgment. Moreover, the Armenian government submitted a request with the ECtHR on applying interim measures against Turkey for its blatant assistance to Azerbaijan in its attacks against the civilian population and objects of the Republic of Artsakh and the Republic of Armenia. This gross violation of international humanitarian law and the European Convention on Human Rights led the Government of the Republic of Armenia to submit a request with the European Court on applying interim measures envisaged by Rule 39 of the Rules of Court against Turkey.
Azerbaijan is systematically deploying its artillery and other weaponry from its own villages and towns; by conducting attacks from this vicinity, Azerbaijan is purposely deploying artillery in the immediate proximity of civilians. In doing so, it's using its own population as human shields, which is a grave breach of humanitarian law (IV Geneva Convention, Article 28) and a war crime (as recognized by the International Criminal Tribunal for the Former Yugoslavia). The Armenian side contends that responsibility lies squarely on Azerbaijan's shoulders.
After several warnings to the Azerbaijani side not to target the civilian population of Artsakh, the President of the Republic of Artsakh, Arayik Harutyunyan, announced that the Artsakh Defense Army must undertake critical measures. "Military facilities permanently located in major cities of Azerbaijan are now targets of the Defense Army. I call on the people of Azerbaijan to leave these cities as soon as possible to avoid possible losses.Total responsibility for this lies with the military-political leadership of Azerbaijan." Thus, even with the targeting of military objects of Azerbaijan, the President of Artsakh, according to international law, demonstrated goodwill to take a short break from the war to allow the civilian population a chance to be safely evacuated from the city.
Throughout its reign, the Aliyev dynasty adopted Armenophobia as a national policy. It is not a surprise that right after Azerbaijan's attacks against Armenia's Tavush region in July 2020, protests erupted in Baku, where approximately 30,000 people came out onto the streets demanding war with Armenia, and challenging the government to take a harder approach toward the conflict.
The direct and implicit involvement of Turkey in the war led to its unprecedented severity. Turkish-backed Syrian mercenaries are fighting with Azerbaijan. Turkey has recruited and transported Syrian rebels to Azerbaijan to take part in the attack against Artsakh. Furthermore, during the July clashes, Azerbaijan threatened to bomb Armenia's nuclear power plant.
Moreover, an Armenian SU-25 plane was attacked by the Turkish Armed Forces while in Armenia's airspace. Turkey is breaching international law; the nation state is responsible for knowingly aiding and abetting another state in the commission of unlawful acts (including by providing military support in the commission of such act via personnel or essential weaponry), and for committing unlawful acts of another state which it directs and controls. It is now well established that Turkey is providing advanced weaponry used in the conflict, supplying jihadist fighters to Azerbaijan, and effectively planning and controlling the whole air attack against Armenia and Artsakh.
Thus, Turkey in collaboration with Azerbaijan is responsible for these grave breaches of humanitarian law and war crimes. The international tribunal should not turn a blind eye to the situation and instead should enforce both countries to act according to international humanitarian law.

The inclusion of the term genocide is not being loosely thrown around. As the war rages on, the potential for genocide against ethnic Armenians in Artsakh is very real and highly probable, writes Suren Manukyan.
Read more