There have been growing calls for the postponement of the March 31 Artsakh election due to the global COVID-19 outbreak but official communications suggest there are no plans to take such a step.
On March 23, the Revolutionary Party of Artsakh,[1] led by Artur Osipyan, began a demonstration calling for the vote to be postponed, and also that President Bako Sahakyan tender his resignation.
The only legal way for the election to be postponed is if President Sahakyan declares a state of emergency, which is not then overruled by a majority in parliament. The Osipyan-aligned Artsakh1.am media outlet suggests that such a state of emergency is already in play, just without the official declaration. Schools have been closed, the border has been shut and church services are taking place without their congregations as precautions taken against the potential spread of coronavirus in the de facto republic. Although Artsakh still has zero confirmed cases of COVID-19, campaigns have canceled their in-person public events in these last days and most had previously only been meeting with voters in smaller groups outdoors.
Beginning on March 16, 2020, the Central Electoral Commission (CEC) had announced a number of mitigation measures for the campaign, including moving meetings and training sessions online, providing poll workers with masks and hand sanitizer, disinfecting polling places, giving each voter their own pen, and posting public health notices. None of the mentioned measures would prevent eligible electors displaying flu symptoms from entering the polling place. The CEC itself has no authority to make a decision about postponing the date of the election.
If President Sahakyan were to announce a state of emergency, members of the National Assembly would have the opportunity to immediately lift it with a majority vote. On March 26, Sahakyan met with representatives of the Free Motherland Party (FMP), Democratic Party of Artsakh (DPA) and Armenian Revolutionary Federation (ARF) to discuss the matter. Together, these three parties hold 28 of the 33 seats in the National Assembly and generally support Sahakyan's non-partisan administration.
Coming out of the meeting, the ARF's presidential candidate Davit Ishkhanyan said to an Artsakhpress reporter, "We don't currently have the preconditions necessary to impose a state of emergency. Of course, we have considered all the options and I think that those trying to influence the information sphere and drive the population to panic are unfounded. As political representatives, each one of us clearly understands our responsibilities. There needs to be dialog between political parties, the authorities and citizens. All the facts presented at our meeting were encouraging. We are confident that the administration will create the appropriate conditions for holding national elections."
The DPA's presidential candidate and current Speaker of the National Assembly Ashot Ghoulyan was not as quick to dismiss the possibility of a state of emergency declaration. He said the parties present at the meeting voluntarily agreed to cancel in-person campaign stops and move their messaging to mass media for the final days of the campaign. He noted, however, "We have every legislative option available to us to provide greater protection to the population."
MP Artur Tovmasyan, Free Motherland Party Caucus Leader, added "We made the right decision to go ahead with the March 31 election. If the situation changes, we will immediately reconvene to make the appropriate decision." His party's presidential candidate Arayik Harutyunyan, seen as the frontrunner in the race, agrees. In an interview with Azatutyun, he pointed out that the global situation with respect to COVID-19 is only getting worse by the day and it is not clear when it will be resolved.
Delaying could also lead to a constitutional crisis in that President Sahakyan is already three years past his two-term limit under a transitional arrangement that was supposed to last from 2017-2020.[2] Declaring a state of emergency that would effectively extend his mandate further could undermine the legitimacy of the government and lead to civil unrest at a time when stability is more important than ever. The Revolutionary Party of Artsakh is already spearheading demonstrations calling for his ouster, while simultaneously demanding a postponement (which can only be done by giving the current government unprecedented powers). Ruslan Israyelyan, an MP who left the FMP Caucus to create the Independence Generation Party with his son, also called for a state of emergency to be called and the election to be postponed. His statement ended by saying "If the authorities decide to go ahead with the election at any cost, it would cast the legitimacy of the election into doubt." On March 26, in a Facebook post announcement, presidential candidate and current Minister of Foreign Affairs Masis Mayilyan said that he would "understand and accept any decision to postpone the election."
If a state of emergency were to be called, the election would take place 50-65 days after it is lifted. Even if Artsakh were able to entirely forego the global pandemic, there are no credible predictions for how long it may take until the situation in Armenia and around the world returns to normal.
The issue of observers in this context is particularly salient. The CEC boasted that a record number of election observers had been registered to monitor the election. The chairwoman of the CEC, Srbuhi Arzumanyan, conceded however that, although 140 international observers from 38 countries had been registered, many had signed up a month ago and may no longer be able to participate given restrictions on foreigners entering Armenia, which is the only route to get to Artsakh. The number of observers registered from both Artsakh and Armenia also numbers in the hundreds as many civil society organizations have recently deepened their involvement in Artsakh's democratic processes (which recently led to a 10% increase in Artsakh's Freedom in the World score, as ranked by Freedom House). Although Artsakh's border with Armenia is closed to non-essential travel, observers will be granted an exception provided they first test negative for COVID-19. Armenia registered its first death from coronavirus on March 26 and the geography of cases has expanded to new regions, including military outposts. Given the virus' long incubation period, if the right measures are not followed meticulously, an unsuspecting observer could become the very vector that brings the illness into Artsakh, potentially spreading it to other observers and the population at large as they congregate en route and at the polling station. If that were to happen, the number of cases would begin to explode 14 days later (the typical incubation period), exactly when the runoff round for the presidential election is scheduled to take place on April 14.
In a damned-if-you-do damned-if-you-don't conundrum, the results of the election could be questioned by some of the losing parties if observers are banned from participating. Without independent observers fanning out, providing round-the-clock oversight at most of the 280 polling stations, election officials could be left vulnerable to baseless allegations of impropriety, and also conversely, actual violations could become too tempting and proceed unrecorded.
For their part, the two largest observation missions have expressed their preference for the election to be postponed. Sona Ayvazyan, Executive Director of Transparency International Anticorruption Center (TIAC), in an interview with CivilNet, spoke about how they needed to restructure their mission and that "under these conditions, it is not possible to conduct a normal electoral process." Daniel Ioannisyan, founder of the Union of Informed Citizens NGO, said that postponing would "not only solve voters' hesitancy to go to the polls but also the candidates would be able to hold mass campaign gatherings." Nevertheless, they are preparing to see the observation missions through by arranging for each observer to be tested prior to departure, disinfecting the buses, foregoing stops along the way, and providing plenty of masks and hand sanitizer.
TIAC already released a preliminary observation report covering the campaign period. The city of Martuni and its mayor were singled out for various acts of favoritism toward the Free Motherland Party, including the placement of signs and an incident where the Revolutionary Party of Artsakh was impeded from holding a campaign event. Remediation will be pursued through legal channels.
In a more positive development, the capital city of Stepanakert announced that all of its polling stations have had ramps installed to make them wheelchair accessible. In the September 2019 municipal election, a special accommodation was in place to allow wheelchair-bound voters that could not enter the polling place to fill out their ballot outside.
On March 23, UN Secretary-General Antonio Guterres had called for a global ceasefire to allow the focus of resources on fighting COVID-19. Artsakh's Ministry of Foreign Affairs affirmed its commitment to abide by the directive across the Line of Contact with Azerbaijan. The OSCE had suspended its monitoring activities on March 18 as it withdrew its staff before travel restrictions began to tighten.
In the aftermath of the glut in oil supply in late 2014, instigated by Saudi Arabia, Azerbaijan's manat currency lost almost half its value over the course of a year. The 2016 Four Day April War took place shortly afterward as Azerbaijan's President Ilham Aliyev sought to redirect the population's frustrations. Now that Saudi Arabia and Russia have once again flooded the global oil market and crashed prices, further economic disruptions can be expected in Azerbaijan. It is a crucial time for Artsakh's military to be physically fit and for its government to be stable, lest we witness a repeat of that adventurism.
Parliamentary elections have been postponed around the world, including North Macedonia, Serbia, Sri Lanka and Switzerland. Notably, Armenia's referendum on dismissing seven of the nine Constitutional Court judges, originally scheduled for April 5, has been postponed due to the declaration of a state of emergency, as well as Russia's referendum on eliminating presidential term limits, originally scheduled for April 22. Famously, the U.S. state of Ohio called off its Democratic primary election just hours before polls were set to open on March 16. France resisted calls to postpone its March 15 municipal elections but then postponed the March 22 runoff round as cases in that country began to grow exponentially. Abkhazia, another unrecognized state with zero COVID-19 cases, went ahead with its presidential election on March 22.
It could get tricky handling a break in the campaign period. One would not expect campaigns to take down their posters and billboards if a state of emergency is called, only to put them back up again once it is lifted. Preliminary campaign expenditure reports, for the period up to March 25, have already been submitted and published. They are summarized below. All figures are in AMD (498 AMD = 1 USD).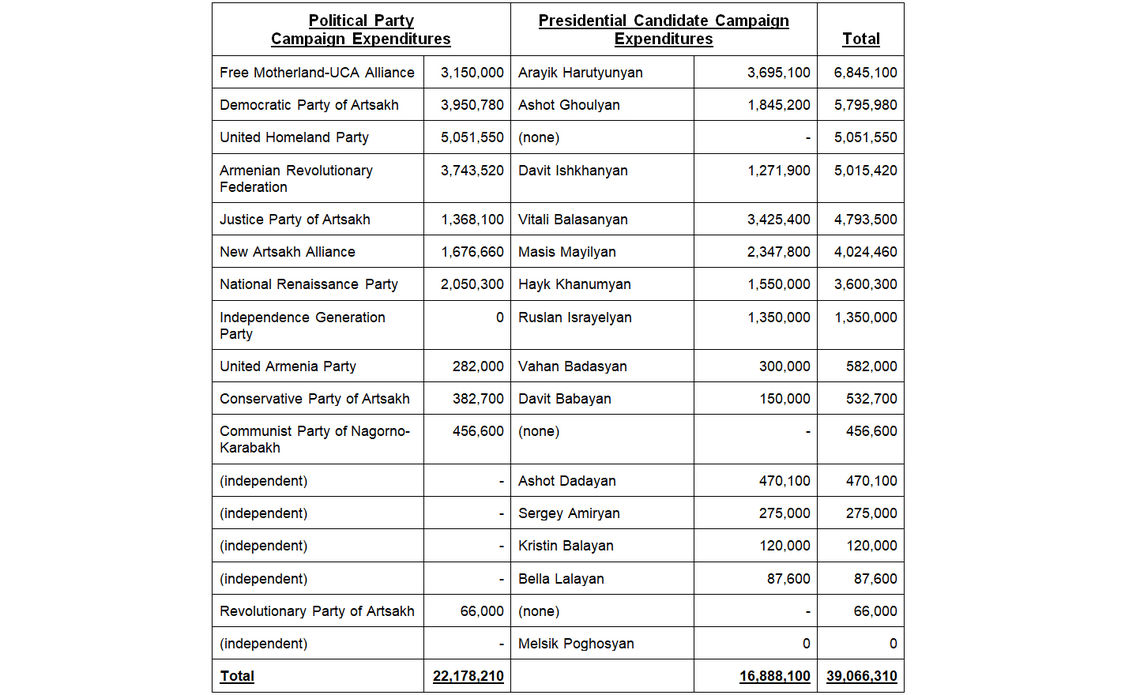 For more background on the election and the candidates, read our primer published earlier.
————————
1- This party was founded in December 2019 and has no connection to the Armenian Revolutionary Federation.