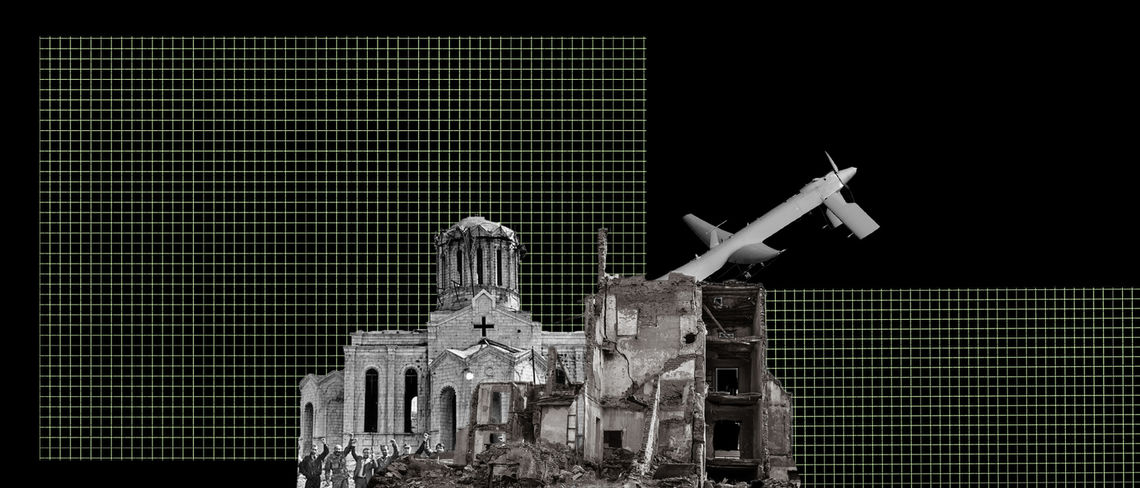 On the morning of September 27, 2020, Azerbaijan launched indiscriminate military air and artillery attacks along the entire length of the Line of Contact with Artsakh. Their targets included civilian infrastructure (hospitals and schools), especially in the capital of Stepanakert. Azerbaijan has used several large-caliber rocket launching systems, such as "Smerch," "Kasirga," "Polonez," as well as the "TOS-1" heavy artillery system, in addition to military helicopters, UAVs and aircraft, based on information from Armenia's Defense Ministry. Moreover, as Amnesty International attests, Azerbaijan also used cluster bombs, banned under a 2008 international convention (which neither Azerbaijan nor Armenia have signed on to). In Artsakh alone, 20 civilians have already been killed and 80 have been wounded, including local and international journalists.
On the third day of its aggression against Artsakh, Azerbaijani armed forces attacked the civilian-military infrastructure in Armenia's Vardenis region, including targeting the civilian population, resulting in one civilian death. On the other hand, Armenia's Defense Ministry spokesperson reported (and reiterated on October 4) that "no rockets have been fired from Armenia to Azerbaijan yet, despite the fact that for several days Azerbaijani UAVs and artillery of various calibers have been targeting the settlements around the [Armenian] town of Vardenis." On October 4, Azerbaijan bombarded Stepanakert, and other cities, with an intensity not seen since the first Karabakh War in the early 1990s. In response, the President of Artsakh, Arayik Harutyunyan, admitted he ordered a strike on the military airport in Ganja, Azerbaijan's second-largest city, from where air attacks were being launched. Shelling on Stepanakert and other cities has continued, even after the strike against Ganja concluded.
After the 1994 trilateral – Armenia, Artsakh, Azerbaijan – armistice, there have been many escalations along the Line of Contact between Artsakh and Azerbaijan. The most intensive one took place in April 2016, and became known as the Four Day April War (though some raise fair questions whether it was war in classical terms). The year 2020 has already witnessed two unprecedented events over the Karabakh conflict. First, the month of July registered the most intense military operations between Armenia and Azerbaijan along the internationally recognized border of Armenia since the 1994 truce. Second, in late September, large-scale hostilities, not seen since the 1994 ceasefire agreement, began between Azerbaijan and Artsakh, thus laying the ground to be called the 'Second Karabakh War' or the '2020 Artsakh War. Though, in a sense, the war has never ended. Martial law has been declared both in Armenia, Artsakh and some regions of Azerbaijan, which is also unprecedented since the 1994 ceasefire agreement.
Though it can be debated whether the 2016 escalation was a war in the traditional sense, there is no doubting that the 2020 attack started a real war, and had a real instigator. Though both sides have traded accusations that the other side started it, here are several facts and the context which show that it was Azerbaijan who started the war.
● It is Azerbaijan that lost territories during the first Karabakh War.

● It is Azerbaijan's President Ilham Aliyev who, for years, has been claiming that if Armenians do not withdraw their armed forces he will force them to do so.

● It is Azerbaijan's President, who declared that the ongoing negotiations are "meaningless" and that there is a military solution to the conflict.

● It is Azerbaijan that has been rejecting the 2016 Vienna and Saint Petersburg summits' proposals by the OSCE Minsk Group Co-Chairs to introduce gunfire locators that would positively identify which side began any ceasefire violation and the strengthened ceasefire monitoring.

● In late September 2020, a few days before the hostilities, Aliyev rejected the request of the Personal Representative of the OSCE Chairperson-in-Office to monitor the Line of Contact.

● It was Aliyev who, back in 2015, claimed that international law does not work and international agreements have no value. Recall that Azerbaijan is a member of the OSCE which has adopted the Helsinki Final Act. One of the ten principles of the document is the "Peaceful settlement of disputes," which is not being adhered to by Azerbaijan, along with another important principle of the document: "Refraining from the threat or use of force."

● It is Azerbaijani authorities that, during the July 2020 escalation between Armenia and Azerbaijan, threatened to strike Armenia's Metsamor nuclear power plant. Although they walked the statement back, it is an example of their aggressive and bellicose rhetoric.

● During a recent interview with Al Jazeera, Aliyev complained that Armenia had refused to give back territories during negotiations. Considering Aliyev's years-long rhetoric that the conflict has a military solution and negotiations are fruitless, it is not baseless to assume that he initiated the war. Furthermore, he did not adequately answer the journalist's question of why Armenia needs to start a war against Azerbaijan, insisting that Armenia wanted to destroy negotiations. One can raise a fair question: Why does Armenia need to end the negotiation process? To start a war? Considering Armenians' capabilities (described below), it is too risky and senseless.

● Some long-standing and independent experts on the Karabakh conflict, Thomas de Waal among them, also contend that Armenia does not have an incentive to start a war. Instead, it is Azerbaijan that is interested in attacking Artsakh.

● The Secretary General of the Organization for American States (OAS) Luis Almagro stated that they have closely followed the unilateral arms race of Azerbaijan and "that escalation was undoubtedly the preparation for this armed aggression against Nagorno Karabakh. There is clear evidence of Azerbaijan's full responsibility regarding the escalation of the conflict."

● Emmanuel Macron, the President of France, one of the Minsk Group Co-Chair countries, stated that the latest confrontation was launched by Azerbaijan and that the attack was not justified. The former President of France, Francois Hollande, mentioned that this is a war initiated by Azerbaijan with Turkey's support. Based on some objective realities, Argentina's foreign minister, in turn, claimed that Armenia is not an aggressor.

● Last but not least, some key statistics, above all demographic and financial, tell a lot. Artsakh and Armenia are both small countries (though the former is unrecognized) with populations of 145,000 and 2.9 million respectively. Meanwhile, Azerbaijan has a population of about 10 million people. Armenia's annual GDP is about $13 billion, whereas Azerbaijan's is more than $45 billion. In total, Armenia's military spending between 2009 and 2018 was about $4 billion, whereas Azerbaijan spent about $24 billion, according to the Stockholm International Peace Research Institute.
The fact that 13 days have already passed since the hostilities resumed and Azerbaijani authorities have not yet reported on their military losses (above all personnel) raises some questions. On the other hand, the Armenian side (Artsakh and Armenia) consistently report their losses, as well as provide some information about their estimates of Azerbaijani losses. Thus, according to the Armenian Unified Infocenter, after 13 days of intense military operations, the Armenian side has lost about 360 soldiers, while Azerbaijan lost more than 4050 combatants, not to mention substantial military equipment.
Importantly, Turkey has been actively involved in this war. An Armenian SU-25 jet fighter was shot down by a Turkish F-16 over Armenian air space, though Turkish authorities continue to deny that Ankara is involved in the war. Furthermore, international media outlets (The Guardian, Reuters, BBC, Novaya Gazeta, Foreign Policy) have reported that Turkey has deployed terrorist fighters from Syria to help Azerbaijan, while the Syrian Observatory for Human Rights information office reported that the death toll of the Turkish-backed mercenaries has reached 72. The deployment of terrorists has already been condemned by such countries as Russia, Iran and France. The latter also claimed that it has accurate intelligence information about the Syrian militants transferred to Azerbaijan via Turkey.
In the meantime, Turkey provides full political and propaganda support to Azerbaijan at the highest level of its leadership. All this is not surprising since Turkey is interested in both Artsakh and Armenia for two broad reasons: increasing its influence in the South Caucasus region and contributing to its Pan-Turkic agenda. The sad reality is that Azerbaijan denies the numerous calls by the international community – both states and individuals – to cease hostilities.

These powerful images capture fragments of life in Artsakh, a place that is boundlessly resilient yet has too often become a home to war.
Read more