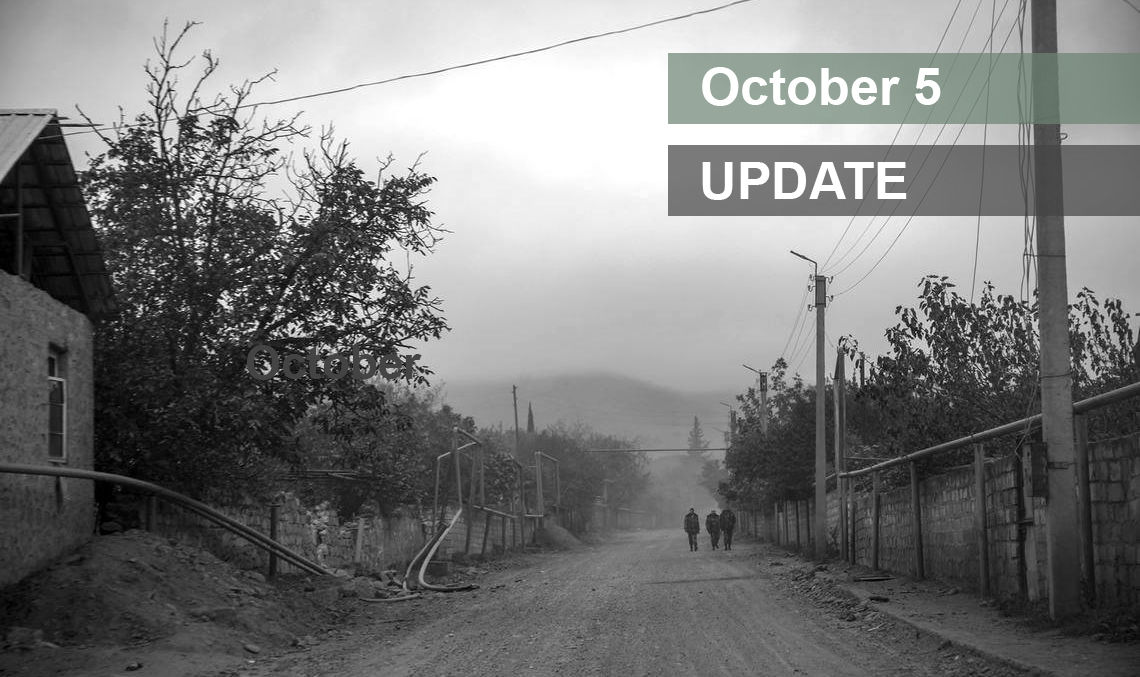 As Azerbaijani armed forces try to advance along the north and south portions of the Artsakh-Azerbaijan Line of Contact, the capital Stepanakert is being heavily bombarded by drones, missile strikes and military aircraft. Azerbaijan is hitting vital infrastructure, targeting residential neighborhoods, killing and wounding civilians in an effort to bring the city to its knees. While residents of Stepanakert shelter in bunkers, a humanitarian crisis is unfolding.
Here is a full chronology of military operations and official updates.
Battles Continue Along the Line of Contact
8:30 a.m.: According to Shushan Stepanyan, Ministry of Defense (MoD) spokesperson, battles of varying intensity continue to rage along the entire length of the Artsakh-Azerbaijan Line of Contact.
9:20 a.m.: According to the Defense Army, overnight, the situation on the Artsakh-Azerbaijani Line of Contact was relatively intense but stable: "The adversary is getting ready to carry out offensive operations. The Defense Army is closely following all movements of the enemy and is ready to carry out its combat task at the highest level."
10:20 a.m.: According to Shushan Stepanyan, MoD spokesperson, the capital Stepanakert is once again under heavy missile strikes.
10:38 a.m.: According to Shushan Stepanyan, MoD spokesperson: The adversary has resumed offensive operations in the southern direction of the Artsakh front. Intense battles continue. Defense Army units are counter-attacking the enemy forces.
10:40 a.m.: According to Vahram Poghosyan, the spokesperson of the Artsakh President, the adversary is again striking the capital Stepanakert and Shushi. The response of the Defense Army will not be far behind, he said, adding, "But unlike the terrorist leadership of Baku, we do not target the civilian population, only military objects that are permanently located in large cities. We again urge the [Azerbaijani] population to leave their homes to avoid possible casualties."
Live Press Briefing: Artsrun Hovhannisyan/MoD and Haykak Arshamyan/Hayastan All-Armenia Fund
11 a.m.: During a press briefing, Artsrun Hovhannisyan of the Ministry of Defense said that the Azerbaijani side launched a large-scale offensive along the southern portion of the Azerbaijan-Artsakh Line of Contact this morning. While intense battles continue, Azerbaijani forces are being pushed back. At the same time, Azerbaijan has started striking the capital Stepanakert. At the moment there is no information about casualties, it is being clarified, he said adding that although relative calm was maintained on the battlefield overnight, the situation intensified in the morning.
Hovhannisyan noted that Azerbaijan has been spreading disinformation that missile attacks are being launched from Armenia to strategic locations in Azerbaijan. The video released by Azerbaijan does not prove anything, he said. "It is not even possible to determine when or where the video was taken."
Haykak Arshamyan, Director of the Hayastan All-Armenia Fund expressed his gratitude to Armenians all over the world for their immense contribution to Armenia and Artsakh through the Fund. Arshamyan noted that it has become an pan-Armenian, global movement because people from all over the diaspora, from communities big and small are participating in the effort. He noted that people are donating money through the All-Armenia Fund and other funds from all over the world and their phones are ringing non-stop. Arshamyan also expressed his gratitude to the Armenian Church, AGBU, political and social organizations in the diaspora and the many donors. He stressed that Armenia and Artsakh need to be strengthened to succeed on the front line. He informed that Edil Hovnanian, head of the Hovnanian Foundation donated $3 million, the Manoogian Simone Foundation donated $3 million, Al Yesaiian and friends in LA raised $1 million. He went on to say that AGBU said that they will try to raise up to $5 million for Artsakh and whatever is raised, they will double it and donate $1 million to the Fund.
Artsakh President: The Defense Army is in a Life and Death Struggle for Every Centimeter of Land 
1:20 p.m.: President of Artsakh Arayik Harutyunyan addressed the nation in a statement:
"Dear compatriots,
"Early in the morning I was in the southern part of the frontline. I was briefed on the situation on the ground, discussed our further actions. The spirit of the boys and their confidence in our victory is infectious.
"The Defense Army is in a life and death struggle for every centimeter of land, not only in that direction, but along the entire Line of Contact. Our efforts to defeat the enemy will undoubtedly end with success.
"Glory to the Armenian Nation."
Number of Servicemen Killed in Action Continues to Rise
1:50 p.m.: The Defense Ministry of Artsakh released the names of another 21 servicemen killed in action, bringing the total number to 229.
Burnusuzyan Valentini [Shavarshi], b. 1985
Matevosyan, Edgar [Arturi], b. 1984
Vanesyan, Garik [Mishayi], b. 1975
Davidyan, Arthur [Borisi], b. 1989
Torosyan, Hovhannes [Yura], b. 2002
Karapetyan, Armen [Ediki], b. 2001
Petrosyan, Edik [Levoni], b. 2001
Malkhasyan, Rudik [Arkadii], b. 1976
Osipyan, Alexander [Vladislavi], b. 1985
Dashtoyan, Liparit [Ashoti], b. 1997
Hovhannisyan, Sasun [Samveli], b. 1977
Hanyan, Nubar [Andraniki], b. 1998
Martirosyan, Gevorg [Karoyi], b.1996
Harutyunyan, Artavazd [Vardani], b. 1997
Harutyunyan, Manvel [Sureni], b. 1991
Poghosyan, Gevorg [Hoviki], b. 1997
Sargsyan, Pyotr [Varazdati], b. 1990
Hovsepyan, Erik [Vileni], b. 2001
Yeghiazaryan, Hayk [Artiki], b. 2000
Martirosyan, Emil [Sureni], b. 2001
Sargsyan, Sargis [Armeni], b. 2001
2:30 p.m.: Vahram Poghosyan, the Spokesperson of Artsakh's President announced that the Armenian side has launched counter-attacks "which have successfully destroyed the intended targets."
3:55 p.m.: Artsrun Hovhannisyan of Armenia's Defense Ministry, said that there are many unexploded ordnances in the cities of Artsakh, especially in the capital Stepanakert. He urged citizens to exercise caution and avoid coming into contact with them.
Armenia's Ombudsman: Azerbaijani Military Directly Targeting Civilian Infrastructures, Including Schools
3:20 p.m.: Armenia's Ombudsman, Arman Tatoyan said that since early this morning Azerbaijani military is directly targeting schools and kindergartens, residential buildings and other civilian infrastructure in Stepanakert, a densely populated civilian capital city.
Cluster munitions are repeatedly being used to attack the peaceful population by terror-inspiring means. Many casualties, widespread destruction.
4:45 p.m.: French Foreign Affairs Minister Jean-Yves Le Drian tweeted that France has mobilized all its efforts to achieve a ceasefire in Nagorno Karabakh [Artsakh], as well as re-start negotiations. He added that together with Russian Foreign Minister they have agreed to take immediate steps.
PM Nikol Pashinyan: A Battle of Life and Death
5 p.m.: In a Facebook live, Armenia's Prime Minister Nikol Pashinyan addressed the nation, calling on recently demobilized soldiers to re-enlist. The following is an unofficial translation of his message:
"When I last spoke about the situation on the Line of Contact, I said that in certain directions the battles are intense, in others the Artsakh Defense Army is in control of the situation. I do not want to hide anything from you. In this live address, I want to call upon the soldiers who were demobilized from the Armed Forces during the past year.
"As you know, martial law has been declared in Armenia and now there is a call for general mobilization. According to our legislation, those who have finished their mandatory military service this past year will not be called up in the general mobilization of forces. The issue is that the boys that have completed their mandatory service and were demobilized over the course of the past year are the most combat ready resource. Boys, the homeland needs your help. I have already said that this is a new Sardarapat, this is not just a Karabakh issue, this is a continuation of a genocidal policy against the Armenians and we should protect our people from genocide. If we don't all take a stand, we will be subjected to genocide. But today the Armenian is not a traveler on the road to Der Zor. And the citizens of Armenia should be able to protect themselves.
"I have come to the conclusion that the most combat-ready segment of our society are the boys who were demobilized during the last year. I want to call upon all demobilized soldiers to present themselves to the central enlistment base starting immediately and enlist in the army to take part in this new Sardarapat. I have already given the relevant orders. Of course, there are security problems because I am speaking to you in a live address and the adversary can have access to this too. The central enlistment base is located in Charbakh. I want to be honest and tell you that you are not being called to carry out combat duty, you are being called in a struggle of life and death for your homeland.
"Although the soldiers that have been demobilized during the past one year are not included, in accordance with the law, in the general mobilization, I am urging you to register as volunteers. I also urge everyone who has a helmet, body armor and warm clothes to also bring them to the central military enlistment base. I have given all the relevant orders to take all security measures. Details will be provided later. This is a new Sardarapat, we should win and break the back of the adversary by standing next to one another and shoulder to shoulder. There are 10,000 such boys and if at least half of them volunteer to enlist in the army, they will be in some of the most combat-ready positions of our Army. I believe that together we can lead the struggle of life and death and ensure victory for the Republic of Armenia and the Republic of Artsakh. I rely on you.
"I love you all, I am proud of you all, I bow before you all and call upon all of you to present yourselves to the central enlistment base in Yerevan with or without a military uniform."
Defense Army Pulls Back Some Forces on the Line of Contact
5:12 p.m.: Vahram Poghosyan, Spokesperson of the president of Artsakh announced that for tactical reasons only, the Defense Army has pulled back its forces along some parts of the front line in order to avoid further human losses and "to inflict greater damage on enemy troops." In both of these tactical aspects, the achievements are significant, he said adding: "The army command continues to fight professionally, and we will soon see how the disbanded army of the adversary retreats in panic. The decision has already been made, we will not stop."
5:25 p.m.: Artsrun Hovhannisyan of the Ministry of Defense announced that certain movements of troops and manoeuvres are not decisive at this stage in this war. He urged everyone not to fall for the adversary's propaganda.
5:39 p.m.: According to Shushan Stepanyan, MoD spokesperson, one Azerbaijan tank and two infantry fighting vehicles near the southern area of the Line of Contact have been destroyed.
Artsakh's Human Rights Ombudsman Registers Cases of War Crimes
5:40 p.m.: According to Artskah's Ombudsman Artak Beglaryan, 19 civilians have been killed, 80 wounded, over 2700 properties and infrastructure damaged in Artsakh from Azerbaijani war crimes. 
A fact-finding mission launched by Artsakh's Ombudsman investigating crimes committed by the Azerbaijani armed forces against the civilian population of Artsakh between September 27 – October 4, 2020, has been conducted. The results are presented below:
As of October 4, a total of 19 civilians have been killed: one toddler (female), seven women and 11 men. The child, five women and four men were killed in the yard of their houses, the others,in public places of different settlements. Deaths were recorded in Stepanakert (seven people), Martuni (six), Hadrut (one), Martakert (three), in the village of Alashan (one) and in the vicinity of the village of Mets Shen of the Martakert region (one).
A total of about 80 people were wounded, of which 60 received serious injuries; 48 of them are male and 12 are female citizens.
Twenty-four of the wounded were injured in the immediate result of a shell blast at or near their houses (eight of whom were in the backyard of an apartment building); six as a result of targeting and shelling the civilian car while being transported to a relatively safe place; seven as a result of targeting the building of the State Emergency Service, and 23 as a result of targeting other public places.
The injuries mostly involve upper and lower limbs and facial fractures, in the form of shrapnel wounds.
Since September 27, Azerbaijani armed forces have targeted more than 60 civilian settlements in Artsakh. As a result, numerous infrastructure and private property damages have been recorded. In particular, based on preliminary data, more than 2100 privately owned real estate (residential houses, shops, etc.), more than 240 cars, about 350 infrastructure and industrial facilities were seriously damaged.
Today and yesterday Azerbaijan, using heavy missiles, bombarded civilian infrastructure and residential buildings of the capital Stepanakert. As a result, yesterday four were killed and 10 wounded. The information on today's strikes is being clarified.
The data are not final; the Office of the Human Rights Ombudsman continues its fact-finding mission and the results will be updated.
The Ombudsman's office notes that the casualties and injuries were caused by the use of prohibited weapons and methods, and in recent days Azerbaijan has started to use heavy and long-range missiles and aircraft against the civilian population, some of which are cluster munitions.
Moreover, in the last two days, in Stepanakert and in a number of other settlements, the Azerbaijani military has deliberately and intentionally targeted vital infrastructure, which is a serious war crime, deepening the humanitarian crisis in Artsakh.
Civilians killed as of October 4:
1. Lesmonia Stepanyan, 1941, Hadrut
2. Viktoria Gevorgyan, 1961, Martuni
3. Ellada Balayan, 1961, Martuni
4. Erik Grigoryan, 1996, Stepanakert
5. Lyuba Mamunts, 1957, Martakert
6. Larisa Mamunts, 1959, Martakert
7. Hrant Khachatryan, 1955, Martakert
8. Grisha Narinyan, 1992, Martuni
9. Armen Hovsepyan, 1985, Martuni
10. Valerik Dadayan, 1956, Martuni
11. Non-identified, Martuni
12. Non-identified, Alashan
13. Ruzanna Hovhannisyan, date of birth is not defined yet, Stepanakert
14. Hovik Aghajanyan,  date of birth is not defined yet, Stepanakert
15. Unidentified, Stepanakert
16. Suren Mirzoyan, 1962, Stepanakert.
17. Three other bodies are unidentified from Stepanakert.
The Ombudsman's office has also launched a Twitter campaign #DontBeBlind to try and bring global awareness on the unfolding humanitarian crisis in Artsakh.
6:12 p.m.: Artsrun Hovhannysan/MoD announced that intense military operations are taking place, the advance of the enemy is being halted.
8:30 p.m.: Artsrun Hovhannysan/MoD reported that the Artsakh Defense Army, for strategic tactical reasons, created the impression of retreating in one of the more complex sections of the Contact Line. Hovhannysan said the adversary was trapped after it quickly advanced towards the positions that were assumed deserted by Armenian forces. Following an intensive artillery strike, most of the Azerbaijani Unit was destroyed. The adversary fled leaving behind more than 200 casualties.
Live Press Briefing by Artsrun Hovhannisyan/MoD and Arman Tatoyan/Ombudsman of the Republic of Armenia
9 p.m.: Artsrun Hovhannisyan of the Ministry of Defense provided updates on the military situation. 
Presenting the situation on the front line, Artsrun Hovhannisyan said Azerbaijani forces launched a large-scale missile attack on the civilian settlements of Artsakh and noted that they also published video evidence. He said that international media working on the ground are telling the world the reality by risking their lives. The actions by Azerbaijan will be met by an appropriate response by the Defense Army but targeting solely military installations, army units, aiming at military targets only. The accusations voiced by the Azerbaijani military-political leadership against Armenia are disinformation and are based on no factual evidence, he said.
As previously reported, the adversary has once again attempted a large-scale attack on the southern portion [of the Line of Contact], utilizing a large number of forces and armoured vehicles. During the day, the Azerbaijani side presented the operation as a success by posting videos from Armenian positions. Hovhannisyan said that this is another example of framing small and temporary victories as significant advancement. "Through creative and skilled tactical maneuvering, our generals were able to stop the adversary and push Azerbaijani forces back, who left behind around 200 of their dead," said Hovhannisyan.
"At this point I'm still unable to present precise numbers about the adversary's losses as battles continued throughout the day, we will present the numbers during tomorrow's briefing."
Arman Tatoyan: Armenia's Human Rights Defender 
Today is a symbolic day, it is Teacher's Day and I want to express my gratitude to all our educators. Today, with every heroic act of our soldiers, we are reaping the results of the education you have given them.
Unfortunately, today we also have civilian deaths and injuries. My condolences to the families and close ones of all civilians and soldiers who died because of the adversary's aggression and I want to wish a quick recovery to everyone who has been injured. Our mission is clear and focused: it is to disclose the logic of Azerbaijani, and also Turkish actions. This is in direct relation with human rights, with the right to life, to health … and it is extremely important that we register the insidious nature of this policy. The policy of ethnic cleansing has become evident. It is also evident that terroristic methods are being used against civilian populations.
The peaceful civilian population, civilian settlements have been targeted since the first day. This is more than evident. Weapons that have been banned with the aim of protecting civilian populations are being deployed against civilians.
We completed our fact-finding mission in the Gegharkunik Region and published the report today. It is more than clear that UAVs are being used to directly target civilians. In the Gegharkunik region it is clear that they have been used in the late hours of the day when people are at home and most often asleep. Interviews and further fact-finding missions have shown that, especially in the case of Armenia, UAVs are targeting civilian structures where there is an accumulation of people, for example a bus or when several cars are behind each other. This shows that the intention is to cause as big a damage to the civilian population as possible. The situation is the same in Artsakh, where, however, more damage has been caused.
Speaking about banned weapons that have been used, Tatoyan said that starting from September 27, Azerbaijan has used LAR-160 and Smerch multiple rocket launchers, which are banned by international humanitarian law. Evidence of these weapons being used on the territory of Armenia and widely in Artsakh has been gathered and will be forwarded to corresponding international institutions. The criminal intent behind the use of these weapons is especially evident when densely populated cities like the capital Stepanakert or the city of Hadrut are targeted.
There were also targeted attacks on local and international media. Azerbaijan announced that the responsibility for the journalists lies with the Armenia side. In this case, the responsibility cannot lie with Armenia or Artsakh simply because the attacks did not come from either Armenian or Artsakh forces.
The use of mercenaries is more evidence of the criminal intent of Azerbaijan. Their presence has been registered and founded as a fact. International norms state that the deployment of mercenaries is a crime and UN resolutions state that it is a criminal offence. The UN Human Rights conventions especially bans the deployment of mercenaries to hinder the realization of the right to self-determination of nations. Mercenaries in general are a threat to peace, security and human rights.
Another factor here is hate speech, including calls for the extermination of ethnic Armenians. Hate speech has always been present but particularly since September 27, it has become more coordinated and is evident especially on social media where calls for the mass destruction of Armenians are being widely shared. We are evidently talking about a policy of encouraging terroristic methods and ethnic cleansing.
Since we are talking about mass violations of human rights, we are consistently reporting them to human rights organizations and they have an important role to play in the matter. The situation will no longer tolerate calls made to cease such activities during conferences. Concrete action and steps need to be taken here. Calls and statements without calling out the perpetrator will no longer stop this from leading to a humanitarian catastrophe.
Statement by the Ministry of Foreign Affairs of Armenia on the Disinformation Campaign by the Military-Political Leadership of Azerbaijan
The Azerbaijani aggression against Artsakh with the support of Turkey and the involvement of the foreign terrorist fighters has been accompanied by the campaign of fake news and disinformation which goes beyond the limits of common sense.
Having failed to achieve any success in the battlefield, the Azerbaijani side, on one hand speaks about its imaginary gains, and on the other hand spreads fake news on the shelling of the Azerbaijani settlements by Armenia.
The recent disinformation about the alleged strikes from the territory of Armenia to Azerbaijani settlements is case in point.
The aim of this disinformation campaign is to cover up the massive shelling of the large settlements of Nagorno-Karabakh by Azerbaijan since the first day of the war, which resulted in many losses among the civilian population and inflicted serious damage to essential civilian infrastructures.
With the spread of such fake news Azerbaijan also prepares grounds for the continuation of its criminal policy and for the extension of the geography of the war.
Each provocation by the Azerbaijani side will receive an adequate response from the Republic of Armenia.