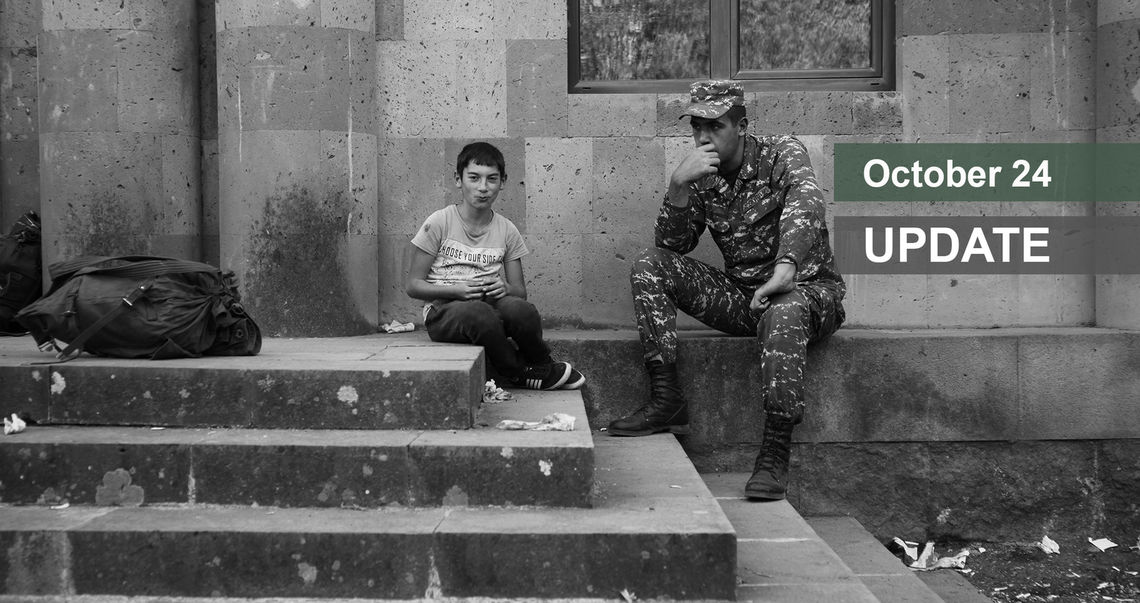 While Azerbaijani forces continue to target peaceful settlements, Artak Beglaryan Artsakh's Ombudsman, during a live press briefing, said that civilians in Artsakh are at high risk. He noted the execution of two Armenians (a mother and her disabled son) in Hadrut and since Azerbaijani units are moving into a number of settlements and pulling back, in the process, there may be similar incidents. Currently there are a number of civilians who are missing and there's a high probability that they may have been subjected to the same fate, he said.
Later this evening, Armenia's Ombudsman Arman Tatoyan said that the social media platforms of Armenian POWs have been hacked by Azerbaijanis and are spreading hatred and texts to incite "public and political animosity both in Armenia and Artsakh, generating tension, panic and anxiety."
Here is a chronology of official updates.
9:35 a.m.: According to Defense Ministry spokesperson Shushan Stepanyan, localized battles are taking place along the entire length of the front. Units of Artsakh's Defense Army are successfully thwarting all offensive operations by Azerbaijani forces and keeping the operative-tactical situation under control.
9:35 a.m.: Artsrun Hovhannisyan of the Defense Ministry wrote: The situation in the Artsakh-Azerbaijan conflict zone was relatively tense but stable overnight. In certain areas there were artillery battles and exchange of gunfire. Grossly violating the humanitarian ceasefire regime, Azerbaijani forces shelled peaceful settlements including the capital Stepanakert.
Artsakh Ombudsman Press Briefing: There Are Missing Civilians
11 a.m.: Artsakh's Ombudsman Artak Beglaryan during a live press briefing said that since September 27, 37 civilians in Artsakh have been killed, 118 wounded. There has been significant physical  damage: approximately 10,500 private dwellings (apartments, homes) have been damaged or destroyed; 1500 units of infrastructure (public buildings, electrical networks, gas pipelines) have been damaged or destroyed including 1500 vehicles. Beglaryan said that they are still trying to document the damage, however, these are only approximate figures as military operations are ongoing.
The Ombudsman said there is a high risk for civilians in Artsakh. He noted the execution of two Armenians (a mother and her disabled son) in Hadrut and since Azerbaijani units are moving into a number of settlements and pulling back, in the process, there may be similar incidents. Beglaryan said that there are a number of civilians who are missing at the moment and there's a high risk that they may have been subjected to the same fate.
Azerbaijani forces continue to shell, using artillery and their air force, many settlements, especially the towns of Martuni and Martakert and their surrounding villages, including a number of settlements around Hadrut. Stepanakert has also been hit hard. Beglaryan noted that last night, using heavy missiles, Azerbaijani forces hit civilian infrastructure, targeted homes, shops and a gas pipeline, which burned into the night. "Yesterday's shelling shows that it was targeted against the civilian population, which is a war crime according to the Geneva convention," Beglaryan said, adding that there were no casualties among the population.
He said that in Martuni and Martakert, it is mostly material damage because people are careful, they understand the risk so they are mostly in bunkers and shelters. Beglaryan also said that over the last few days, photos/images are being intensively shared on social media platforms of beheadings, mutilation of killed soldiers' bodies and noted that these are not fake photos. He also said that humiliating or physically and mentally torturing Armenian POWs to get them to make pro-Azerbaijani statements are war crimes [this was referring to two videos that were released by the Azerbaijani side of Armenian POWs].
Beglaryan said that the international community must not only notice but take action to guarantee the rights of Armenian POWs in Azerbaijan, and ensure that future violations against the bodies of killed soldiers are eliminated. As two humanitarian ceasefires were not adhered to, Beglaryan said that the bodies of Armenian and Azerbaijani soldiers continue to remain on the battlefield. He said that Azerbaijan does not want to start the process because they don't want their people to realize the scale of their dead.
In recent days, Azerbaijani forces have also started targeting and shelling roads and other infrastructure, which Beglaryan said will deepen the humanitarian crisis. He noted that yesterday, Berdzor was targeted and "this shows their intention is to keep the lifeline between Artsakh and Armenia under fire; this is significant from a humanitarian perspective."
Beglaryan also spoke about messages by Azerbaijani authorities that are actively being disseminated about how Armenians and Azerbaijanis can live together in peace under Azerbaijani rule. He said that this is comical because first of all, only the people of Artsakh, with the support of the Armenian nation, will determine the future of Artsakh. And secondly, Azerbaijan's state policy of armenophobia, the hatred they have entrenched in their society makes it abundantly clear that Armenians can never live under Azerbaijani rule. "We see how happy Azerbaijanis are when they see the inhumane treatment of POWs and killed Armenian soldiers," he noted.
The Ombudsman's office is now preparing a second closed report about the inhumane treatment of killed soldiers and an open report about the intentional shelling of the Ghazanchetsots Church in Shushi.
2:10 p.m.: According to Defense Ministry spokesperson Shushan Stepanyan, the prisoner of war captured yesterday while Armenian forces pushed back an Azerbaijani incursion in the south has been successfully operated on. His condition is critical but stable.
2:55 p.m.:  The Artsakh Defense Army has published the names of another 36 Armenian servicemen killed in battle.
Manukyan, Narek [Hrachyayi], b. 2000
Chobanyan, Hovhannes [Mishayi], b. 1997
Tsaturyan, Sargis [Davti], b. 2001
Martirosyan, Zhora [Aliki], b. 2001
Gevorgyan, Edmon [Telmani], b. 2001
Mkrtchyan, Misak [Masisi], b. 1997
Babayan, Vahan [Gagiki], b. 1987
Hayrapetyan, Khachatur [Simoni], b. 1989
Truzyan, Hrach [Avetisi], b. 1998
Tigranyan, Arsen [Leviki], b. 1993
Arshakyan, Hayk [Harutyuni], b. 1992
Tovmasyan, Nahapet [Gharibi], b. 2000
Hakobjanyan, Marat [Martuniki], b. 1982 (reservist)
Azaryan, Areg [Boriki], b. 1988 (reservist)
Hovakimyan, Samson [Mishayi], b. 1992
Hakobjanyan, Tigran [Drastamati], b. 1978
Grigoryan, Vahagn [Artushi], b. 1996
Grigoryan, Vlad [Alberti], b. 1999
Aghayan, Rustam [Vladimiri], b. 1978
Bazunc, Babken [Arseni], b. 1995
Manukyan, Andranik [Armeni], b. 1982
Kochinyan, Davit [Mayisi], b. 1990
Hasratyan, Robert [Garniki], b. 1992
Nikoghosyan, Karen [Ishkhani], b. 1983
Karamyan, Vahe [Arseni], b. 1988
Khachatryan, Artur [Gagiki], b. 1989
Martirosyan, Levon [Sureni], b. 1991
Babayan, Karen [Arayi], b. 1987 (reservist)
Poghosyan, Davit [Armeni], b. 2001
Antonyan, Perj [Grigori], b. 1987 (reservist)
Baghdasaryan, Arkadi [Minasi], b. 1983 (reservist)
Kandalyan, Gevorg [Ashoti], b. 1998 (reservist)
Ghazaryan, Davit [Smbati], b. 1999 (reservist)
Torosyan, Vachagan [Varuzhani], b. 1997 (reservist)
Badasyan, Arman [Mikayeli], b. 1992 (reservist)
Kirakosyan, Gevorg [Manveli], b. 1989 (reservist)
4:30 p.m: According to Artsakh's Ombudsman Artak Beglaryan:
We have received information from several sources that Azerbaijani soldiers, dressed in Armenian military uniforms, are periodically attempting incursions. What does this mean?
They hope to register successes by confusing Armenian soldiers.
They hope, on the one hand, to artificially reduce and conceal the numbers of casualties on their side. On the other hand, pass their casualties off as Armenian when exchanging bodies.
According to an eyewitness soldier, during an incursion in the direction of Madaghis several weeks ago, the Azerbaijani side left behind approximately 40 bodies in Armenian uniforms. Taking into consideration similar occurrences in different locations and at different times, it cannot be ruled out that the number of [Azerbaijani] casualties is significantly higher. It is also possible that the majority of the bodies are of mercenaries since it is unlikely that anyone is looking to claim them.
I'm sure that when the time comes for the exchange of bodies, it will be possible to prove their origin through relevant methodology.
Artsakh Foreign Ministry Statement
The following statement was issued by the Foreign Ministry of Artsakh on the deliberate actions of Azerbaijan and Turkey aimed at disrupting peace initiatives to cease the hostilities
During October 23, the Azerbaijani-Turkish armed forces fired rockets and artillery shells at a number of settlements of the Republic of Artsakh. On the same day, in the evening hours, Artsakh's capital Stepanakert was subjected to an intense missile attack. As a result, damage was caused to civilian infrastructure, and there were casualties among the civilian population. It is noteworthy that the missile attack on Stepanakert was launched immediately after the separate meetings held in Washington, D.C. between U.S. Secretary of State Michael Pompeo and Foreign Ministers of the Republics of Armenia and Azerbaijan with the aim of achieving a truce in the Azerbaijan-Karabakh conflict zone.
The timing and the target of the strike leave no doubt that Azerbaijan is openly and ostentatiously undermining the efforts of international mediators to end the aggression against the Republic of Artsakh. Earlier, the Azerbaijani authorities disrupted the implementation of the agreements on a humanitarian truce reached on October 10 at the initiative of the President of Russia, and on October 17 at the initiative of the President of France.
These consistent and purposeful actions of Azerbaijan, which enjoys the full military and political support of Turkey, indicate that the war is a conscious choice of the Azerbaijani authorities. This very fact does not allow the OSCE Minsk Group Co-Chair countries and the international community as a whole to make progress in their attempts to stop the hostilities and resume the peace settlement process.
The vicious circle created by Azerbaijan, the repeated declarations of empty verbal promises to cease fire and the simultaneous continuation of armed aggression, can be broken through international recognition of the independence of the Republic of Artsakh and the application of sanctions against Azerbaijan, including the individual ones – against the top leadership of this country.
Azerbaijani Forces Continue to Target Peaceful Settlements in Artsakh
7:45 p.m.: According to the Armenian Unified Infocenter: Over the course of the day Azerbaijani forces have constantly kept peaceful settlements in the Republic of Artsakh under fire.
Rockets were launched on the city of Martuni and the community of Taghavart in the same region from Grad and Smerch rocket launchers.
In the second half of the day, the city of Martakert was once again bombed by the Azerbaijani air force. No casualties have been reported; the damage is being assessed.
Social Network Accounts of Armenian POWs Hacked by Azerbaijanis
8:30 p.m.: Armenia's Ombudsman Arman Tatoyan wrote the following on his Facebook page:
The Human Rights Defender's office has obtained evidence certifying that Azerbaijanis are illegally taking passwords and usernames of Armenian social network accounts and managing those pages themselves.
Evidence shows that these social network pages or accounts are activated from Azerbaijani IP (Internet Protocol) domains. Our monitoring shows that these are our compatriots who were taken as prisoners of war or otherwise appeared in Azerbaijan.
Hatred is being spread from the mentioned pages of Armenian users. These pages also spread materials to incite public and political enmity both in Armenia and Artsakh, generating tensions, panic and anxiety in the society.
Monitoring of Armenia's Human Rights Defender has revealed cases where Armenian social network accounts reacted to the mentioned materials, without knowing that the social network page is managed from Azerbaijan.
Therefore, it is of utmost importance to be extremely careful while using or disseminating materials through social media.
Attached is some evidence; these and all above mentioned materials are duly documented by the Human Rights Defender of Armenia to send to relevant international bodies.
Defense Ministry Live Press Briefing
10 p.m.: During a live press briefing, Artsrun Hovhannisyan of the Defense Ministry said:
Military operations were active in the northern direction. Artillery fire intensified around noon. In the central directions, from Martuni to the south and from Hadrut to the north, a subversive reconnaissance unit has been neutralized, Hovhannisyan said. However battles in this direction against subversive units continue.
In the south as well, battles were not very intense, there were localized battles,  incursion attempts were made by the adversary, but these were countered and pushed back, and at some places, Azerbaijani forces retreated.
Yesterday evening, as shown in the video shared, Azerbaijani forces leaving behind a dozen units of armored vehicles took shelter in nearby valleys and forests.
As promised, Hovhannisyan presented an interactive map with the latest developments on the front line. The map shows the areas where incursion attempts were pushed back during the day, areas that days before Azerbaijani attempts to reach Berdzor were pushed back. These are locations where active military operations continue today as well. The map also featured areas under Azerbaijani control, including Talish and the southern area bordering Iran. Hovhanissyan said the map is subject to change with the fluid situation in the conflict zone.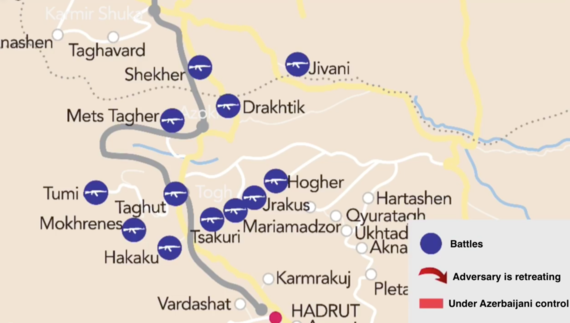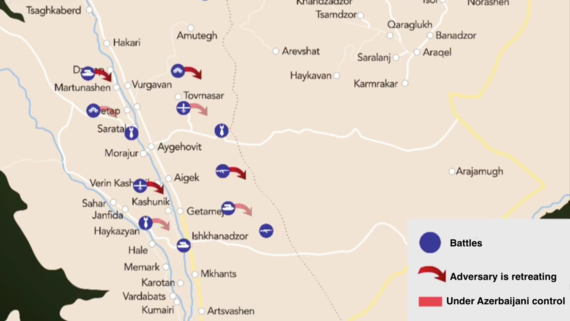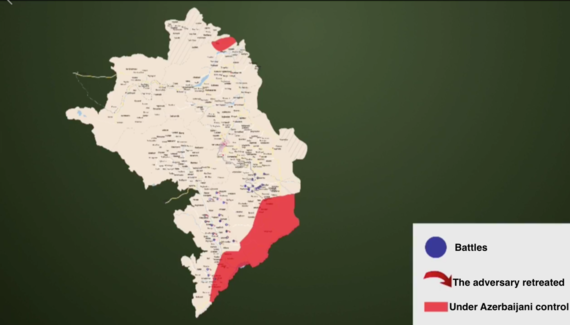 Artsakh Ombudsman: Almost 60% of the Population of Artsakh Forced to Flee 
IMPORTANT!
Over 90,000 (60% of the whole ppl) civilians of #Artsakh have fled their communities for Artsakh & #Armenia communities due to #Azerbaijan|i attacks & continuous threats.
Intl community must make efforts to stop the Az atrocities & help those ppl to return their homes.

— Artak Beglaryan (@Artak_Beglaryan) October 24, 2020
U.S. Embassy in Baku Issues Security Alert for U.S. Citizens 
Security Alert for U.S. Citizens
"The U.S. Embassy in Baku has received credible reports of potential terrorist attacks and kidnappings against U.S. citizens and foreign nationals in Baku, including against hotels such as the J.W. Marriott Absheron, as well as potentially other locations in Baku.  U.S. citizens are advised to exercise heightened caution in locations where Americans or foreigners may gather."
Foreign Minister Zohrab Mnatsakanyan Met With the US National Security Advisor
Within the framework of the working visit to the United States, Foreign Minister of Armenia Zohrab Mnatsakanyan met with the US National Security Advisor Robert O՛Brian.
The Foreign Minister of Armenia informed the US National Security Advisor on the situation in Nagorno Karabakh conflict zone resulting from the large-scale war unleashed by Azerbaijan, and massive targeting of civilian population and infrastructure by the Azerbaijani armed forces during the hostilities.
The Foreign Minister expressed strong concern over Turkey's expansionist policy towards the South Caucasus, aiming to turn the region into a new hotbed of instability and using Azerbaijan as a footing. According to Mnatsakanyan, Turkey's direct military participation in the war unleashed by Azerbaijan, as well as importing foreign terrorist fighters from the Middle East, poses a serious threat to the security of the entire region.
Both sides stressed the need for immediate implementation of the agreements on the cessation of hostilities. The interlocutors agreed that a peaceful settlement of the Nagorno-Karabakh conflict is possible within the framework of the OSCE Minsk Group Co-Chairmanship: the only format enjoying an international mandate.