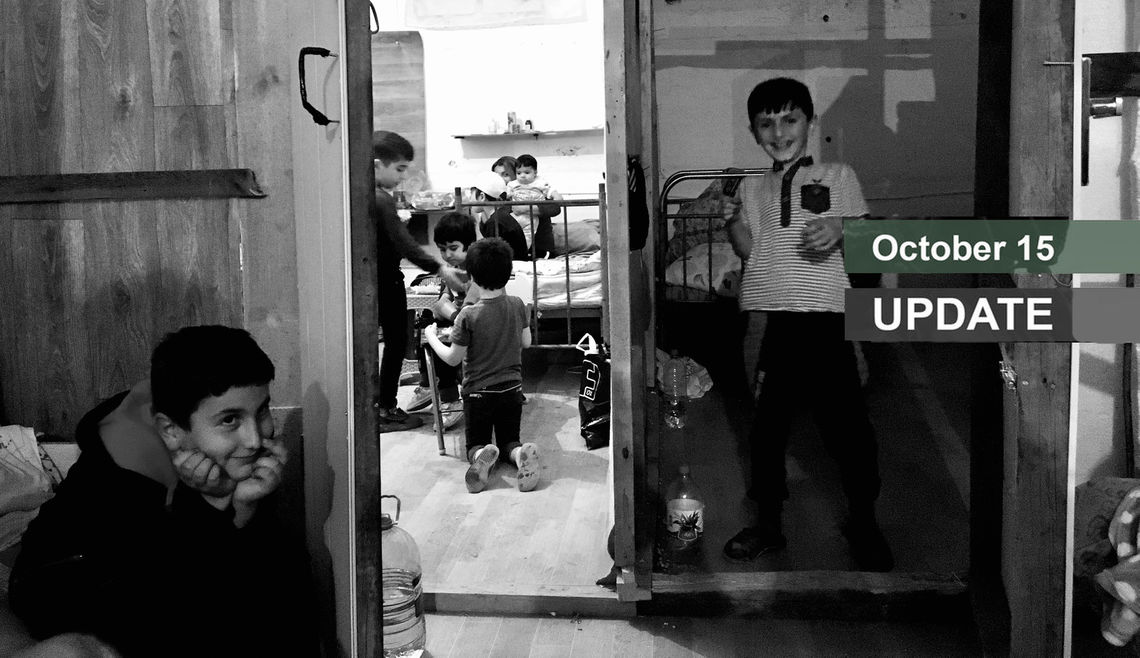 In an interview on The Erick Erickson Show, U.S. Secretary of State Mike Pompeo acknowledged that Turkey has "stepped into" the raging war and is providing resources to Azerbaijan, increasing the risk and firepower "taking place in this historic fight over this place called Nagorno-Karabakh." In the next breath, Pompeo said they are hopeful "that the Armenians will be able to defend against what the Azerbaijanis are doing."
As Armenian forces are engaged in fierce battles against Azerbaijan — supported and reinforced by Turkey and jihadist mercenaries — peaceful settlements are being targeted, innocent civilians, including women, the elderly and children are paying a heavy price and war crimes are being committed.
According to Artsakh's Ombudsman, 26 civilians (in Artsakh alone) have been killed and over 100 injured, with the majority of injuries being severe. Tens of thousands of people have fled the constant shelling and are now being housed throughout Armenia. Those who remain, spend their days in bunkers. It is estimated that approximately 24,000 children are also being deprived of their education because of the ongoing hostilities.
After 19 days of war, UNICEF Armenia issued its first statement on the conflict and said that they were saddened to learn that a 14-year-old boy was severely wounded on his way to his family's potato field in the village of Sotk, in the Gegharkunik region of Armenia. The statement went on to say: Our hearts go out to all children affected by the ongoing conflict."
The Republic of Artsakh is an unrecognized state. Today, the people of Artsakh are in a life and death battle for survival. Artsakh may be unrecognized, but its people and especially its children have a right to be recognized, protected and cared for.
Here is a chronology of official updates.
Grief Beyond the Damaged Walls of a Hospital
The hospital in Shushi was bombed on October 8, moments after the Ghazanchetsots Cathedral was hit a second time. There were 50 patients in the hospital at the time, all of whom had sustained injuries following the shelling of the cultural center a day earlier. EVN Report went to document the damage caused to the hospital but beyond the shattered glass found another face of destruction that is beyond repair.
8:30 a.m.: Defense Ministry Spokesperson Shushan Stepanyan wrote that the situation was tense but stable overnight in the Artsakh-Azerbaijani conflict zone. In the morning, Azerbaijani forces resumed active artillery fire in the northern and southeastern directions.
11:07 a.m.: Artsrun Hovhannisyan of the Ministry of Defense announced that intense military operations are taking place at the moment in the northern and southeastern directions.
1:40 p.m.: The Artsakh Defense Ministry has released the names of 49 servicemen killed in battle.
Dadoyan, Albert [Hovhannesi], b. 2000
Ghazaryan Harutyun [Artashesi], b. 2002
Grigoryan Eduard [Aliki], b. 1996 (civilian)
Nalbandyan, Armen [Mkhitari], b. 1990
Khachatryan, Erik [Arturi], b, 2002
Hakobyan, Davit [Samveli], b. 2001
Avagimyan, Arshak [Vazgeni], b. 1990
Sargsyan, Levon [Garegini], b. 1986
Rustamyan, Sashik [Armeni], b. 1994
Grigoryan, Kamo [Sanasari], b. 2000
Veranyan, Volodya [Vardani] b. 2001
Vardanyan, Vahe [Ediki], b. 2000
Shamyan, Gevorg [Hayki], b. 2000
Baghdasaryan, Davit [Kareni], b. 2001
Sahakyan, Samvel [Sureni], b. 1986
Karapetyan, Manvel [Artsruni], b. 1988
Grigoryan, Hovhannes [Hamleti], b. 1991
Minasyan, Vardges [Vahagni], b. 1994
Aghababyan, Hayk [Rafayeli], b. 1985
Asaturyan, Andranik [Alexandri], b. 1988
Gevorgyan, Ashot [Garniki], b. 1996
Mamikonyan, Melik [Aramayisi], b. 1997
Poghosyan, Alex [Vardani] b. 2001
Lalayan, Hayk [Gagiki], b. 2001
Margaryan, Davit [Mheri], b. 2002
Simonyan, Artsrun [Zirayri], b. 1994
Sevoyan, Levon [Mekhaki], b. 1994
Avetisyan, Avetis [Khachiki], b. 1997
Soghomonyan, Henrik [Rafiki], b. 2001
Botsinyan, Gor [Serzhiki], b. 1991
Barkhudaryan, Jon [Hrachiki], b. 1985
Karakhanyan, Karapet [Alexandri], b. 1989
Davtyan, Yenoq [Alexandri], b. 1988
Lazaryan, Ghevond [Sosiki], b. 1972
Antonyan, Anton [Bagrati], b. 1984
Botsinyan, Khachik [Paruyri], b. 1989
Mkrtumyan, Babken [Ararati], b. 1990
Janibekyan, Artashes [Koryuni], b. 1985
Poghosyan, Vardan [Dereniki], b. 1987
Torosyan, Aramo [Kareni], b. 1999
Poghosyan, Khachik [Martirosi], b. 2000
Simonyan, Karen [Ashoti], b. 1985
Khachaturyan, Khachatur [Hovhannesi], b. 1990
Drmeyan, Arman [Edvardi], b. 1980
Grigoryan, Andranik [Kareni], b. 1993
Karapetyan, Edik [Armeni], b. 1964 (reserve)
Misakyan, Artur [Torgomi], b. 1973 (reserve)
Galstyan, Edgar [Arturi], b. 1999
Myasnikyan, Myasnik [Pargevi], b. 1990
2:58 p.m.: Artsrun Hovhannisyan/MoD announced that intense battles are taking place in the southern direction.
Turkey Bans Humanitarian Flight Through Turkish Airspace
3:00 p.m.: The Civil Aviation Committee of Armenia announced today that the flight operated by Qatar Airways from Los Angeles to Yerevan carrying humanitarian aid to Armenia and scheduled for October 15 will not take place. According to the announcement, the airline did not give any valid explanation. The humanitarian aid was sent by the Armenian-American community to peaceful civilians affected by the Artsakh-Azerbaijani war. The announcement stated that Qatar Airways informed the Committee about the cancellation of the flight on October 14. The plane had to fly through Turkish airspace, but Turkey created obstacles for the flight.
Tatevik Revazian, the Chair of the Civil Aviation Committee said that a new route for a flight through other countries such as Russia or Georgia would take a matter of hours, thereby it is the responsibility of the airline to find other ways to transport the humanitarian aid. According to Revazian, the committee has been informed from reliable sources that Qatar Airways will not be able to transfer the aid. "We also have grounds/reasons to claim that Turkey deliberately closed the air route. This is not the first time Turkey obstructs cargo transportation to Armenia. Even before the war, the country began to create obstacles, requiring airlines to provide a detailed list of cargo when flying through its airspace. Although it's the sovereign right of each country whether to provide its airspace or not, according to international practice, data information about cargo is only required when transporting dangerous goods, in order to respond properly in case of an emergency (Chicago Convention, Article 5). This cargo had already passed the examination stage," said Revazian.
According to the announcement, the Civil Aviation Committee of Armenia applied to EUROCONTROL, an aviation security organization, regarding the incident. Several cargo flights have arrived in Armenia from the USA, France and Russia in the last couple of days. As stated in the announcement, cargo transportation is mainly carried out in cooperation with the Civil Aviation Committee and airlines, which participate on a cost recovery (without profit) basis.
3:30 p.m. Hotlines Under Martial Law:
– To receive social assistance (while under martial law): 117 or 114
– In case of health problems, including COVID-19 symptoms, visit the polyclinic closest to the place of temporary residence: 8003
– To receive information about servicemen or volunteers enlisted with the armed forces, use the Defense Ministry's hotline: 1-28, 8501 or 8503
– Those who took part in military operations, their families as well as injured citizens can get free online psychological assistance through the following hotline: (060) 834-777
– To get clarifications about the health condition of wounded servicemen: (010) 660-054
– For information on Armenia-Artsakh exit-entry movements: (047) 954-229 or (047) 944-529
Tatoyan: ICRC Must Be Able to Conduct Its Humanitarian Mission
4:30 p.m: Arman Tatoyan, Armenia's Ombudsman wrote the following on his Facebook Page:
The absence of possibility of exchange of bodies and prisoners of war for 19 days now is extremely inhumane when military clashes do not stop
Since September 27, the Human Rights Defender of Armenia has been monitoring the situation closely. Investigations reveal that the huge number of military attacks against Artsakh and Armenia are indiscriminate and do not differentiate between military objects and civilian settlements, in many cases the attacks deliberately target the civilian population.
Peaceful citizens are being killed or receive life threatening injuries from prohibited weapons. As the Human Rights Defender of Artsakh regularly informs me, there are cases when those injured are in different cities and towns of Artsakh, but due to continuous violent attacks, medical personnel are not able to reach those places and provide necessary medical treatment. According to my colleague, in Artsakh Azerbaijani military forces have attacked an ambulance and a hospital. According to official data, there were also civilians in the hospital. Deaths among military personnel are regularly announced.
Yesterday, I had emergency consultations with the relevant authorities of Armenia, and the same was done by my counterpart in Artsakh. In both cases, in Armenia and Artsakh, we received firm assurances as to the readiness to exchange the bodies and captives. The authorities made it clear that the absence of such a humanitarian opportunity is utterly impermissible. Monitoring shows that this readiness has been repeatedly expressed publicly in Armenia and Artsakh.
The current situation includes continuous and gross violations of International Humanitarian Law, particularly the 1949 Geneva Conventions and fundamental requirements enshrined in Customary International Law. This includes violating the rights of injured civilians and constitutes humiliating treatment of the bodies of those killed and inhumane treatment of their close relatives.
I join the public statements of concern made by the ICRC Eurasia regional directors as of October 13 on the absence of a ceasefire and lack of opportunity to conduct their humanitarian mission. Several days ago I also held a conversation with Claire Meytraud, Head of the ICRC Delegation in Armenia.
It is imperative to immediately stop this excessive inhumane treatment and enable the ICRC to conduct its humanitarian mission on all sides. This must be ensured in a way to provide actual possibility for such a mission and not formalistic.
Ongoing Shelling of Civilian Settlements in Artsakh
6:20 p.m.: Artak Beglaryan, Artsakh's Government Ombudsman, wrote that Azerbaijani armed forces today continued targeting the civilian settlements of Artsakh, which is a war crime. In addition to the destruction in a number of settlements, Marina Tevosyan (b. 1961), a resident of the village of Knaravan in the Shahumyan (Karvajar) region was injured during the shelling.
Armenia's Ombudsman on Video of Inhumane, Cruel Treatment of Armenian POWs
8:05 p.m.: Arman Tatoyan, Armenia's Ombudsman wrote the following on his Facebook Page:
Today the Human Rights Defender of Armenia has obtained two videos, as well as photo evidence illustrating Azerbaijani military's inhumane, cruel treatment of Armenian prisoners of war.
In these videos members of the Azerbaijani army humiliate the POWs at maximum and then brutally kill them with extreme cynicism. The behavior and speech of soldiers of the Azerbaijani army are full of hatred.
The videos have been released from Azerbaijani sources today and have been widely circulated, also by targeting children and the elderly.
Afterwards, the Azerbaijani Defense Ministry released a statement denying any relation to their military. Following this statement, Azerbaijani internet sources started to remove the videos.
The videos have been duly documented by the Office of the Human Rights Defender, being undeniable evidence of war crimes.
Experts of the Human Rights Defender's Office have accurately identified the location and time of Azerbaijani criminal activities. Videos have been translated and already incorporated with subtitles.
The abovementioned video and photo evidence will be sent to international bodies with necessary descriptions.
Violation of the Humanitarian Ceasefire: Civilian Killed in Karmir Shuka, Artsakh
8:18 p.m.: Defense Ministry Spokesperson Shushan Stepanyan said that Azerbaijani forces had shelled the village of Karmir Shuka in the Martuni region of Artsakh using Smerch-launched cluster munitions. One civilian death has been confirmed by the State Service of Emergency Situations of the Republic of Artsakh.
Artsrun Hovhannisyan Live Press Briefing
10 p.m.: During a daily press briefing on the situation in Artsakh, Artsrun Hovhannisyan of the Ministry of Defense said that from early morning, Azerbaijani forces resumed their offensive in several directions. Intense battles were fought throughout the day, especially in the south, near the Araks valley. "The Defense Army heroically resisted those attacks causing significant losses to the Azerbaijani forces," he said adding that the Armenian side had also suffered losses. Hovhannisyan stressed that the situation remains tense and that the adversary is using artillery, air forces and infantry. As usual, overnight, the situation eases and then escalates in the morning hours.
Gayane Sahakyan, of the Armenian Health Ministry's Center for Disease Control and Prevention said that the COVID-19 situation in the country is critical and has severely deteriorated over the last several days. In a two-week period, the number of cases have doubled. A record number of cases was recorded on October 14 (1058 cases) and October 15 (1371). Sahakyan said this situation is connected to non-compliance with the safety regulations and to the weakening of people's vigilance. Sahakyan noted that the ongoing war also created favorable conditions for the spread of the virus with the relocation of populations, large gatherings and issues with the availability of public transportation, leading to overcrowding. Armenia's Health Ministry continues to take anti-epidemic measures and decided that all educational institutions and preschools will be temporarily closed. Sahakyan noted that when possible, working remotely is encouraged in order to limit physical contact, especially for those employees in risk groups and pensioners. She noted that the epidemic can worsen since flu season is upon us. The Ministry of Health assures there are enough vaccines in all polyclinics and outpatient clinics. She urged people in risk groups to get vaccinated because if they test positive for COVID-19, their condition can worsen if they are also infected by flu and acute respiratory infections. "We are fighting against an invisible enemy and with our behavior we can risk ourselves, our relatives at a time when the doctors are also fighting for the health of our soldiers," Sahakyan said.
Questions
Responding to a question about COVID-19 among the army ranks, Artsrun Hovhannisyan said at the moment there is no concrete information about the number of COVID-19 cases in the army. He said that it would be impossible to consistently test the soldiers and unless there is a severe outbreak, testing would be impossible since the entire armed forces are currently engaged in tense battles.
Maria Zakharova: Political Solution is Possible and Necessary
Maria Zakharova, the spokesperson of the Russian Foreign Ministry, said during a press briefing that Russia's main message regarding the situation in Artsakh is that urgent meetings should be held and ceasefire control mechanisms should be established. She also stressed that a political solution to the conflict is possible and necessary.
Zakharova noted that the proposals of the OSCE Minsk Group Co-Chairs continue being on the negotiation table, which include gradual liberation of the respective regions of Nagorno-Karabakh, maintaining security guarantees and reliable communication between Armenia and Nagorno-Karabakh until the status of Karabakh is clarified. She added saying that at the moment it is critical to comply with the ceasefire agreement and return to the negotiation table.
Flemish Parliament Adopts Resolution: Violations of International Humanitarian Law
The Flemish Parliament (which oversees the Flemish Region of Belgium) unanimously adopted a resolution underscoring violations of International Humanitarian Law against the population of Artsakh, according to the European Armenian Federation for Justice and Democracy (EAFJD).
The resolution notes that:
The ceasefire agreed on October 12 was violated with bombardments of the capital Stepanakert, hence by Azerbaijan.
The civilians of Artsakh are the most affected. Azerbaijan is violating international humanitarian law.
The geopolitical interests of Turkey as an ally of Azerbaijan threaten to seriously destabilize the region.
Thousands of Syrian fighters are deployed in the fight through Turkish security firms.
The preamble of the resolution stresses:
In 1921, Nagorno Karabakh Autonomous Oblast (NKAO), predominantly inhabited by Armenians, was transferred to Soviet Azerbaijan.
In 1989 the Armenians of NKAO submitted a request for unification with Soviet Armenia, nevertheless the request was rejected by the Soviet Union.
On September 2, 1991, Nagorno Karabakh declared its independence.
The peace negotiations are held under the auspices of the OSCE Minsk Group.
Artsakh is governed independently and in 2017 the Republic of Nagorno-Karabakh adopted the name Republic of Artsakh.
CSTO May Send Peacekeepers to Nagorno-Karabakh
Stanislav Zas, the Secretary General of the Collective Security Treaty Organization (CSTO) said during a meeting with Alexander Lukashenko, the President of Belarus, that the CSTO is actively discussing the possible deployment of peacekeepers to Nagorno-Karabakh. Earlier, Zas said that the CSTO knows about the transfer of mercenaries from Syria to the Nagorno-Karabakh conflict zone, but that it is still difficult to assess the scale of the process.
Greek Foreign Affairs Minister Scheduled to Visit Armenia
Nikos Dendias, the Foreign Affairs Minister of Greece, will be in Armenia on October 16 for an official visit. He is scheduled to have a meeting with Foreign Affairs Minister Zohrab Mnatsakanyan, after which they will have a joint press conference. Dendias will also have meetings with Prime Minister Nikol Pashinyan and President Armen Sarkissian.
Prosecutor General of Armenia Launches Criminal Cases
The following is a statement released by Armenian Prosecutor General's Office:
Since early July 2020, the Azerbaijani military-political leadership has waged an aggressive war against the Republic of Armenia, in violation of the 1994 ceasefire agreement, UN Charter, the requirements of the Geneva Convention on the Protection of Civilian Persons in Time of War, as well as the norms of customary international humanitarian law.
As a result of the Azerbaijani aggression unleashed on September 27, one person was killed and three were wounded (including a minor) in the territory of the Republic of Armenia. Five servicemen, who were not involved in the military operations, were also killed in the territory of Armenia. Another eleven were wounded.
The Prosecutor General's Office launched several criminal cases for starting or conducting an aggressive war, for assaulting civilian population and civilian facilities in violation of international humanitarian norms, application of methods prohibited by international agreements in military actions or armed conflicts, murder of two or more persons by an organized group out of motives of national, racial or religious hate or fanaticism and committed in a way dangerous for the life of many people.
Statement by UNICEF Armenia
We were saddened to learn of the report that a 14-year-old adolescent was severely wounded on his way to the field for harvest in Sotk community, Gegharkunik province.
Our hearts go out to all children affected by the ongoing conflict. UNICEF repeats its urgent call for the protection of civilians and civilian infrastructure, and reiterates that a cessation of hostilities is in the best interest of every child.
UNICEF is accelerating plans with partners to provide psychosocial and other needed support to affected children.
We @UNArmenia are saddened by news today that a 14yr old boy was severely wounded in Gegharkunik province of #Armenia. And with deep condolences to all who have suffered, reiterate UN Secretary-General's call – we must protect civilians under int. humanitarian law and ceasefire.

— Shombi Sharp (@ShombiSharp) October 14, 2020
ERICK ERICKSON: … I'm a little bit disturbed reading the press reports on the Armenian-Azerbaijan situation. I know it's having spillover effects into Russia, Iran, and elsewhere, and would love to get your thoughts on that.
SECRETARY POMPEO: When you say that, you now turn to the conflicts that are there, and you watch what's taking place in Azerbaijan and Armenia today. It is dangerous. We now have the Turks, who have stepped in and provided resources to Azerbaijan, increasing the risk, increasing the firepower that's taking place in this historic fight over this place called Nagorno-Karabakh, a small territory with about 150,000 people, but —
ERICK ERICKSON:  Right, for the —
SECRETARY POMPEO: — highly contentious.
ERICK ERICKSON:  — last thousand years?
SECRETARY POMPEO: Yeah, it's a longstanding conflict. The resolution of that conflict ought to be done through negotiation and peaceful discussions, not through armed conflict, and certainly not with third party countries coming in to lend their firepower to what is already a powder keg of a situation. We – we're hopeful that the Armenians will be able to defend against what the Azerbaijanis are doing, and that they will all, before that takes place, get the ceasefire right, and then sit down at the table and try and sort through this – that is – what is a truly historic and complicated problem set.
Austrian Parliament Condemns Turkish Military Intervention in Nagorno-Karabakh Conflict
According to the Austrian Armenian Committee for Justice and Democracy, on the initiative of three members of the National Council of Austria, Reinhold Lopatka, Ewa Ernst-Dziedzic and Pamela Rendi-Wagner, the Parliament unanimously adopted a proposal on the Nagorno-Karabakh conflict. The proposal condemns the Turkish military intervention in the Nagorno Karabakh conflict and supply of arms to Azerbaijan, as well as proposes that peace talks be held in Vienna.
Statement by the Artsakh Foreign Ministry on Shelling of Hospital
We strongly condemn the deliberate shelling by the Azerbaijani side of a hospital located in the northeastern part of the Republic of Artsakh, where civilians were also treated. Such a serious violation of the laws and customs of war once again indicates that the triple alliance of Azerbaijan, Turkey and international terrorists will not stop at any crimes in order to achieve their geopolitical goals.
Azerbaijan, whose actions are supported and controlled by Turkey, not only refuses to observe the humanitarian truce, but also purposefully expands the scale and geography of the aggression. In particular, on October 14, Azerbaijani-Turkish armed forces attacked the territory of the Republic of Armenia, bringing threats to regional peace and security to a new level. The criminal actions of the Azerbaijani-Turkish side deserve the strictest condemnation and resolute measures to prevent their repetition in the future. Further ignorance by the international community of the danger posed by the triple alliance of Turkey, Azerbaijan and international terrorists may have irreparable consequences not only for the South Caucasus, but also beyond its borders.
We emphasize once again that at a time when the Azerbaijani authorities, supported by Turkey and international terrorists and remaining unpunished, have lost their sense of reality and deliberately torpedo the peace initiatives of the Russian Federation and the OSCE Minsk group co-chairs, the only effective way to stop the escalation of violence, save numerous human lives and ensure long-term and lasting peace in the region is the international recognition of the independence of the Republic of Artsakh.