Municipal elections will take place in Armenia throughout the fall and serve as an important indicator for the future direction of Armenian politics. The number of political parties in the country currently sits at 107, but only a small handful of them are actually active. Forty of them were able to nominate at least one candidate during the June 20 parliamentary election, either by presenting their own candidate list, joining an official electoral alliance with other parties, or earning a spot on another party's list. Ultimately, only five lists were able to get more than 2% of the vote countrywide.
Building out a national political organization is no small task, especially after most of the newly-founded parties posted disappointing results on June 20. Being able to recruit candidates and mount campaigns at the municipal level will be a major test to see which of these groups will stay in the spotlight and which may ultimately fade into oblivion.
Municipal elections will be held in different cities on October 17, November 14 and December 5. The dates changed after the parliamentary election took place—they were originally September 26 and October 17—in order to provide more time to train local poll workers. Under the Armenian Electoral Code, political parties with seats in the National Assembly get to appoint their own members of the Precinct Electoral Commissions (PECs) that run each poll on Election Day. With the Prosperous Armenia and Bright Armenia parties losing their seats, and the Armenia Alliance and I'm Honored Alliance coming in, the composition of the PECs will change. Those new appointees need to be certified, after passing an official training workshop.
Proportional Representation Extended
These municipal elections will be the first to take place after reforms that were passed in June 2020. Bill G-567 made amendments to the Electoral Code that brought about structural changes to the way municipal elections are run in Armenia. Previously, only Yerevan, Gyumri and Vanadzor used the proportional method, where voters choose a party list instead of individual candidates. Instead of the mayor being directly-elected, they are chosen by the city council, similar to how the Parliament chooses the Prime Minister. This approach has now been expanded to cover all cities with over 4,000 registered voters. A series of municipal amalgamations is currently being considered, which would combine most smaller towns to achieve the 4,000 mark. If passed, the measure would shrink the number of municipalities in Armenia from 502 to only 78.
Another important change includes reducing the electoral threshold at the municipal level from 6% for political parties and 8% for electoral alliances to 4% and 6%, respectively. An artificial bonus seat allocation was also removed, and votes for the mayor by city councils will no longer be by secret ballot. These changes were introduced to address problems that arose after Gyumri and Vanadzor held their first-ever proportional municipal elections in October 2016. A 1-in-3 gender quota for the candidate lists is also expected to greatly increase the number of women city councilors in the country. A July 2020 report by OxYGen NGO found that over half of Armenia's 502 municipalities had zero women represented on their city councils. Nationwide, about 10% of city councilors were women.
Scheduling Difficulties
Although it is common for municipal elections to be held in different cities on three dates throughout the year, the last one in Armenia took place on March 15, 2020. The COVID-19 State of Emergency and later the invocation of the martial law clause of the Constitution during the 2020 Artsakh War precluded elections from being held on previously-scheduled dates, until now.
The Electoral Code charges regional governors with setting the actual date of each city's municipal election, but directs them to choose the date set by the Central Electoral Commission that is nearest to the end of the current city council's five year term. Following that protocol would require that many more cities use the October 17 date, but that is not what is being done; elections are being pushed off until the municipal amalgamation is completed, which is scheduled for the end of the year. The move has allowed the Pashinyan Government to appoint Acting Mayors after the five-year term of the current mayor has expired. These Acting Mayors are usually members of Pashinyan's Civil Contract Party and unfairly get to replace the incumbent ahead of the election. The practice is extremely problematic as it represents an abuse of administrative resources. If an incumbent mayor's five-year term expires because the Government has not called an election within the appropriate time frame, either the incumbent's term should be extended or a caretaker brought in that will not be running in the upcoming election.
Regional governors have declared elections to be held in Gyumri, Dilijan, Goris, Meghri, Tatev and Tegh on October 17. In some cases, like the cities of Margahovit and Tumanyan in Lori region, an election was declared for October 17, but then rescinded a mere 10 days later, as these communities will be amalgamated in the coming months. While regional governors do have the right to rescind past Executive Orders, it is ambiguous whether this also covers election calls, which normally can only be canceled due to a State of Emergency or Martial Law. At the very least, the delay in the amalgamation proposal, albeit due to the pandemic, the war and the subsequent political crisis, demonstrates a level of unprofessionalism; it should have been handled ahead of the expected municipal elections.
The smaller communities of Shamiram, Ferik and Fioletovo, which are mainly populated by the Yezidi and Molokan Russian minority communities, will also hold municipal elections on October 17; they are not included in the amalgamation plan. They will still use the majoritarian system of direct election for their mayor and five city councilors each, without party lists, because they have less than 4,000 registered electors each.
Early elections, necessary when a mayor or councilor resigns, are not declared by the regional governor, but by the Government (cabinet) instead. The Government has announced that Stepanavan, Ijevan and Kapan will hold their municipal elections on November 14, using the proportional method. Smaller Lermontovo, mainly populated by the Molokan Russian community, will also hold its municipal election on November 14, but using the majoritarian direct-election method, as it has less than 4,000 registered electors. Kapan was not scheduled for an election until autumn 2022, but eight of the 15 city councilors resigned, specifically to trigger an early election. Here again, the perception is that Pashinyan's Civil Contract Party used its influence to get the election to occur on the schedule it desired. Ijevan and Stepanavan were amalgamated with their neighboring towns in April 2020 and have been run by an Acting Mayor appointed by the Government since then. There is no good reason why they weren't included in the set of municipalities holding their election on October 17; November 14 was selected instead.
Opposition political parties have not been much more organized, though. A total of 21 political parties have presented candidates in at least one city for the October 17 round, some as part of electoral alliances. They are:
Civil Contract Party
Resurgent Armenia Party
Republican Party of Armenia
Homeland Party
Republic Party
Armenian National Congress Party
Liberal Party
Awakening National Christian Party
Citizens' Decision Social Democratic Party
Freedom Party
National Agenda Party
Heritage Party
Armenian Democratic Liberal Party
Country For Living Party
Balasanyan Alliance Socialist Party
Shant Alliance Nationalist Party
Hayk Party
Nzhdehian Tseghakron Party
Dignified Way Party
Solidarity Party
Communist Party of Armenia
The first 11 had participated in the June 20 parliamentary election; however, several big names are noticeably absent. They include the Armenian Revolutionary Federation, Prosperous Armenia Party and Bright Armenia Party, though these parties may yet participate in other cities on November 14 and December 5. Arman Babajanyan's For The Republic Party and Tigran Urikhanyan's Alliance Progressive Centrist Party released statements that they were looking to participate in the November and December rounds.
The biggest political development comes from the organized participation of the Country For Living Party, which is the new name of the Mission Party that used to be the junior partner to Civil Contract in the My Step Alliance. Along with a new name, the party took on a new leader, Mane Tandilyan, at its August 15, 2020 Party Congress. Tandilyan was first elected as an MP with the Way Out Alliance in 2017, as a member of the Bright Armenia Party. In May 2018, Nikol Pashinyan appointed her as the Minister of Labor and Social Affairs. Notably, she submitted her resignation as minister when the government passed a pension reform bill that opposition groups had protested against when the former Serzh Sargsyan government had tried to introduce it. However, Pashinyan did not accept her resignation and she served the remainder of the term until the December 2018 parliamentary election, in which she was re-elected as a Bright Armenia MP. She resigned her MP seat in August 2020. After the 2020 Artsakh War, she took on the job of Social and Migration Affairs Minister of the Republic of Artsakh, a role she just recently stepped back from on September 1, 2021. She will continue serving in Artsakh through her Artsakh For Living Foundation and focus on her new role as head of the Country For Living Party in Armenia. In terms of nominations, her party is second only to Civil Contract, having nominated candidate lists in Gyumri, Dilijan, Meghri, Tatev and Tegh for the October 17 municipal election round.
Gyumri, Shirak
With 123,115 registered voters, Gyumri is Armenia's second-largest city. It will elect a 33-member city council. This will be the city's second proportional election. In 2016, its results broke down as follows:
2016 Gyumri Municipal Election Results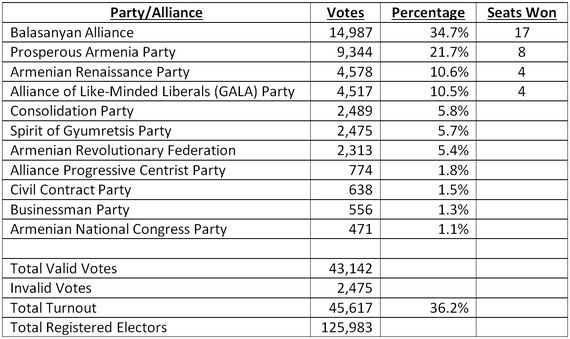 Back in 2016, the high electoral threshold and bonus seat provisions had allowed the Balasanyan Alliance, which consisted of the Republican Party of Armenia (led by Serzh Sargsyan) and the smaller Christian Democratic Union Party (led by Khosrov Harutyunyan) to receive 51.5% of the seats with only 34.7% of the votes, a false majority. The reforms brought in with Bill G-567 correct these issues. However, the new city council will look very different. Since 2016, two members from the Prosperous Armenia Caucus and two members from the Armenian Renaissance Caucus (also known as the Country of Law Party) have left their factions to sit as independents. Their parties will not be participating at all in 2021.
The GALA Party has also not registered in 2021, but its previous #2 candidate, Levon Barseghyan, is participating as head of the Father City Alliance. Father City is a play on words in Armenian. The translation of "capital city" in Armenian is literally "mother city". It is a common refrain that while Yerevan is Armenia's mother city, Gyumri is its father city, as its prominence dates to Tsarist times when it was called Alexandropol. Barseghyan heads the Asparez Journalists' Union, which is part of the Witness Observer Initiative, together with Transparency International – Armenia. For the coming election, Asparez will be recusing itself from the observation mission's activities to avoid a conflict of interest.
Samvel Balasanyan was first elected mayor of Gyumri in 2012 as a member of the Prosperous Armenia Party. Previously, he had served as an MP representing Gyumri, moving in and out of various political party factions. There were some early rumors that Balasanyan would shift allegiance yet again and potentially become the mayoral candidate for the ruling Civil Contract Party. In the end, however, he worked with the Spirit of Gyumretsis Party to rename the organization to Balasanyan Alliance Socialist Party and present his own list. It will be headed by Vardges Samsonyan; Balasanyan himself is not running for re-election.
The name of famous Olympic Greco-Roman wrestler Artur Aleksanyan (who recently won a silver medal at the Tokyo Olympic Games) was also being thrown around as a potential mayoral candidate for the Civil Contract Party. In the end, however, that position went to the current regional governor of Shirak, Hovhannes Harutyunyan. Fielding the current regional governor, with the administrative resources that come with the office, is another example of how the Civil Contract Party is putting its thumb on the scale during this round of municipal elections. During the most recent June 2021 parliamentary election, the Civil Contract Party carried Gyumri by 60.5%, with the Armenia Alliance in second at 16.5%. The I'm Honored Alliance, Prosperous Armenia Party and Republic Party were all huddled around the 3% mark, with the Bright Armenia Party in sixth at 2.2%. If those levels of party support hold, Harutyunyan is the favorite to become the next mayor.
Without Balasanyan, the Republican Party of Armenia is still taking part in the election, this time under the leadership of Artyom Ghukasyan. Artyom is a former RPA MP and the cousin of former Gyumri Mayor Vardan Ghukasyan, who served four terms, winning the elections in 1999, 2002, 2005 and 2008. However, Vardan Ghukasyan, who also later became an MP in 2017 with the Tsarukyan Alliance, denied any knowledge about his cousin's campaign in an August 31 interview.
A new player that has already been actively putting up billboard signs is the Gyumri Can Alliance, formed under the leadership of the National Values Club. It will be led by Vardan Srtashyan, a hotel manager, under the slogan "Let's Start With Gyumri". The movement does not present itself as a political party. In an interview, Srtashyan said that their political party partners (the Hayk Party and Nzhdehian Tseghakron Party) are purely tools to meet the registration requirements, though they share the same nationalist ideology.
In order to register, parties will need to present a candidate list with at least 11 names (one third of the total number of seats on the city council), and put up a 1,500,000 AMD ($3000) bond. In order to receive the bond back, political parties must receive at least 2% of the total votes, while alliances must receive at least 4%. Turnout in the past has been around 45,000, implying that a political party would need around 1,800 votes to pass the 4% threshold and electoral alliances would need around 2,700 votes to pass their 6% threshold, if turnout remains stable.
The full list of political parties and their mayoral candidates registered for the Gyumri election are shown below. The list is subject to verification by Territorial Electoral Commission #31, to make sure that all their paperwork is in order, by September 17.
Civil Contract Party: Hovhannes Harutyunyan (see full candidate list)
Balasanyan Alliance Socialist Party: Vardges Samsonyan
Father City Alliance (Armenian Democratic Liberal Party and Heritage Party): Levon Barseghyan (see full candidate list)
Republican Party of Armenia: Artyom Ghukasyan
Gyumri Can Alliance (Hayk Party and Nzhdehian Tseghakron Party): Vardan Srtashyan
Country For Living Party: Karen Malkhasyan
Awakening (Zartonk) National Christian Party: Vardevan Hakobyan
Dignified Way Party: Hovhannes Margaryan
Tasibov Alliance (Freedom Party and Solidarity Party): Karapet Poghosyan
Communist Party of Armenia: Konstantin Ghavazyan
Dilijan, Tavush
Dilijan is the fifteenth largest city in Armenia, with 20,367 registered voters. It will elect a 21-member city council on October 17. Five political parties have registered to participate, all of them presenting their own list, without an electoral alliance. They are:
Civil Contract Party: Davit Sargsyan
Homeland Party: Armen Ordinyan
Republic Party: Armen Ulikhanyan
Citizens' Decision Social-Democratic Party: Ara Martirosyan
Country For Living Party: Armine Hovhannisyan
In 2016, Republican Party of Armenia (RPA) incumbent Armen Santrosyan beat independent challenger Zhora Sahabalyan with 61% of the vote. The two had also faced off in 2012 and back in 2005, when Sahabalyan was the RPA candidate. In 2008, Santrosyan won uncontested. But neither is heading a party list this time.
Santrosyan was charged with abuse of power and falsification of documents in December 2019 but has not been convicted. In February 2021, his five-year term came to an end. The next CEC-scheduled election date was March 14, 2021, but the Government did not lift its invocation of martial law until March 24, 135 days after the 44-day war ended. And so no municipal elections took place on that day.
Instead, on February 26, 2021, the Government appointed a different person, city councilor Davit Sargsyan, to be the Acting Mayor of Dilijan. Sargsyan had come in third during the 2016 election that elected 15 city councilors. Santrosyan was obviously not happy and said he would challenge the decision at the Constitutional Court. There were also other municipalities that were in the same situation; the Government re-appointed some incumbents but replaced others, based on political grounds. Now, Davit Sargsyan is heading the Civil Contract Party's list, after having held the role for half a year.
Armen Ulikhanyan, representing the Republic Party (which is different from the Republican Party of Armenia) is a commander of the local reserve force. Armine Hovhannisyan, leading the Country For Living Party, is one of only two women mayoral candidates heading a party list on October 17.
Goris, Syunik
Goris is slightly larger than Dilijan, with 22,262 registered voters who will elect a 21-person council. Here, the incumbent mayor remained in his position even after his arrest. During the 2017 mayoral election, Arush Arushanyan, then-26, trounced his challenger Samvel Harutyunyan, 12,945 to 56. Now 30, Arushanyan has been placed in pre-trial detention pending charges for paying out vote bribes for the Armenia Alliance during the June 20 parliamentary election. The allegations were never proven in court but Armenian judicial procedure allows for him to remain in custody for two months without a conviction, as the judge denied bail. The court also placed Goris Deputy Mayor Menua Hovsepyan in pre-trial detention.
Arushanyan denies any wrongdoing and will be running for re-election on October 17, heading the Arushanyan Alliance, consisting of the Resurgent Armenia Party and the National Agenda Party. Resurgent Armenia is led by former Syunik regional governor Vahe Hakobyan and was the junior partner of the Armenia Alliance at the national level during the June 20 parliamentary election. In this case, Civil Contract will not have incumbency advantage.
Goris is the only city in which Levon Ter-Petrosyan's Armenian National Congress Party is fielding a candidate list, led by current city councilor and head of Goris State College Karen Lazaryan. Alvard Ghahramanyan will be leading the Communist Party of Armenia list, the second woman candidate to do so for the October 17 round.
The full list of political parties running in Goris is:
Arushanyan Alliance (Resurgent Armenia Party and National Agenda Party): Arush Arushanyan
Civil Contract Party: Vladimir Abunts
Armenian National Congress Party: Karen Lazaryan
Communist Party of Armenia: Alvard Ghahramanyan
Goris is the only city with over 4,000 voters during the October 17 round that the Country For Living Party is not fielding a candidate list.
Meghri, Syunik
In 2016, Mkhitar Zakaryan ran uncontested for Mayor of Meghri. He was previously the Mayor of Agarak from 2008 to 2016, when it was amalgamated with its larger neighbor. Zakaryan was elected as an MP during the June 20 parliamentary election as part of the Armenia Alliance. However, he has been unable to take up his seat, as he remains in pre-trial detention. He was first arrested in April 2021, after protests impeded Nikol Pashinyan's visit to Syunik region. On July 13, he was arrested again, facing two months of pre-trial detention. Normally, MPs are immune to prosecution, but the court ruled that the arrest took place before he took up his MP mandate and would remain in force. He remained in custody during the opening session of parliament on August 2, when his Armenia Alliance colleagues wore t-shirts bearing his photo (and also the photos of Arush Arushanyan and two other arrested Syunik mayors) in protest.
When he was elected as an MP, Zakaryan had to step down as Mayor of Meghri on July 9. On July 16, Ararat Tumanyan was appointed Acting Mayor to replace him. Unlike Davit Sargsyan in Dilijan, Tumanyan was not a sitting city councilor and had not even been a candidate in the previous city council election. Like Davit Sargsyan, however, he will be leading the Civil Contract list for the October 17 election with an artificial incumbency advantage. The full list of parties in Meghri is:
Civil Contract Party: Ararat Tumanyan
Republic Party: Bagrat Zakaryan
Country For Living Party: Armen Hayrapetyan
Liberal Party: Khachatur Andreasyan
The city has 8,870 registered voters and will elect a 15-member council. At this size, the bond amount to submit a party list is lower, at only 200,000 AMD ($400).
Tatev, Syunik
Tatev has had greater national attention recently. With sections of the Goris-Kapan highway now under Azerbaijani control, an alternate route through Tatev has become the detour for the major artery linking Armenia with Iran. Though, this road is not up to standard and definitely not safe in its current condition for large trucks.
Incumbent Murat Simonyan was replaced with Acting Mayor Artur Matevosyan in May 2021 in a situation similar to that of Dilijan. As has been a pattern, Matevosyan will lead the Civil Contract list during the election. The full list of parties in Tatev is:
Civil Contract Party: Artur Matevosyan
Country For Living Party: Marat Gerasimyan
Shant Alliance Nationalist Party: Samvel Lalayan
The city has 4,475 registered voters and will elect a 15-member council.
Tegh, Syunik
Tegh is east of Goris. It is the last city in Armenia before reaching the Lachin Corridor that connects Stepanakert to Armenia. It is the home of third President Serzh Sargsyan's father's family, before he moved to Stepanakert. Tegh has 4,053 registered voters and will elect a 15-member council but only two political parties have submitted candidate lists:
Civil Contract Party: Davit Ghulunts
Country For Living Party: Argam Hovsepyan
If a third party or alliance had registered, they would almost be guaranteed a seat (unless their vote count was abysmal), as the minimum number of parties participating in the distribution of mandates is three.
Country For Living's Argam Hovsepyan was previously the Mayor of Aravus, which is one of the towns that was amalgamated with Tegh five years ago. Regular run-ins between Armenian shepherds and Azerbaijani soldiers in the border area is a major concern for the municipality. The incumbent, Nerses Shadunts, ran unopposed in 2016 but is not running for re-election this time.
Women Replacements
Bill G-567 left an unintended crinkle in the law with regard to gender equality. Article 141, Section 6 reads:
The candidates on the list whose rank order is less than or equal to the number of mandates that the list is due to receive are elected. If, as a result, more than 70% of the list's elected representatives will be from the same gender, those mandates exceeding 70% will be allocated instead to the less-represented gender, such that the less-represented gender makes up at least 30%.
With 15- and 21-member councils, combined with a 4% threshold, it becomes very possible for a party to receive only two or even one mandate. With a 1-in-3 gender quota, it is possible (perhaps even likely) that a #3-ranked woman candidate will bump off a #2-ranked male candidate on their list in order to meet the provisions of this article. That would be fine and the article would ensure gender parity as intended.
However, the unartful wording leaves an unintended, uncomfortable situation possible. If a party receives only one mandate, then 100% of their mandates will belong to one gender. Then, mandates will have to be transferred to the less-represented gender until the less-represented gender makes up at least 30%. That is, if a party receives one seat and their top candidate is a man, he will have to be replaced with the top-ranked woman candidate on the list. The reverse is true if the top-ranked candidate is a woman (which there are only two of). In the event any of the parties receives only one seat in any of the cities, this clause will cause issues once the results come in on the night of October 17. I have brought it up multiple times throughout the electoral reform process, but a fix was never included in the final amendments.
Artsakh Also Holding Municipal Elections
A week before Armenia, on October 10, Artsakh will also be holding early municipal elections in four small villages: Khachmach and Tsaghkashat in Askeran region, Nor Ghazanchi in Martakert region, and Herher in Martuni region. These will mark the first elections held in Artsakh since the 2020 war, under the presence of Russian peacekeepers. The incumbent mayors, elected in September 2019, have resigned. Herher is the largest of these communities, with 426 registered voters. The other three have just over 100 each.

With the right choices in education, Armenia can build an IT community capable of creating its own secure and reliable systems, which will be beneficial from a business perspective as well as for social institutions, including government and national defense.
Read more