With recounts concluded and the results upheld by the Constitutional Court, the 2021 Armenian parliamentary election demonstrates a broad consensus across the country. Nikol Pashinyan's Civil Contract Party received the most votes in every region and in 95% of the municipalities. Similarly, in every region and in the overwhelming majority of municipalities, the Armenia Alliance came in second place. Thus, Pashinyan will keep a hold of the legislature, taking 71 out of the 107 seats, just short of a two-thirds majority. Kocharyan's Armenia Alliance and Serzh Sargsyan's I'm Honored Alliance will receive 29 and 7 seats, respectively.
Pashinyan's Votes
Pashinyan's Civil Contract Party, won 688,761 votes, down 22% from the 884,864 votes it received in 2018. Its overall vote share dropped from 70% to 54%. The party came first in every region of Armenia, including Yerevan. In fact, the capital was the only region where it did not achieve a majority, still winning a plurality with 41%, ahead of the Armenia Alliance's 28%. Outside the capital, Civil Contract's worst result was in Syunik (53.4%), where it received just below its national average. In Tavush (68%), Gegharkunik (66%) and Shirak (65%) it received around two-thirds of the votes cast.
While Civil Contract remained the dominant political force, compared to its high point in 2018, it lost support in every region. It lost relatively greater support in Yerevan and Syunik, where its vote counts were down 38% and 29%, respectively. It was most stable in Armavir, Vayots Dzor and Tavush, where its votes decreased only slightly, by 5-6%. Overall turnout in 2021 was up 1.7% compared to 2018.
Table 1. Difference in votes for Nikol Pashinyan's party between 2018 and 2021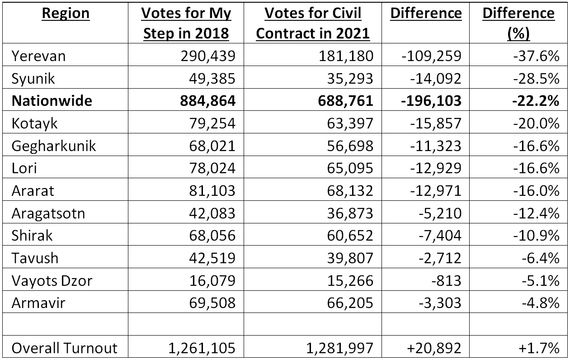 Pashinyan secured comfortable majorities around the 60% mark in Gyumri and Vanadzor, Armenia's second- and third-largest cities. There were 40 smaller villages where Civil Contract received between 80% and 90% support. Among larger cities, however, they performed best in Akhuryan, in Shirak region, at 72.5%, with Pashinyan's hometown of Ijevan in close second at 69.6%.
Kocharyan and Sargsyan Make a Comeback
Robert Kocharyan, Armenia's second president, led the Armenia Alliance, an electoral alliance that included the Armenian Revolutionary Federation (ARF) and the Resurgent Armenia Party, led by Vahe Hakobyan, a former regional governor of Syunik. They were widely considered to be Pashinyan's main challenger. Anecdotal evidence points to the potential impact of a massive rally in Yerevan on the Friday before the election; as the rally was much larger than Pashinyan's the day before, the prospect of Kocharyan's return to power may have scared some voters who were planning to support a smaller party enough to vote for Pashinyan instead.
Although a Kocharyan victory was considered a possible outcome, they finished in a distant second, with 269,481 votes (21%). Of its members, only the ARF had run in the previous election, garnering 48,816 votes (3.9%) in 2018 and 103,048 (6.6%) in 2017. In that respect, teaming up with Kocharyan, although a highly controversial move, proved to be a strategic victory for the ARF, which would have had trouble meeting the electoral threshold on their own. Kocharyan has not yet decided whether he will take a seat as an opposition MP.
The Armenia Alliance did especially well in Yerevan and Syunik, where it received 28% of the vote. Besides Kotayk, where they received 21%, the alliance's vote share fluctuated between 14% and 17% in the other regions.
The Armenia Alliance's stronghold in the capital were the affluent districts of Kentron and Arabkir, where it actually finished ahead of Pashinyan's Civil Contract Party by several percentage points. In Kentron (central Yerevan), its vote share stood at almost 37%, with Pashinyan at 31%. In Arabkir, Kocharyan won 35% against Pashinyan's 31%. Out of the 110 precincts in Kentron and Arabkir, Kocharyan carried 75, more than two-thirds. Interestingly, there seems to be some correlation between real estate prices and Kocharyan's votes. As noted, he won in Yerevan's two most expensive districts, while Pashinyan did best (winning over 52%) in Nubarashen, the least expensive district of Yerevan.
Outside the capital, the Armenia Alliance fared best in the city of Kajaran, in the Syunik region, where they won 51.8% of the votes, against Pashinyan's 38.7%. Kajaran was the only large city where a party other than Civil Contract achieved more than 50% of the vote. A major employer in the town is the Zangezur Copper Molybdenum Combine (ZCMC), which is also one of Armenia's top taxpayers. The brother of Vahe Hakobyan is a significant shareholder of the enterprise.
Although border incursions by Azerbaijan into Syunik during the campaign drove national security as a dominant election issue, the Armenia Alliance still lost to Civil Contract in the large border cities of Kapan and Goris.
Outside Syunik, the Armenia Alliance won in more than a dozen rural communities and in the ski resort town of Tsaghkadzor, where they beat Civil Contract 43%-37%. Furthermore, the Armenia Alliance also won big in Armenia's twelve correctional facilities, garnering 55% against Pashinyan's 18%.
Armenia's former-ruling Republican Party of Armenia (RPA), which is still led by former president Serzh Sargsyan, increased its votes only slightly, from 59,083 in 2018 (4.7%) to 66,650 (5.2%) in 2021. In this election, they joined forces with the Homeland Party, led by Pashinyan's former National Security Service chief Artur Vanetsyan to form the "I'm Honored" electoral alliance. The alliance did best in the Ararat province, where they received almost 10% of the vote, almost twice their national average. In the town of Masis, I'm Honored won more than 18% of the vote, while in Vedi—13%. Elsewhere, the alliance did well in the towns of Alaverdi (18%), Aparan (16%), Spitak (12%) and the Yerevan districts of Avan (13%) and Nork-Marash (16%). They came in first place in six rural communities.
Parliamentary Opposition Wiped Out
The loss of support for the largest party was nothing compared to the collapse in support for the two opposition parties of the seventh convocation of the National Assembly, Gagik Tsarukyan's Prosperous Armenia Party (PAP) and Edmon Marukyan's Bright Armenia Party (BAP).
The PAP's votes more than halved from almost 103,801 (over 8%) in 2018 to 50,444 (almost 4%) in 2021. The PAP had been the second-largest party for the past 14 years; it began running in elections in 2007. It was the only political party to be continuously represented throughout that entire time period, when the Republican Party of Armenia (RPA) and Armenian Revolutionary Federation (ARF) were shut out of parliament in 2018. In 2012 and 2017, when it was a self-proclaimed "alternative" to the ruling RPA, the PAP received more than 400,000 votes, or around 30%. After the 2018 revolution, their vote collapsed. In Kotayk, the longtime base of the party, the PAP won just 8% of the votes in 2021, compared to 16.5% in 2018, and almost 44% in 2017.
This election was even more disastrous for Bright Armenia, whose votes totalled just 15,591 (1.22%), a mere one fifth of the 80,047 votes (6.37%) it received in 2018. Incredibly, it finished 9th, coming below a handful of extra-parliamentary parties. Even in Lori, the party's perceived stronghold, its vote count dropped 70% from 9,156 in 2018 to 2,744.
In hindsight, these two parties would have been better off if they hadn't pushed for an early election.
Public Funding Offers a Lifeline
While parties that receive less than 5% of the vote do not get a seat in parliament, the votes they collected are not completely wasted. After recent changes to the Law on Political Parties come into effect on January 1, 2022, the amount of public funding to political parties, paid out of the state budget, will increase significantly. To qualify, a political party must have received at least 2% of the votes in the most recent parliamentary election. Electoral alliances have a higher threshold of 7% for public funding.
Public funding for political parties was in place as far back as 1997, when the threshold was set at 5%. Before the most recent changes, parties would receive about 80 AMD ($0.16) per year for every vote. This increased significantly to a new progressive formula. Parties will receive 1000 AMD for every vote they received up to 5% of the total, then 500 AMD for votes between 5% and 20%, and 250 AMD for votes over 20%.
Thus, although the PAP will not have any seats, they will still be eligible for significant funding, at 50,444,000 AMD (~$100,000) per year. Some of this funding is restricted to be spent on policy development, maintaining offices outside Yerevan, and the inclusion of women, youth, people with disabilities and ethnic minorities in the party's activities. The BAP, gaining only 1.2%, will no longer receive public funding.
The other extra-parliamentary party eligible to receive public financing is the Republic Party (different from the Republican Party of Armenia), led by Aram Z. Sargsyan, brother of assassinated former Prime Minister Vazgen Sargsyan. The Republic Party received 38,758 votes (3.0%) and will be eligible for 38,758,000 AMD (~$77,500) per year.
The I'm Honored Alliance will not receive direct public funding, even though they will have seats in parliament, because the funding threshold for alliances is higher, at 7%. The Armenia Alliance will be expected to split its public funding of 163,195,000 AMD (~$325,000) per year equally between the ARF and the Resurgent Armenia Party. The Civil Contract Party is slated to receive 268,015,000 AMD (~$535,000) per year.
A De Facto Second Round Election Coming in the Fall
Historically, municipal elections in Armenia have been overlooked as power is still heavily centralized. Ruling party candidates, or independent candidates that cooperate with the ruling party, have always easily won in virtually all towns and villages. In 2009, however, the first proportional municipal election took place in Yerevan. Opposition parties have always been strongest in the capital (Ter-Petrosyan's ANC in 2009, Raffi Hovannisian's Heritage Party in 2013, Nikol Pashinyan's Way Out Alliance in 2017). Even if they did not win, it offered their party a platform for continued engagement with the public. In October 2016, Gyumri and Vanadzor also held their first ever proportional municipal election. In Vanadzor, the then-ruling RPA was not able to secure a majority on the city council, taking just 37.5% of the vote. Bright Armenia came in second and looked poised to nominate its mayoral candidate, Krist Marukyan, the brother of Edmon Marukyan. You can read more about what happened instead in a previous article.
After Pashinyan's rise to power, opposition candidates won in two large cities, Abovyan and Kapan, in direct mayoral elections in 2019. In Abovyan, PAP incumbent Vahagn Gevorgyan defeated pro-Pashinyan Grigor Gulyan in a close election (47% vs 45%), while independent Gevorg Parsyan beat Civil Contract's Narek Babayan to become Kapan's mayor 54%-44%. Babayan was later appointed deputy regional governor of Syunik. Commenting on Gulyan's loss in Abovyan, Pashinyan declared: "Democracy has won in Armenia."
On September 26 and October 17 of this year, arguably the most important municipal elections in Armenia's history are set to take place. Gyumri and Vanadzor are set for their second-ever proportional municipal election, but the proportional system of parties submitting candidate lists has been extended to all municipalities with at least 4000 registered voters. Thus, 48 large municipalities (including eight of the ten largest cities) will have new party-based contests this fall. Besides Gyumri and Vanadzor, the list includes five other regional capitals (Gavar, Hrazdan, Ashtarak, Armavir and Yeghegnadzor), along with notable cities such as Vagharshapat (Etchmiadzin), Abovyan, Goris, Dilijan, Sevan, Masis, Ararat, Spitak, Meghri, Jermuk, Arinj and others.
When comparing the recent parliamentary election results, Pashinyan's Civil Contract Party came in first in almost all of these municipalities, except Arinj, which is Gagik Tsarukyan's hometown. The Armenia Alliance finished second in most of these municipalities, with a few exceptions:
Masis (I'm Honored Alliance)
Vedi (Republic Party)
Nor Kharberd (Prosperous Armenia Party)
Ararat village (Republic Party)
Sardarapat (Prosperous Armenia Party)
Mrgashat (Prosperous Armenia Party)
Amasia (Prosperous Armenia Party)
This fall, opposition parties, including those with no seats in parliament, will have a shot at gaining footholds throughout the country, and face the challenge of expanding their networks to recruit municipal candidates outside Yerevan. In Tsarukyan's hometown of Arinj, which has become a commuter suburb of Yerevan, the PAP could win easily. On June 20, the PAP won 49.5% of the vote there, topping Civil Contract (23%) and Armenia Alliance (14%). In the village of Ararat, the hometown of Aram Z. Sargsyan, his Republic Party won 22% of the vote, while Civil Contract received 54%.
Several relatively large municipalities saw competitive races. The city of Abovyan saw one of the country's most competitive races between Pashinyan (44%), Kocharyan (25%) and Tsarukyan (10%). In Hrazdan, the regional capital of Kotayk, Pashinyan won just 50%, while Kocharyan around 27%. I'm Honored and PAP received around 5% each. In Vedi, Aram Sargsyan's Republic Party came in second with 16.5% of the vote, while I'm Honored and Armenia Alliance trailed them at 13% and 10%, respectively.
Especially important to watch will be Jermuk, where there has been strong resistance to opening the Amulsar Gold Mine. Pashinyan has studied the issue at length but most recently said that the mine needs to open to aid Armenia's post-war economic recovery. On June 20, Civil Contract took 47% of the vote there.
Although 25 parties and alliances ran in the recent parliamentary election, the coming municipal contest will further separate the sustainable players from the hollow shells. At the municipal level, the electoral threshold is 4% for political parties and 6% for electoral alliances. Candidate lists need to meet a 30% gender quota, which will significantly increase the number of women city councillors throughout the country. Will the alliances that ran together continue their cooperation or run separate candidate lists at the municipal level (or a mix of both in different cities)? Will the pro-democratic parties that split their vote present consolidated lists in some areas? Will Edmon Marukyan run for mayor of Vanadzor? Stay tuned. This story isn't over yet.