– Where are you going?

-We are chasing our dreams.

– Hop in, I happen to be going that way.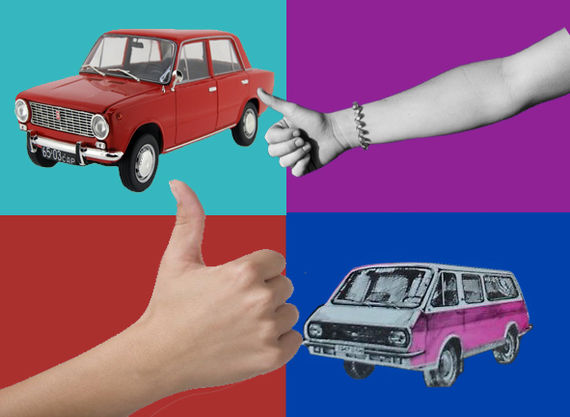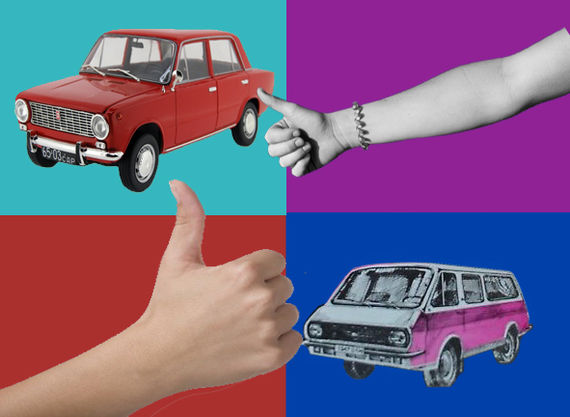 We woke up that morning with nothing to do. We thought, shouldn't we organize the closing of the "Wishup"* season? We had enough money for a Snickers bar for the road and some fresh mineral water. We decided to take the train there and come back by bus. As is our luck, there was no train that day.
Two years ago, we had decided to hitchhike to Sevan. It was the beginning of summer, quite cold still and windy. A large Gazelle* stopped. A grandpa said, "Hop in, I'll take you." We did and found out that he was transporting potatoes. We squeezed in. We told him that we planned to head back to Yerevan in about three hours. He dropped us off, three hours passed and we were on the highway again. It turned out the grandpa had scheduled the pickup, passed by where he had dropped us off and picked us up again. We were smiling and it felt cozy. And so the tradition began.
Someone else who had been waiting for the train helped us get to the northern bus station.A quite lively and loud man in a red shirt and of average height was standing next to the Gazelle:
– Girls, where do you need to go?

– The peninsula.

– Get in, I'm going to Nikol's hometown,* I'll give you a ride.

– What's your name?

– Today, it's Simon, tomorrow, I don't know.
We got in and listened to Simon speak about mulberry vodka, the revolution and Ijevan. He did not charge us for the bus ride but told us to make him famous.
Simon: Why are you taking a photo? Are you from the tax office?

Me: No, we are going to write about you.

Simon: I'm going to be seriously famous then.
During the hour-long ride, we met everyone on the minibus.They were happy to learn that we were hitchhiking but also concerned. And then it was clear – people are not open to the idea of asking for help but open to helping.Differences are not seen as a choice or advancement but as potential danger that threaten their life's setup. We managed to analyze some politics in the bus, exchanged phone numbers and later I noticed that a whole page in my notebook had been filled with notes of Instagram pages and phone numbers.
Simon: Girls, are you ready for your flight?

Me: What?

Simon: Let's take a selfie together before you leave.
By the way, once we were going to Dilijan. A man pulled over and agreed to take us along. It was us, some baby food and Pampers on the back seat. He was tense and rough and hardly smiled. Half way through the ride, to disperse the uncomfortable silence, he put on some music and out of the blue smiled so widely as if that was the moment he had been waiting for all his life, he was humming along, "Nikol is the hero of the nation, Armenia is a lighthouse…"
We said goodbye to our new friends from the bus and got on with the trip. The next stop was Surb Khach Monastery. The road was long and we planned to walk but Ashot pulled over and offered to help. At first he spoke in Russian and after we had gotten in, he said, "I thought you were Americans."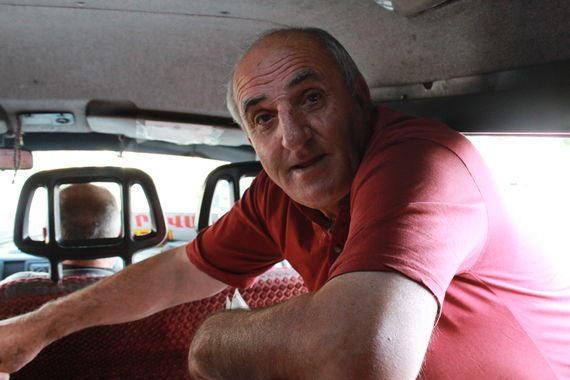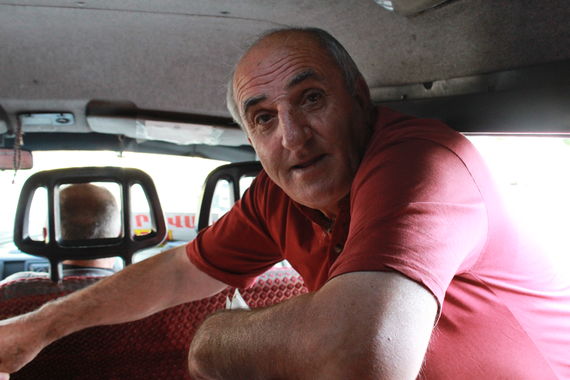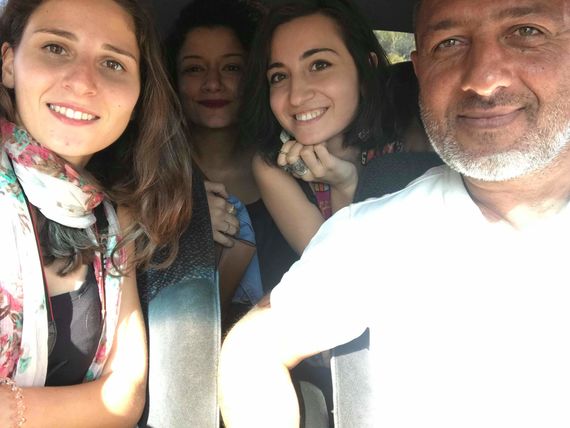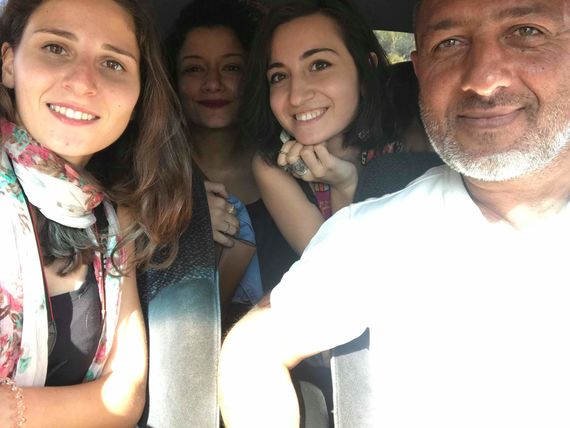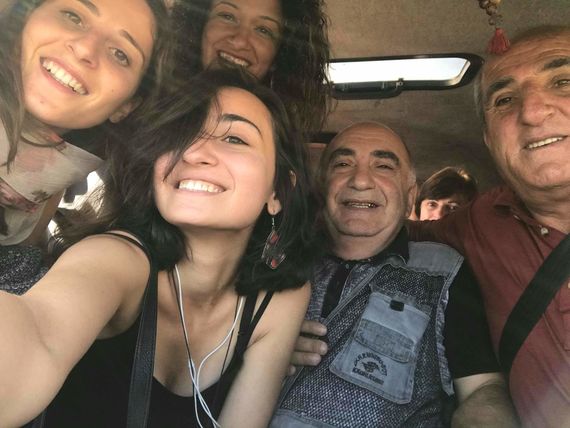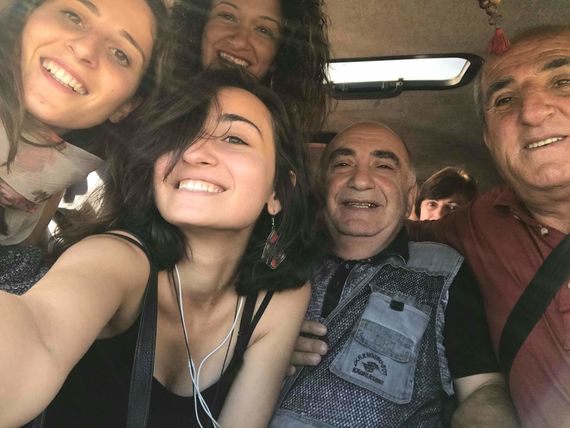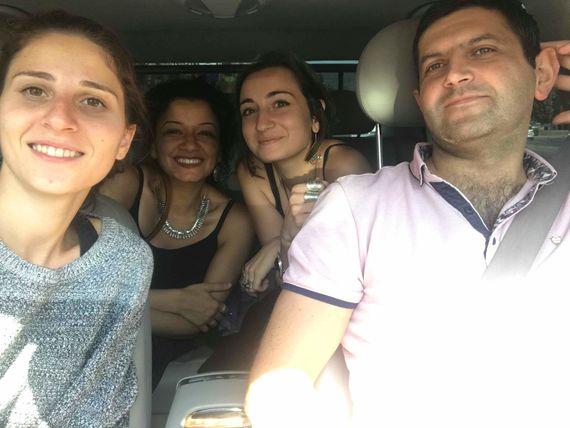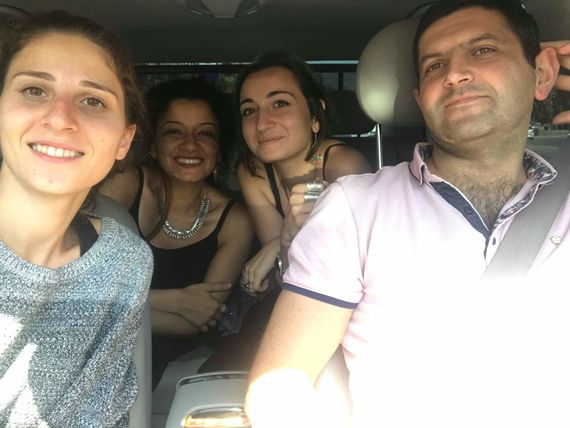 – How can I help you girls?

– Hi, we want to get to the church.

– Get in, I'll take you up there, you cannot walk all that way.
On the way Ashot told us that he did not trust people on the street: "I don't know what kind of a person I'll come across on the road. You are a cool bunch, I'm glad I met you but I would be too afraid to allow my daughter to do the same. I don't know why, I don't trust people and that is that."
When it comes to hitchhiking, the attention towards women and the fear for them is palpable. We found out that being considered a daring woman and Armenian don't intersect; if you are daring enough to hitchhike, you must be European.
During our short trip we were offered five rides. Only one driver had a positive attitude towards hitchhikers and that was Manuk, who gave us a ride back to Yerevan. He told us he believes hitchhiking is a new opportunity to travel, to get to learn about new perspectives and not be held back by finances. But again, Manuk did not trust men. "I sometimes avoid picking up men, because you don't know who they are, what they are capable of," he said. "That concern is more or less settled in the case of women, they are harmless."
Manuk said he would like it if his daughter grew up to be independent, to hitchhike. True, he would be worried but would not let his concerns clip her wings.
As always it was relaxing at Wishup and all one needs to do to escape the chaos of the day is sit on the shore, drink some wine, laugh loudly, dance a little and return.
We were back in Yerevan in the evening.  We had met people who lived by different routines, had a different understanding of life but none of that kept them from picking up something new.
We woke up the next morning, it was Sunday, there was nothing to do but it was already chilly for Wishup and the next destination was to be determined by a whim.
—————-
*Wishup is a beach on Lake Sevan
*Gazelle is a Russian produced series of light commercial vehicles
*Ijevan is where Armenia's Prime Minister Nikol Pashinyan was born.