The tech industry in Armenia has seen tremendous growth in size, success of new start-ups and performance against objective measures such as app store rankings, product hunt mentions and the securing of funding. At the same time, the primary method of comparison has been to our own history, rather than how we fare against countries of comparable size and with similar industry characteristics and pace of growth. How well are we doing? How close are we to another "inflection point" which would signal entry into the next stage and level of growth and success? 
First, a few facts concerning growth: 
The wave of acquisitions of Armenian companies (or companies with Armenia-based R&D teams) continues. Armenia now boasts significant presence by some of the biggest names in tech, including Synopsys, VMWare, Siemens EDA, TeamViewer, Adobe, Veritas and Microchip Technology, all of whom have acquired and integrated Armenian companies, as well as NVIDIA, National Instruments and AMD/Xilinx, who established Armenian operations based on the effort and recommendation of senior executives of Armenian descent;

The number of product/service companies who have successfully penetrated into the global market in their respective sectors continues to grow, and includes: Picsart, Krisp, RenderForest, SuperAnnotate, Intelinair, Podcastle, CodeSignal, SoloLearn, Activeloop and Zero Systems (the list by no means comprehensive); 
At least ten Armenia-founded companies have each raised $5 million or more in funding, and collectively, have achieved a combined valuation greater than $1.8 billion.
While these numbers seem impressive to those who remember the pre-2015 days, when one could count on one hand the number of Armenian companies who had secured more than $100K in funding, they fade in comparison to many countries of Armenia's size and background: Belgium (3 unicorns), Croatia (2), Estonia (2), Finland (4), Ireland (6), Israel (23), and Lithuania (2). With one locally-hatched unicorn, no notable exits, and a relatively small tech workforce (20-30K), where does Armenia find its place in the ranking of tech industries around the world? More importantly, what do we need to do as an industry to climb up the global rankings? 
Posing these questions to the four early-stage venture funds operating in Armenia (BigStory VC, FormulaVC, Granatus Ventures and SmartGateVC), a few trends emerged:
There has been a definite upskilling from pure technology plays to understanding the basics and importance of product/market fit;

The success of more mature startups, combined with increased availability of early-stage funding, means that more entrepreneurs are willing to enter the game, creating a larger funnel than in previous years;

We are seeing the first wave of spinoffs, as well as early-round founders acting as investors and advisors to newer startups;

While early stage (pre-seed, seed) funding is easier to find in Armenia, securing Series A or beyond requires concerted efforts to engage VCs in the U.S. and other, more established VC communities;

There continues to be a gap, more noticeable for B2B start-ups, between Armenian founders and the markets they are targeting, especially in market-facing activities and capabilities;

Based on current trends, there is capacity among the existing VCs to fund 35-40 new startups

in the next two years

(please note that capacity for individual investments by each firm is higher; this estimate assumes that multiple firms will team up to invest in the same startups, as they have done in the past). This compares to a total of 46 new start-ups funded over the past nine years (since Granatus Ventures was first launched).
These venture funds identified the following key enablers to help the Armenian tech ecosystem reach the next level:
Increased Coverage and Exposure of Successful Armenian Start-ups
International coverage can play a key role in attracting more entrepreneurs, venture firms and their extended networks to help "uncover the hidden gem" that is Armenian tech. International events which bring international focus to the Armenian tech ecosystem, such as DigiTec Summit (which just took place in Yerevan), Global Innovation Forum and a myriad of more focused tech events, play a critical role in addressing the first point. First, they engage Armenian entrepreneurs from around the world in the start-up ecosystem; second, they are a prime vehicle to attract non-Armenian entrepreneurs, investors, educators, scientists, government officials and journalists to Armenia, again increasing exposure by creating expanding concentric circles throughout their individual and collective networks. 
Advanced Scientific Research Laboratories, Universities and Institutes
Advanced mid-level science infrastructure which can deliver on advanced R&D initiatives requested by deep-tech companies can accelerate the growth in size and number of these companies. This issue remains at the forefront, and there is relevant historical precedent regarding the importance of a strong R&D capability: the strength of the scientific research community in Armenia immediately following independence attracted top firms in Electronic Design Automation (EDA) to make investments in Armenia during the first two decades of independence. Since then, the dearth of investment in research and science, and the continuous outflow of future scientists to research universities and institutes abroad have significantly curtailed Armenia's ability to produce significant deep-tech companies, or attract investment in deep-tech startups. This is not something that can be fixed overnight, or even in months or years, but movements such as Gituzh have compelled the Armenian government to take a more serious look at the benefits of broader investment in basic and directed research. Both Ashot Arzumanyan and Armen Orujian touch on this in their respective articles in this issue of Creative Tech.

Domestic/Armenian-led Venture Firms Which Can Invest in Seed Rounds and Beyond 
As mentioned above, early-stage investment has become more available and also more sophisticated (in terms of guiding entrepreneurs through MVPs and product/market fit). Armenian companies face greater challenges raising seed rounds ($1MM+ tickets). There is a chicken-and-egg element to this, as top-tier western firms who lead later rounds are looking for more successful exits of Armenian companies, while these exits themselves depend on access to that type of capital. For more on this, please see the interview with Nina Achadjian of Index Ventures, also in this issue of 374.
Doubling Down on the Involvement of Experienced Founders in the Ecosystem
The guidance and experience-based input of Armenian entrepreneurs who have succeeded in more advanced markets will be invaluable in shaping the next generation of founders, CEOs and companies. In fact, this is probably the most unique opportunity Armenia has to turbo-charge growth and climb up the rankings of tech-driven economies. The ecosystems of three of the top tech countries, China, India  and Israel (respectively 2nd, 3rd and 7th as measured by the number of unicorns), have benefited greatly from diasporas deeply involved in tech industries globally. Even after moving HQs closer to target markets and investors (e.g. Picsart, CodeSignal, Intelinair), Armenian CEOs and founders maintain strong ties with the ecosystem back in Armenia, and leverage their growing networks to help younger/earlier stage companies. Add to this the thousands of diasporans who have charted successful career paths at tech companies in these advanced markets, and you have the ingredients of a very potent "secret sauce" to propel Armenia faster toward the top of tech-driven economies. The trick is to inject enough of this sauce into the tech ecosystem in Armenia to achieve meaningful results.
Ultimately, the question to ask is the following: can the organic growth of the tech sector in Armenia, as experienced over the past decade, lead to an inflection point which will accelerate and scale that growth, or do we need a combination of the catalysts named above (and some yet to be identified) to create a step-level change in performance and relative ranking? Considering the level of global competition and the accelerated pace of growth required to keep up with other countries, the second scenario is much more likely, and collectively the Armenian tech ecosystem needs to step up to the challenge. The following articles in this Magazine delve into more detail on what can and needs to be done.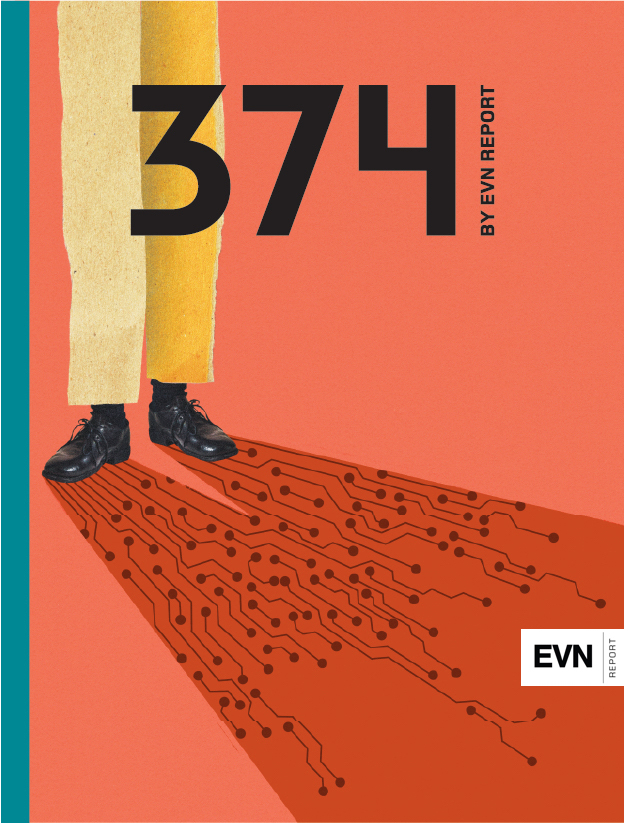 Over the last few years, as Armenia has faced tremendous security challenges, a full-scale war and unprecedented uncertainty, the country's tech ecosystem has at times appeared to be the only corner of the country from which there has been a stream of positive news. Dozens of Armenian start-ups have successfully launched new and innovative products, while attracting substantial investments, including from prominent venture capital funds such as Sequoia, Sierra Ventures and AI Fund. 
Motivated by the lack of global awareness and understanding surrounding Armenia's tech sector, EVN Report published "374," the first print tech magazine in Armenia. The inaugural issue sheds light on the fascinating work being carried out by Armenia's most innovative companies across various sectors such as AI, education, blockchain, and biotech. Additionally, we explore the necessary steps to ensure that the recent success witnessed in the industry translates into sustainable and inclusive growth for both the sector and the entire country. 
The magazine issue for June features some of the pieces found in "374". We are delighted to feature prominent voices like Nina Achadjian, Armen Orujyan, Raffi Kassarjian, Ashot Arzumanyan, and Hovsep Patvakanyan, who provide valuable insights on these topics.