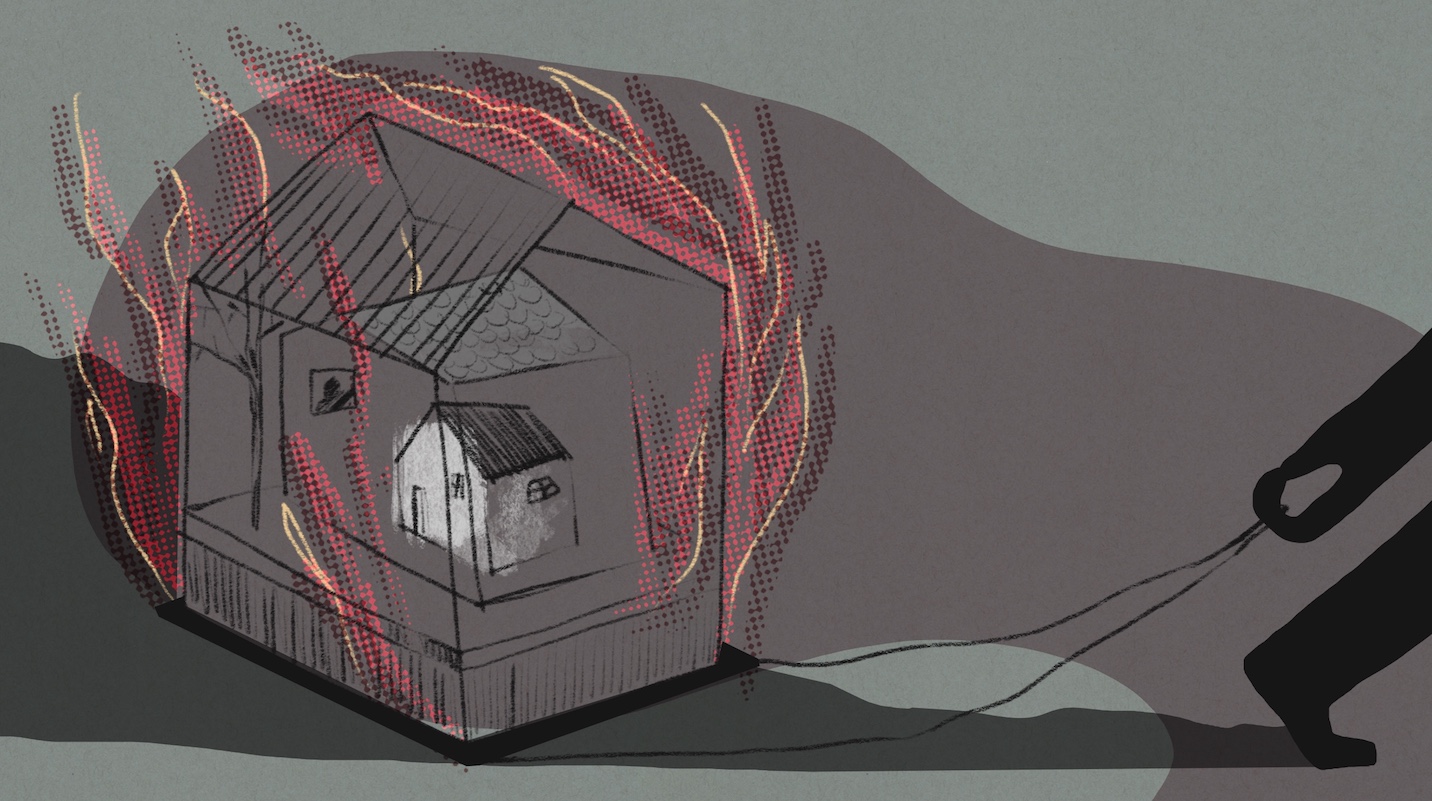 Fragments of memories, stories, lost homes, lands, lives and heritage continually crash upon the shores of seas we have no access to. Instead, we are surrounded by imposing mountains that seemingly have risen from the depths of the earth to protect us, provide shelter, a guardrail against thousands of years of foreign invasions, displacement, genocide. 
To survive, we found refuge by becoming more inward-looking, insularized, we found solace in creating fantastical myths, we relied, heavily, on glorious narratives devised and advanced by those whose objectives were spurious, we created idols, engaged in performative politics and found comfort in our imagined, yet untrue, claims of greatness…
But there is no relief, no solace, no reprieve for the Armenians of Artsakh who today, three years after the start of the 2020 Artsakh War, are being forcibly cleansed from the lands of their ancestors. As the unending stream of cars inch their way to the border of Armenia transporting people from now-lost cities, towns and villages in Artsakh, the images are reminiscent of our other great calamity. The one that was too great to bear. The one we tightly wrapped around us like a soft blanket to shield ourselves from the responsibility of building, of thinking and acting constructively, of having prudent judgment and foresight, of creating statehood with fortifications so impenetrable that we could brave the next onslaught. We survived, some prospered, but the collective remained stunted.
As the indigenous Armenian population of Artsakh pick up the fragments of their lives and flee, becoming part of a modern-day mass exodus, they leave behind their own memories and stories, particles of shattered lives. As their roots are violently ripped from the earth, they leave behind a deeply rich and achingly beautiful heritage. 
The humanitarian catastrophe of a people being forcibly displaced is now playing out in real-time. There is a deluge of images flooding our screens of babies bundled in their mother's exhausted arms, the harrowed look in the eyes of children, who endured almost a year of blockade and falling bombs, despondent men, the elderly, some unable to walk, being carried by Armenian soldiers and volunteers. And perhaps the most wrenching are those who left behind the bodies of their children, brothers and sisters, husbands and wives, mothers and fathers who died in three wars in 30 years to keep Artsakh alive. Their blood will forever remain absorbed in the earth from which they came. This is the burden that the Armenian nation will now have to bear. 
This calamity, however, is not ours to bear alone, it is about human responsibility, a universal burden that cannot be abdicated: the responsibility to protect. What is transpiring as I write these words, is a complete failure of diplomacy and the indubitable breakdown of the rules-based international order. 
Azerbaijan used every tool in its diplomatic arsenal to whitewash its barbarous actions, starting with the launching of the 2020 Artsakh War, its constant violations of the fragile ceasefire on the line of contact with Artsakh, its military operations against sovereign Armenia in May and November 2021, the large-scale offensive of September 2022 in Jermuk, its inhuman blockade of Artsakh, culminating with the latest military offensive on September 19, 2023. Following this assault, a mere 24 hours later, a ceasefire was announced that stipulated the disarmament of the Artsakh Defense Army. The people of Artsakh became defenseless and the Artsakh Republic collapsed. After days of uncertainty, the Lachin Corridor that Azerbaijan had blockaded was opened and the exodus began. At the time of publication, over 50,000 Armenians of Artsakh have already entered the Republic of Armenia. Almost half the population in three days. Tens of thousands more are expected to follow.
With no international presence on the ground and with an information blackout on the fate of those still left behind in remote villages, of the missing and murdered, what remains? But before we answer that question, another needs to be posed: what else could we have done to convince the world that this calamity would come to be? When Armenian experts, politicians, civil society and journalists were warning about the potential of ethnic cleansing, when we were reporting about Azerbaijani military buildup around Nagorno-Karabakh, when we published one article after another about Azerbaijan's state policy of hatred against the Armenian, we were told we weren't credible enough, we were subjective, biased, overly emotional…It has come to pass. And today, no one can say they didn't know, didn't see, didn't witness the ethnic cleansing of the Armenians of Artsakh and still remain credible.
What remains is very simple. The time for your concern, deep concern, serious concern has long passed. We don't need you to fly in as our tragedy is unfolding for a photo op. It is time for international forces to be deployed to defend those who are left in Artsakh. It is time for UNESCO to bring Artsakh's cultural heritage under its protection, now before it is wiped away or "Albanized". It is time for punitive measures against Aliyev's regime for committing the first ethnic cleansing of the 21st century. 
This pain is too great to bear, but it cannot, must not fill the pages of another century of victimhood and despair. It must evolve and emerge as a seminal moment for us.
We will never forgive ourselves. We will never forgive you. 
We will burn. We will burn without end if we have to. But we will rise again.