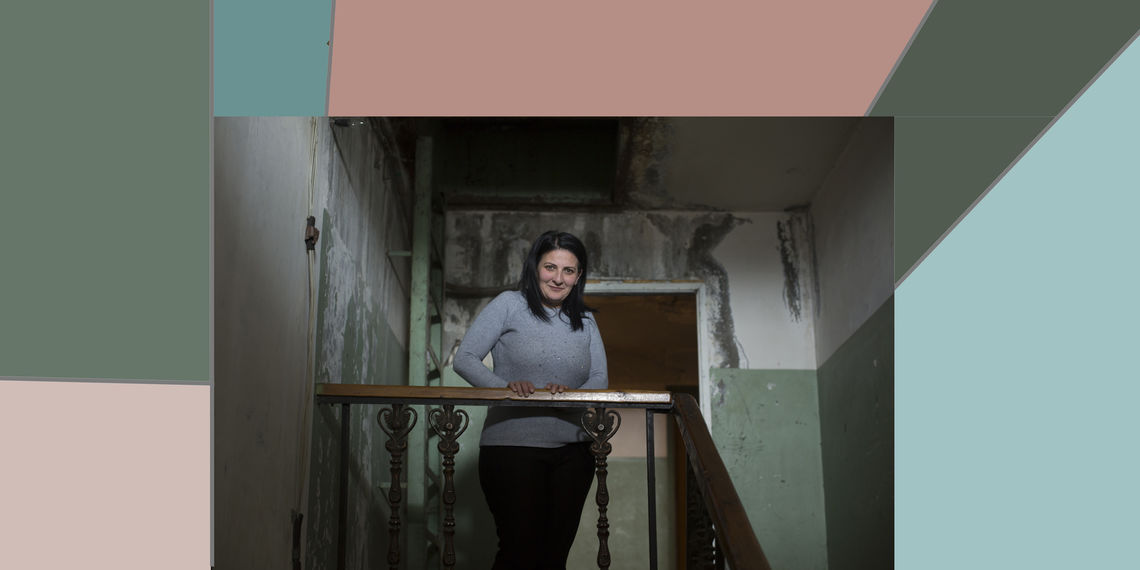 Photos by Diana Seropyan Photography. 
"Being a mother is learning about strengths you didn't know you had… and dealing with fears you didn't know existed."
Linda Wooten
Edgar arrived two months early.
For the first several weeks after his birth, 24-year-old Anahit juggled the usual stress of being a young mother of two. She got through the difficult moments by imagining her children's futures — their achievements, birthdays and marriages. She also thought about hers; when the boys got older, she wanted to find a job.
By the time Edgar had reached nine months, it was clear that his physical development was abnormal, or at least delayed. The doctor prescribed a rehabilitative course of massage and other treatments, but as time passed, little changed. It would have helped to simply know their baby's diagnosis, but Anahit and her husband even lacked that comfort. The doctors opined that Edgar's problems must have been related to his premature birth.
But finally, when Edgar was two years old, the official diagnosis came: spastic quadriplegia, a form of cerebral palsy preventing normal motor function in the limbs. In simple terms, Edgar might never be able to walk or even control his arms and legs.
For Anahit, motherhood transitioned from the usual period of self-sacrifice to a long and drawn-out battle. The unflappable hopes of youth grasped tenaciously at possibilities and faltered. Fighting for Edgar – his health, his happiness, his integration in an inaccessible community – would be the new focus of Anahit's life.
But rather than being bitter, the struggle was bittersweet. For we fight for what we love, and our love deepens the harder we fight.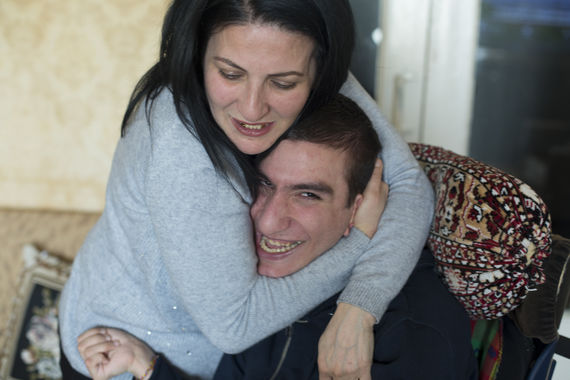 When I sat down with Anahit and 18-year-old Edgar in their family's cozy living room, it was the first time I had seen Anahit in this light. I knew her primarily as the apron-clad pastry expert, creator of the delicious golden danishes for which Aregak Bakery & Cafe is famous. But she has only held that role for the past year and a half.
Here, in her own home, I saw her as a mother, using those same deft, creative hands to squeeze those of her son; a mother who, by sharing her story, reminded me of the beautiful complexity and strength of women.
Anahit's eyes are a deep chocolatey brown. They are soft, yet intense; sorrowful, yet hopeful.
When I asked Anahit to describe the feelings that characterized those first years of Edgar's life, she used just one word: "inexplicable." How could she put into words what she felt as she clung to hopes and saw them dashed?
The family constantly traveled, seeking specialists who might be able to ameliorate Edgar's condition. In time, Edgar defied one of the doctors' prognoses – he learned to speak. But after expensive rounds of therapy, visits with doctors in Yerevan and even a treatment in Armenia's spa town of Jermuk, Edgar's ability to control his limbs and muscles hardly improved. Hope may spring eternal, but Anahit's river of perseverance nearly dried to a trickle.
It's an unfortunate reality that disability often breaks families apart, no matter where they are in the world. In Armenia, mothers often are made to feel intense shame, as though the birth of a child with disabilities was their own fault. Many husbands leave their wives, and relatives may encourage institutionalization of the stigmatized child.
With feeling, Anahit told me the opposite story; she wouldn't have gotten through the past eighteen years without the consistent support of her family members, especially her husband, her brother and her older son.
But I was curious about the community at large. The reality of lingering stigma toward those with disabilities made me wonder – how had society reacted toward Edgar in those early days?
Anahit told me about times she and Edgar had been ridiculed; she simply made the choice to ignore the jeers and stares. "You just must not pay attention to it," she said, while I thought how much easier this was said than done, especially in a society where children with disabilities have historically been hidden away at home.
Although inclusive education is growing in Gyumri, there are still many difficulties to surmount – such as the largely inaccessible physical environment, which blocks many youth like Edgar from attending school. Thus, many Gyumri residents still aren't used to seeing children with disabilities integrating in the community.
But those who know Edgar, like neighbors and family friends, accept him. Edgar's positivity and enormous smile is both a sign of this support and a reflection of his mother's love and resilience. Generally, Anahit believes that if parents are ashamed of their children – whether or not they have disabilities – society, on the whole, will reflect the parents' attitude. If parents build up their children, society will respect them too.
Even while many people love Edgar, few can truly empathize with Anahit. Thus, it was life-changing when Anahit found a community of mothers who understood her exact struggles. "Faith and Light Armenia" and "Aregak" (now "Emili Aregak") of Armenian Caritas, were instrumental in reminding her that she was not alone in weathering the unique difficulties of mothering a child with disabilities. Through these communities, both Anahit and Edgar made deep friendships and joined in activities that brought richness to their lives. Edgar participated in therapy, excursions, summer camp and other social events. Accessible transportation and supportive volunteers took a huge worry off of Anahit's shoulders. And Anahit found a network of mothers who would become her rocks of support.
"It put me at such rest to have people by my side who completely understood me," she said. In fact, Anahit would eventually begin her first-ever job alongside three of the very women she met through these programs.
In 2018, Emili Aregak Center Coordinator Tamara Vanoyan approached Anahit with an offer.
"We have a special professional opportunity for you," Tamara told Anahit.
That summer, in partnership with the European Union, Emili Aregak was opening Aregak Bakery & Cafe, the first inclusive cafe in Armenia. It would intentionally employ both young adults with disabilities and their mothers. Tamara wanted Anahit to become one of the cafe's first pastry specialists.
Anahit remembers thinking deeply about the offer. Her family would benefit hugely from the stable salary that would come with the job. The small disability pension she received each month for Edgar hardly helped with the family's expenses.
"At that time, I was baking at home," Anahit told me. "My husband would take my pastries and sell them in the village. I would sometimes take orders too."
But although Anahit had significant experience in her own kitchen, this new position would be a level up. She was unaccustomed to working with professional equipment. She was unfamiliar with the idiosyncrasies of danish or brioche dough. And most importantly of all, what would she do about Edgar?
All of these questions had already been taken into consideration. Varduhi Manukyan, a confectionary expert from Yerevan, would train Anahit and three other moms of Emili Aregak youth. Furthermore, Anahit's schedule would be flexibly arranged so as to accommodate Edgar's needs. He would spend more time at the Emili Aregak Center while she was at the bakery.
"Until that time, I didn't imagine I could ever work," Anahit told me emotionally.
After an intensive two-week training period with Varduhi during which they learned how to make specialized dough and use the layering machine, convection oven and various kitchen implements, Anahit and the other bakers were left to replicate what they had learned in advance of Aregak's official opening.
"It was very nerve-wracking; I couldn't sleep at night," remembers Anahit of that time. "I wondered if we could even manage the oven!"
But when Varduhi returned to Gyumri to evaluate her pupils, she was greatly impressed with their speed of learning and the quality of their results. But their souls may have touched her more than their accomplishments in the kitchen.
"Anahit lives through her son, rejoices and is saddened by him, inhales and exhales through him," Varduhi wrote to me. "Although she appears to be a very gentle and timid person from the first glance… her warrior's spirit is unbreakable. She is ready to go through fire and flame to ease the life of her son."
"Anahit looks at work the same way," Varduhi continued. "She puts the same heart into baking her danishes as she does into caring for her son. The love in her soul is felt when you look at and taste her pastries."
In the end, the deepest difficulties of life cultivate our virtues and shape us into the people we become. I believe that Anahit would not experience the same joy in her job or the immense gratitude she feels for the opportunity if it were not for Edgar's influence in her life.
Although Edgar protested laughingly that he hasn't taught his mother anything, she highlighted the lesson of patience. And that is one of the most powerful we can learn in this life.
Anahit bid me goodbye from the third-floor landing of her building's stairwell, the stairwell which Edgar cannot surmount on his own. Whenever the 18-year-old leaves the apartment, his dad carries him up and down four flights of steps. That's a struggle that the family is willing to embrace to make sure Edgar enjoys time out of the house, but it's also the thing that Anahit would change about Gyumri if she had just one wish: "That not one child with disabilities like Edgar's would have to live above the ground floor."
With the patience she has learned from Edgar, Anahit wants to believe in that possible future. But she was very honest – life has been an enormous struggle, and her hopes were stronger in her younger years than they are now.
Even still, her contentment has blossomed; much of that is a conscious choice to focus not on her many difficulties, but on the beautiful elements of life – her family's love, her supportive friends and her new professional fulfillment.
When she was forced to stop work for a time* due to coronavirus, she deeply missed her dough and her tools and her Aregak family. But the time off also gave her a taste of those old days when she spent more time with her dear ones at home. And that was sweet.
*Although the cafe is still closed to the public, Anahit is back in the Aregak kitchen this week. She's exchanged her danish dough for bread dough in response to the Our Daily Bread campaign, a community partnership to support vulnerable members of the Gyumri community with fresh loaves during the quarantine.