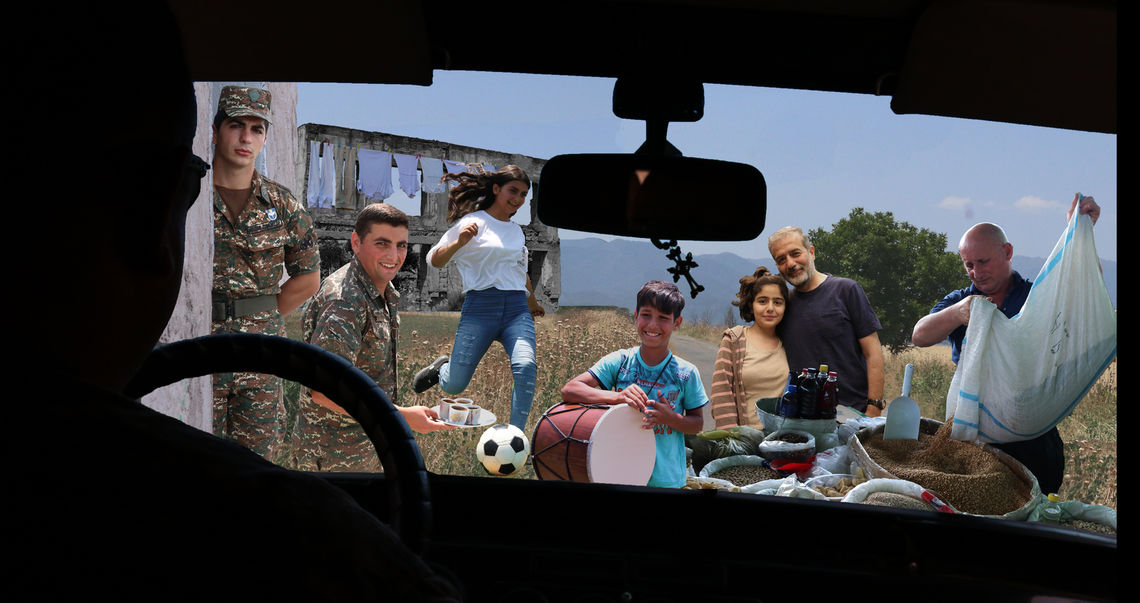 From One War Zone to Another
Walking along the brightly-illuminated streets of Stepanakert, I arrive at a narrow, cobblestoned pathway leading to a modest two-storey house made of white stones so typical to Stepanakert. It is decorated with neatly placed flower pots and a sign that reads "Esmar." A girl of about 12 is taking food orders from a group of tourists who are amazed by her fluency in English. "I learned it from my mom and TV," she notes proudly. The young girl, whose name is Arpi, seems to be dressed in enthusiasm and light. Observing her like this, she appears to be the most outgoing and careless girl in the whole city. But once she opens up a little, it becomes obvious she is struggling in the community she lives in.
"I want to become a political scientist. I want to make a change in this world. I want to fight for girls' rights," says Arpi. The young girl finds it hard to connect with her peers, who rarely share her views and often call her "weird."  Levon, Arpi's 14-year-old brother says that Arpi is hurt easily. "Sometimes people at school tell us things like 'You are not Christians. You are not Armenians. You are from Syria. You are traitors,'" he explains and adds that he doesn't take those words seriously and encourages his sister to stay strong and not be affected by hate speech.
Originally from Aleppo, Arpi's family moved to Stepanakert, Artsakh in 2012 after a wave of bombings destroyed the buildings near their house. Her father, Hovik Asmarian, always knew he would end up living in Artsakh some day, and "the war in Syria only accelerated the move."
"My story might sound a little romantic," says Hovik, "but back in 2004 when my wife Isabel and I came to Artsakh for our honeymoon, we visited Shushi, and I simply fell in love with the city and promised myself that one day I'd go back and build my own home there." Although  Hovik now lives in Stepanakert because of work, the thought of being close to Shushi brings him peace.
"My wife wasn't very enthusiastic about the decision, yet she continued to support me," says Hovik, who doesn't regret moving to Artsakh even though his hopes and expectations didn't quite match the reality. He had a plan to invest his savings from Syria in farming and build a new life from scratch. However, before his farming business would bring any revenue, Hovik needed some financial support to cover housing expenses. "The government here keeps claiming that they are ready to support Syrian Armenians. It's a lie," says Hovik disappointedly, who never received any assistance from the Artsakh government. "The only help we ever got was from AGBU." With their support, Hovik and his brother Vrej imported various crops that didn't grow in Artsakh before. Their latest innovation has been the cultivation of olives imported from Syria.
In 2018, Hovik started a small business turning part of his house into a Middle Eastern fast food restaurant. He runs it with his wife, Isabel, and their children help them out during school breaks. Being trained as a psychiatrist and managing his business of spare car parts back in Syria, Hovik is a novice in the restaurant business, but he is full of hope, ideas, and enthusiasm. When planning the cafe, he used the same innovative approach he had for farming, introducing mutabal, hummus, labne and much more to the people of Stepanakert. He thinks locals don't value their time enough. "It takes them at least an hour to have a meal," says Hovik jokingly. By introducing the first fast-food cafe in the city, he wants to bring a little change to the culture. "Besides, I want to make Stepanakertsis feel that they too can enjoy these kind of things without having to go to Yerevan," he says.
People often ask Hovik why he left Syria to come and settle in yet another conflict zone. "I'm not afraid of war," says Hovik who voluntarily joined the battle during the April War in 2016. "The situation in Syria differed greatly from Artsakh," he explains. "There, you didn't know who your enemy was. Family members would kill each because of ideological clashes. Here, we all have one external enemy." Hovik says that the people in Artsakh are close to his heart because they too have gone through war and know what it feels like to live in a war zone. Although some of his extended family members moved to Europe and Canada, leaving Artsakh does not figure into the equation for Hovik. "The only thing that makes me want to go back to Aleppo is my parents' grave," he says with a longing smile on his face.
Kovsakan: Whose Space?
Early in the morning, we headed to the Southern Kashatagh region for the opening of the Kovsakan sports field. The undulating fields of dried grass give a yellow tinge to the village that is dotted with tiny houses, a school and the newly-built football field that had brought dozens of people together, mostly teenagers who looked excited and impatient for the opening ceremony to finish, so that they could play their first real match on the new field. While the crowd was listening to the opening speeches, a group of young girls was actively discussing something on the other end of the field.
"Are you excited about the new field?" I ask.
"Yes!"
"Then why aren't you playing?"
"Oh, the field is for the boys. Girls never play here," said 13-year-old Anita shyly, the unofficial leader of the squad, who was wearing a Real Madrid T-shirt.
Anita is from the nearby village of Krmen. She is a big football fan, but she can't kick the ball around or get in a game with anyone. "None of my friends can play, and my brothers don't let me play with their team," Anita explains. However, football isn't her only passion. She is taking dancing classes, and is planning to move to Yerevan and study at the State Institute of Theatre and Cinematography after she graduates high school.
Anita's friends have different interests. They practice sewing, learn makeup techniques as well as take part in military summer camps. "In the camp, we receive military preparation, and we wake up very early, just like soldiers do," says one of the girls proudly. In their community, it is socially acceptable for girls to receive military training, yet something as simple as a football field is only meant for boys. The girls didn't seem to mind the situation, and noted that even though boys have certain privileges in the families "it's easier to be a girl in the village, because you only have to do the housework, yet the boys have so many other responsibilities."
Five minutes after our brief conversation, Anita and her friends approached the boys and offered to play together. After a few "girls can't play football" remarks failed, they enjoyed themselves and Anita's brother encouraged the girls to try harder until they scored.
Aghdam: A Ghost Town
"This place was once a flourishing, busy town," says Sasun, an army officer, as we drive past the ruins of Aghdam (Akna), which was liberated in July 1993. It played a vital role in the preservation of Stepanakert. As Sasun notes, populated by Azerbaijanis, Aghdam was a direct threat to the capital and its people as it served as a military base for the adversary from where they would regularly bombard Stepanakert and neighboring settlements. After the Azerbaijani residents started fleeing the city, the defense forces of Artsakh planned to eliminate all the Azerbaijani military bases to block access to Stepanakert and prevent the possibility of further attacks.
As we went deeper into the middle of nowhere, I tried to picture people living in those houses, before they had been turned into ruins and neighbors into enemies. There's something uncanny about this place. Soon we arrive at the military base from where we will head to the frontline. The first thing that catches my eye is the blue minaret that rises like a flower over the yellow desert of ruins. "It was a sacred place for their [Azerbaijani] people. It's not ethical to destroy religious buildings. That's why we didn't touch it," says Sasun to contrast the destruction of thousands of Armenian monuments by Azerbaijani forces.
To the Frontline
Leaving the minaret behind, we continue our way to the frontline where David, another officer, introduces us to the soldiers who seem a little intimidated by our visit. He asks the soldiers to prepare coffee for us. Seeing these young men, I can't help but picture my own brother somewhere in Hadrut guarding the border while I am trying to hide the tears that make my eyes all shiny in the brightness of the sun.
"It's been relatively quiet in the past few days. It's suspicious," says Arsen, who's wearing several special badges on his uniform. When the young soldiers learn my brother is also doing his military service, they seem to become less disturbed by our presence and start telling me with excitement how many months are left until they return home.
"I'm going to continue my education at Polytechnic University."
"I'm going to become a cook."
"I'm just counting the days."
As we get ready to leave the frontline, Silvi, one of the members of our group being hosted by the Tufenkian Foundation, kisses all the boys on the forehead. We thank them for their service and wish for peace. Silvi has an endless store of gratitude for those young men, perhaps much more than the rest of us altogether. "I cooked for the soldiers," she says with a smile that is laced with pride and melancholy, taking all of us back to the days of the April War when she volunteered as a cook on the frontline.
Silvi's gratitude isn't merely for the young soldiers guarding the frontline. She possesses infinite hope for Artsakh and its people. "I'm going to bring 10 million tourists to Artsakh," she frequently said throughout our short trip. Born in Lebanon, Silvi studied urban development and worked in the United Arab Emirates for almost 20 years. She moved to Armenia nine years ago and feels determined to use her knowledge and experience in the field to help the people of Artsakh and Armenia rise. Silvi has set a goal for herself to make Artsakh – and Shushi in particular – a tourist destination. With the incredible amount of enthusiasm and love she has for this land and its people, there's no doubt that with each new visit she will make Artsakh brighter, better and more hopeful.