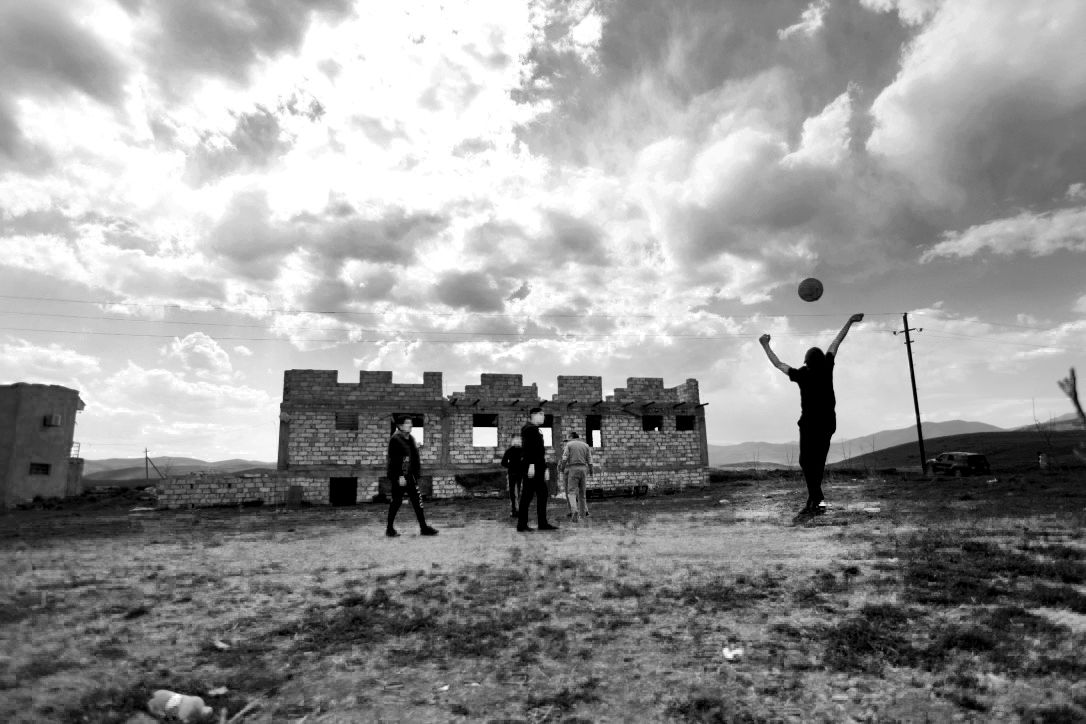 Children play near a military post in Martouni, Artsakh. May, 2017. Photo by Roubina Margossian.
It was May 1992. Accompanied by my dad I was heading for Stepanakert in the back of a lorry to apply to Artsakh State University. At the time little did I know that I would end up in the diplomatic service of the Republic of Artsakh; a country that was yet in its making.
If honest, I never planned to become a diplomat, nor did I dream about it. The circumstances that most of us, the high school graduates of 1992 in Artsakh found themselves trapped in, dictated the sequence of choices to be made in life.
Martouni, my hometown, was under constant shelling and bombing. Along with Grad missiles and Howitzer cannons, bullets from the two Azerbaijani settlements located on both ends of Martouni were sporadically passing around us. In the dark, the colorful Kalashnikov bullets were like dancing firebugs; during the day, their deadly presence was invisible and haunting.
We were peaceful like our mountains,
You invaded like savage storms.

We rose against you like our mountains,
You howled like savage storms.

But we are eternal as our mountains,
You will die out like savage storms.

                                         Hovhannes Shiraz
We had to leave our small, cozy flat on the top-floor for the basement of our apartment building. Most of the Soviet-built multi-block houses had basements where all sorts of communication lines were located. They were not equipped for living; rather served as a warehouse for homemade canned food, jams etc.  In those days our basement served as "home" to 30 families residing in the building, mostly women and kids, as all the men of all ages were at the posts. In relatively calm periods, we would sneak out of the basement to cook and collect water that was available for an hour at certain times. The whole building was one big family that shared everything "home-like:" food, burdens. I remember women and girls were knitting socks for men, kids were giving "concerts" to cheer them up and rats were sneaking out of their nests as if to complain about the unexpected neighborhood…
There was no water, no electricity, and no natural gas. And no transportation. There was no petrol, and the scarce amounts of diesel available was saved for tanks. People had to go on foot to destinations inside Karabakh, and if one was lucky enough to come across a lorry traveling halfway the same direction, it felt like a blessing. We used to walk more than 60 kilometers sometimes to check on relatives or to attend a funeral of a close one…

The village of Talish as seen from an abandoned bus. Talish was hit hard during the conflict in the 90s and again during the 2016 April War. The village remains evacuated to date. Photo by Roubina Margossian.
On that day, we were lucky. The lorry got us safely to Stepanakert. My clothes, meticulously chosen for the occasion, were covered in dust. However, I was content, for my legs were not tired of walking. After getting back into normal shape at a relative's home, I headed for Stepanakert Pedagogical Institute, (the branch of Kirovakan Pedagogical at the time, now Artsakh State University) to choose a faculty I was going to apply for. In a blockaded Karabakh the only option for most of the 1992 graduates was Artsakh State University that didn't offer too many programs to choose from. Therefore, from self-shortlisted courses I chose the Department of Foreign Languages, hoping to get a "proper" new profession with my English later on.
The military hostilities were still underway and the road through Armenia was virtually non-existent. As such, the prospects of studying International Journalism in Moscow Institute of International Relations, as I was planning, were more than grim.
I had to stay in Stepanakert for a while to take the entrance exams. After Shushi's liberation, it was a bit safer than Martouni. However, the entrance exams were cut short because of air-bombs thrown at the university hostels nearby during the exams; the applicants of the year were nicknamed "the bomb-year applicants." There were casualties, mostly in the hostels that were a temporary home to refugees from Azerbaijan. For some, it became their last refuge…
Artsakh lived and existed in those conditions while I was starting my university life. Despite the situation and some absent lecturers, the classes at the University commenced and life somehow continued. Most of the students attending the classes were girls; boys were in the newly formed army to protect us. University windows had no glasses and polyethylene covers that were used as substitute did not really protect us from the cold… Nonetheless, no one complained.
My studies were advancing at their "normal" pace, until in my third year when the newly formed government announced a job vacancy for an assistant and interpreter for the Prime Minister. Like many of my classmates, I decided to go for it. After being tested on my Armenian, Russian and English I was the lucky one accepted for the job.
With the job, life became more interesting and fulfilling. It did not really matter that on the third day of work I was asked to translate for an important guest at the Artsakh parliament. That was quite a responsible task for a third year teacher-to-be with no previous experience in official translation. However, since no other choices were offered, I had to take the challenge. It seemed to go fine and from then on, I was translating for most of the people and delegations visiting Artsakh. Through my work, I met a great number of incredible and inspiring people from all walks of life; from construction specialists, eye doctors and neurosurgeons to baronesses and congressional representatives. I learned something from each of them. And made friends with many of them.
It may seem strange, but while acting as an interpreter I also learned a lot about my country and my people. It was just after the war, and the whole country was devastated. I traveled throughout Artsakh with different delegations and met many of my co-countrymen and women who struck me with their simple wisdom and straightforwardness. In those war-torn villages and towns amidst the ruins and hardships, I saw people full of hope and dignity. And I felt proud belonging to them. I also felt a need to be useful…as much as possible or even impossible…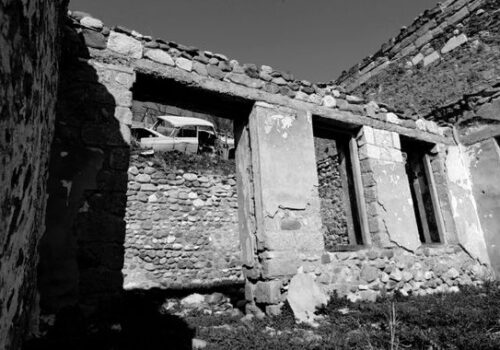 Traces of destruction from the war in early 1990s can be seen across Artsakh. Photo by Roubina Margossian.
That is why when an opportunity arose to study abroad I decided to make the most of it. The cease-fire was already signed and the country was slowly recovering. It was time to take up the challenge of peace.
In 1997, I was accepted to Westminster University, London, with the Study Abroad Diploma Program to study International Relations and Political Theory. After graduating from the course, I was offered a place at the Diplomatic Academy of London for an MA in Diplomatic Studies with more than 125 students from 85 countries. The multicultural environment that London offers, doubled with the multi-national class and professors, made the educational process a very empowering and unforgettable experience. The Academy also had different exchange schemes, thanks to which I had a chance to also attend courses at the Diplomatic Academy of Vienna and polish my then existent German. After interning at the Armenian Embassy in London for two months in the autumn of 1999, I returned home to work.
I started to work with the Artsakh Foreign Ministry in January 2000, in the position of Assistant to the Foreign Minister, who was a woman. My job was interesting and rewarding in many ways. And I am not talking about financial benefits, because the salaries were very low those days. It gave me much more than financial benefits, it allowed me to live a life of substance, to feel that I was contributing to the common good and to be sure that one day things will get much better.
Today, I serve as Deputy Foreign Affairs Minister of Artsakh. It has been a long, sometimes treacherous journey, laced with pain and hope and a sense of isolation working in the service of a country that is not recognized by the world, but I strongly believe life is what you make of it. And this refers to the future of Artsakh too.
Artsakh will be what we make of it…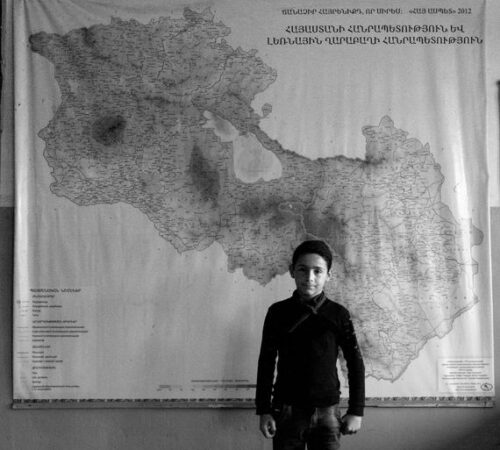 The entrance to an elementary school in Artsakh. Photo by Roubina Margossian.