Today, the world is witnessing the displacement of an entire people off their ancestral homelands by the joint efforts of two authoritarian regimes in the region – Turkey and Azerbaijan – with the assistance of mercenaries from Syria and other parts of the Middle East.
In the early morning hours of September 27, Azerbaijan launched a wide-scale military attack against Artsakh (Nagorno-Karabakh) along the entire length of the Artsakh-Azerbaijan Line of Contact. Since then, the capital Stepanakert and countless other towns and villages have been under constant bombardment. Supplied with high-tech weapons, including Israeli and Turkish-produced drones, Azerbaijani forces have relentlessly launched offensive after offensive. Their endgame is simple – the full occupation of Nagorno-Karabakh and the obliteration of its indigenous people.
Today, tens of thousands of refugees from Artsakh are in Armenia. They are mostly women and children and the elderly. Unable to keep their families safe from constant shelling and bombing, these women have fled to Armenia, leaving behind their husbands, fathers, sons and brothers on the battlefield. Armenian soldiers, men and women, are on the frontlines of this battle, fighting to protect their families and their homeland.
There has been much discourse in Armenian society about the role of the United Nations in extending support to the Armenians of Artsakh. Because of political considerations, the UN, specifically UNHCR and UNICEF in Armenia, had been largely quiet, until a 14-year-old boy was injured on Armenian territory by an Azerbaijani drone strike. However, Article 2 of the UN Declaration of Human Rights asserts that everyone is entitled to their human rights, including the right to life, regardless of whether the state they live in is recognized or not. It reads:
Everyone is entitled to all the rights and freedoms set forth in this Declaration, without distinction of any kind, such as race, colour, sex, language, religion, political or other opinion, national or social origin, property, birth or other status. Furthermore, no distinction shall be made on the basis of the political, jurisdictional or international status of the country or territory to which a person belongs, whether it be independent, trust, non-self-governing or under any other limitation of sovereignty.
-UN Declaration of Human Rights, Article 2
Today, the women of Artsakh were in front of the UN offices in Yerevan with their children and grandchildren, asking for the very simple right to life and assistance by a global organization who says that no one should be left behind. They were joined by thousands of people in Yerevan demanding that the UN take action and, if nothing else, provide humanitarian assistance to the indigenous Armenians who are now facing not only the loss of their men, but of their very existence.
These are the voices of the women of Artsakh.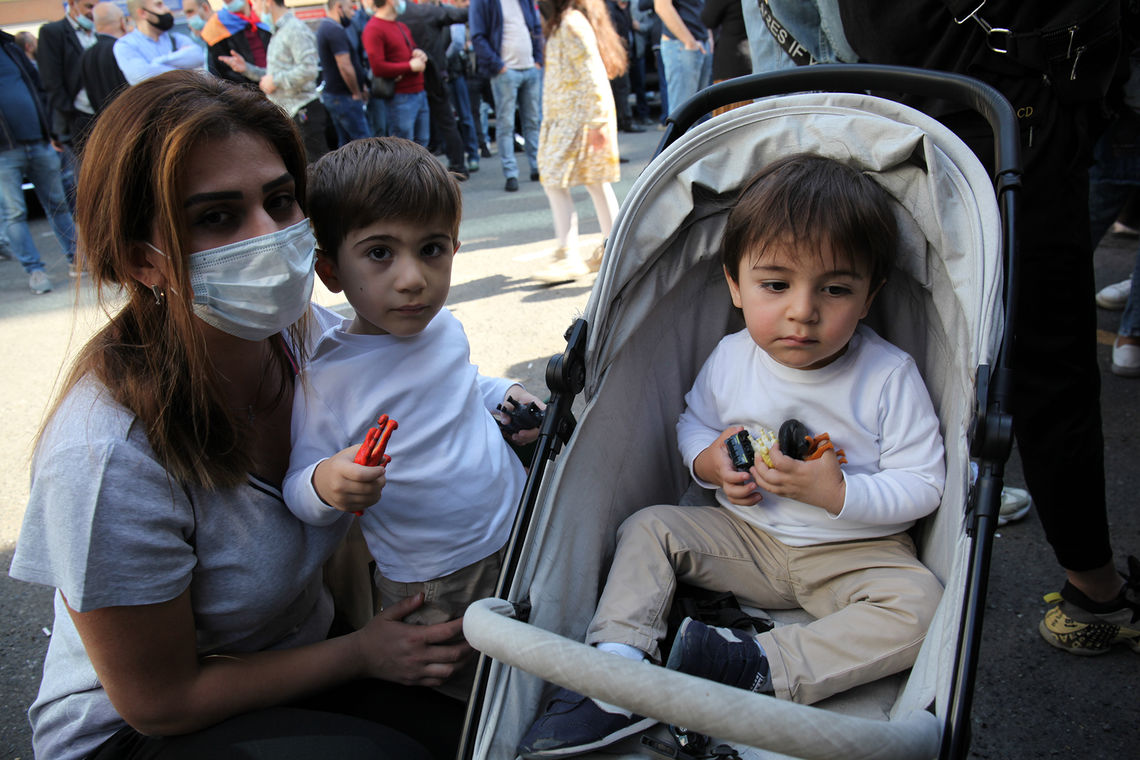 I came here with my two little children. My husband is there. My brothers are there. My father died in 1993 during the first Artsakh War. My mother was there but since the situation worsened, we brought her to Yerevan. The men are there, we, the women are here. Our call to the world is not to be blind, to see that even though this is an unrecognized state, war crimes are happening, a crime against humanity is happening. Turkey and Azerbaijan want to displace us from this land, to commit a genocide. We want to tell the world not to allow second similar genocide. I cannot imagine that in the 21st century, in a civilized world a woman can wake up at 7 in the morning from the sound of bombings, look at her two sleeping children and not know how to hold them both and where to run. I cannot imagine a woman in Europe, in the U.S., witnessing such a disaster. It's very insulting to me that the UN did not issue a single statement. Only on the 14th day of war when a citizen of Armenia was wounded, which we of course are saddened to hear about, the UN made an announcement. This means the UN doesn't give a damn. They noted that they are under the protection of humanitarian law but don't they realize that there is a civilian population in Stepanakert, in Askeran, in Hadrut? They all are under the protection of the same humanitarian law. When they invade Hadrut and brutally kill sleeping disabled people… Isn't that their job ? The UN says, leave no one behind. That's why they should not leave behind anyone. If they establish these principles, they should follow those principles.
Nonna Poghosyan, Stepanakert
Our rights are universal. We are the same, we exist and I want [the UN] not to be blind. I want them to understand that we are under attack from the triple aggression of Azerbaijan, Turkey and the terrorists. And this is not going to end anytime soon. It has been 21-22 days that we are under attack, our churches are under attack, our schools are closed and attacked, our kindergartens are attacked, and our children are deprived of any universal rights. They just want to live in a peaceful land, in their homes. We're deprived of our homes. We're here. This is not our home. We're thankful to everyone who has provided us with shelter, but this is not our home. We want to go back. We want the UN not to be blind, to open their eyes and do something. If their regulations do not correspond to their principles, let them change their regulations because their principles should be universal and they claim that they do not leave anyone behind, but it seems that they left all these people behind.
Margarita Gasparyan, Hadrut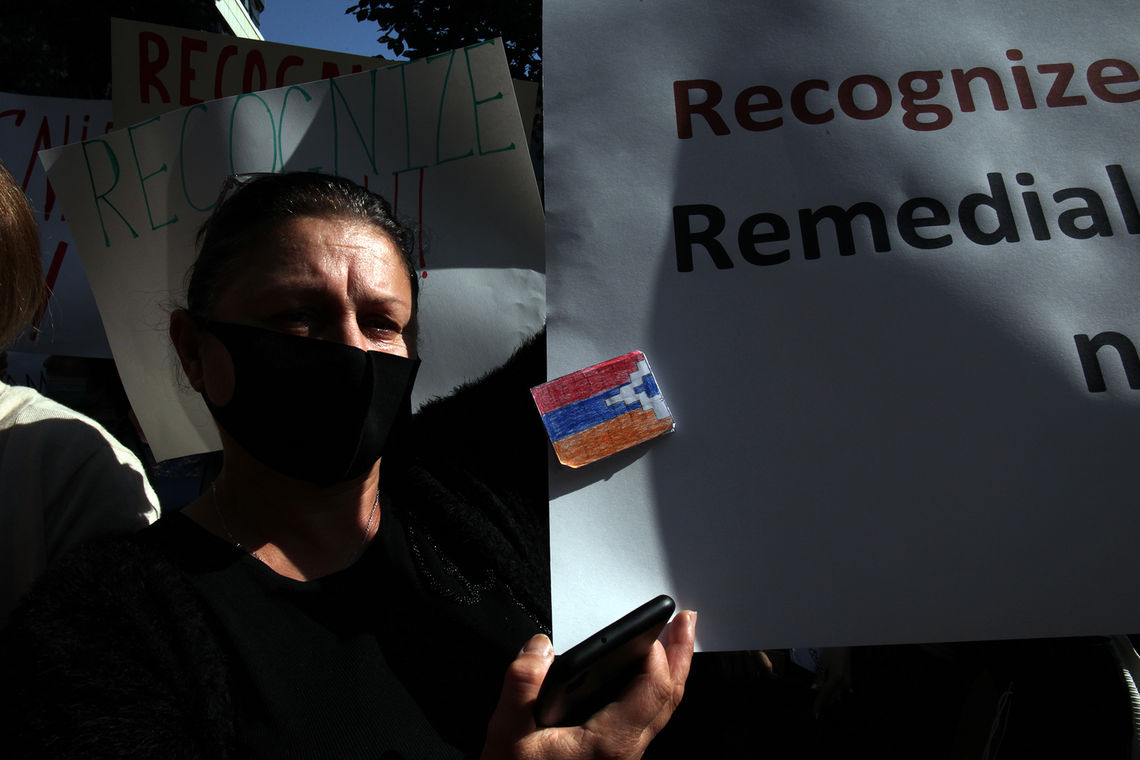 I'm here with my daughters-in-law, my two grandchildren. My sons are there. I want the world to know that blood is being shed, the blood of innocent children is being shed. People just want, our children just want to live on their land, to study. My granddaughter started first grade this year with great enthusiasm. We were so happily getting ready for that. Then seeing her desk, her backpack, I felt such deep pain. Our children are not only deprived of the right to education, but also the right to life, because the bombing showering down on the heads of these children, it's a crime against the entire world. How can anyone shell or fire cluster munitions onto these children? We stayed in Hadrut until 10th. Those cluster munitions…so many things were fired. You can't imagine how horrifying it is…What was happening and what is happening now, let alone the fact that our children, our youth, an entire generation is going through a genocide and so are we. Our demand is for them to hear us and put an end to this fight, most importantly to this war and then afterward decide the issue of our self-determination. We have the right to live on our land. We don't attack. They attacked when we were doing our work. We started our morning with peaceful chores, I was making preserves, with no idea that they had sent UAVs toward us. This is our demand: to recognize Artsakh's independence and let, no, not let, but to ensure our children's right to life, the right to education and the right to live freely. That's all.
Liana Sargsyan, Stepanakert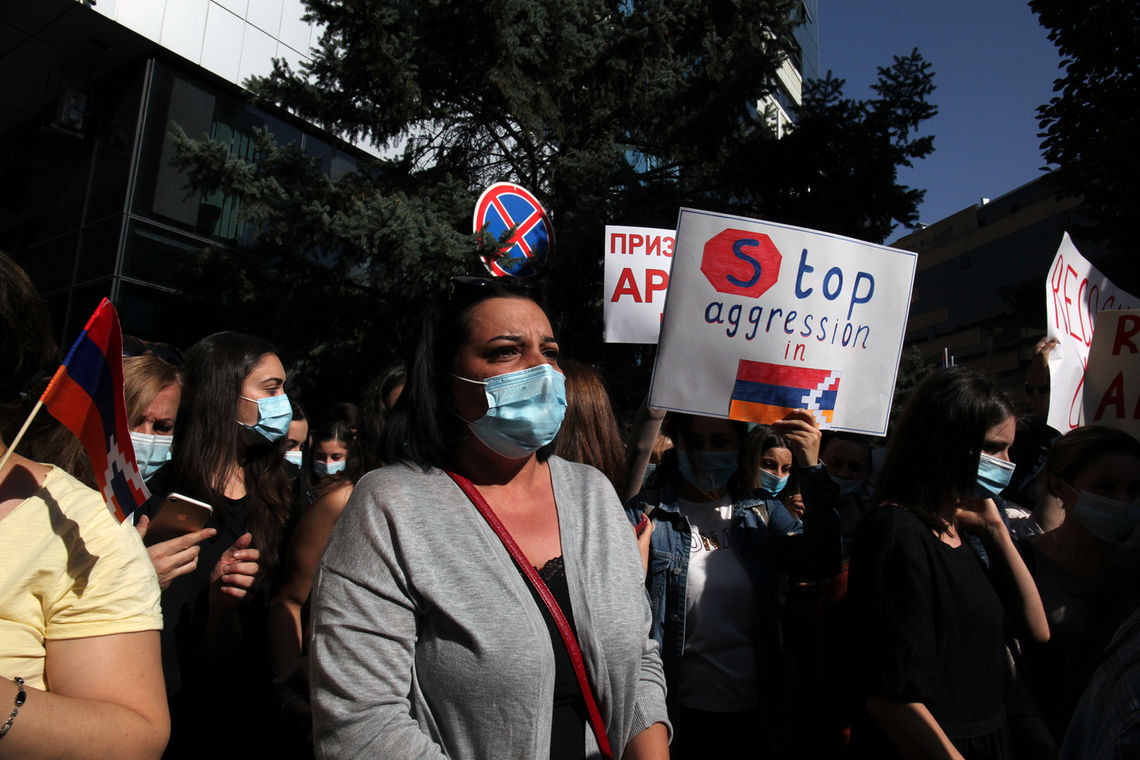 We want to live like other people. We have that right. I feel bad for these children, they have no fault in this. This is the third war they are witnessing. People should not be treated like this. Is that acceptable? We just want to live a normal life. To live on this land, to live on this small plot of land, nothing else. Today, people wake up in the morning and send their children to school. What do we do? We look at how they go to school and we cry. Don't our children have the right to live? Don't they have a right to go to school? What do we want? This is the third war I'm witnessing in my life and I'm only 39 years old… I've seen war three times. Why? What for? Because we are Armenians? Because we were born in Armenia? Or because Erdogan is a terrorist? I'm here with my children. My husband is there. My brother is there. All of my relatives, men are there.
Christine Balayan, Stepanakert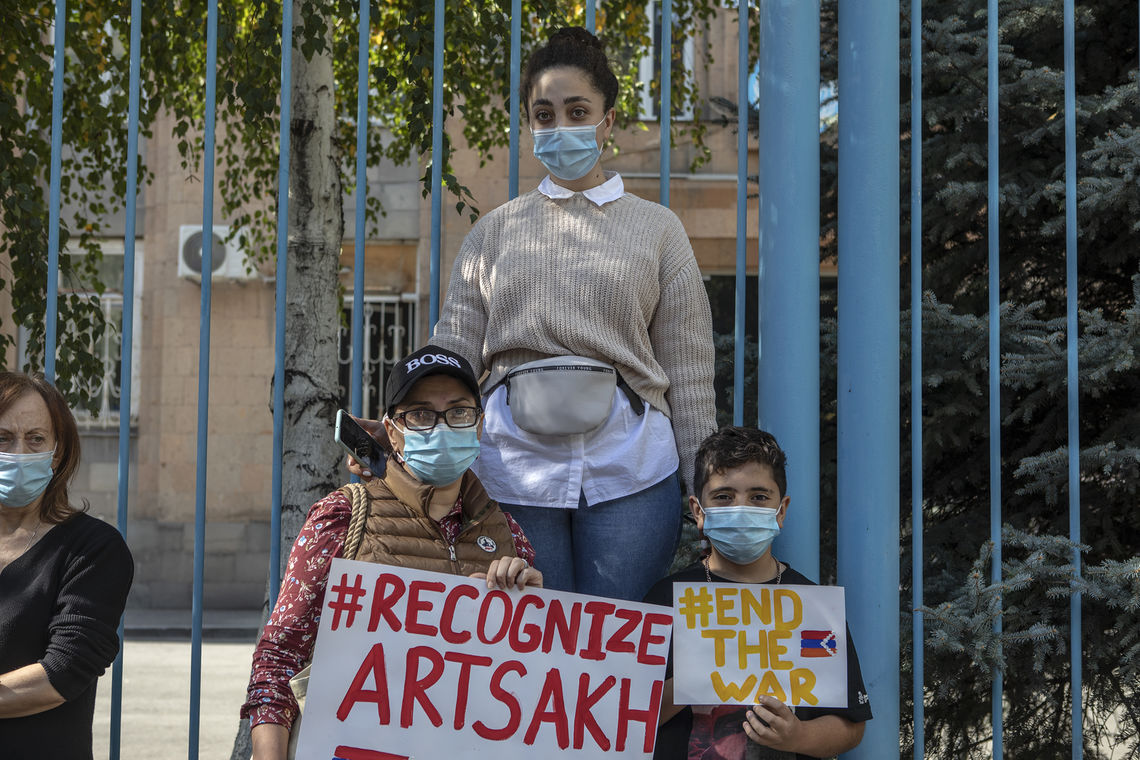 I'm from Artsakh, Karabakh. I came here today specifically for this. I live in Stepanakert. It's been 22 days since the war has started and I stay in Artsakh because I know that our boys are in the military posts defending us and they need to know that we are waiting for them to come back home, to come back with victory, which will definitely be the case. We have gathered together here with women and children to make our voices heard. Our boys are on the front lines and we are here to tell the world not to be silent, to listen to us, we exist. Artsakh is Armenian land. See how many people live in Artsakh and they will live forever. Now we are asking the world to do something and stop this war so everyone understands no mother wants to lose her son. Now, we have innumerable losses – both we and the Azerbaijani side. No one needs that, no mother wants to lose her son. That is what we want, to stop the war.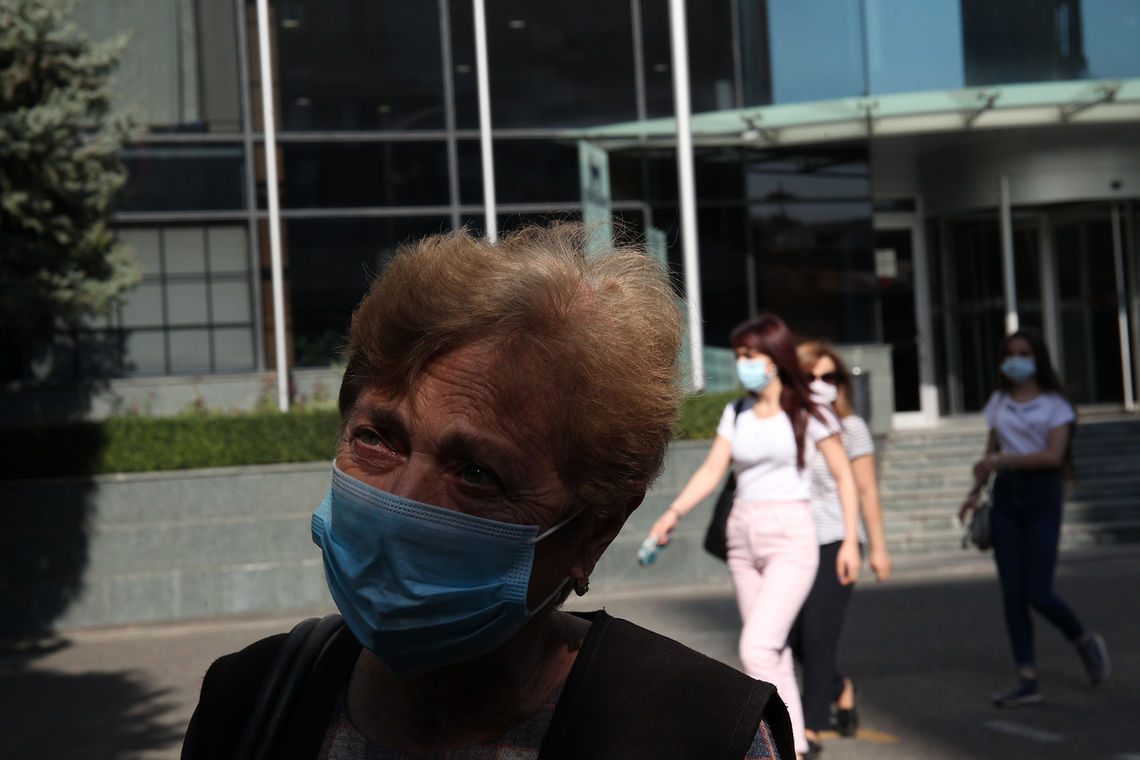 We have come here to get recognition, for the world to recognize Artsakh. Isn't that so? My three grandsons, my sons-in-law and my son are on the battlefield. I came here with my grandchildren. We all came here to demand our justice, our independence, to end this war so we can all return to our homes. During the first war, my grandchildren were little, we raised them and now they are on the front line. They are on the battlefield.