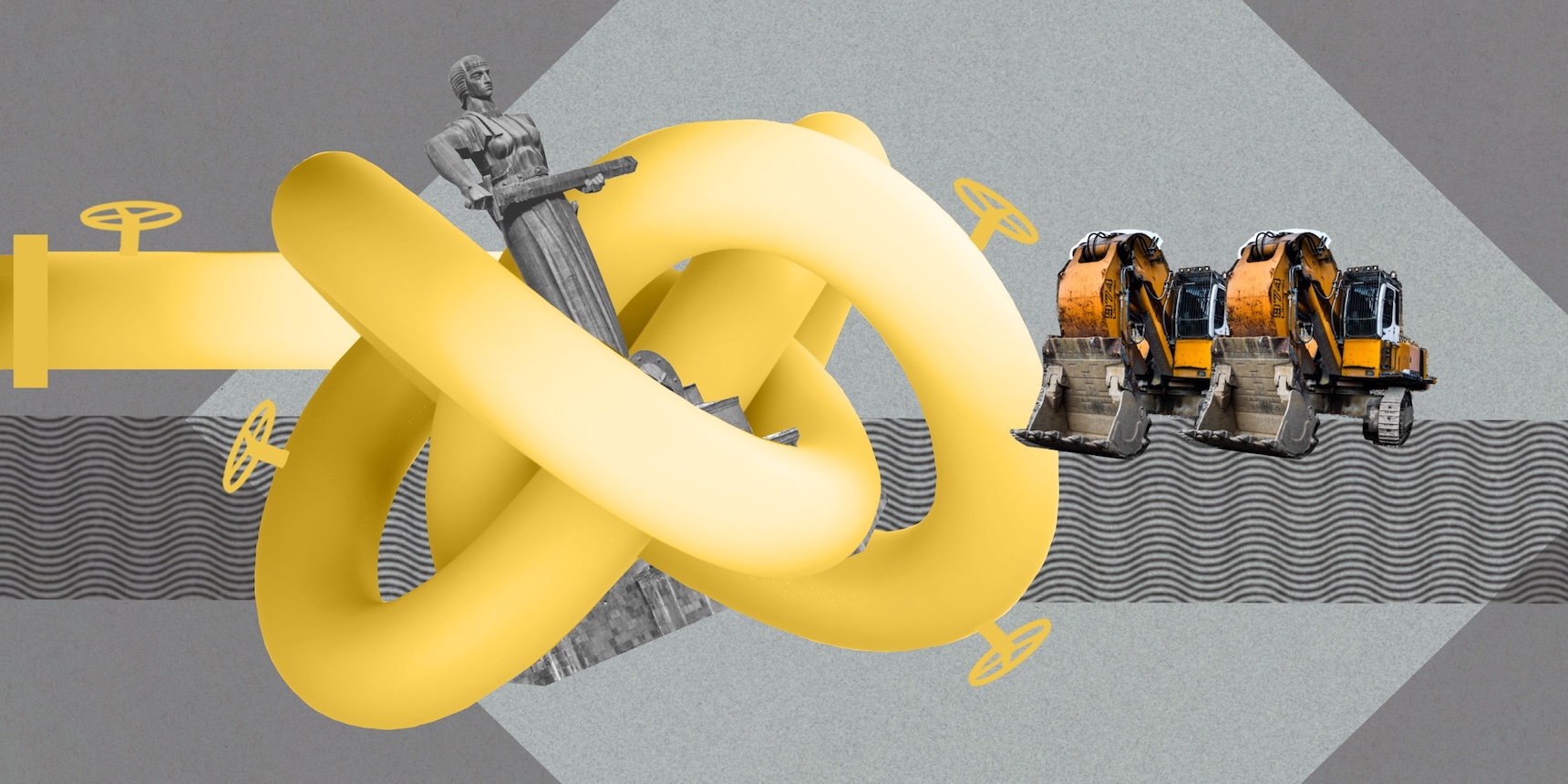 Armenia–Russia relations may be at their lowest point politically in more than three decades, but economic relations are at their highest, at least in terms of trade. Much has been written about Armenia's political and security ties, including its dependence and overreliance on Russia. This article provides an overview of Russian control and influence in Armenia's economy, which includes the energy sector, trade, foreign investment, remittances, and the significant mining industry.
Energy
Armenia's energy sector is heavily reliant on Russia, with no other sector of its economy displaying a similar level of reliance, as demonstrated by its near-monopoly on exports of gas, oil, and nuclear fuel, as well as its control over critical infrastructure.
Hydrocarbon Imports
Armenia, which lacks any fossil fuel reserves, heavily depends on imports for its hydrocarbons. Recent data shows that between 2019 and 2021, Armenia imported around 70% of its petroleum oils and nearly 85% of its natural gas, including liquefied gas, from Russia. Of the remaining natural gas, 15% comes from Iran, while Armenia imports petroleum oils from various sources, such as Italy, Bulgaria, Romania, and Greece.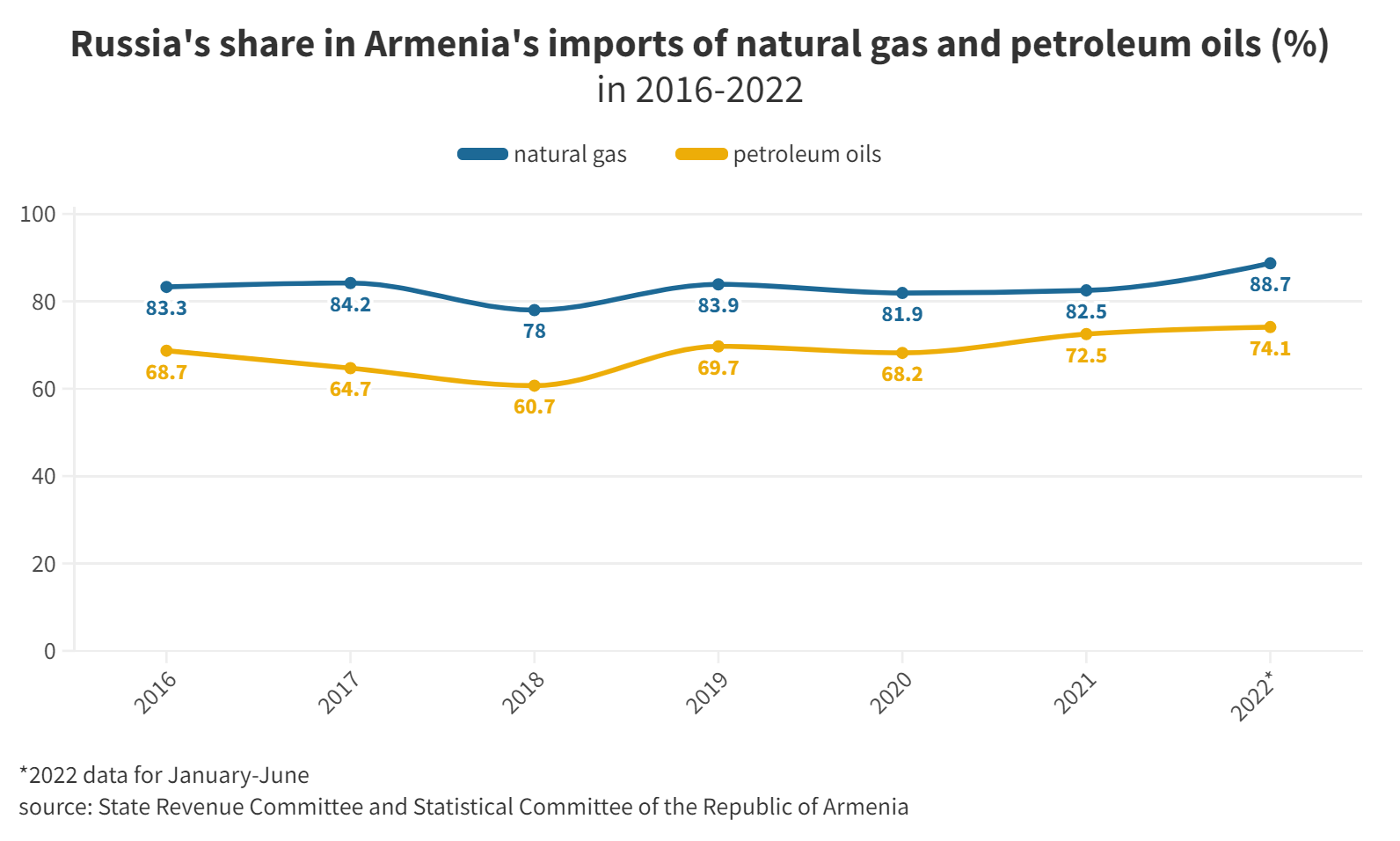 In 2021 alone, Armenia imported a substantial $414.4 million worth of natural gas and $270 million worth of petroleum oils from Russia, making these the top two imported products. For context, the import values for pharmaceutical drugs and passenger cars were valued at $136.6 million and $128.6 million, respectively. At the same time, oil and gas accounted for 37.6% of all imports from Russia to Armenia between 2019 and 2021.
Petroleum oils, including gasoline, diesel fuel, jet fuel, and motor oil, are primarily used in road and air transportation. In contrast, natural gas boasts a broader range of consumers. According to the latest 2022 data, households and the public sector primarily use natural gas for heating, accounting for 31% of its consumption. Natural gas also plays a significant role in electricity production, amounting to another 31% of its usage. A notable portion, around 18%, is consumed by vehicles running on compressed natural gas (CNG). Armenia's industrial sector, particularly cement and metal production, consumes an additional 10.5%, while the remaining 10% is used for various other applications.
In the past decade, thermal power plants (TPPs) fueled by gas have contributed an average of 40.5% to the country's total electricity output. However, not all the gas burned in these TPPs is of Russian origin. Since 2009, Armenia has swapped Iranian natural gas for electricity (at a rate of 3 kWh for one cubic meter) under a deal signed in 2004.
Although less than 20% of natural gas is consumed by vehicles, more than 80% of vehicles in Armenia run on natural gas in either liquefied or pressurized form. In 2014, an estimated 77% of Armenia's cars were classified as natural gas vehicles (NGV), making it the country with the most share of NGVs out of total vehicles, ahead of Pakistan, Bolivia, and Iran. While natural gas is less polluting, Armenians have mainly transitioned to it because it is significantly cheaper than gasoline.
Nuclear Energy
Armenia's only nuclear power plant (NPP) in Metsamor, just 30 kilometers west of Yerevan, is owned and operated by the state-owned Armenian NPP CJSC. Over the past decade, the NPP has contributed an average of 31% to Armenia's annual electricity output.
The operation and maintenance of Metsamor's NPP heavily rely on Rosatom, Russia's state-controlled corporation. All of Armenia's nuclear fuel is imported from Rosatom's TVEL division. Additionally, Russia has regularly provided repairs and modernization services to the Soviet-era plant, which was constructed in the 1970s. In 2021, Rosatom completed repairs and modernization to extend the plant's operational life until 2026. Further support from Rosatom is expected to extend its lifespan until its planned decommissioning in 2036, when a new plant will take its place.
Between 2003 and 2012, the management of the facility was temporarily transferred to the Russian state-controlled Inter RAO UES, due to the plant's failure to settle a $40 million debt accumulated for nuclear fuel.
Armenia aims to complete a new NPP within the next 13 years. Initially, Rosatom was the primary consideration for constructing the new plant, and Russia expressed its willingness to finance the project. However, with a recent shift towards closer ties with Western partners, Armenia is now exploring other options as well. In particular, the United States is evaluating the feasibility of small modular reactors (SMRs) in various countries, including Armenia, to enhance energy independence from Russia. Prime Minister Nikol Pashinyan confirmed this and mentioned that an Armenian delegation will visit the U.S. to assess the capabilities of SMRs. Armenia is also exploring options from France and South Korea.
Russian Ownership of Energy Infrastructure
Armenia's reliance on Russia for hydrocarbon and nuclear fuel imports comes with the notable presence of Russian state and private capital in the country, which control a significant portion of Armenia's energy infrastructure.
Gazprom
Gazprom, the Russian state-controlled gas giant, holds several key energy assets in Armenia. These include Armenia's gas distribution network, the Iran-Armenia gas pipeline, and the Fifth Unit of the Hrazdan Thermal Power Plant (TPP).
Gas Distribution Network
In 1997, when the Armenian government and Gazprom agreed to set up HayRusGazArd (ArmRosGazProm) CJSC, Armenia's gas supply system began to be repaired and renovated. In 1998, the Armenian government transferred the assets of the formerly state-controlled enterprise to HayRusGazArd. Initially, the shareholders consisted of the Armenian government with a 45% stake, Gazprom with 45%, and Itera International Energy Corporation with 10%. 
Between 2006 to 2008, Gazprom acquired additional shares worth $548.8 million, increasing its ownership of the company from 45% to 78.83%. In 2009, Gazprom's share reached 80% when it acquired shares previously held by Itera, leaving the Armenian government with only 20%. 
In January 2014, the Armenian government relinquished its share of HayRusGazArd to Gazprom in exchange for a $300 million debt owed to the company. This debt was accumulated due to the Armenian government's covert subsidization of the Russian gas price between 2011 and 2013. 
The company was subsequently renamed Gazprom Armenia and was granted exclusive rights in the Armenian energy market until 2043.
Iran-Armenia Gas Pipeline
Gazprom also controls the Iran-Armenia gas pipeline, which runs from Ararat to Agarak on the Armenia-Iran border. The pipeline was discussed since the early 1990s and was agreed upon between Armenia and Iran in May 2004. The construction of the first section of the pipeline, around 40 kilometers in length from the border to Kajaran, began in late 2005 and was financed by a $34 million loan provided by Iran. It was inaugurated in March 2007. The second section, running 197.4 km from Kajaran to Ararat, was financed and built by HayRusGazArd (ArmRosGazProm) and inaugurated in December 2008 with the attendance of Gazprom CEO Alexey Miller.
From the beginning, Russia and Gazprom expressed concern with the pipeline's potential to make Armenia a transit country for Iranian gas to Georgia and beyond. It is believed that the pipeline's original diameter of 1,500 mm was reduced to just 700 mm under Russian pressure.
Furthermore, during its construction, Gazprom took control of the 40 km segment of the pipeline (Kajaran-Agarak). This handover was first announced in April 2006 as part of a deal that ensured low Russian gas prices for Armenia until 2009. Vardan Ayvazyan, chair of the Armenian parliamentary committee on economic affairs, later admitted that it was sold to Gazprom under Russian pressure. The 40 km long pipeline was formally acquired by Gazprom Armenia in 2015. The company paid $30 million in 2007, when a tentative agreement was reached, and $9 million in 2015 to complete the takeover.
In November 2022, Armenia and Iran agreed to double the import of Iranian gas, which has stood at 370 million cubic meters annually in recent years.
Hrazdan-5
Lastly, Gazprom owns the Fifth Unit of the Hrazdan TPP, essentially a separate plant despite its name, which it acquired in 2006 for $118.8 million by buying newly issued shares of HayRusGazArd. The Hrazdan TPP has four other units, but the fifth one was left incomplete when the Soviet Union collapsed. Gazprom has claimed to have made a total investment of $465.2 million to complete and modernize it. The unit went online in January 2012. Until 2020, when it operated fully, Hrazdan-5 contributed 12.7% to Armenia's total electricity generation and nearly a third of the thermal power generation.
The Fifth Unit has long been associated with the Armenia-Iran gas pipeline and the electricity-for-gas swap deal between the two countries. However, since the Armenia-Iran high-voltage electricity transmission line has not yet been completed, the plant has only been operating at 30% capacity and has accumulated significant debt. In November 2020, its operation was put on hold. Two years later, in November 2022 the Armenian government agreed to pay Gazprom around $35 million annually over the next decade to recoup investments made in 2013 and cover necessary repairs. Despite this agreement, official data shows that the plant has not resumed production as of Q1 2023.
Samvel Karapetyan's Tashir
Currently, Russian private capital's foothold in Armenia's energy sector is solely represented by Armenian-born billionaire Samvel Karapetyan. Karapetyan, a major Russian government contractor, has an estimated worth of $3.4 billion, and has not been sanctioned by the West.
In the past decade, Karapetyan, or "Tashir Samo" as he is popularly known, has acquired several key companies in Armenia's energy sector. These include the electrical grid network, the Hrazdan thermal power plant (TPP), and the Sevan-Hrazdan cascade of seven hydropower plants (HPPs). 
Electric Networks of Armenia 
In 2015, Karapetyan's Tashir Group acquired Electric Networks of Armenia CJSC, the country's grid company, for an estimated $720 million through offshore companies. According to a February 2023 declaration, Karapetyan and his son, Sargis, are the majority beneficial owners, controlling 60.8% shares of the company. 
Electric Networks of Armenia was established in 2002 by consolidating and privatizing Russian companies. It was first controlled by Midland Resources Holding, but was acquired in 2006 by RAO UES International CJSC (Inter RAO), a majority-state owned company. At the time of Karapetyan's acquisition, it was considered heavily mismanaged.
Hrazdan TPP
The Hrazdan TPP (without the Gazprom-owned Fifth Unit) was transferred to Russia in 2004 under President Robert Kocharyan's controversial equity-for-debt deals. It was managed by Russia's Federal Agency for State Property Management and the state-owned Rosneftegaz company until 2011 when the plant was acquired by Inter RAO, the company that managed Armenia's grid at the time. Samvel Karapetyan acquired Hrazdan TPP CJSC, its operating company, in 2017. According to the latest declaration, he, along with his wife and son, control 68% of the shares.
Sevan-Hrazdan Cascade
The Sevan-Hrazdan cascade, a series of seven hydropower plants, was initially transferred to Russia in 2003 to pay off the $32 million debt of the Metsamor NPP for Russian nuclear fuel and to provide an additional $8 million for more deliveries. It was incorporated as the International Power Corporation CJSC and initially handed over to state-run Unified Energy Systems (Inter RAO UES). In 2011, the state-owned RusHydro OJSC acquired the cascade, which was later sold to Karapetyan in 2020. Currently, the Hrazdan TPP CJSC owns 68% of the shares, with the Karapetyans in control.
Trade
In 2022, Russia accounted for 35.6% of Armenia's foreign trade. Last year 30% of Armenia's imports came from Russia, while 45% of Armenian exports went there. Despite the two countries not sharing a border, Russia has consistently been Armenia's largest trade partner since 1995, when data is available.
However, Russia's share in Armenia's foreign trade has not always been as significant. In fact, official data reveals that its share has grown significantly in the past two decades. In 2003, less than 14% of Armenia's trade was with Russia, and as recently as 2014, Russia accounted for less than a quarter of Armenia's foreign trade.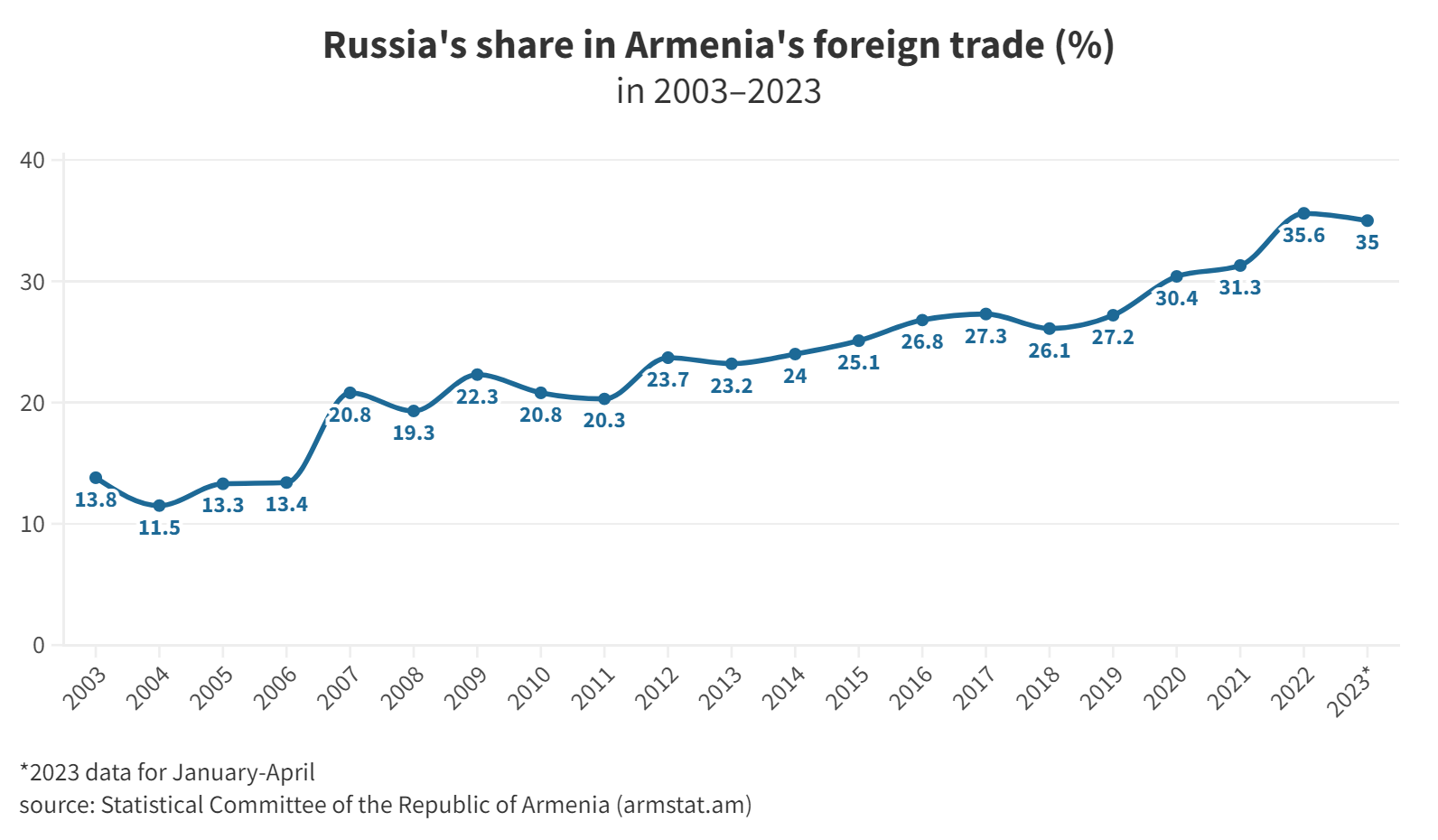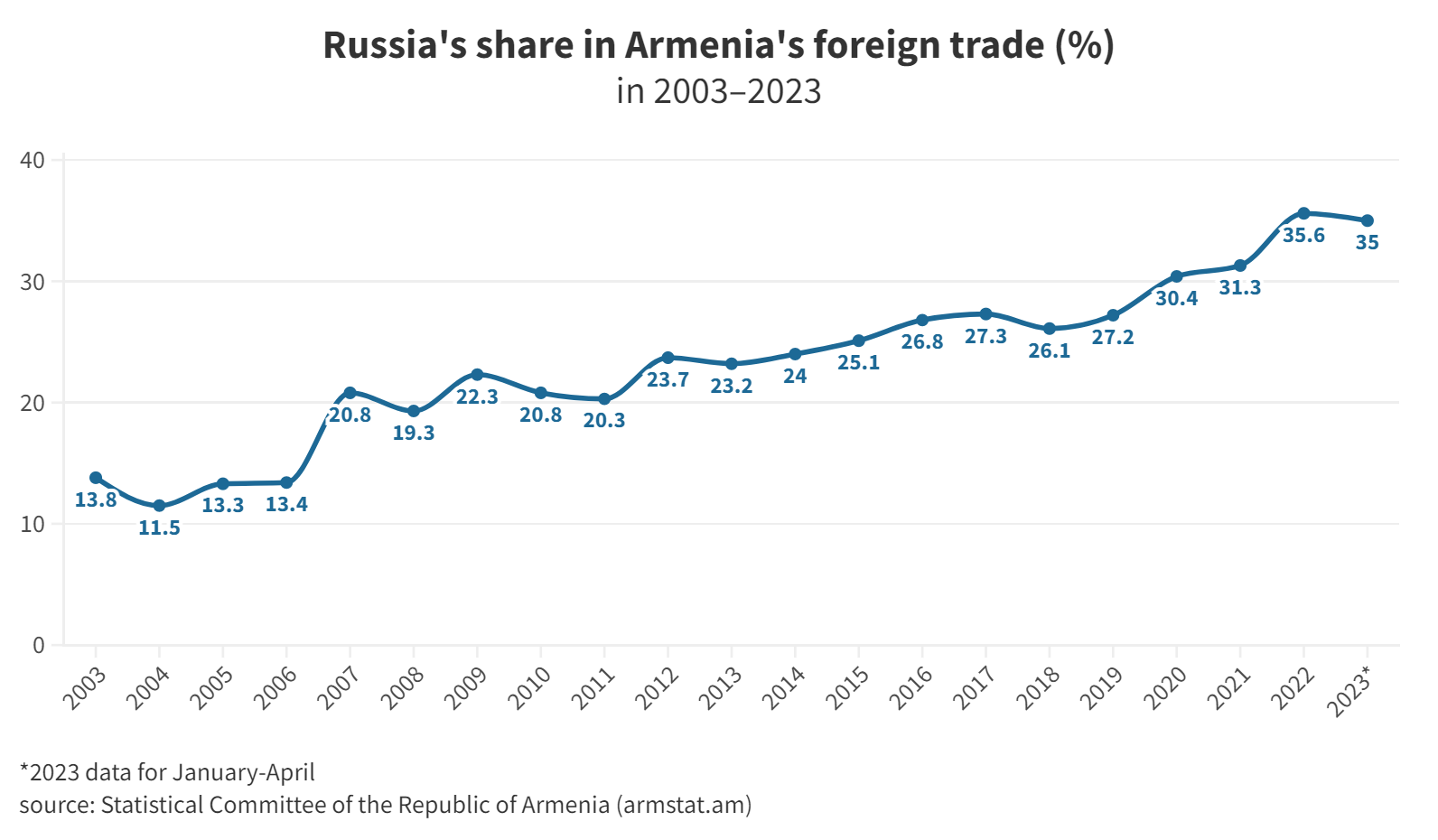 Armenia is heavily reliant on Russia for key commodities. These also include vital food products like wheat.
Between 2018 and 2021, Russia accounted for more than 94.4% of Armenia's wheat imports and 98.6% of its wheat flour imports. Four other countries, including Azerbaijan and Georgia, but also Mongolia and Kazakhstan are equally reliant on Russia for wheat imports. According to ArmStat, Armenia's wheat self-sufficiency rate hit a record low in 2021, with only 23.2% of its total wheat volume produced domestically, while the rest was imported almost entirely (99%) from Russia.
Armenia is even more dependent on Russia for cooking oil as it has virtually no domestic production. In recent years, over 97% of sunflower oil, the most commonly used cooking oil, was imported from Russia.
Armenia's aluminum industry, worth $160 million, is entirely dependent on Russia for the raw material, unwrought aluminum. The industry is dominated by a single player, the Armenal plant, which was founded in 2000 at the Soviet-era Kanaker aluminum smelter (KanAZ) in Yerevan. Armenal is owned by the Russian giant Rusal, which was founded and long-controlled by the Russian oligarch Oleg Deripaska. Between 2018 and 2021, Armenia imported more than $257 million worth of aluminum and exported $400 million worth of aluminum foil.
Some Armenian businesses heavily rely on Russia for exporting their products. Brandy, which is consistently one of Armenia's top exports, is exported to Russia in large volumes. In 2020 and 2021, more than 75% of Armenia's brandy and other spirits were exported to Russia. 
Almost all of Armenia's top agricultural products are also  exported to Russia, including 99% of fish, 99.8% of tomatoes, 98.8% of apricots and other stone fruits, 100% of strawberries, 89.4% of cheese, 99.4% of potatoes, 99% of nuts, and 94.9% of grapes.
Remittances and Investments
Every year tens of thousands of Armenians, mostly men from rural areas and impoverished provincial towns, migrate to Russia to work and send significant amounts of money back home.
According to Armenia's Central Bank, between 2004 and 2022, of the total $15.6 billion personal money transfers in Armenia, almost $9.7 billion, or more than 62%, came from Russia. It is impossible to know for certain how much of this total came from migrant workers. The Central Bank enumerates the total money transfers received from abroad through Armenian banks and money transfer organizations, regardless of nature, on behalf of individuals.
Until last year, Russia's share in personal money transfers had been declining since its peak of 75% in 2013. In 2021 it stood at less than 45%. It spiked again last year due to the large influx of Russian citizens fleeing sanctions and mobilization after Russia's invasion of Ukraine.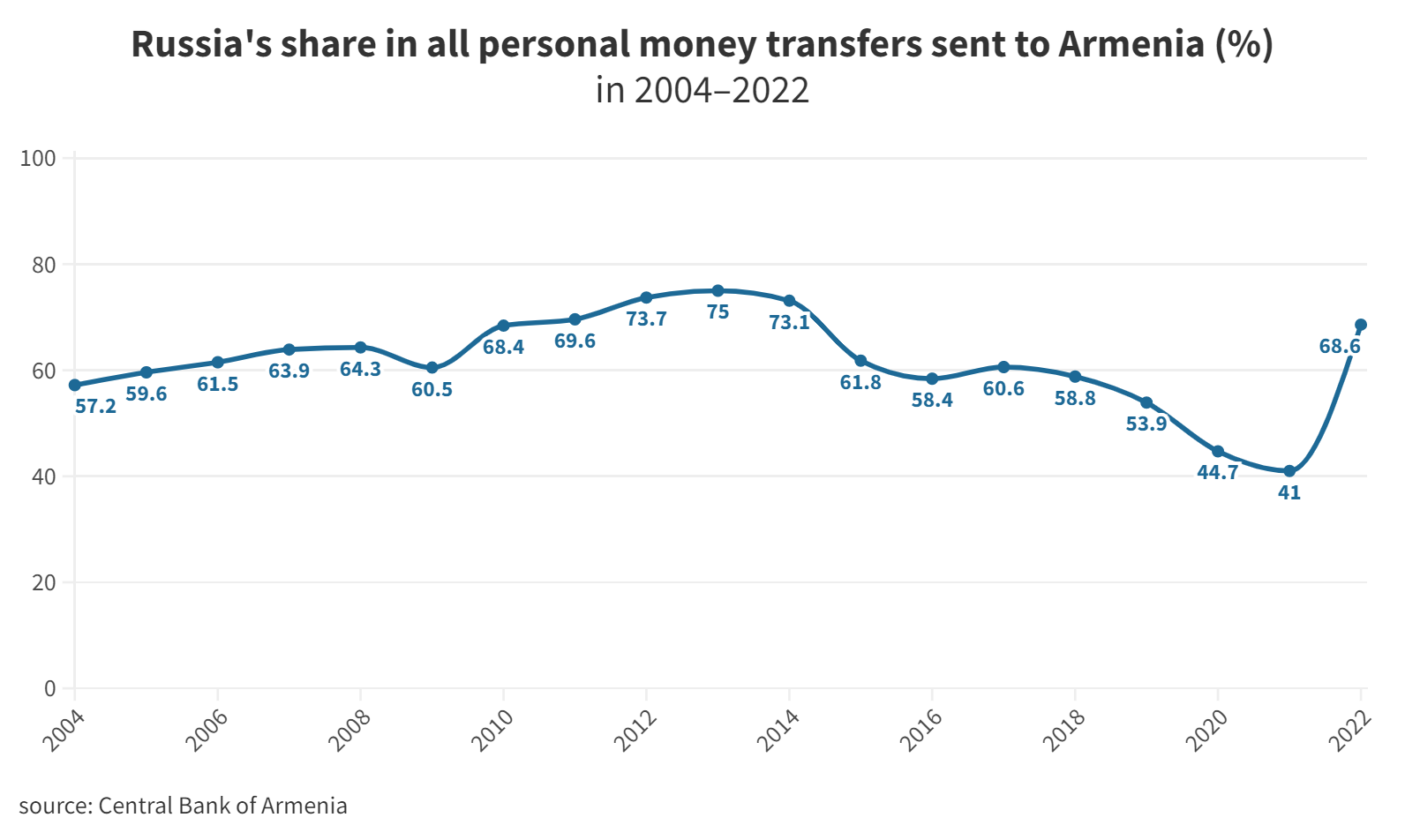 According to World Bank estimates, in recent years personal remittances have contributed to almost 12% of Armenia's GDP. At its peak, between 2004-2014, the percentage was significantly higher, standing between 16% and 22%. But as with the absolute volume of money transfers, there has been a downward trajectory since 2014, when Russia experienced a crisis due to the drop in oil prices and Western sanctions in response to the annexation of Crimea and its intervention in eastern Ukraine.
Russia is also the largest investor in Armenia's economy. According to ArmStat, Russia accounted for between 40% and 53% of all foreign investments in Armenia between 1988 and 2022, depending on the measure: 41% of gross flows and 53.3% of direct gross flows came from Russia, while 40.4% of net stock and 43.6% of direct net stocks came from Russia.
Gross flows only consider the actual investment activity without taking into account any subsequent changes or repayments. In contrast, net stocks provide a comprehensive view of the investments made by considering all relevant factors, including any changes and repayments associated with those investments.
Russian Ownership of Strategic Assets
Russian state and private companies also control other strategic assets in key sectors of Armenia's economy, most notably the country's largest mines and the railways.
Mining
Although mining only employs 1.7% of Armenia's active workforce, it contributed 3.8% to Armenia's GDP last year. Additionally, mined ore accounted for 17% of Armenia's exports, valued at $922 million. Of these exports, 72% were copper, 17% were molybdenum, 9% were precious metals, and 2% were zinc. Wages in Armenia's mining sector are among the highest in the country, at $1,120, only second to the IT ($2,770) and finance ($1,740) sectors.
Armenia's mines have become increasingly dominated by Russian capital, with notable influence from the Russian billionaire Roman Trotsenko, who has established dominance in the field. 
Trotsenko
Trotsenko effectively controls Armenia's largest mine in Kajaran, which holds significant deposits of copper and molybdenum, and a smaller mine with similar deposits in Agarak. Both are located in Syunik, the strategically important southern region of Armenia. Trotsenko has also long controlled the Sotk gold mine in Gegharkunik, east of Lake Sevan.
Trotsenko is one of Russia's wealthiest men with an estimated net worth of $3.2 billion. He has previously served as an adviser to Igor Sechin, CEO of Rosneft, the state-controlled oil company and a close ally of Putin. He has not been sanctioned by the West.
Trotsenko acquired a majority stake in the Zangezur Copper Molybdenum Combine CJSC that operates the Kajaran mine in September 2021. According to the most recent declaration on beneficial owners, 50.26% of the company's shares are owned by Trotsenko's 22-year-old son, Gleb (40.21%) and Mirzaaziz Musakhanov (10.05%), who has been a director of a few companies owned by Trotsenko. The Armenian government holds 21.87%, while another Russian national, Mikhail Zurabov, controls 12.49%. Zurabov has previously served as adviser to Russian presidents Boris Yeltsin and Dmitry Medvedev, minister of health, and ambassador to Ukraine.
Trotsenko's son also controls nearly 77% of the shares of the Agarak Copper Molybdenum Combine CJSC and GeoProMining Gold LLC, with Musakhanov controlling 19% in both companies. GeoProMining Gold operates the Sotk mine. These two are part of GeoProMining, Trotsenko's holding company.
Last year the Zangezur and Agarak companies ranked in the top five of Armenia's largest taxpayers list. The Zangezur Copper Molybdenum Combine in Kajaran was Armenia's largest taxpayer, paying a total of $330.35 million, more than the combined total ($286.3 million) of the other three top companies, which included Gazprom Armenia and two cigarette producers owned by the Vardanyan family (Grand Tobacco and International Masis Tabak). The Agarak Copper Molybdenum Combine followed as the fifth largest taxpayer, having paid $45 million in total taxes.
More than half of the Sotk gold mine came under Azerbaijani control in the aftermath of the 2020 Artsakh War when Armenian forces withdrew from the Kelbajar district. The Armenian-controlled section of the mine operated with disruptions. In early June 2023 Azerbaijani shelling forced the mine to partially close.
Teghut
Teghut CJSC is another major player in Armenia's mining sector. The company operates a mine of the same name in the northern region of Lori and is the country's second-largest copper and molybdenum mine after Kajaran. Last year, it  ranked as Armenia's 14th largest taxpayer, having paid a total of $28.3 million in taxes. The majority Russian state-owned VTB Bank controls 49.95% of its shares. In 2018, it took control of its stake after the original owner, Vallex Group, failed to repay a large loan. Norik Petrosyan, an Armenian businessman based in Russia, controls 25.05% of Teghut CJSC. Pavel Korichnev, a Russian national, owns 25%. Petrosyan has several businesses in Russia, including Neftegazstroy, which won a tender in 2016 to build a 60 km long section of the Power of Siberia pipeline. According to a Tashir representative, Petrosyan is a friend of Samvel Karapetyan. Little information is available about Korichnev.
Amulsar
Russia has also become indirectly involved in the Amulsar gold mine project through a $100 million loan provided by the Eurasian Development Bank (EDB) in March 2023 in addition to the $150 million raised by Lydian Armenia, the would-be operator of the mine. Russia has a nearly 40% stake in the bank, while Kazakhstan holds 38%, Armenia 5.4%, with Belarus, Kyrgyzstan, and Tajikistan controlling the rest. Lydian was granted a license to operate the mine in 2016, but construction halted in 2018 when protesters blocked the area due to environmental concerns. Earlier this year, the Armenian government gave the green light to the project, which has been long considered a flagship Western investment project and heavily lobbied by the UK.
Railways
In February 2008, the Armenian government and the state-owned Russian Railways (RZhD) signed a 30-year operating concession agreement after the latter won an international tender as the sole bidder. It can be extended for another 10 years. Armenia kept ownership of the rail network. 
As part of the agreement, the Russian company paid a one-off fee of $5.5 million and pledged to invest a minimum of $570 million ($400 million on infrastructure, $170 million on vehicles), with $220 million in the first five years. The Armenian government receives 2% of the annual revenue generated from freight services. The deal was defended by then-Transport Minister Andranik Manukyan, who emphasized its vital role in preventing the financially burdened and underutilized network from collapsing. The Russian Railways set up a subsidiary called the South Caucasus Railway to operate Armenia's rails and officially took over on June 1, 2008.
In 2019 Russian officials publicly considered terminating the agreement after Armenian law enforcement began several investigations into the company's alleged tax evasion and other abuses. In response Armenian Prime Minister Nikol Pashinyan stated: "Armenia does not want [early termination of the agreement]. Russia does not want it. Why would it happen?"