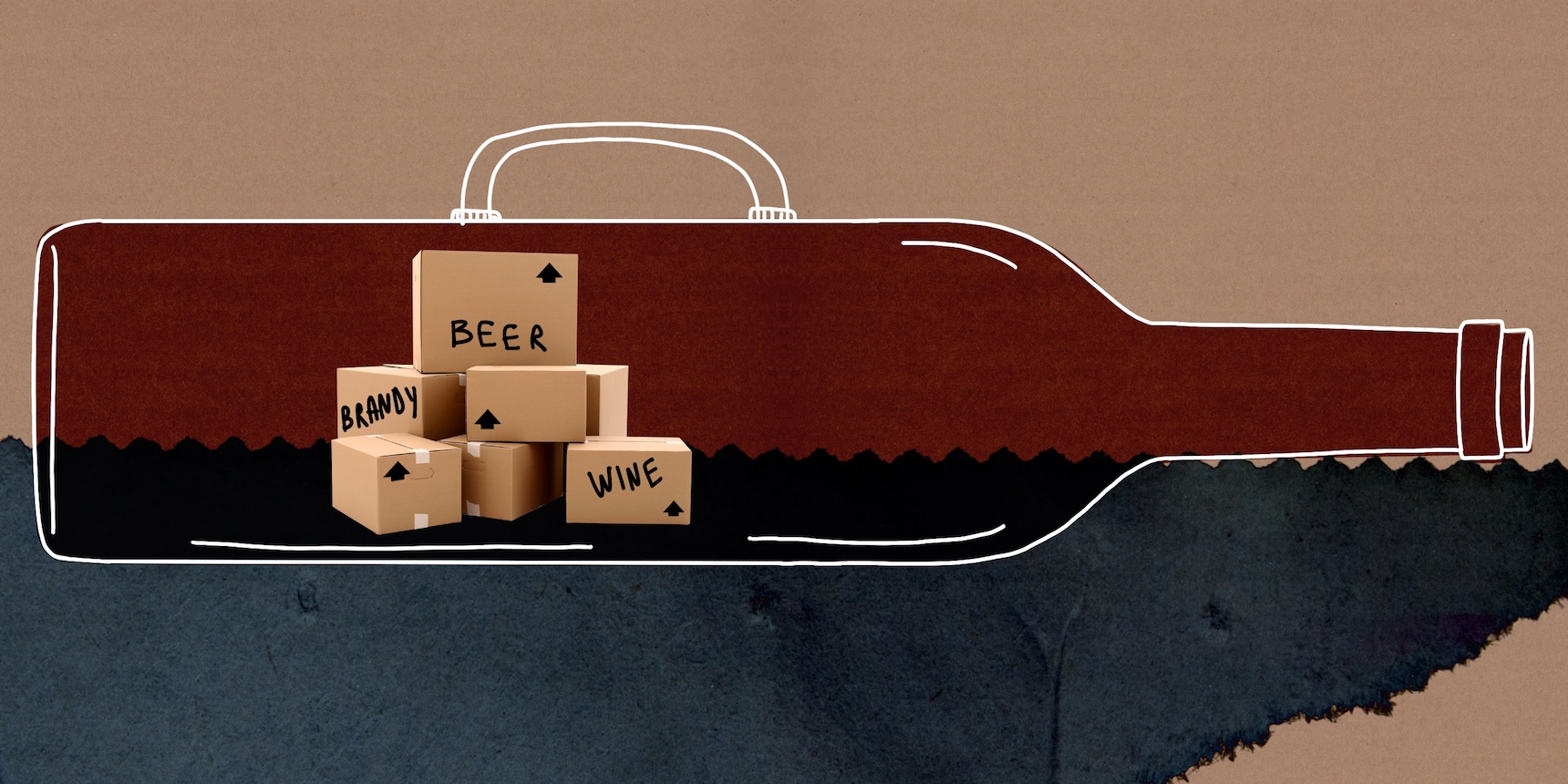 Armenia's alcoholic beverage industry is a prominent sector in the country's economy focusing primarily on exports. While Armenia's brandy enjoys significant fame, particularly in the former Soviet states, the production of wine and beer has seen significant growth in recent decades. The emergence of popular wine and beer culture has further strengthened this trend, with numerous establishments opening up in central Yerevan. In addition, wineries have proliferated across Armenia's wine-producing regions, and the annual Yerevan Wine Days festival has become a cherished event among both locals and tourists. Production and trade data for brandy, wine and beer showcase a dynamic pattern of growth.
Brandy
Brandy, almost always referred to as "cognac" in Armenia and the post-Soviet space, has been one of Armenia's most recognizable products for decades. Ararat Brandy remains a favorite and maintains a high reputation, but new brands have been established in recent years. Between 2002 and 2008 brandy production more than doubled to reach almost 16 million liters. Subsequently, production slumped, then recovered, but contracted once again, reaching nearly 17 million liters by 2015. 
Despite the COVID pandemic's disruptive impact, brandy production has experienced rapid growth, surging from 21.5 million liters in 2016 to over 58 million liters last year. This represents an increase of 2.7 times in just six years, with an average annual growth rate of 20%.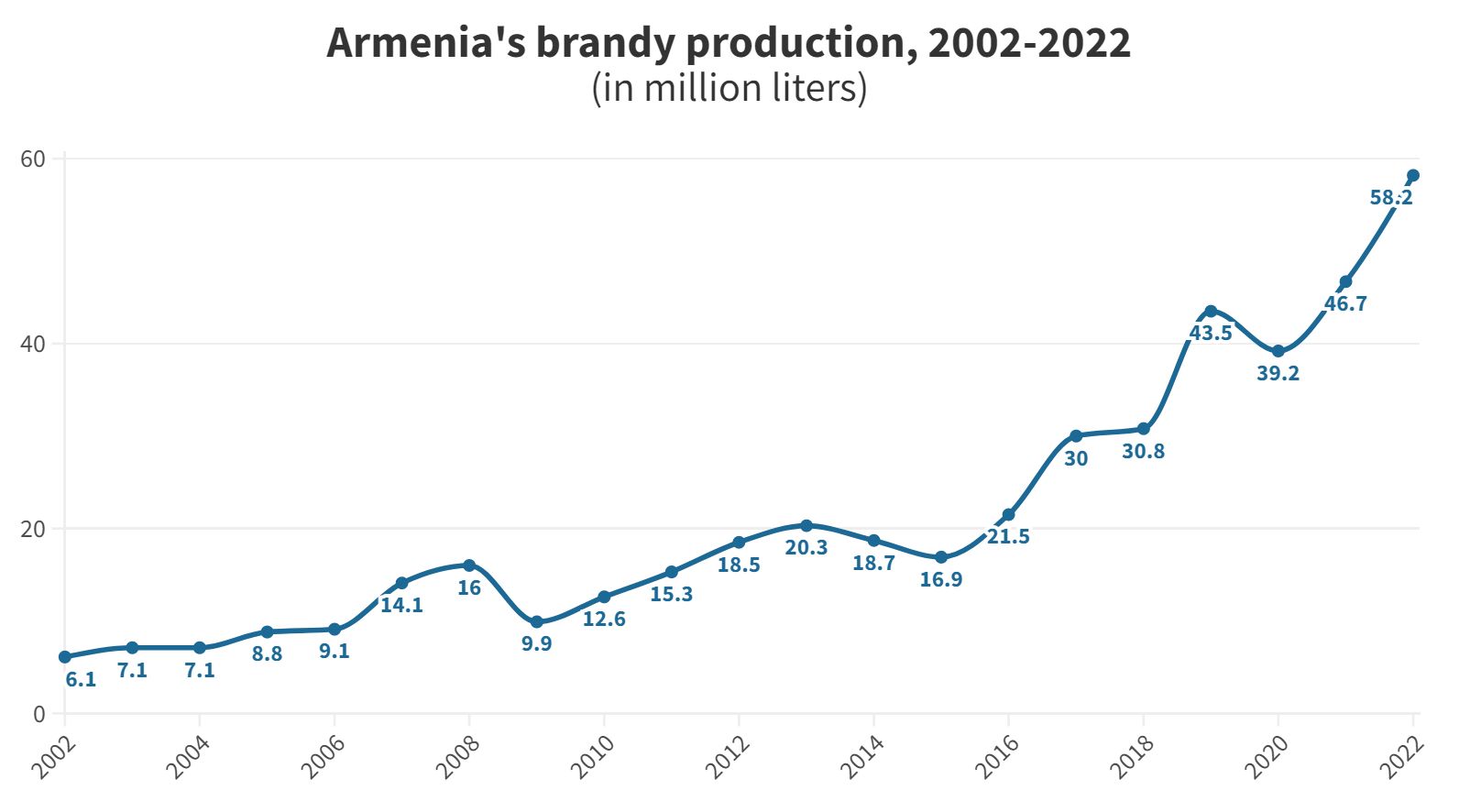 For many years, brandy has been a top export for Armenia. Customs data reveals that brandy and other liqueurs, grouped together in the data, have consistently ranked among Armenia's top five exported goods over the last decade. In 2022, exports totaled over $291.5 million, trailing only copper ore, diamonds, gold and cigarettes.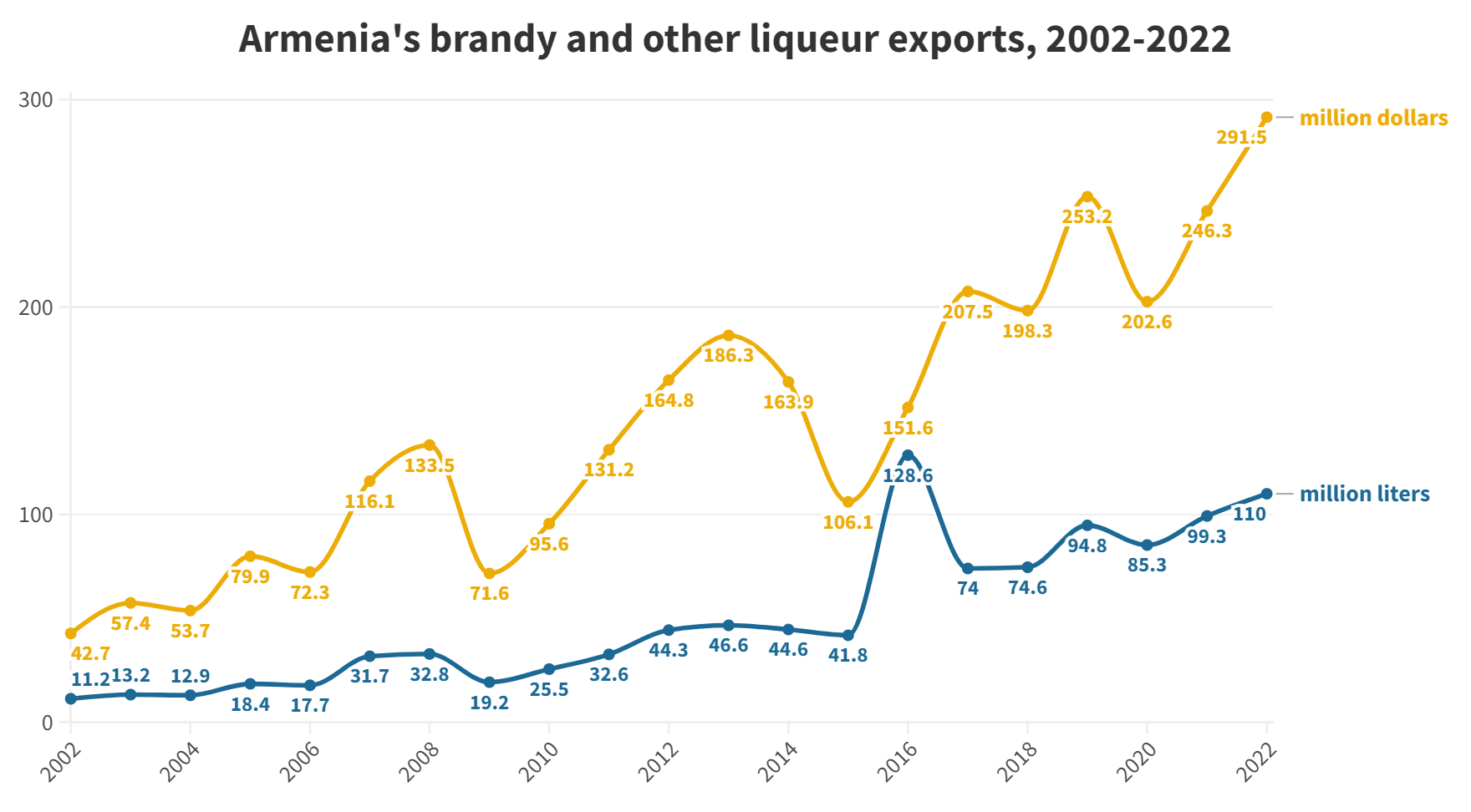 In 2021, the latest year for which country-specific data is available, almost 90% of Armenian brandy and liqueur exports were directed towards three former Soviet states, namely Russia (75.5%), Belarus (7.2%), and Ukraine (6.3%). Other post-Soviet countries such as Kazakhstan, Latvia, Moldova, Lithuania, and Georgia also featured on the list of destinations. Beyond the former Soviet Union, primary markets for Armenian brandy and liqueur were found in the United States, Germany, the Netherlands, and China.
Wine
Wine production has undergone a resurgence in recent years. Prominent global media outlets have extensively covered the boom, with Forbes alone featuring multiple articles, one of which is titled "Armenian Wines Are Kicking With Quality". It has also praised Armenia's boutique wineries and talked of Armenia as a reemerging wine country. The BBC speculated that the seeds of change of the 2018 revolution "were inadvertently sowed in the intimate interiors of Armenia's new specialist drinking dens."
Although lagging behind its northern neighbor, Georgia, the wine industry in Armenia has been experiencing steady growth, yet it still trails significantly behind brandy production in terms of scale. In terms of production volume, beer has consistently exceeded wine, but in terms of output measured by value, wine has gained the upper hand in the past several years.
In 2022, Armenia's wine production reached 12.6 million liters, including 1.4 million liters of sparkling wine, commonly referred to as "champagne". This figure represents a notable increase compared to the production levels recorded in 2012, where Armenia's wine output was 6.2 million liters, of which nearly 480 thousand liters were sparkling wine. The 2000s marked a period of stagnation, characterized by volatile production levels and limited overall growth in the country's wine industry.
Armenian wine exports have also increased greatly in recent years. Last year 8.7 million liters of wine were exported, up from a little over 2 million liters in 2012, and just 600 thousand liters in 2002. Data for 2022 has not been released yet, but in 2021, nearly half of Armenia's wine exports went to Russia, almost one-fifth to the United States, followed by Ukraine, Switzerland, Germany, Netherlands and Lithuania.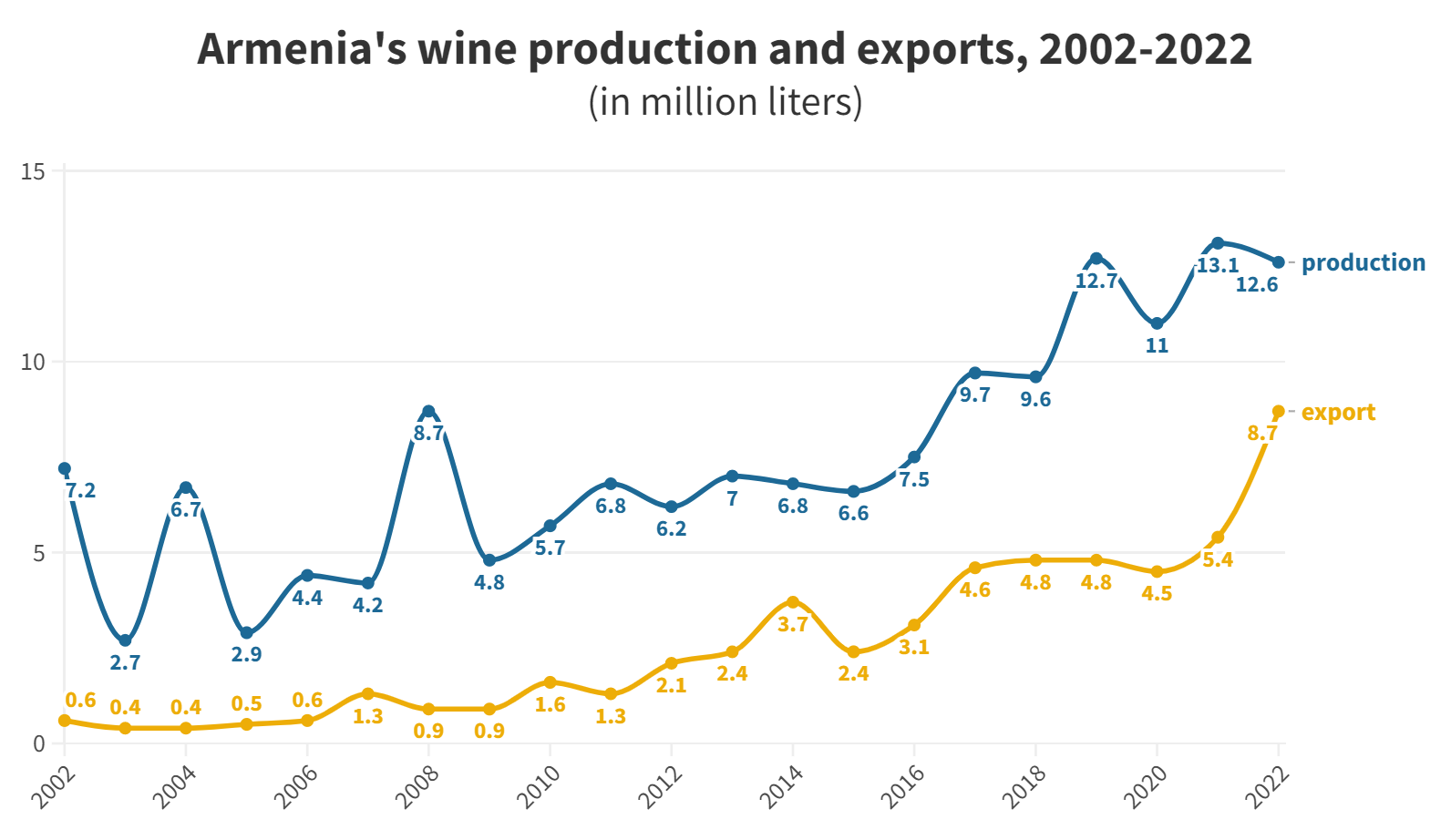 Beer
Last year Armenia's beer production reached an all time high of 30.5 million liters. This is an increase of more than four-fold in two decades. In 2002, production stood at just over 7 million liters. Despite fluctuations and several slumps, production has been increasing steadily. Big players include Kilikia (based in Yerevan), Gyumri and Kotayk (based in Abovyan). Dargett runs a popular restaurant in Yerevan and a small independent craft brewery.
Armenia's beer industry predominantly serves the domestic market, with negligible exports despite robust production rates. Over the last nine years, the country has continuously imported more beer than it has exported, underscoring a growing appetite for beer among local consumers.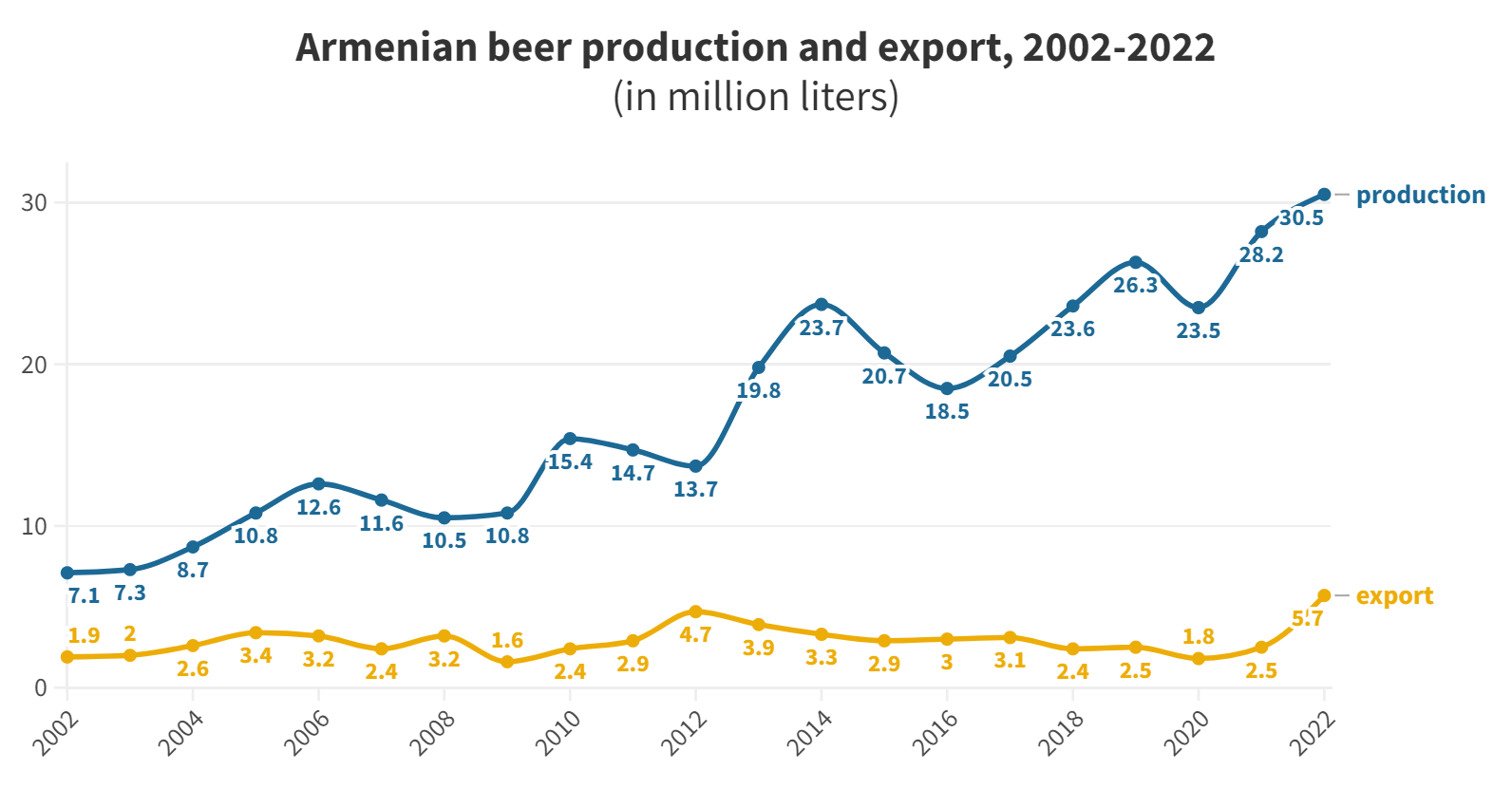 Other
Armenia also produces vodka, whisky, cider and other fruit wines. Vodka (oghi in Armenian) production has decreased steadily in the last two decades from a high of 13 million liters in 2009 to just 4.7 million liters last year. This may be explained by several factors, including increased imports, and the wide availability of moonshine (tnakan oghi or aragh) all over the country. Both have traditionally had a higher reputation than locally produced vodka.